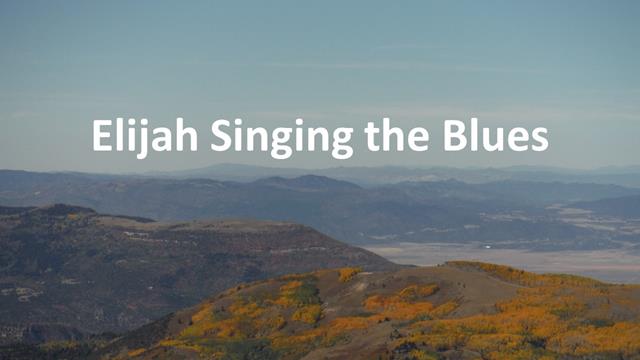 Jeff Garrison 
Skidaway Island Presbyterian Church
1 Kings 19:1-15
June 23, 2019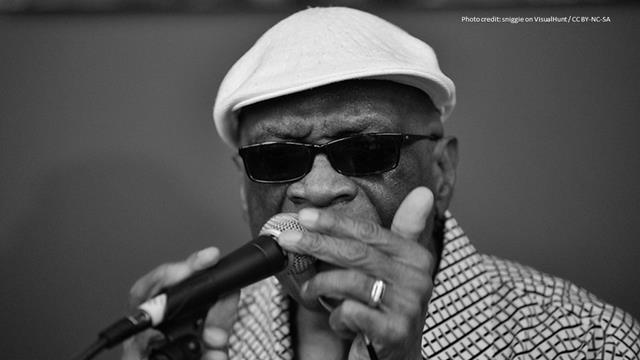 As a music tradition, the Blues rose out of the African American experience of slavery. In song, they cried about their plight as they longed for freedom. The song, "Go Down Moses," captures this desire for freedom. But this tradition is found throughout scripture. For of all the Blues' singers that's lived, Elijah may have been the best.
In our passage today, from First Kings, Israel has been in a drought and Elijah, the prophet of God, is feeling alone. There's been a show-down where Elijah challenges all the prophets of Baal. "Let's see who can call down fire from heaven to consume an offering on the altar." Elijah succeeds and the people turn on the prophets of Baal. Then, Elijah forecast the end of the drought and rain comes upon the parched land. You'd think Elijah would be a hero. But he's not. And the queen is not happy.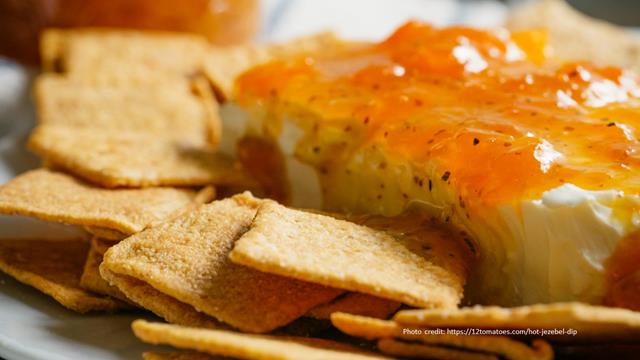 "Hot Jezebel!" The queen's name has found itself on an appetizer made of fruit preserves, horseradish, mustard and pepper.[1] You spread the concoction over cream cheese and serve with crackers. The sweetness of the preserves and the bite of the horseradish grabs your attention. It's appropriately named.  Jezebel must have been sweet on Ahab for the king to put up with her, but she also had a tempter hotter than horseradish. She wasn't the type of lady to cross. She could carry a grudge.
In this passage, we'll hear how Elijah cries out to his God about how unjustly he's being treated as he flees from Jezebel's wrath. Read 1 Kings 19:1-15.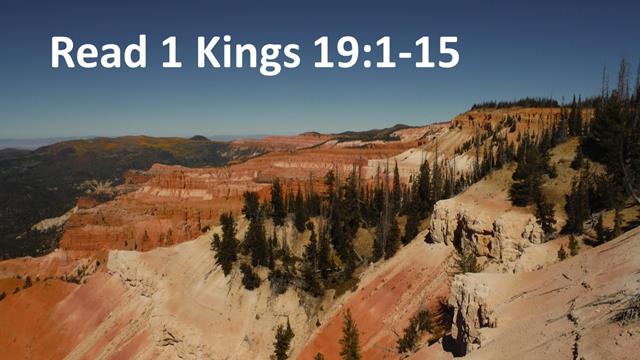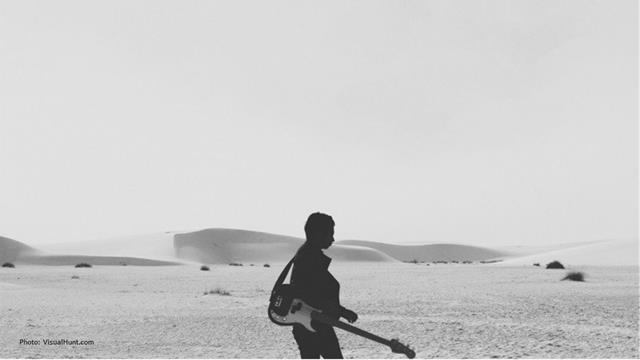 Have you ever felt you were all alone in the world? That everyone was out to get you? If so, you can identify with Elijah's plight. Twice in this passage, once even after he encounters the Lord, Elijah proclaims his righteousness and cries out about Israel's apostasy and how all the prophets have been killed except him.  It was the same cry he made in the previous chapter on Mt. Carmel.[2]
Elijah overstates his case a bit. We know there are others in Israel who are faithful. In the last chapter, we're told that Obadiah, one of Ahab's servants who remained faithful to God, has hidden 100 prophets.[3] Furthermore, we're told there are at least 7,000 in Israel who will be spared by God because they have not worshipped Baal.[4] But when he singing the blues, Elijah doesn't care about the details. It sounds better to say, "I alone am left and they're after me." We are a lot like Elijah and have probably overstated our troubles, too. Overly dramatic sometimes gets folks attention.
It's also interesting how quickly Elijah's depression follows his triumph. Any satisfaction Elijah received from having upstaged the prophets of Baal is short-lived. For as soon as Jezebel hears about the demise of the prophets of her gods, she sets out to kill Elijah. It probably like that for us, too, as we go from the elation of being on a mountaintop to the fear of descending into a valley of dark shadows. Hopefully, we don't have a mad queen on our tails.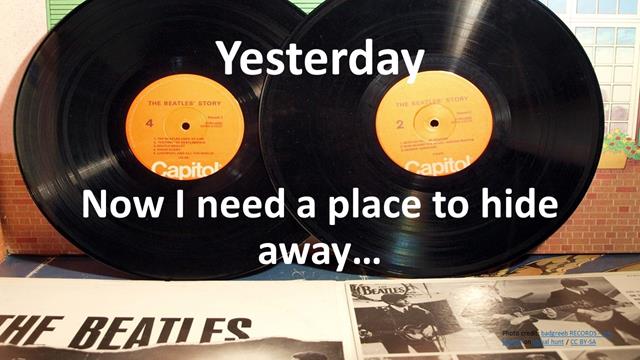 The Beatles hit record back in the mid-60s, "Yesterday," comes to mind when I think about Elijah's predicament. It a kind of a mellow blues tune that goes something like, "Yesterday, all my troubles seem so far away, now it looks like they're here to stay. O, I believe in yesterday." Elijah could relate to these words. Perhaps we, too can relate. In the last verse of the song there is the line: "Now I need a place to hide away." That's Elijah! And we've all been there. The glory of yesterday is gone and we need a place to hide. Elijah flees south into Judah where he's safe from Jezebel's reach and then goes off by himself into the wilderness where he finds a bit of shade under a broom tree and lays down to die.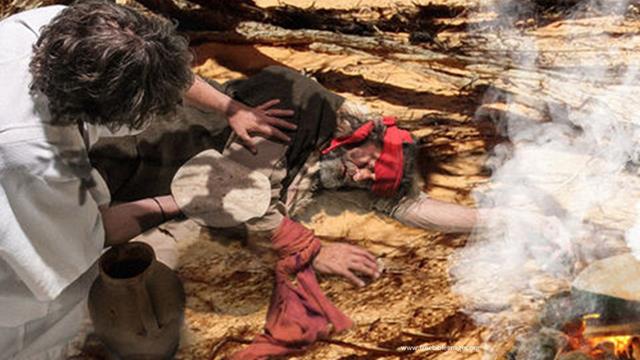 While asleep, an angel brings bread and water for Elijah.   Obviously, Elijah assumes this is his "last meal." He enjoys it and then, awaiting death, goes back to sleep. Again the angel wakes Elijah. Some people just don't like getting out of bed. Elijah's informed that he has a long journey so he'd better eat up and get on the road.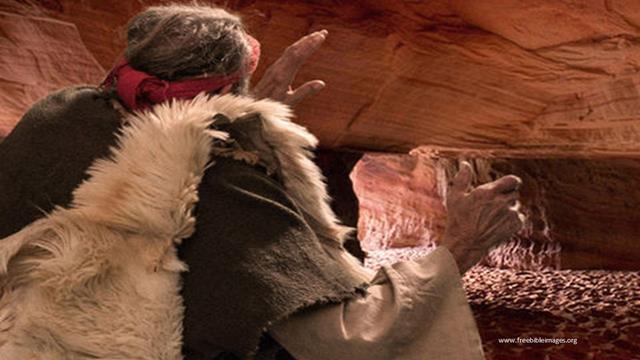 Elijah sets out on a forty day journey to Horeb, the mountain of God. Forty is one of those special numbers used throughout the Bible to indicate a purifying process or a time of preparation. It rained for forty days while Noah was in the ark; the Israelites wandered in the desert for forty years; and Jesus spent forty days in the wilderness preparing for his ministry… Elijah was being prepared to meet God in his forty day journey. Forty, the number that reminds us that our troubles are not always instantaneously solved.
Arriving in Horeb, Elijah seeks shelter in a cave. There, the voice of the Lord asks him what he's up to. Elijah repeats his tale of Israel's unfaithfulness and how he is the only prophet left alive. Instead of answering Elijah's complaint, he's told to stand before the mountain, as the Lord is about to pass by. Then our story takes a surprising twist. There's a great wind, but the Lord is not in it. There's a powerful earthquake, but the Lord is not in it. Then there is a fire, and likewise, the Lord is not in it.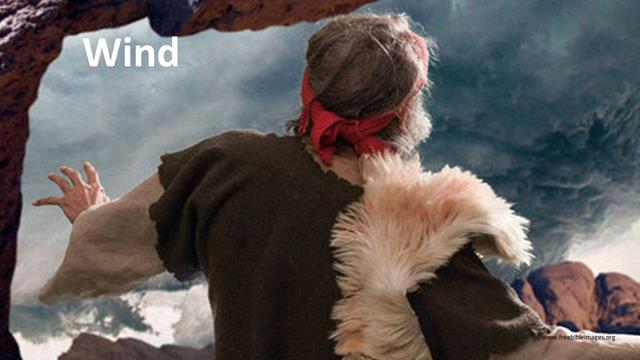 Three great events, all which are used in other places to describe God: the word for God's Spirit means wind; on Sinai, the mountain shook as an earthquake to indicate God's presence; and during the exodus God appeared as a fire, leading the Hebrew people. All three of these events could have represented God, but not in this incident. Here God is presented in a unique fashion. Silence. After all the commotion, there's silence.  Sheer silence. A silence so terrifying that it pierces Elijah's ears and he pulls his jacket up over his head and wraps it around his face in an attempt to hide.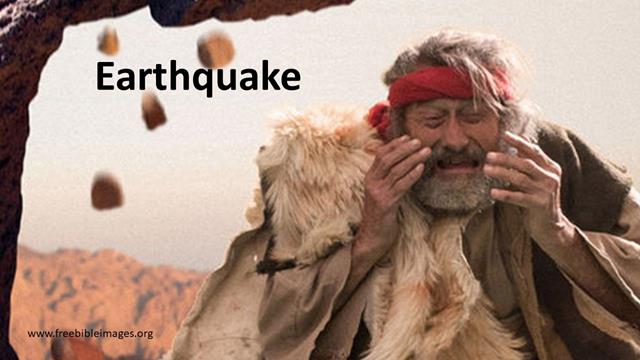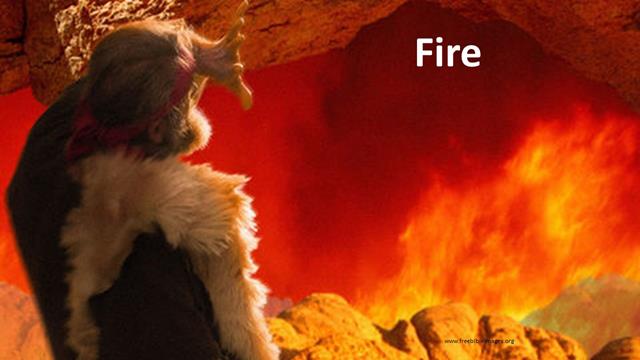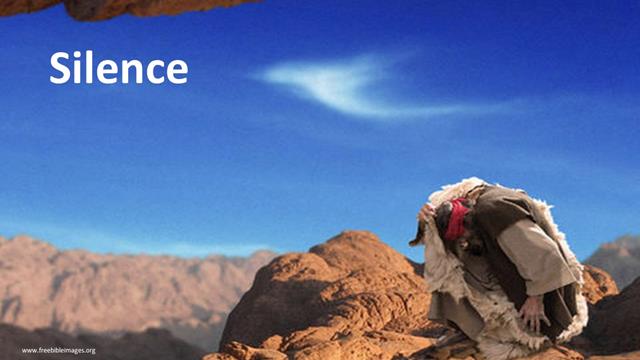 Again, a voice asks Elijah what he is doing on the mountain. Once again, Elijah cries the blues. But the Lord doesn't grant Elijah sanctuary. Elijah is not told, "Just stay here, I'll take care of you." God isn't finished with Elijah. There is still work to be done, so he's sent back to Israel through Damascus. Along the way Elijah is to anoint the King of a neighboring nation, an illustration that the God of Elijah cares for and controls not just the events in Israel but throughout the entire world.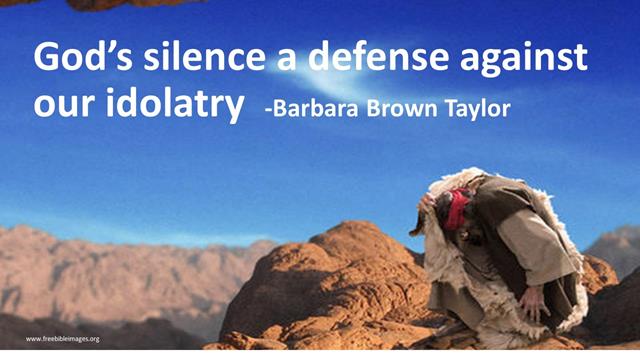 This story is rich in meaning. The eerie silence is often how God reveals himself in the wildernesses of our lives. God tells us, through the Psalmist, "to be still and know that I am God."[5] Barbara Brown Taylor, in the published version of the Lyman Beecher Lectures at Yale University, speaks about God's silence being a defense against our idolatry.[6] Too often we make God out to be in our image. As Mark Twain once said, "God created us in his image and we returned the favor." But God is not in our image. The church, throughout the last two millenniums, has taught that God is beyond our comprehension.[7] We only know God when God decides to reveal himself to us—which is revelation. It is a revelation that's complete in Jesus Christ!
Elijah, in the 18th and 19th chapters of 1st Kings, has two different revelations of God. The first occurs on Mt. Carmel when Elijah's sacrifice burst into flames to the astonishment of all who were present. Elijah must have thought that he and God were going to make a great team. But God is beyond our control, as Elijah discovers. The Mt. Carmel experience was a one-time event. God would still be present with Elijah, but many times this presence would take on the form of an eerie silence.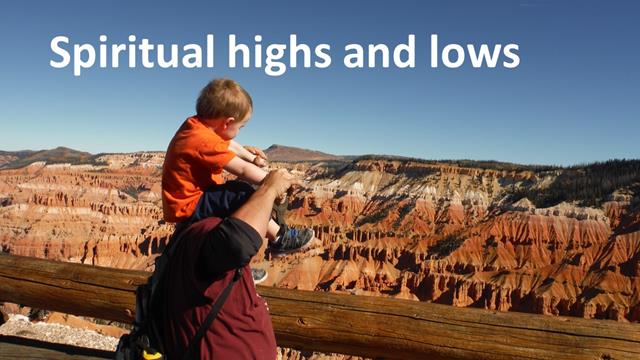 There is a lesson in this for us. All of our spiritual journeys have ups and downs. There are times we feel close to God and other times we feel as if God is far away and doesn't care what happens. Elijah is like this. From his spiritual high on Mt. Carmel, when there was no doubt God's spirit was with him, Elijah slips into a depression and begins to sing the blues. "It's just me Lord, and there ain't much I can do." He feels so sorry for himself that he's ready to die. So God reveals himself again to Elijah, but in a different manner, in a most common fashion: silence.
          Aren't we like Elijah? There are those times when we know we're filled with God's spirit and we're on a natural high and the blues seem so far away. These are the times we know God is real—they're our Mt. Carmel experiences. But then, there are occasions when things do not go right, when we feel sorry for ourselves, and God doesn't seem to be present. It's during these times we need to slow down enough to listen for God in the silence. It's in the silence that we can come to trust that God is with us always. It's not something we can explain or even demonstrate. Its faith: faith and a longing for that which lies beyond our grasp, that which we cannot control, but without which we can't live.
Ricky Porter, the pastor in Dublin, was our Bible Study leader this week at Savannah Presbytery's camp. The theme was "Power Up," and was about prayer. Thinking of the term "power up," we have a vision of getting all excited about God. But there's a paradox here paralleling what we see with Elijah. Prayer isn't just about being all excited and telling God all we think God needs to know. It's also about listening. To "power up," we need to be silent and open for God to reveal himself. So each day, Ricky had the campers spend longer periods in prayer, splitting the time between talking to God about our needs and concerns, and just sitting in silence, listening and meditating. Quietly listening is a good practice for all of us, and perhaps the only way we can truly experience God's presence. Amen.
©2019
[1] Hot Jezebel Recipe:  Combine in a bowl:
A 12 ounce jar of apricot preserves
2-3 teaspoons of horseradish
1 tablespoon of dry mustard powder
Coarse ground pepper to taste
Place in refrigerator to chill. Then spoon it over a block of cream cheese and serve with crackers.
[2] 1 Kings 18:21.
[3] 1 Kings 18:4.
[4] 1 Kings  19:18.
[5] Psalm 46:10.
[6] Barbara Brown Taylor, When God is Silent (Boston: Cowley Publications, 1998), 38.
[7] See the Westminster Confession, Chapter II.1.