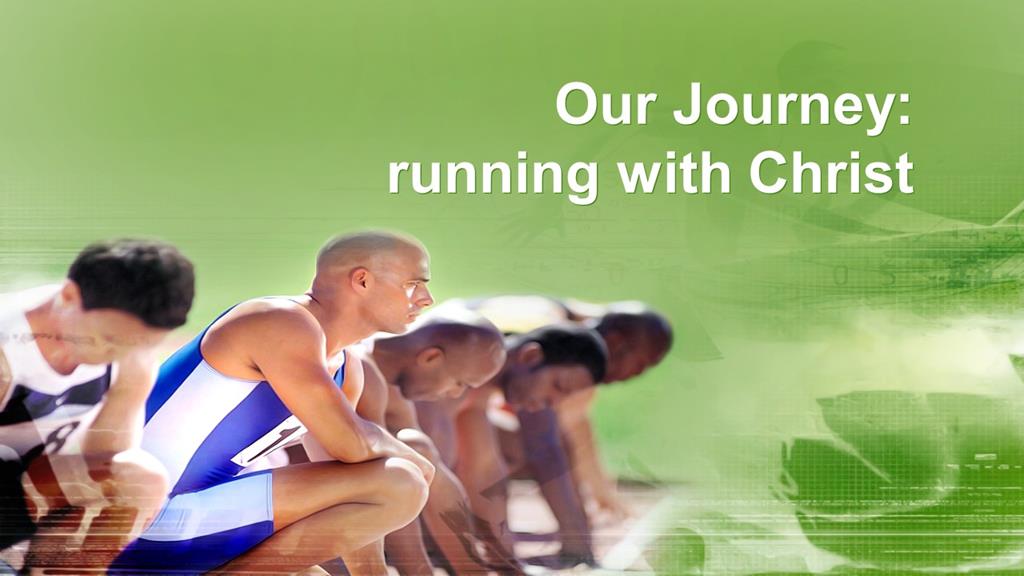 Jeff Garrison
Skidaway Island Presbyterian Church
Hebrews 12:1-2
August 25, 2019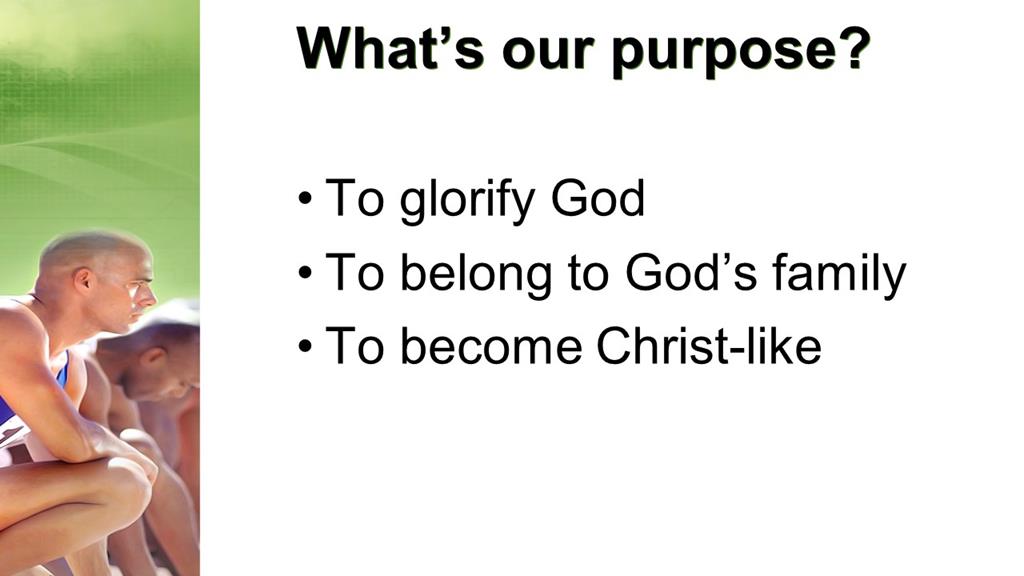 Why do we exist? What is our purpose in life? The Westminster Confession says we're to enjoy and glorify God. That's succinct. In Rick Warren's best seller, The Purpose Driven Life, he expands this into five purposes. First, we are to love God. God wants us to open our lives up so that we might experience and be overwhelmed by divine love and in turn we might show our love to God. We call this worship. Our second purpose is that we're created to belong to God's family, which we know as the church. Within this new family, we are to be nurtured and to mature. This morning, I want us to consider our third purpose: to become like God's Son. A big word for this is sanctification. We're to become Christ-like. The fourth and fifth purposes are that we're shaped to serve God and are made for a God-given mission.[1] Our text this morning is from the 12th Chapter of the Book of Hebrews, the first two verses.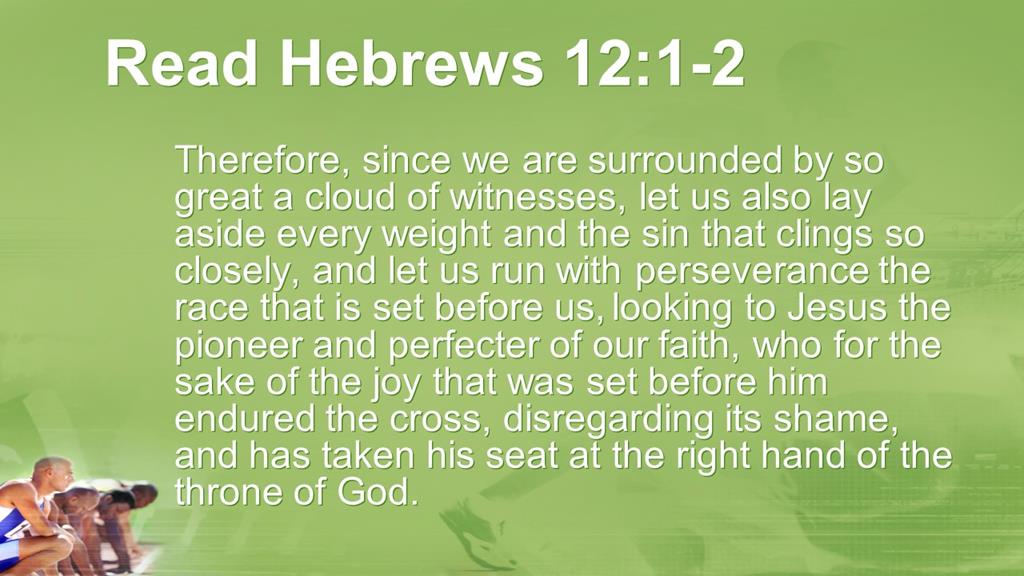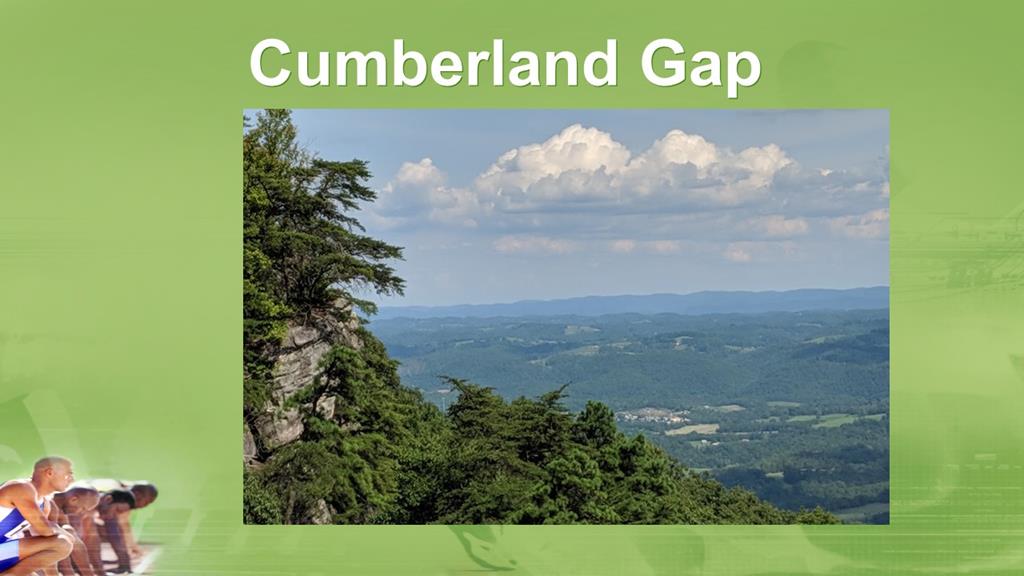 Last weekend, Donna and I were in Cumberland Gap, a significant place in American history even through it is mostly overlooked these days. This gap was the easiest place for settlers from the Carolinas to Southern Pennsylvania to make their way across the Appalachian Mountains. Today, we breeze through those mountains on engineered roads, but in the late 18th Century, those mountains stood like barricades, keeping people out. Then along came Daniel Boone, who built the Wilderness Road through the mountains and for the next hundred years, it was the easiest way to get into Kentucky and Tennessee and further west. It felt good to be there, riding bikes over the same terrain that Boone cut the road that began western migration. I've always liked Daniel Boone.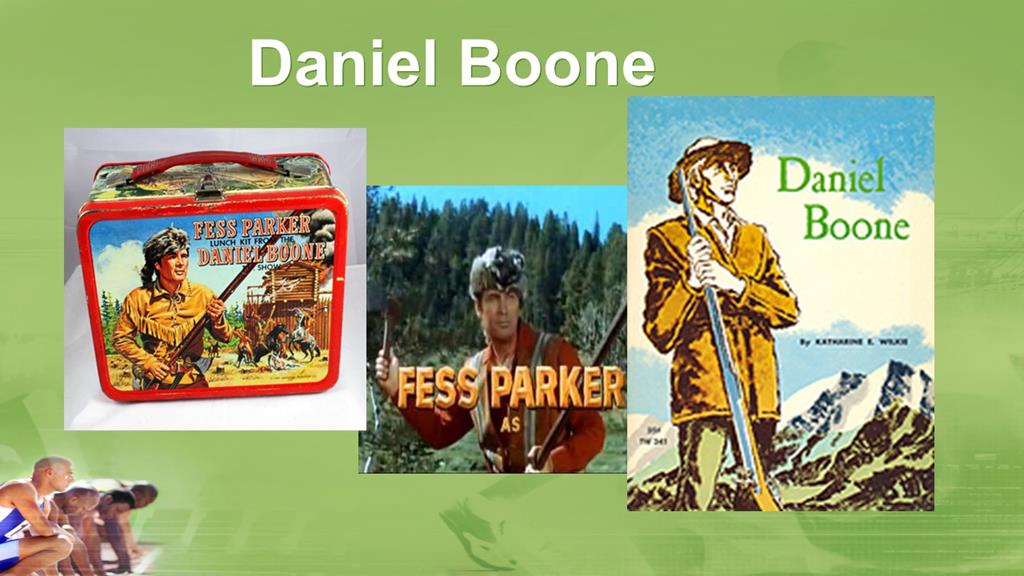 My first lunch box had a photo of Fess Parker who played Daniel Boone in the TV show that was popular back during my childhood years. And you bet I watched it. When I was in the second grade, we had an opportunity to buy books from a flyer sent home from the school. It was fundraiser designed to raise money for the school and help get books into the hands of children. My parents allowed me to buy a book. I looked through that catalog and knew right away that the book I wanted. It was a biography, written on a child's level, of Daniel Boone. On the day that it came, I looked through the book, but found many words I did not know so I took it to my mom, and she helped me read. One of the words that I seemed to have a hard time learning was "enemy." I just couldn't get it out. I had a mental block against this word and had to ask several times what the word was. Hard to imagine ever being that innocent, isn't it?
Daniel Boone was a pioneer. A pioneer is one who goes out before everyone else to chart new territory. As the writer of Hebrews reminds us in verse 2, Jesus was the pioneer of our faith. He paved the way for us! Pioneers do the hard work. Daniel Boone helped clear a road into the wilderness, so that those who followed could travel more easily. Instead of hiking over the mountains with only a backpack, people could travel in wagons pulled by oxen, carrying a ton of stuff. Boone did the hard work to make this possible.
Jesus' suffering, his death and resurrection, was the hard work for our faith. We should give thanks and praise for what Jesus has done for us, but we must remember that as the stone of that tomb was being rolled away, and Jesus was resurrected, the responsibility for God's kingdom on earth shifted from him to us. Remember John Kennedy's immortal words, "Ask not what your country can do for you; ask what you can do for your country." With a slight change of wording, we can apply this advice to our faith: "Ask not what Jesus can do for us (for he's already done it); ask what we can do for Jesus."[2]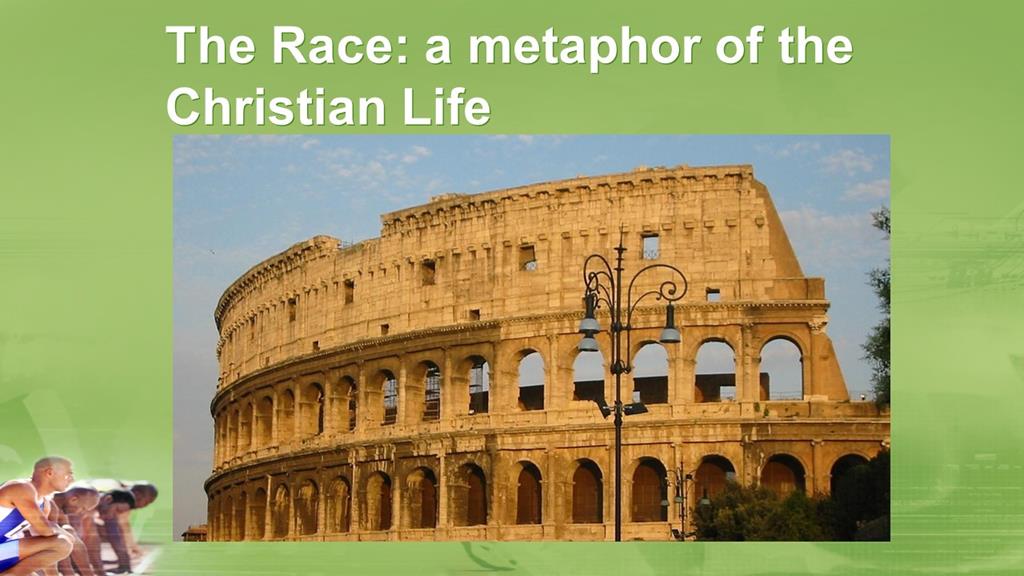 The main image in our text is not a coon-skinned capped pioneer, but that of a coliseum filled with spectators watching sporting events. Think of the Olympics.[3]  The crowd is loud, and everyone cheers as those in the race run. Christ has already taken the lead, now he's handing off the baton… Next will be our turn to take the baton and run around the track. It's our chance to emulate Christ and to build upon his lead. With everyone watching, we're to do what we can to prepare? We shed clothing that might weigh us down, and we focus our mind on the task at hand as we get into the moment, ready to receive the baton.
The race is a metaphor for the Christian life.  Paul uses this metaphor a number of times in his writings, reflecting the interest in sports within the Roman world of the first century.[4] As one running a race must shed all that might slow him or her down, we Christians need to shed the sinfulness that tends impede our gospel-work and tarnish our Christ-like image. One of the problems with sin is shame and one of the devil's oldest tricks is to whisper into our ear, "You're not worthy!" "Look at all your sin, you're not good enough." And the Devil is right, we're not worthy, we're not good enough. That's why we must keep our eyes focused on Christ! Our hope is not in our righteousness, but in Christ.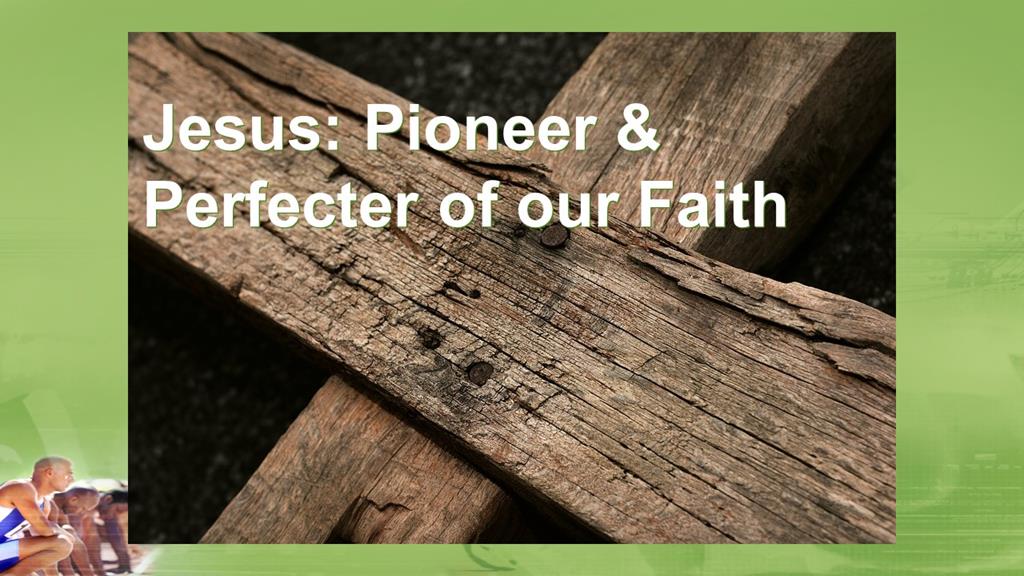 As the author of Hebrews writes, not only is Christ the pioneer of our faith, paving the way for us to follow, he is also the "perfecter of our faith." As I said earlier, Christ did the hard work! Our righteousness comes from what he's done for us, not from what we do… By focusing on Christ, we can become more like him as we accept his gift of salvation. When we fall into the trap of thinking we must do it all ourselves, we become overwhelmed and easily lose heart. But when we can accept what Christ has done for us and trust in his goodness, we are freed to respond graciously.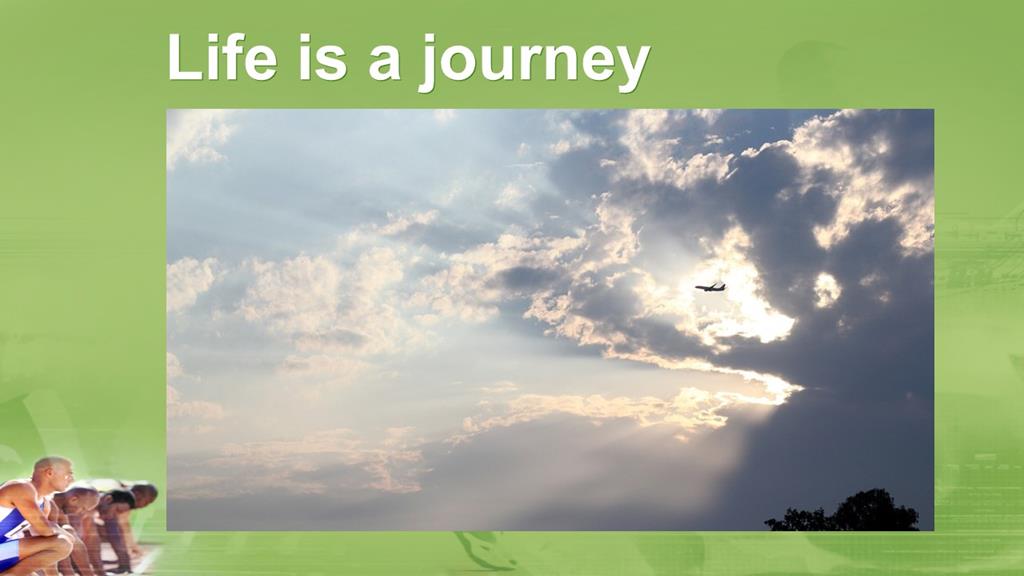 "Life is a journey" may be a cliché but there is truth in it, especially for those of us who are Christians. This earth is not our home. Instead, we are pilgrims, like those on the Wilderness Road, traveling through on the path Jesus established, longing for a new and eternal life in the presence of God. As pilgrims, we're being watched. Our passage reminds us of those who are watching from above, those who have already run the race and are cheering us on. But there are also others watching us, those who are looking to see what it means to follow Jesus. Since we represent our Savior, the King, we need to live in a way that will honor him which is why it is important that as we go on this journey, we strive to be Christ-like.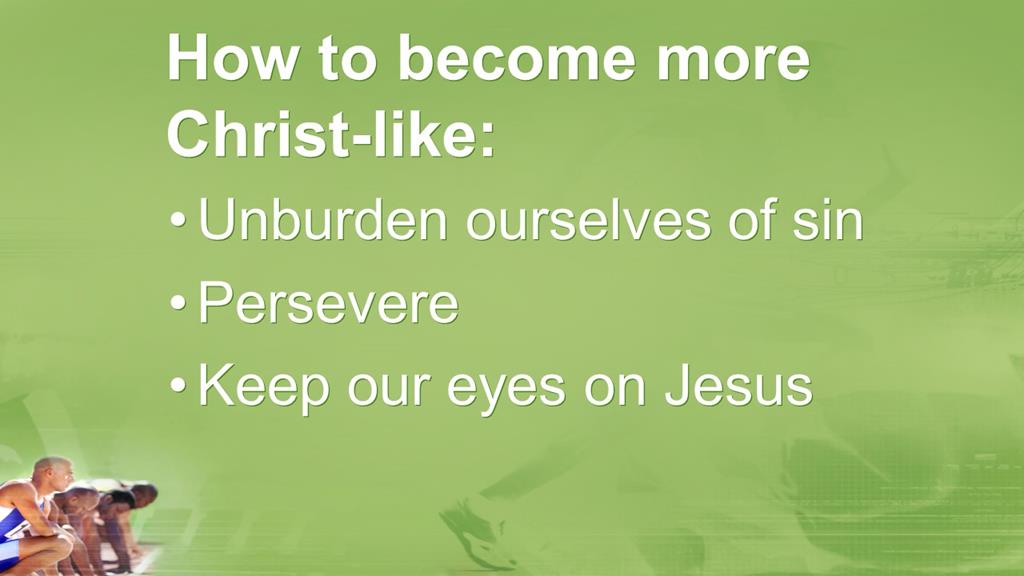 How might we become more Christ-like? As I've already covered, the writer of Hebrews first suggests we strive to unburden ourselves of sin. As a runner, anything that holds us back can be a burden; so we should make sure we are not overwhelmed. We free ourselves of burdens so that we might run faster.  Secondly, we're to persevere. We are not perfect: there will be times we'll trip, there will be times we fall, but like a good athlete, we brush ourselves off and continue. We must pace ourselves for it's a life-long race. We don't give up for we are after the prize. When our time here is up, we want to stand boldly before God's throne.[5] And finally, we're to keep our eyes on Jesus which means we need to regularly spend time studying his life in Scripture and seeing how we might become more like him. Asking ourselves how Jesus would handle a situation is a helpful way of evaluating our response to the challenges we face as we run our race.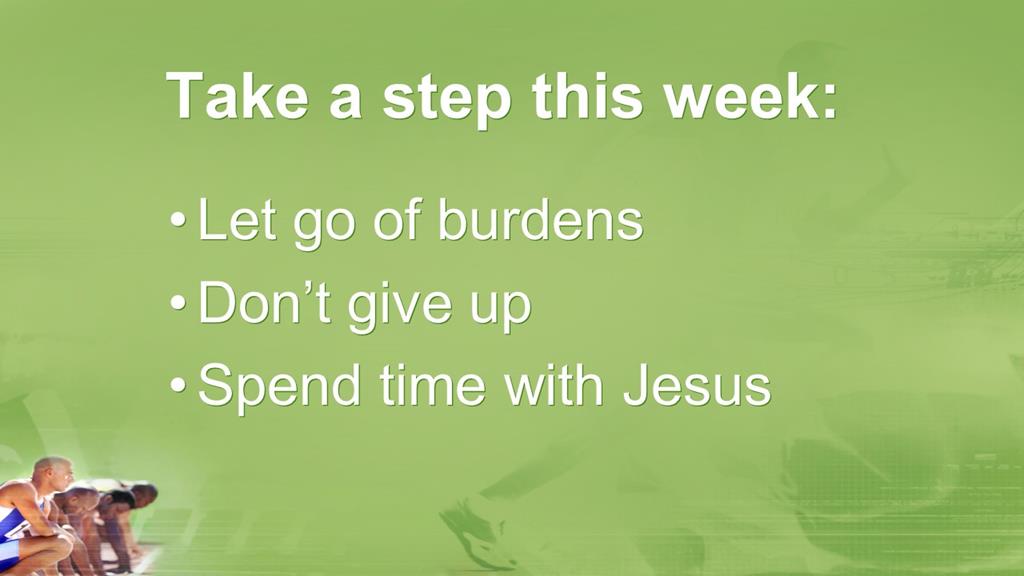 Think about your life and see if there are behaviors holding you back that you might let go. Where are you not living up to life Christ is calling you to lead? What can you change to become more Christ-like? Secondly, don't give up. The Christian life isn't always an easy run, sometimes it seems, as I discussed a few weeks ago, for every two steps forward, we take a step back. That's okay, we're making progress. We're in the long haul; keep focused on the prize, knowing that Christ has already secured it for us. And finally, spend time with Jesus. Read one of the gospels: Matthew, Mark, Luke or John. Learn about Jesus' life and pray about how his life might inform your own.  Amen.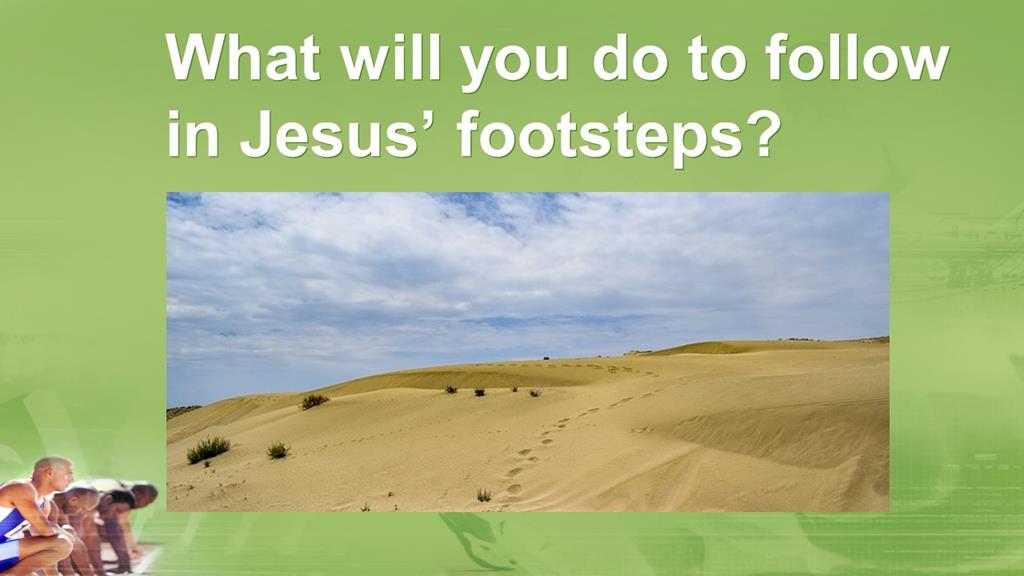 ©2019
[1] Rick Warren, What On Earth Am I Here For? The Purpose Driven Life, Expanded Edition (Grand Rapids, MI: Zondervan, 2012).  
[2] For this link, I'm indebted to Rev. Susan Sparks, "So You're a Christian?  Whattaya Gonna Do About It?"  (http://day1.org/3044-so_youre_a_christian_whattaya_gonna_do_about_it.
[3] Hugh Montefiore, A Commentary on the Epistle to the Hebrews (New York: Harper & Row, 1964), 2013-2014.
[4] 1 Corinthians 9:24-26, Galatians 2:2, 2 Timothy 4:7 and Philippians 2:16
[5] See Revelation 7:13-17