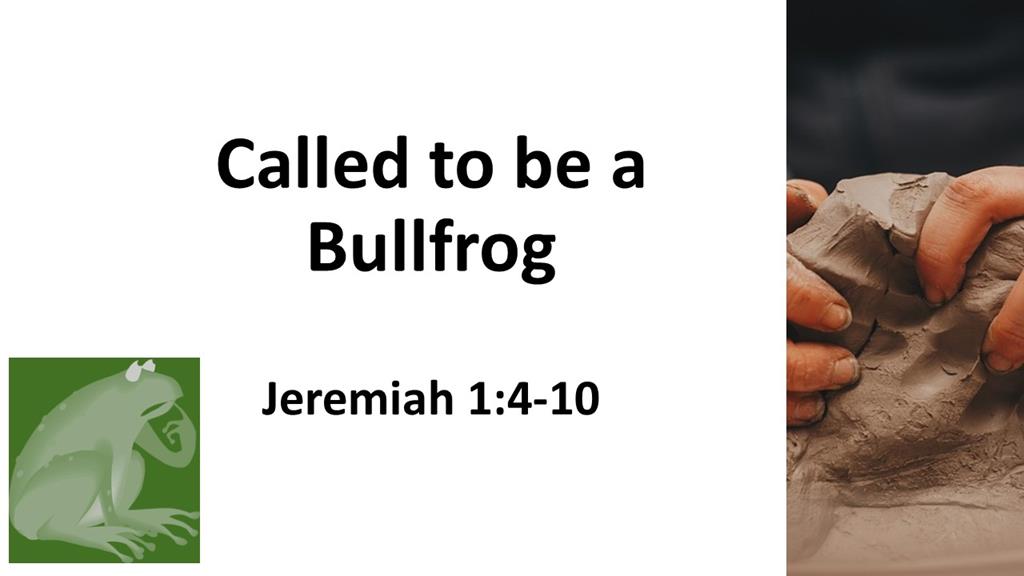 Jeff Garrison
Skidaway Island Presbyterian Church
September 8, 2019
Jeremiah 1:4-10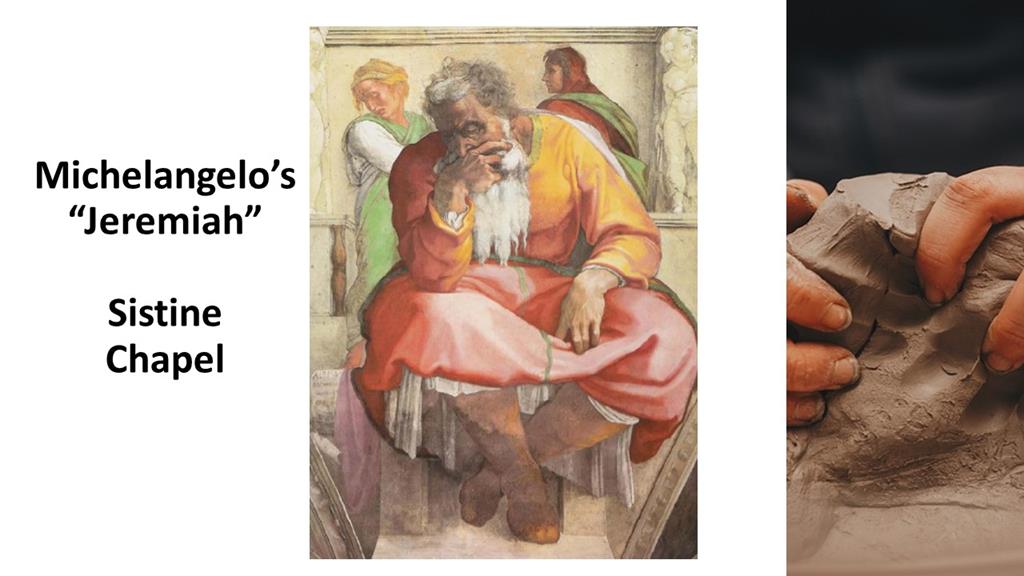 The prophet Jeremiah lived in interesting times. He was one of the longest serving prophets in Israel's history, his calling coming as the Assyrians were losing power.  It was a time of optimism in Jerusalem because they had existed as a vassal state under Assyria for over a century. It appeared they might be free once again, as in the years of Kings David and Solomon. Furthermore, Josiah, one of Judah's few good kings, was implementing religious reforms. But then Josiah is killed in battle against Egypt.[1] Instead of peace and prosperity, the years following Jeremiah's call are troubling. Babylon rises in power and the nation's existence is again threatened.[2] Jeremiah, as a prophet, must go against the grain as he brings God's message to the Hebrew people.
          We, too, are living in interesting times. Things are scary in our world: rogue nations having the bomb, individuals going berserk and killing people, terrorists creating political instability, and huge storms leaving behind chaos and destruction. The news often leaves us fearful and angry. And since we often don't have answers for the problems we face, we blame others. Ben Sasse, a Senator from Nebraska, suggests one of the few things uniting us is our contempt for those of whom we assign blame. "At least," we say, "we're not like them."[3] By the way, in his book Them, Sasse suggests this is not the way to live!
As in the days of Jeremiah, we need to hear a rational voice reminding us to trust in a God who has the power to reshape and remake us, as a potter crafts clay, in a way that the future will be bright and wonderful. Maybe we—look around, you and I—need to be that rational voice. This is God's call to the church of today. We must step up to the plate and offer an optimistic challenge to the world today. This morning we're going to look at the call of Jeremiah. As I read this passage, consider how God might be calling you… Read Jeremiah 1:4-10.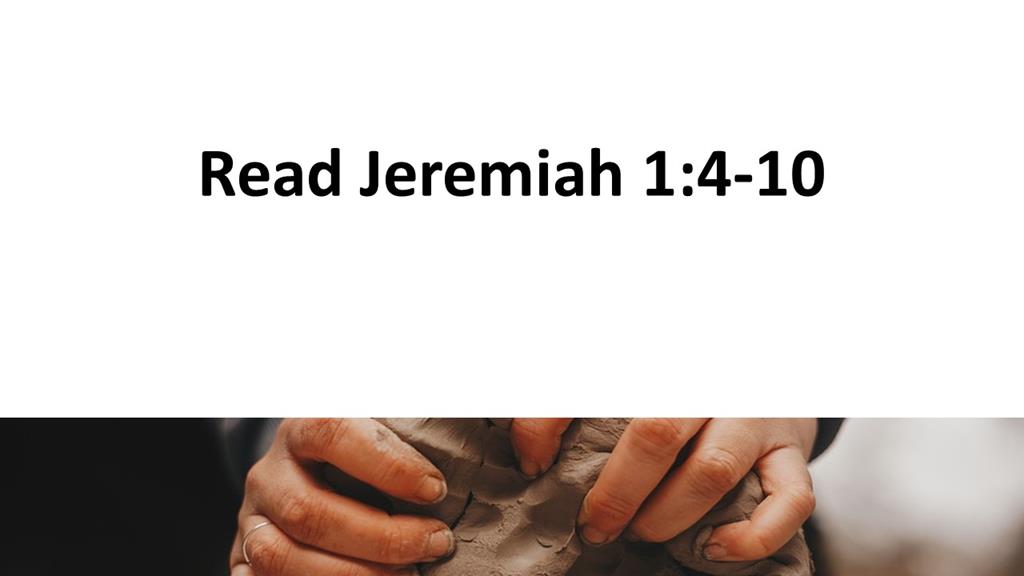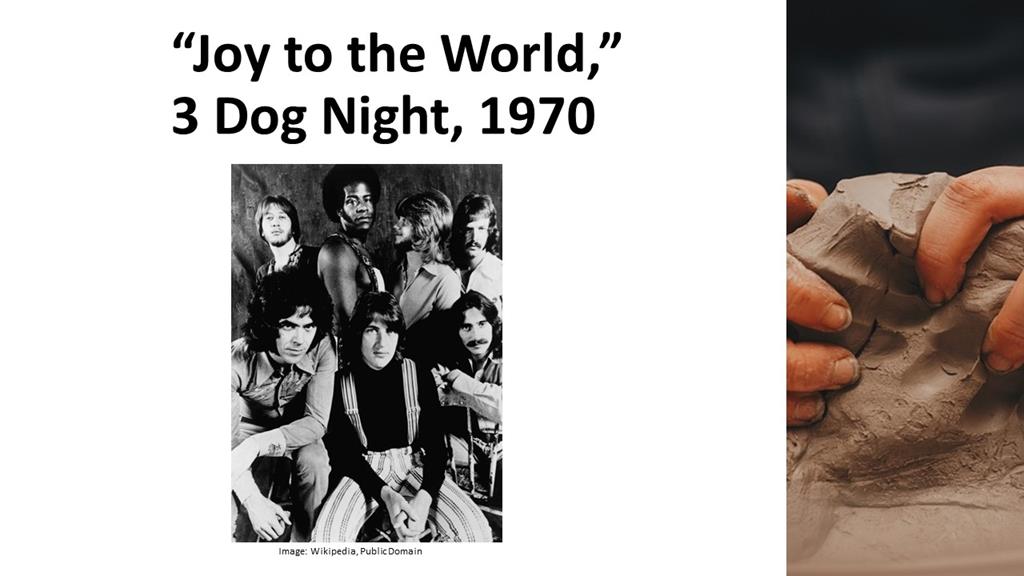 Jeremiah was a bullfrog,
was a good friend of mine.
I never understood a single word he said
but I helped him drink his wine.[4]
Did Hoyt Axton, who wrote this song that became a major hit for Three Dog Night, have the prophet Jeremiah in mind? There's some debate about it. His lifestyle didn't exactly display Sunday School values, but the words "Joy to the World" certainly draws upon the Christian imagination.[5] We don't know his intentions, but Jeremiah was a bullfrog. Let me explain.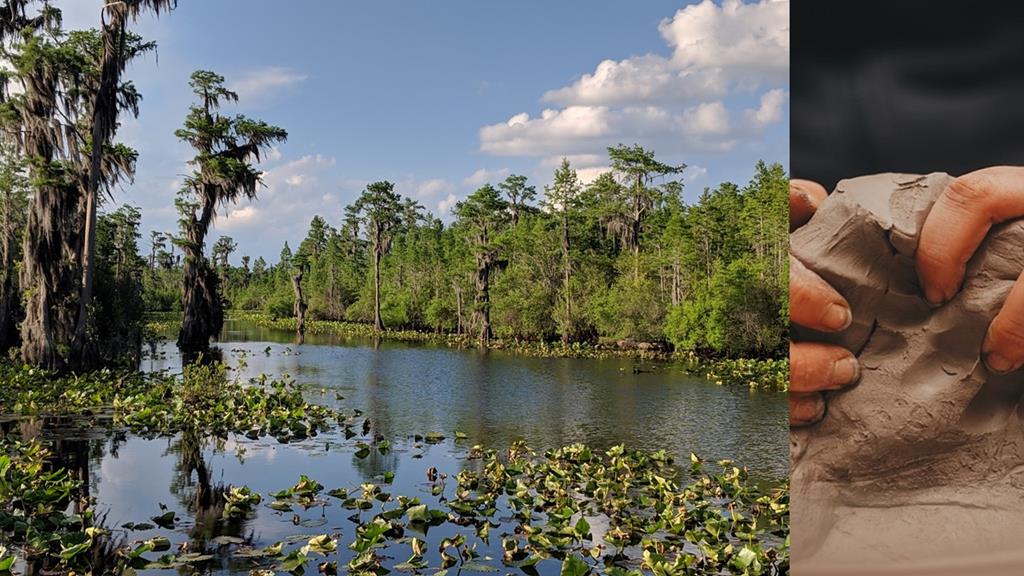 Back in early May, Gary Witbeck and I took a trip into the Okefenokee National Wildlife Refuge. On our second night, we were camping on a platform at a place called "Big Water." It's the headwaters for the Suwanee River. As the sun set and evening descended, we watched alligators battle over territory (or maybe they were fighting over mates, or were flirting, we couldn't tell the difference). While the gators fought, in the background a chorus of frogs sang. Their song would come in waves, starting up the river and working its way down and then back up. The frogs were in perfect harmony. You couldn't tell one frog's croak from another. It was quite beautiful.
But occasionally during that evening, we'd hear the loud croaking of a bullfrog. They were distinct. They were loners. You could pick out each individual one and the direction toward where the frog was located. Jeremiah was like that, like a bullfrog. He provided a distinct message to the people of Israel. He was heard off to the side. There were others in those days, a chorus of prophets, who spouted off the message the people and the king wanted to hear. Their sounds all blended together. But Jeremiah was alone, going against the popular chorus. He was God's messenger.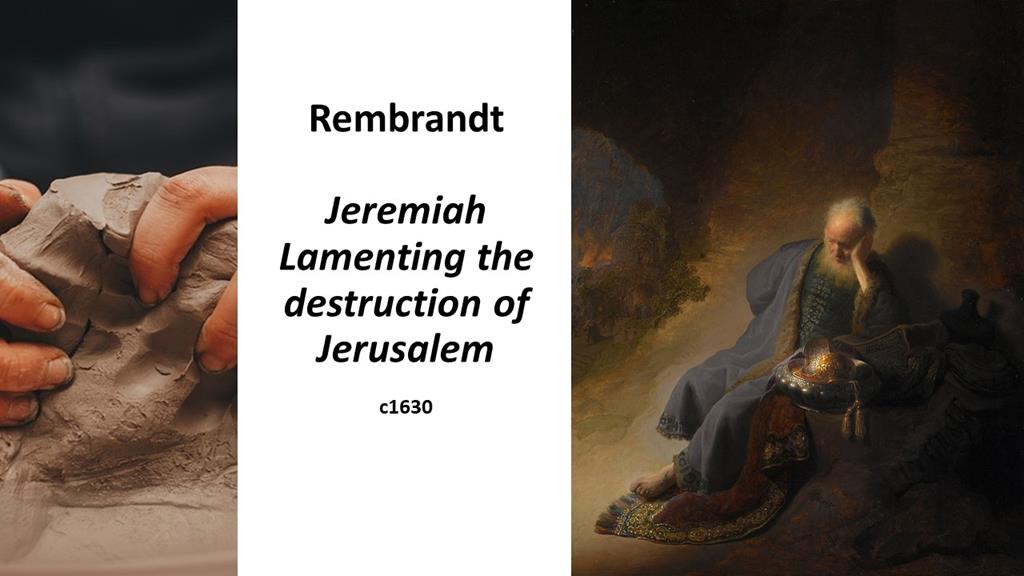 But this is where the song gets it wrong. The one singing, claims to be a friend of Jeremiah, enjoying drinking his wine. But the Jeremiah of the Old Testament, was often lonely. He didn't have many friends bellying up to him at the bar. Like a bullfrog, he cried out the message from God that he's been given, and message that no one wanted to hear, so he was often alone and vulnerable. But he was faithful, and when we consider eternity, that makes all the difference in the world.
Today, the church appears more and more marginalized in society. After decades of arguing over things around the periphery (issues of sex and of women leadership and homosexual rights and such), and having been so caught up in political debates, those outside the church identify us more by what we're against than the person we are to be following. For Jeremiah, doing God's work was a challenge. For us, following Christ can be just as challenging.[6] We need to offer hope to the world that can only be found in Christ Jesus. But it's easy to succumb to the chatter around us, to become a frog in the chorus and not the distinctive sound of the bullfrog.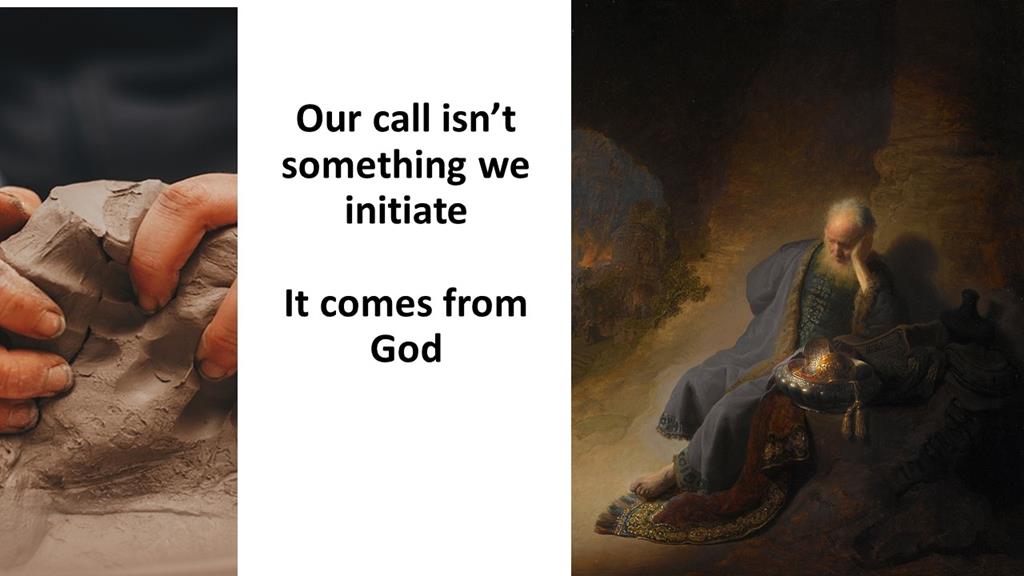 You'll notice in the text that Jeremiah didn't have a choice in all this. He was chosen by God before the foundation of the earth. Yesterday morning, in the Men's Bible Study, we were reading Paul's letter to the Ephesians, where are reminded that God calls us through Jesus Christ to do the work which has been prepared for us.[7] Our call, like Jeremiah's and the Ephesians', isn't something that we initiate. It comes from God.
Eugene Peterson notes how we often get things wrong. We see ourselves coming to church to learn about God or to check in on what's God up to. But that's backwards. It's not our initiative. God has known us all along and is calling and leading us through the Spirit. God's doing this long before we even accept his existence.[8] Regardless of who we are, God loves us and sees us as important and can use us to help make this world a better place.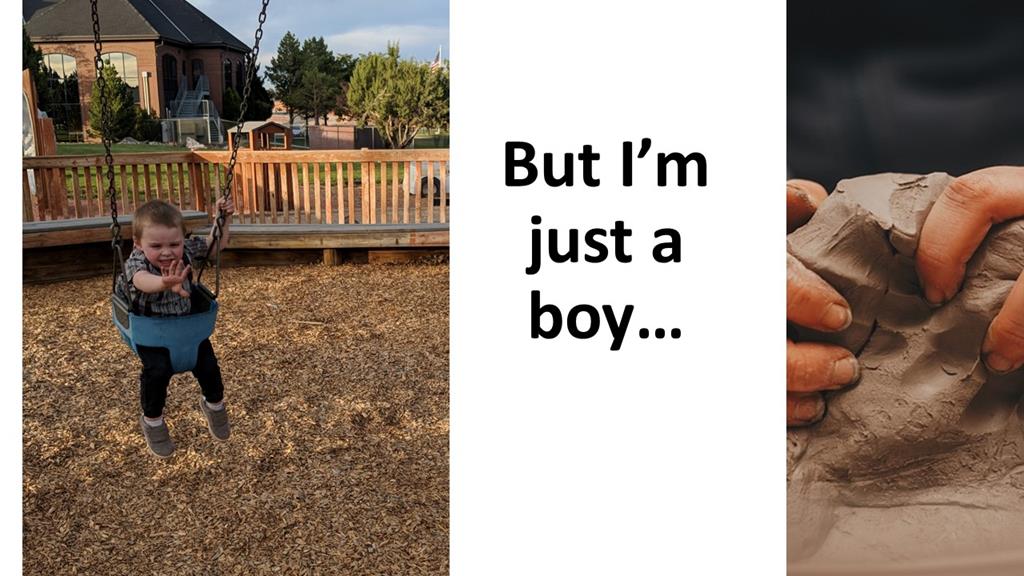 Of course, like Jeremiah, we can beg off. Jeremiah said, "I'm just a boy." Looking around, we might say, "we're too old." But God has heard that one, too.  Remember Abraham and Sara? How old were they?[9] Have you ever wondered if maybe the reason God used all these old folks in the Old Testament was to take away our excuses? We're all young. None of us have an excuse. God promised Jeremiah that he's going to be with him and that he would be given the words to say to the corrupt generation into which he'd been born. Likewise, Jesus promises his followers (that be "us") that we'll be given the words to say.[10] Do we trust God enough to live differently, to sing a different song, to stand out against the crowd and to live, not for ourselves, but for our Lord Jesus Christ?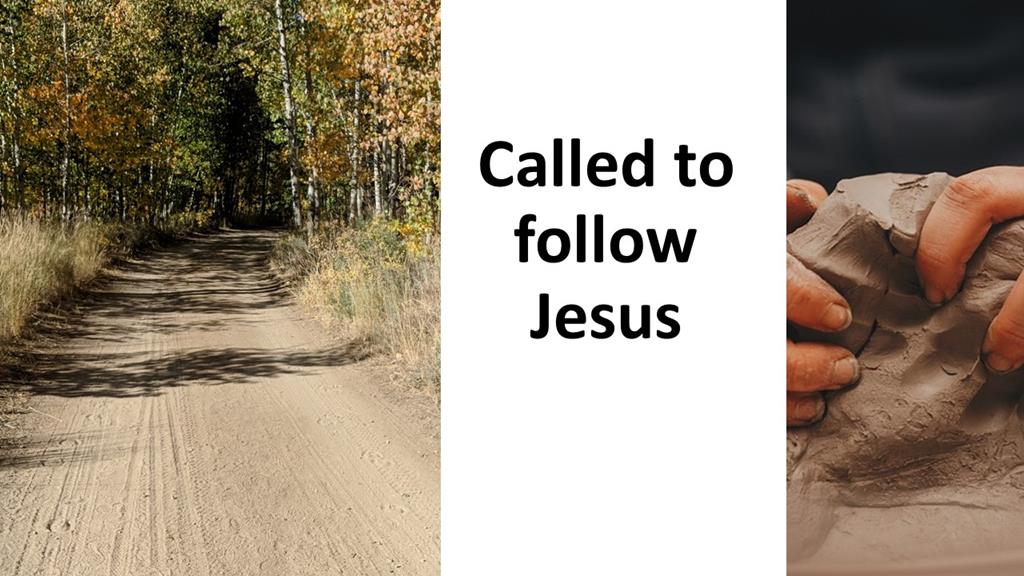 Jeremiah has been appointed for a mission. Likewise, the church has been appointed for a mission. We're all called by God to follow Jesus and to point to him as our hope in a world that often seems hopeless.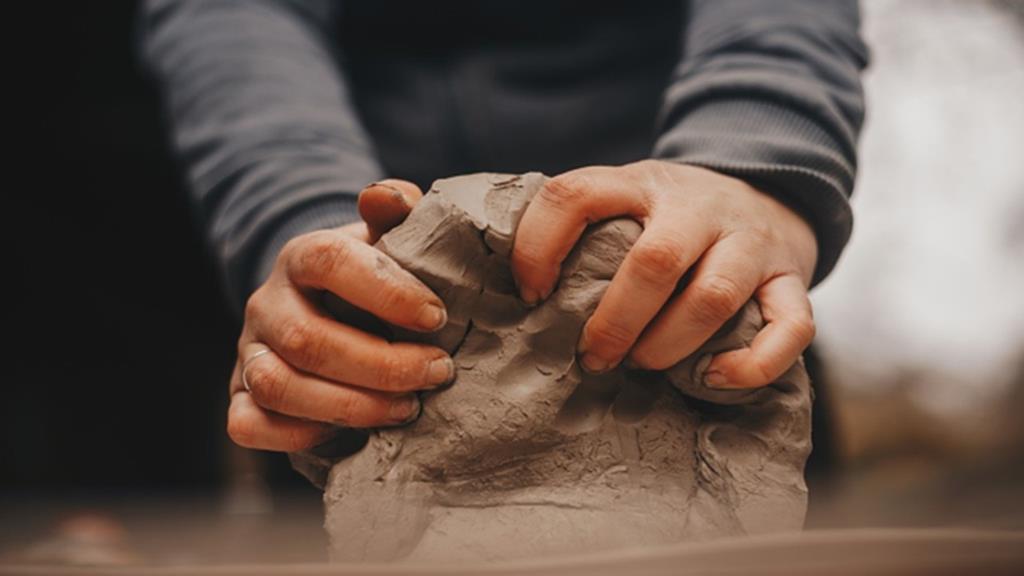 Over the next six weeks, as we work through this series, we'll be using images of potters. Our image today is a clump of clay, being kneaded like bread dough. The technical term for doing this to clay is "wedged." The potter takes the clay and stretches and pushes it like a baker works dough. In doing this, all the air pockets are worked out so that the clay is easier to shape on the wheel and afterwards, when firing, the pot won't have air pockets that'll explode and destroy the vessel.[11] As followers of Jesus, we have to be open for God working with us, just as a potter works with clay, in order that we might be reshaped. God will work out the old and create in us something new. Are we open to such shaping? Are we willing to be a bullfrog for God and to call people to be attentive to Jesus' way of living?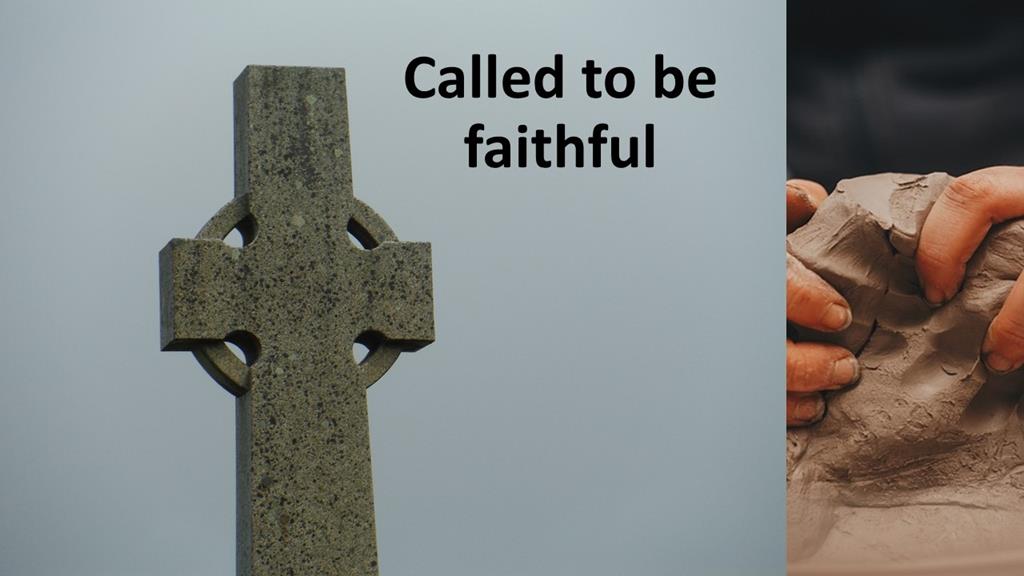 Paul, writing to the Ephesians, encouraged them to put away all bitterness, wrath, anger, wrangling, slander and malice. Such behavior is to be wedged out of us, like air is wedged out of the clay, so that we might be kind to one another, tenderhearted, and forgiving.[12] The world may see such traits as signs of weakness. They even got Jesus killed. But that was then. We need to remember that the world, as it is, won't last. We're not looking for the world's approval. We're striving to be faithful to that which is eternal, our Lord Jesus Christ. Amen.
©2019
[1] 2 Kings 23:28ff.
[2] For a background on the world in Jeremiah's day, see John Bright, "The Life and Message of Jeremiah," in Jeremiah (New York: Doubleday, 1965), LXXXVI-CXXIV.
[3] Ben Sasse, Them: Why We Hate Each Other-and How to Heal (New York: St. Martin's Press, 2018), 9.
[4] Hoyt Axton, "Joy to the World." Recorded by Three Dog Night on Naturally, 1970.
[5] https://www.songfacts.com/facts/three-dog-night/joy-to-the-world
[6] See Stan Mast, Notes on Jeremiah 1:4-10 published on the "Center for Excellence in Preaching website: https://cep.calvinseminary.edu/sermon-starters/proper-16c-2/?type=old_testament_lectionary
[7] See Ephesians 2, especially Ephesians 2:10.
[8] Eugene H. Peterson, Run with the Horses: The Quest for Life at Its Best (Downers' Grove, IL: Intervarsity Press, 1983), 37-38.
[9] Abraham was 75 when he was called (Genesis 12:4). He was 100 and Sara 90 when Isaac was born (Genesis 17:17).
[10] Matthew 10:19.
[11] For a discussion of this process, see Marjory Zoet Bankson, The Soulwork of Clay: A Hands-On Approach to Spirituality (Woodstock, VT: Skylight Paths, 2008), Chapter 1: Grounding.
[12] Ephesians 4:31-32.  Likewise, Jeremiah is called to both "pluck up, tear down, destroy and overthrow" while also building up and planting  (which we can assume to mean removing that which is not pleasing to God, and planting/building up that which is pleasing).