Montreat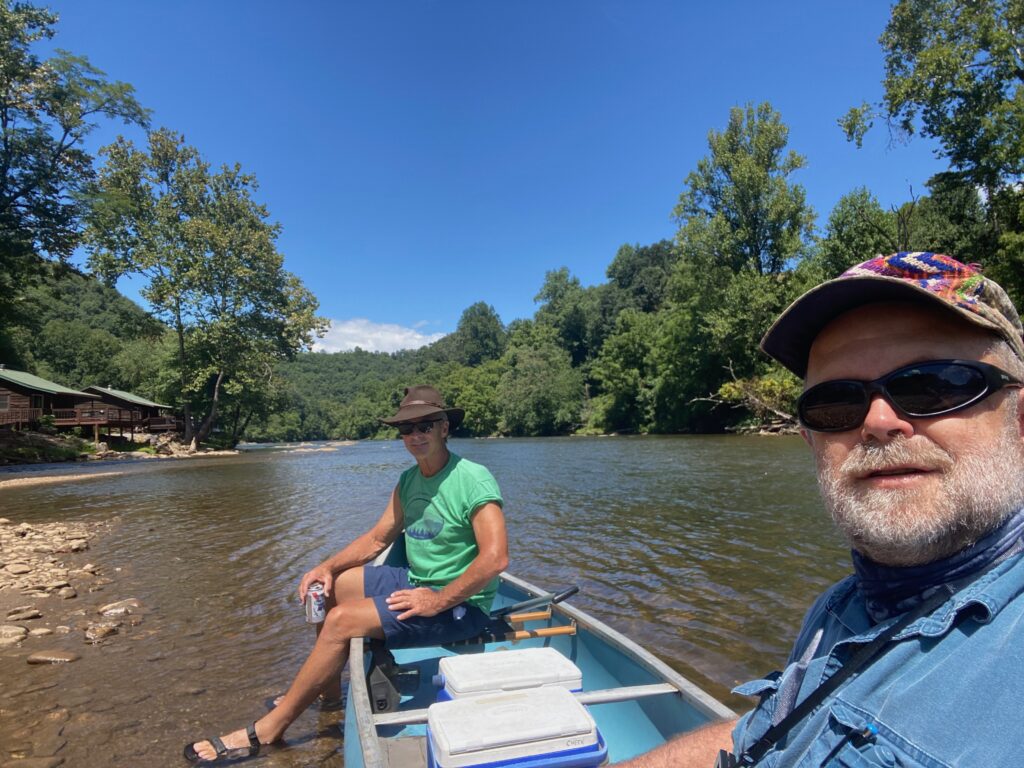 I've been on vacation this past week, which is why I didn't post a sermon on Sunday. Instead, I spent five days at Montreat, a Presbyterian conference and retreat center in the mountains of North Carolina. While there, I caught up with an old friend from the time when we both lived in Hickory, NC in the early/mid 1980s. I haven't seen Bill since the late 80s. Back in the day, we did several backpacking trips together as well as some water skiing. Oddly, as we're both big paddlers, I don't remember but paddling together but once before, on the Henry River.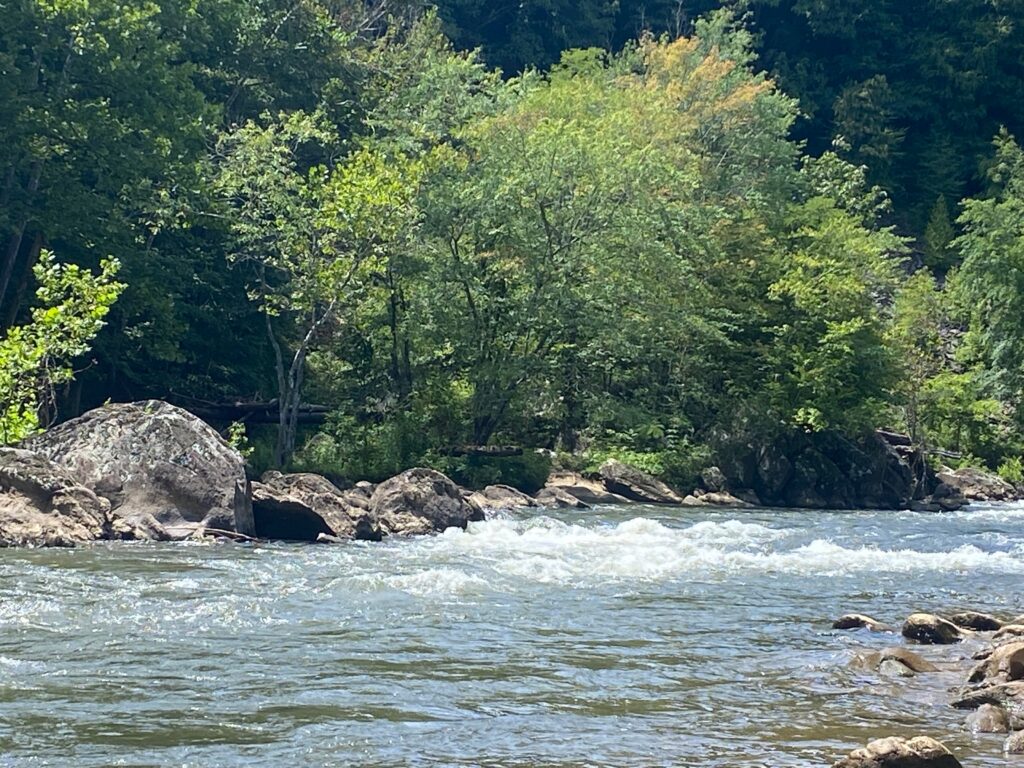 Bill now lives north of Asheville, and we sent the day paddling the Tuckaseegee River near Dillsboro, NC. It was a delightful river with numerous class 1 and 2 rapids. I haven't paddled any white water in a canoe in probably 20 years. Most of my paddling lately hasn't been white water, and is generally in a kayak. But it was fun to be in a tandem canoe. I also got to meet a friend of Bill's who lives on the river, Bob Lantz, who was a co-inventor the Blue Hole canoe, a white-water boat that was popular back in the 70s and 80s. Bob has a cabin on the river and we enjoyed a beer while talking to him out on his porch.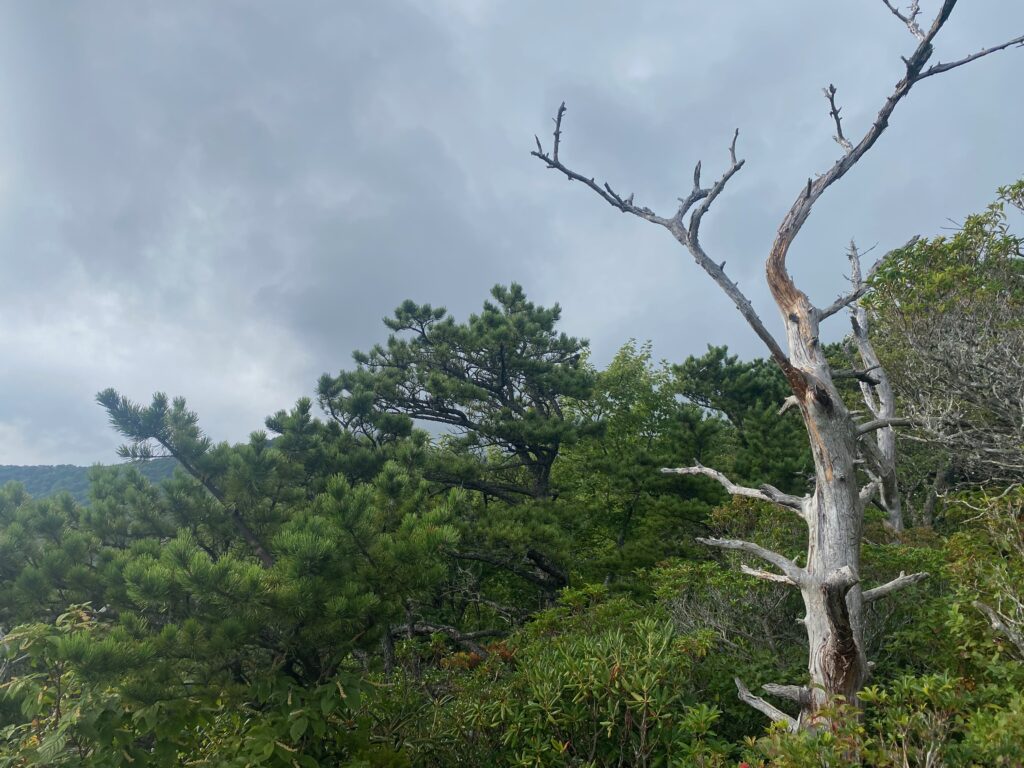 In addition to enjoying some down time and a few lectures and seminars, I hiked to Lookout Point and the Graybeard Trail (the latter seems rather personal). Getting a late start on the Graybeard Trail, I got back into Montreat after dark! But it was a good hike and while I didn't see any rattlesnakes, two different groups on the trail told me of their encounters. As the sightings were at different places, they would have been different snakes, but none wanted to show their faces to me.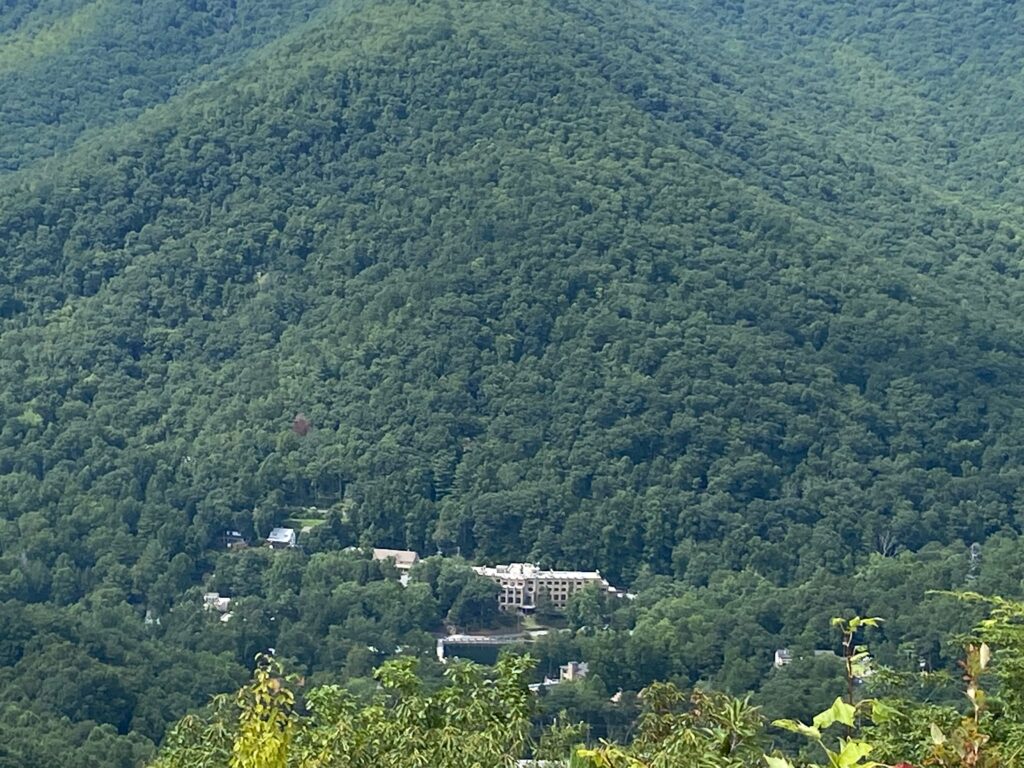 Natural Tunnel State Park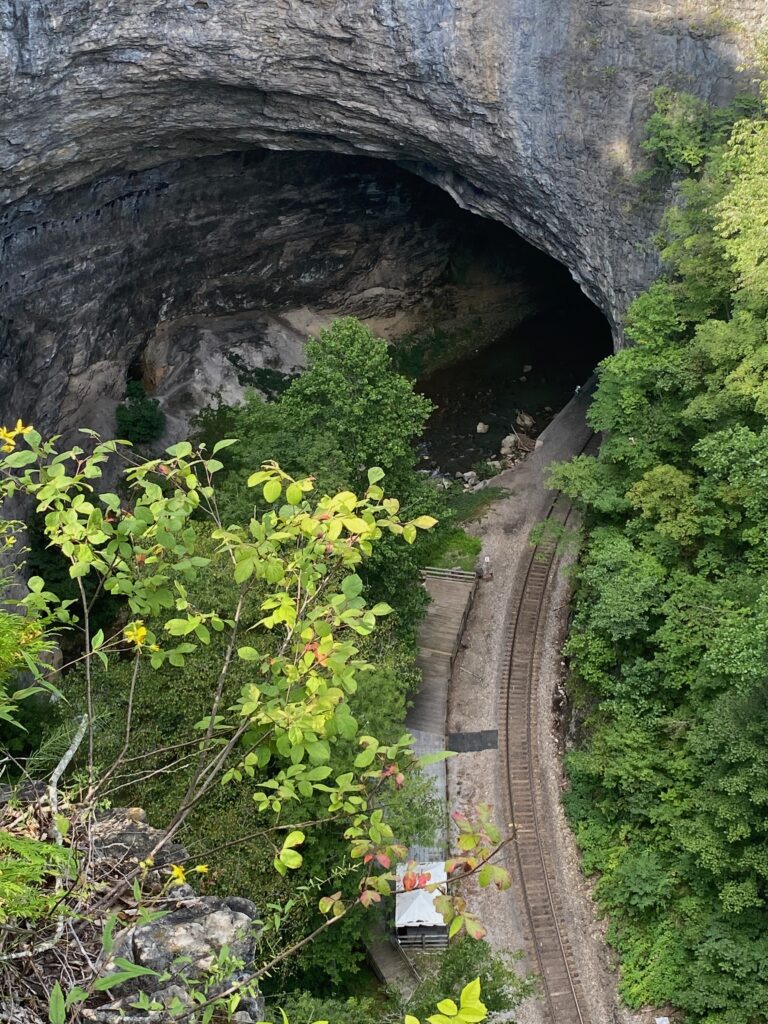 This weekend, after getting back from Montreat, we went over to Natural Tunnel State Park in the far western part of Virginia. This natural tunnel is over 800 feet long and since the late 1880s, has included railroad tracks. The track is now owned by Norfolk and Western. I was hoping to get a photo of a train coming through the tunnel, but there was only one that passed through while there, and I wasn't anywhere near the tunnel. The area has some nice hiking, too.
I have a bunch of books to review on philosophy, poetry, history, and fiction… I'll get to them in later posts. Here are two reviews. The second one perhaps prepared me for hiking the last leg of the Graybeard Trail in the dark. 🙂
###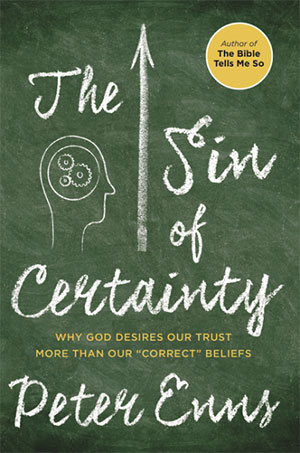 Peter Enns, The Sin of Certainty: Why God Desires Our Trust More than Our "Correct" Beliefs
 (2016, HarpersCollins Paperback, 2017), 230 pages including notes and scripture references. 
What does it mean to have faith? Peter Enns makes the case that our faith is grounded in trust in God. And this God is greater than we can imagine. However, too many people (and the author had been one of them) equates faith with correct thinking and right beliefs. We often are concerned with "getting the Bible right," (it's the Protestant DNA). We think when we fully understand the scriptures, we will find an answer to all our problems. Enns challenges such thinking.
In this book, Enns encourages the reader to explore the scriptures as he shows that faith and belief isn't about correct thinking of God. It's about trusting a God who draws us closer. After all, as he points out, believing in God is easy. Even demons believe. Our faith isn't about what we know, it's about who we know.
Enns draws continually on the Bible to make his point. While he uses the whole of scripture, he pays special attention to parts often overlooked such as the Psalms of Lament and the Ecclesiastes. We grow in our ability to trust God not when things go well, but when things go wrong. Quoting Samuel Rutherford, "grace grows best in winter." (71)
While many Christians may disagree with parts of this book, Enns's thesis need to be heard. For skeptics and for those who have struggled with holding a "correct belief" in God, his words offer hope and a new way to engage the God of scripture. This book is easy to read. I encourage others to check it out.
Quotes from The Sin of Certainty:
"A faith that promises to provide firm answers and relieve our doubt is a faith that will not hold up to the challenges and tragedies of life. Only deep trust can hold up." (120)
"Wanting clarity is seeking some sort of control…." Darkness takes away control…". "if anyone tells you Christianity is a crutch, you should take one of those crutches and beat him over the head with it (in Christian love, of course, making sure to tell them you will be praying for a quick recovery)." (170)
"When faith has no room for the benefit of doubt, then we are just left with religion, something that takes its place in our lives along with other things—like a job and a hobby…. Doubt is God's way of helping us not go there, thought the road may be very hard and long." (172)
###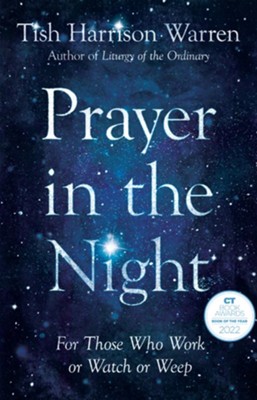 Tish Harrison Warren, Prayer in the Night: For Those Who Work or Watch or Weep
 (Downers Grove, IL: InterVarsity Press, 2021), 199 pages including notes and study questions. 
Keep watch, dear Lord, with those who work, or watch, or weep this night, and give your angels charge over those who sleep. Tend the sick, Lord Christ; give rest to the weary, bless the dying, soothe the suffering, pity the afflicted, shield the joyous; and all for your love's sake. Amen. 
 -"The Compline," from the Book of Common Prayer 
My review:
The Compline is a prayer that is offered as night falls. Darkness is a metaphor for evil. Bad things can happen at night. We don't know what lurks in the shadows. Yet, according to Genesis, God also created darkness even though in Scripture, we're promised that in the end, "night will be no more."
Warren begins her book with a tale of tragedy, the night she experienced a miscarriage. During this troubling time, she found comfort in praying The Compline. 
In this book, she carefully exegetes each line in the prayer. She draws from Scripture, especially the Psalms, as well as a host of other sources. She quotes theologians, authors, philosophers, even those who are critical of the faith. In addition to writing about trusting God, she also expounds upon various aspects of theology, from death to bodies, to work and our dependence on others as well as God.
I found this book a delight and recommend it to those who want to deepen their prayer life.
Quotes from Prayer in the Night:
"Faith, I've come to believe, is more craft than feeling. And prayer is our chief practice in the craft." (8)
"Grace is the first and last word of the Christian life, and all of us are desperately in need of mercy and are deeply loved." (8)
"Compline speaks to God in the dark. And that's what I had to learn to do—to pray in the darkness of anxiety and vulnerability, in doubt and disillusionment. It was Compline that gave words to my anxiety and grief and allowed me to reencounter the doctrines of the church not as tidy little antidotes for pain, but as a light in darkness, as good news." (19)
"Mysteriously, God does not take away our vulnerability. He enters into it." (29)
"The Christian story proclaims that our ultimate hope doesn't lie in our lifetime, in making life work for us on this side of the grave. We watch and wait for 'the resurrection of the dead and the life to come." (57)
"Just as our pupils dilate to let in more light, to see more than we first thought we could, prayer adjusts our eyes to see God in the darkness." (61)
"God is not a masochist who delights in our pain or weakness, but a cultivator whose grace is found even in the burn unit… I can believe that God is good because God himself chose a way of suffering that none of us would have every choose—and he walked this way in a human body, as a creature of dust." (99)
"To be a Christian is to sit, however uncomfortably, in mystery, in something we can never quite nail down or name."  (111)
"We weep because we can lament to one who cares about our sorrow. We watch because we believe that Love will not abandon us. We work because God is restoring the world in love. We can sleep because God governs the cosmos out of love. Every sickness can be transformed by love. When we're weary, we are given rest because we are loved. Love meets us even in death, bearing blessing…" (165)
We don't pray to convince God to see our needs. He asks us to pray, to tell him what we most long for, because he loves us deeply and devastatingly." (166)
"In the end, darkness is not explained; it is defeated. Night is not justified or solved; it is endured until light overcomes it and it is no more."
Additional Reading Suggestions:

Last Summer, I posted a review of two other books that deal with darkness. Barbara Brown Taylor's Learning to Walk in the Dark, is another religious look at darkness. Chet Raymo's The Soul of Night: An Astronomical Pilgrimage was one of the best books I read last year. While Raymo is writing more from a scientific point-of-view, his writings convey a sense of awe and mystery, which is where science and religion go together. Click here to read my reviews on these two books.