This is another "recycled blog post" from an old blog from my journey from Indonesia to Europe taken during a sabbatical in 2011. I am concentrating on my travel blogs (mostly by train) instead of the others where I was visiting tourist sights. Here I make my way from Malaysia to Thailand. 
Question: What is the largest train station ever built that never had train tracks? (answer at the end of my story)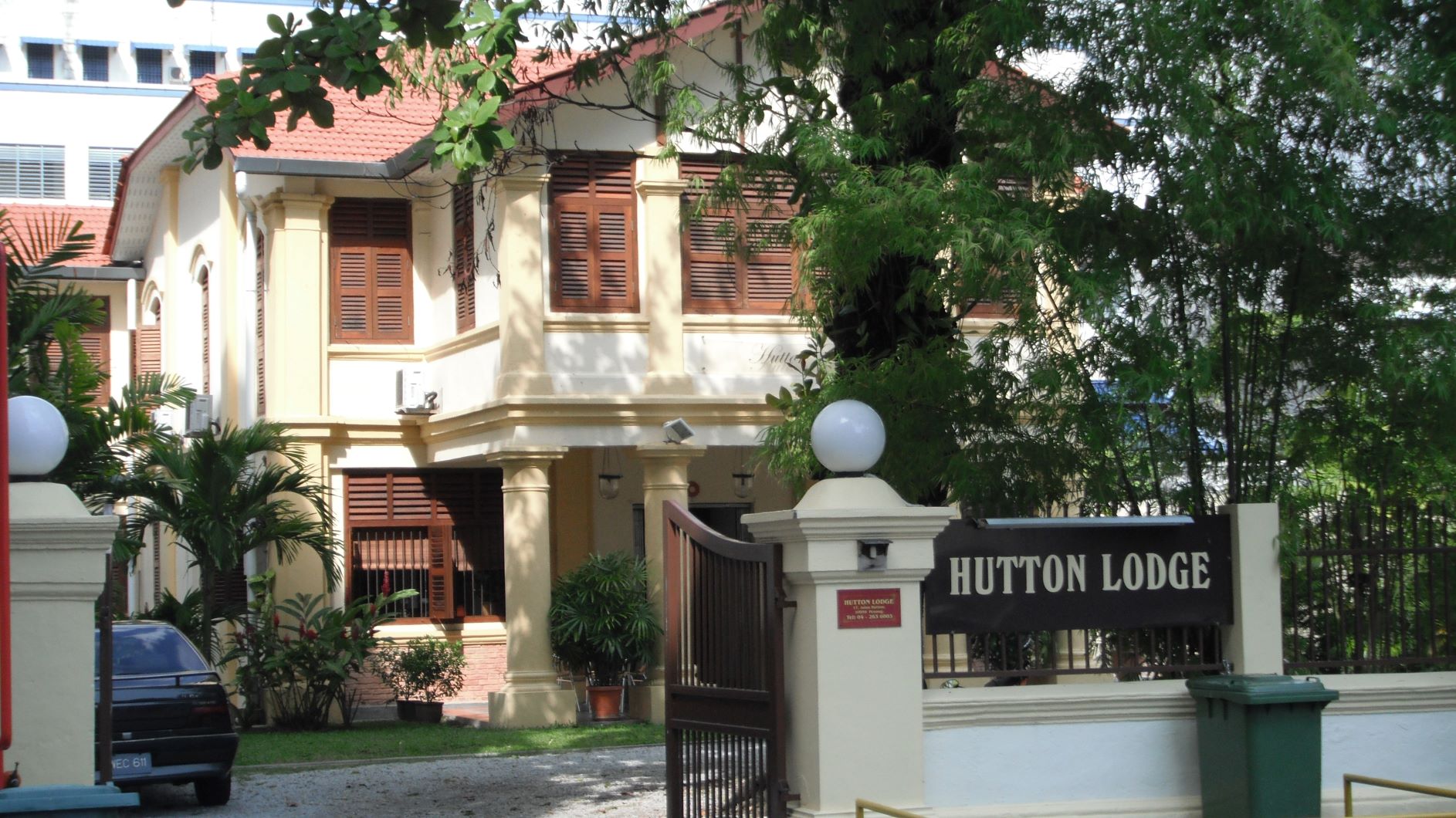 With mixed feelings, I leave Penang behind. I have enjoyed my time here.  After a couple of weeks of constant movement around Indonesia and Malaysia, it was nice to slow down for several days. The Hutton Lodge provided excellent accommodations and having Mahen, a blogger friend who lives in Georgetown, Penang, as a guide was a special treat.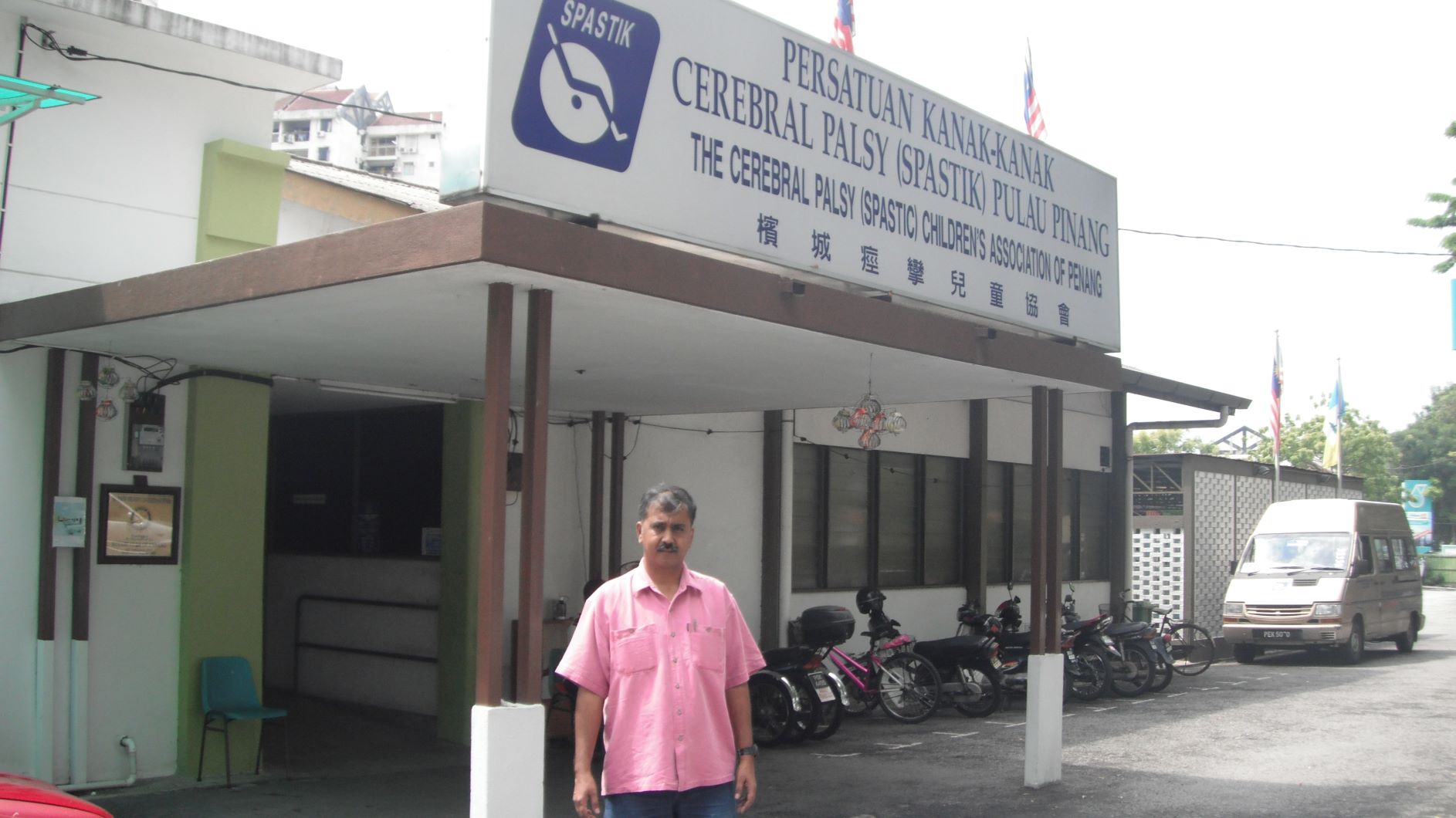 Before leaving Georgetown, I spend the morning at Mahen's clinic where I was able to see first-hand the work they do with children and young adults with cerebral palsy. I got to play with the children and watch as they work to teach a trade to the older children.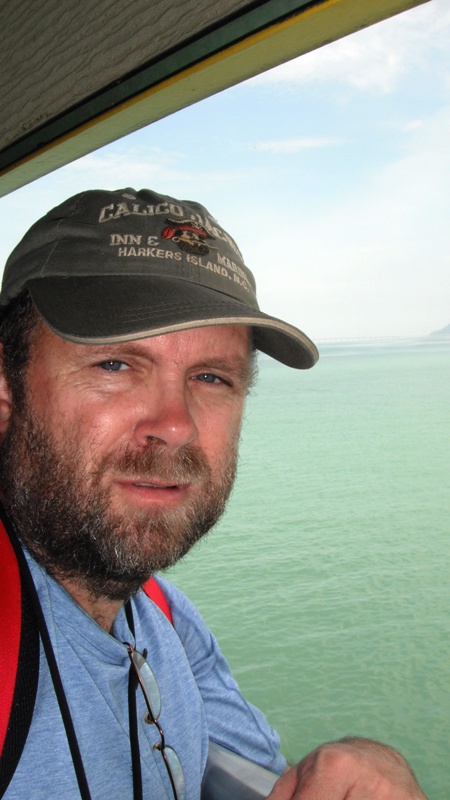 By late morning, it was time to head to the ferry. The train was scheduled for 2:20 PM, but the woman who sold me the ticket suggested I be on the ferry to cross the bay by noon.  As it turned out, there was only a few minute wait for the ferry and then crossing took only 30 minutes. Once on the other side, I walked by the train station and made sure I knew where I needed to be at, then crossed the tracks and found a place for lunch. There, I talked to one of the few Americans I'd seen on the trip, a recent MBA graduate from Harvard who was traveling in Southeast Asia for a month.  We chatted as we at, then we explored some old train equipment, including two old steam trains, in a park by the tracks. Coming back to the train station at 2 PM, a woman working for the Malaysian tourism asks me a bunch of questions about their tourist advertisements and what I liked about Malaysia.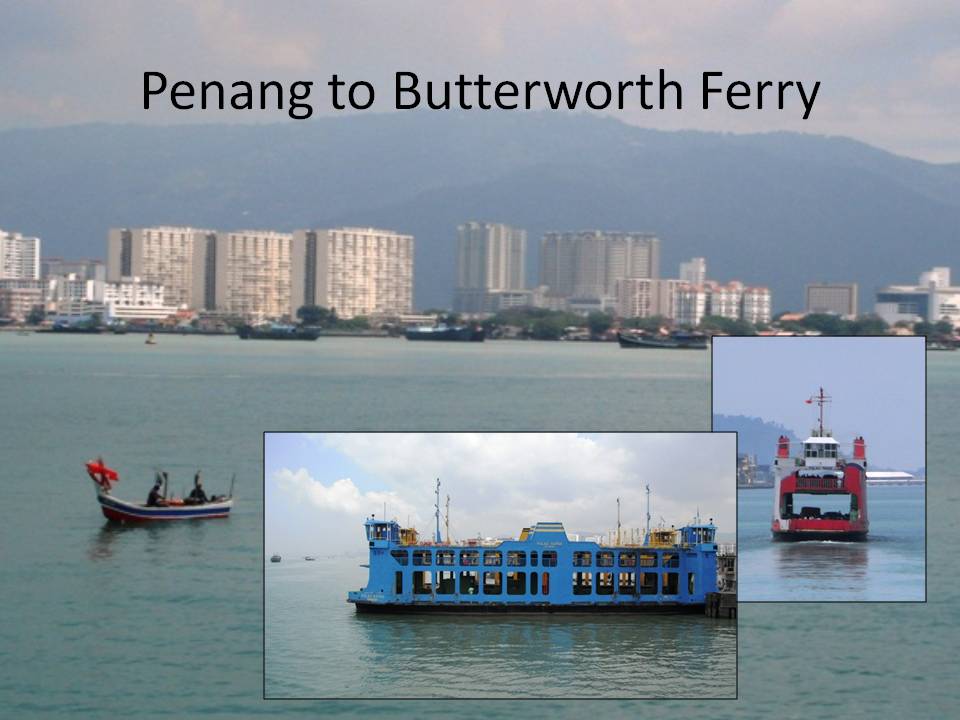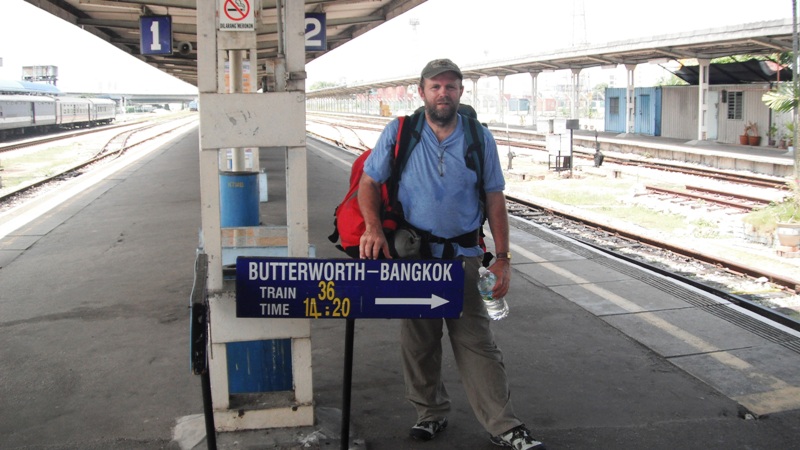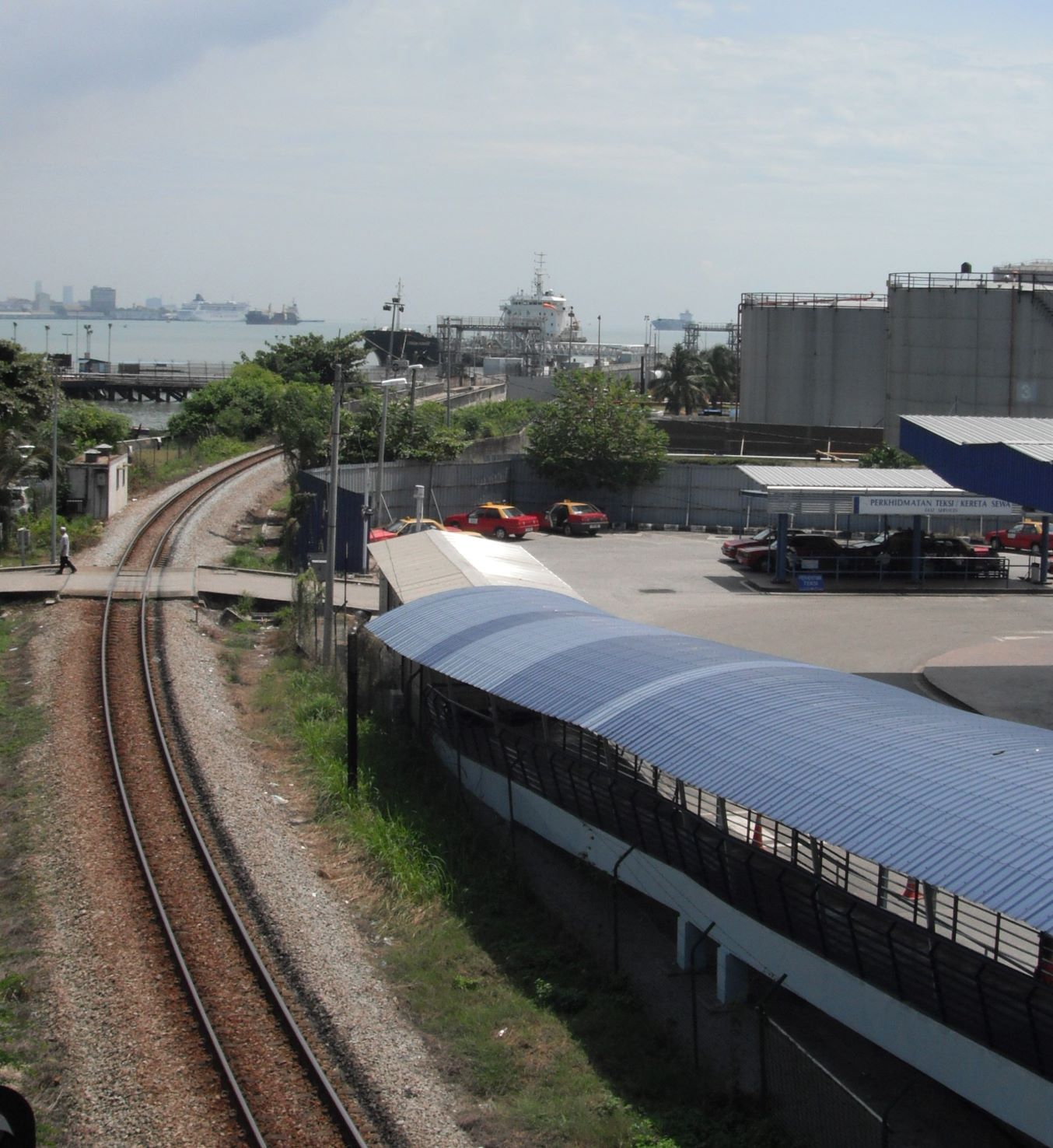 I'm shocked, when the "International" begins to load, that there are only had two cars, both second class sleepers. Even with just two cars, the train is less than half full. I'm alone in my seats, which turns into two single beds at night, with a canvas covering that provides some privacy. Sitting across the aisle as we wait to pull out of the station are two women, sisters, from Penang who were heading north for a wedding. One of them now lives in Hong Kong. We begin talking, but then the conductor informs them they are in the wrong seats and makes them move into the other car. Then, an older Indian couple boarded the train and sat in their compartment. In the seats behind me, an Australian man sits alone and we strike up a conversation.
For much of the afternoon, as we head toward the Thai border, Malaysia work on upgrading their rail system (with plans that the north/south line to be fully double-tracked and electrified) is evident. New trestles are being built, tracks laid and electrical lines strung. These tracks are also a lot smoother than those tracks on Malaysia's "Jungle Train."
At the Thai border, we have to leave the train to clear customs. The cars continue on, but the rather plain looking Malaysian engine is replaced with a colorful Thai engine.  The staff also changes. Instead of the Malay staff, we now have Thai attendants. All of them wear fancy uniforms with enough stars to create a small galaxy. A car to prepare food is also added. We check out of Malaysia, go through a gate and have our passports stamped for Thailand. The train moves forward a hundred feet or so, into Thailand, where we re-board. As we step into the car, a Thai attendant greets us with cart selling bottles of Singha beer. As a Muslim country, there had been no beer on trains in Malaysia. But now we're in Thailand, beer is readily available.
After leaving the border, I join Allen, the man from Australia, and two Japanese men who are sitting across the aisle from Allen. We take turns buying large bottles of beer and pouring them into glasses, serving each other. The Japanese speak only broken English, but we are able to communicate. When they take orders for dinner, we all have pork, which was unavailable in Malaysia, it being a Muslim country. I have pork with noodles with oyster sauce, which was delicious.
Allen and I talk through much of the evening.  An Australian, he retired to Tasmania.  Most of his life was spent in the military.  He'd joined the British army as soon as he was eligible (his mother signed for him at 16).  He was originally from Great Britain, just south of Scotland. After seeing action in Yemen and in Malaysia in the mid-1960s, he transferred to the Australian army where he spent most of his military career. He even spent a year in the United States, in the late 60s, training American Non-Commissioned Officers for jungle warfare. He served three tours in Vietnam as well as in Malaysia (there was an undeclared war between Malaysia and Indonesia on Borneo in the 60s and 70s). He's well-read and we discussed books (we'd read many of the same), theology, government and health care, world politics, our families and the weather (it was a 23 hour train ride).  Allen takes off for a few months every winter (remember, he lives in the southern hemisphere) and travels in Southeast Asia.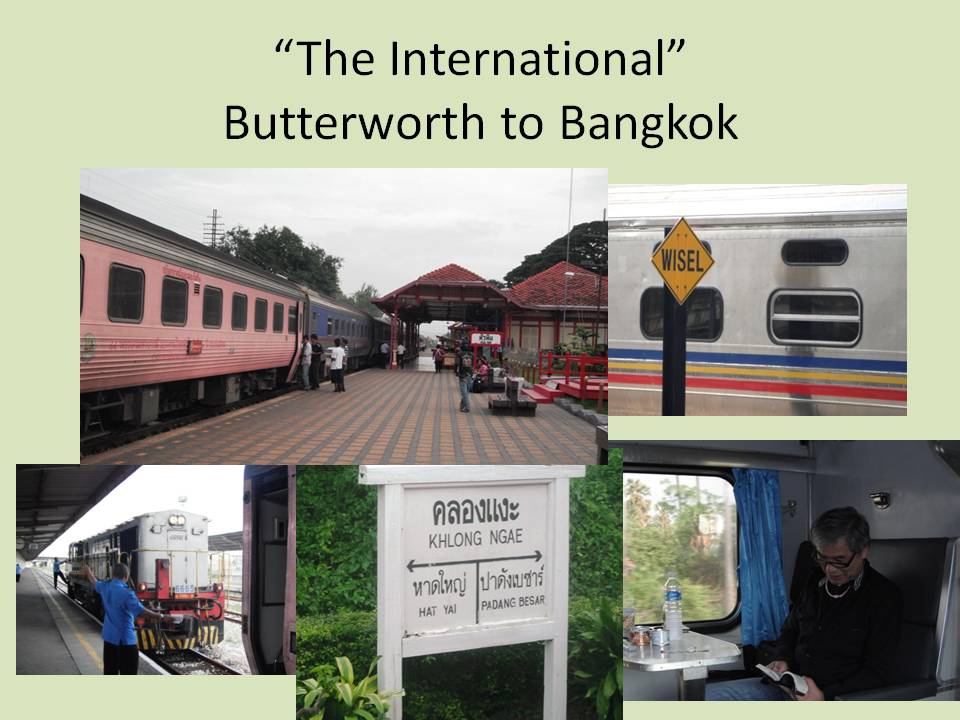 Allen has a lot to say about Vietnam and his experiences there. He's critical of American forces (noting that our military is more disciplined now than then).  Then, he confessed that most Australians in Vietnam didn't like working with American units. The Australian units had jungle warfare experiences in Malaysia, and were more prepared for Vietnam. He told of once incident on his last tour in 1971. His squad had been in an ambush position for a day, waiting. He said that in the jungle it was hard to hear and to see very far and that his troops knew to wait till an enemy force was all in the killing zone (set up between two machine guns, before opening fire. If the enemy unit was too large (more than 18 men), they'd let it pass, but if smaller, they'd attack. A unit came into their trap, talking loudly. In the jungle, they couldn't make out the words or even the language. It was assumed, because of where they were at, it was a Vietcong (VC) unit. He was also critical of the VC, saying they were no more disciplined than American soldiers. As the leader, it was his job to detonate the claymore mines as a signal for everyone to open fire. But seconds before he blew the mines, one of his machine gunners yelled, "Hold the fucking fire."  He was shocked, but the machine gunner was in position to have a good look of the last soldiers in the unit, a 6 ½ foot tall African-American. He could have been basketball player, as his head stuck up over the grass. The machine gunner realized this wasn't a VC unit at all, and his yell saved 13 American lives.
As bad as Vietnam was, he said it didn't compare to his short stint in Yemen with the British army early in his career. His time there makes him feel for the soldiers in Afghanistan, who are fighting a determined enemy who believes they're on God's side.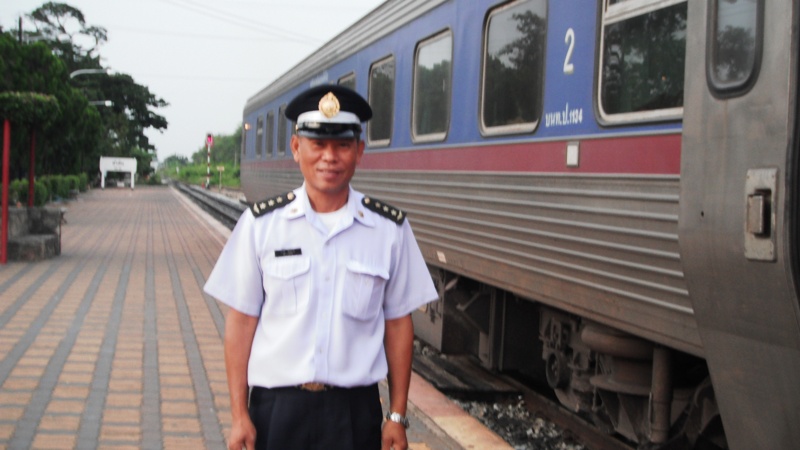 At about ten o'clock, the train attendant lowers our beds. We all head off to sleep.  Across from me, the Indian couple who, especially for  their age, are having a good time. The canvas covers over the sleeping areas don't dampen the sound. Sometime in the night. after the Indian couple quiet down, , I feel the train bumping around and in the morning, there are no longer just two passenger cars, but a dozen or so. The morning also brings a different view as the mosques and minarets of Malaysia have been replaced with colorful Buddhist temples and chimneys for crematoriums of Thailand. The tracks are not as smooth as they were in Malaysia, showing their age as we pass over them.
I join Allen and the two Japanese for breakfast. For 100 baht, I get some fruit, coffee, juice and a ham sandwich. While we eat, we whisper about what must have been going on in the Indian couple's compartment. Everyone heard them. No one is sure of their age, but we all are impressed. As we approach Bangkok, the stations become closer together and towns are larger. We pass over canal after canal, making our way on toward the city's center, pulling into the station just a few minutes late.
At Hau Lampong, the Bangkok main train station, I say our goodbyes to my Japanese friends and Allen and I depart ways. Then I realize I am not sure where I'm going and can't believe that I didn't write down directions to Sam's Lodge, where I have reservations. I find an internet café and log into my gmail account to get the directions—which are rather easy: just find the subway, go four stops and get off at Sukhumvit, leave the subway at exit three, walk to the corner and take a left… I stop to eat lunch and am at the hotel by 2 PM, where I drop my luggage off and set out to explore around Bangkok.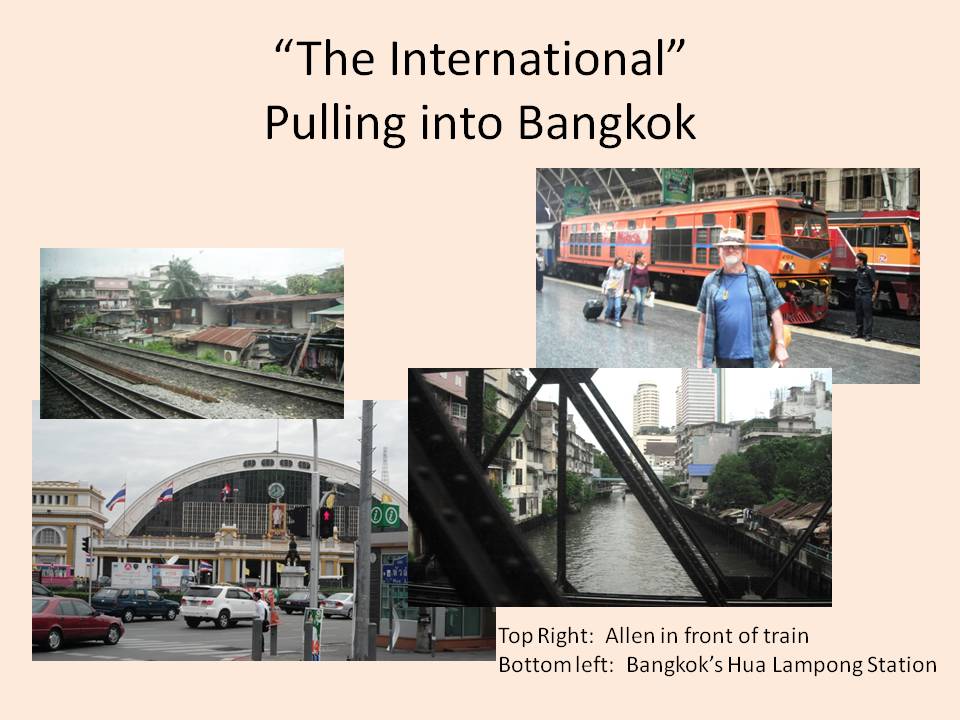 Answer: The majestic Georgetown train station on the island of Penang never had a train make it's way to the station. The trains always ran through Butterworth, on the Malaysian mainland. But the British did a wonderful job in designing this building on the Georgetown waterfront: