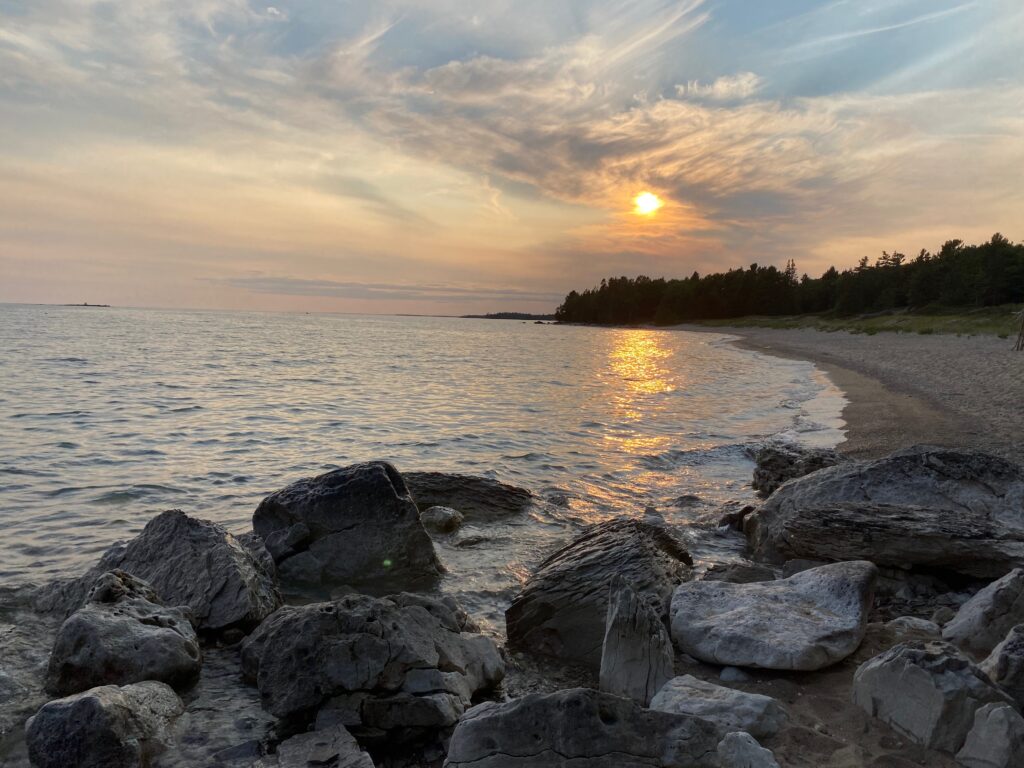 I am away, in the Upper Peninsula of Michigan, for two weeks. One of the weeks is vacation and the other I set aside for study. During this time, I have been reading a lot! The Bible and commentaries on the book of Daniel, the new biography of Karl Barth by Christiane Tietz, Howard Thurman's Jesus and the Disinherited, Casy Tygrett's As I Recall: Discovering the Place of Memories in our Spiritual lives, Gregory Orr's A Primer for Poets and Readers of Poetry, Richard Lischer's Open Secrets: A Memoir of Faith and Discovery, as well as poetry by Barry Dickson, Tim Conroy, and Nancy Bevilaqua. I have also been taking daily walks of three to four miles, and wrote a review of a book I'd finished just before coming here:
text
Robert Marfarlane, The Old Ways: A Journey on Foot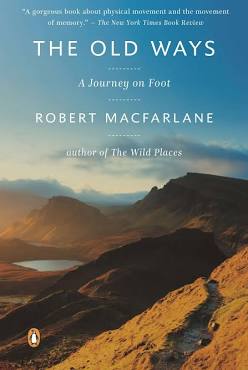 (2012. Audible released the same year, Robin Sachs, narrator, 11 hours 23 minutes)
The book begins with the author taking a walk at night. He had me there as I love walking at night and letting my ears and nose supplement what my eyes can barely see. The author didn't disappoint as he walks around England and Scotland with travels to the Himalayas, in the West Bank with a Palestinian friend, and on the Camino de Santiago from France to Spain. Most (but not all) of these trips are made with others. Along the way, with attention to detail, we are provided a glimpse of what the author experiences. We learn about the trees and flowers, the animals, and the stars above. He also draws us back into time, as we are seldom the first person to walk a particular path. Walking paths require a history. Macfarlane searches out this history as he walks. He walks even out on a spit of land at low tide, a dangerous trek as he must make it back before the tide returns and the spot is often foggy, making the journey back even more difficult.
And while this is a book mostly about walking, the author to my delight, had a section about sailing from the Outer Hebrides to points south and west. While walking has been important, in many areas, such as the British Isles, sea travel allowed humans to travel more efficiently. He takes these trips in older style boats, navigating by the stars.
As he tells about old paths and walking trails, Macfarlane introduces other authors. He brings these authors into the dialogue. Edward Thomas, an English walker and poet killed in the First World War receives the most attention. I didn't realize he had not only been a friend of Robert Frost, but Frost wrote his poem, "A Road Not Taken" for Thomas. Thomas was notorious for not making up his mind and Frost later regretted sending him the poem, for shortly afterwards he joined the army and died in France. He also spends time talking about his grandfather, a British diplomat, who loved to walk and climb mountains. Toward the end of his life, his grandfather's adventures shortened, but he continued to shuffle around.
While I listened to this book, I plan to add a paper copy to my library. There are sections I would enjoy reading over and over.
Rebecca Solnit, Wanderlust: A History of Walking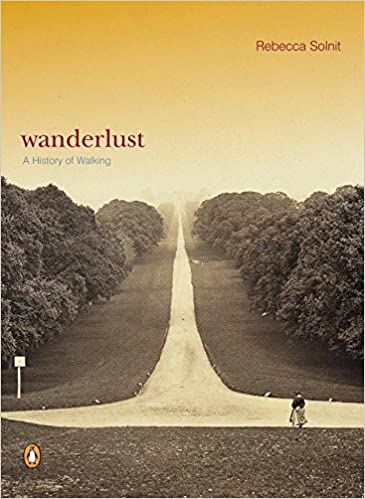 (New York: Penguin Books, 2000), 326 pages, notes and some photographs.
The title drew my attention. I'm a wanderlust and this book is a delight. I don't really know how to categorize it. It's a kaleidoscope of many parts: anthropology, science, history, adventure, exploration, philosophy and poetry. There is a little of something for everyone, which may make the book overwhelming for some. But I found it wonderful.
Solnit begins by taking us on a walk near her home in the San Francisco Bay area. Soon, she is exploring philosophers who think while walking and then she's off discussing how we began to walk and how it helps us see the world. She discusses the idea of the garden and the British walking tradition, especially as it was experienced by poets like Wordsworth and Keats. There are pages devoted to private property and the battles, especially in the UK, over the battle of the right to walk across private property. As she expands walking, she focuses on the French Revolution and the role mass "walking" has played in protests. From France, she explores walking in the Civil Rights movement to the Tiananmen Square revolts in China in the late 1980s.
I was surprised at the beginning of chapter 10 (on Walking Clubs and Land Wars). She was at the breakfast table of Valarie and Michael Cohen's cabin in June Lake, California. I've been there! I know Michael from when he taught at Southern Utah University and one summer, when I was completing the John Muir Trail, Michael joined me for the Yosemite section. Michael wrote a biography of John Muir, which allows her to discuss Muir role in American walking. Before going west and establishing the Sierra Club (of which one of their missions was to take people walking in the mountains), Muir took a 1,000 mile walk from the Midwest to the Gulf of Mexico (he even travelled through Savannah and camped out in Bonaventure Cemetery. Click here to read about my hike with Cohen and a review of his latest book.
In later chapters she discusses how the city began to destroy the need for walking, but then has provided a haven for walkers in places like Central Park. She also discovers the "underside" of walking such as women "walking the streets" to find clients as prostitution and how, in centuries past, women alone on the streets were assumed to be of that profession. She even discusses walking on a treadmill, which doesn't allow you to see much of the world but does allow for needed exercise. I must confess to having listened too much of this book while in the gym.
While I listened to this book instead of reading it, I was so enamored with the quotes and insights that I picked up a hard copy for my library. When listening to the book, the reader starts out with quote after quote, which goes on for several minutes. It seemed weird to have so many quotes. At the beginning of each major section of the book, the reader goes on for some time with more quotes. This didn't make sense until I purchased the book and realized that running along the bottom of the pages of the book are the quotes followed by the name of the author of the quote. The person reading the book would read these quotes for each section, then return and read the text. It was the only way to do this to make any sense. Otherwise, the reader would have only hit part of a quote that appeared on each page. While the quotes at the bottom of the page gave an artistic flavor to the book, I am not sure they added to the story.
If you're a wanderlust, you might find the book enjoyable. But I am afraid that many readers may be overwhelmed in the variety of worlds that Solnit explores. That is both a strength and weakness of her book.