Jeff Garrison
Bluemont and Mayberry Churches
January 29, 2023
I Peter 2:1-10
At the beginning of worship: 
Last week, I began by discussing humility. I will again hit on this topic in today's service, as it is a major them in Peter's first letter. Christians are to be humble, because we give God the credit and realize that without the help of the Almighty, we would be nothing.
The great 19th Century British Calvinist Baptist preacher, Charles Spurgeon, writing about our work in helping others discover the grace found in Jesus Christ, said:
Humility makes you feel that you are nothing and nobody and that, if God gives you success in that work, you will be driven to ascribe to Him all the glory for none of the credit of it could properly belong to you.[1]
I only partly agree with Spurgeon on this. Yes, God's grace should make all Christians humble. On that, we agree. However, God's grace shouldn't make us feel as if we are nothing or nobody. We are somebody, for God has claimed us. We are a member of God's family and that's more than enough to make us something. However, it also means we need to give God the credit. Scripture reminds us of this. As Paul wrote to the Philippians, "rejoice in the Lord always, again I say rejoice."[2]And to the Corinthians he wrote, "Let the one who boasts, boast in the Lord."[3] We're here today to give God the glory. 
Before reading the Scripture:
Before reading the scripture for today, let me summarize where we've come in this letter. In the first chapter of 1st Peter, we saw how Peter addressed his audience with a blessing that reminds them of God's work in their lives. And while the term "Trinity" wasn't used in first century Christianity, Peter hits on all three members of the Trinity. We've been chosen by God the father, sanctified by the Spirit, and sprinkled with Jesus' blood. Then Peter reminds the reader of their living hope in Jesus Christ (my sermon from two weeks ago).[4] Because of our hope, he calls us to live holy lives (my sermon last week).[5]
First verse
As we begin the second chapter, I debated whether to attach the first verse with last week's sermon or this week. The verse reminds us of what we're "cleansing ourselves of" as we strive for holiness. But it also goes with the verses following as we consider our calling by Christ into the Christian life where considered a part of the chosen race, commissioned as priests, naturalized as citizens in the holy nation, and considered God's own people.[6]
There are three things I want you to take from this passage. First, the importance of the church, the body of Christ. Second, the reason why we are called into this body, which is to glorify God. And finally, the impact our calling by God should have on our lives and how we relate to others. 
Avoid sins that break unity
As I mentioned before reading the scriptures, the first verse could go either with the previous chapter or this one. Part of this is the limitations created by chapter and verse numbers, which were not a part of the Scriptures until centuries after the Bible was completed. To show you two ways of understanding this verse, the New Revised Standard version places it clearly with the opening of the second chapter as they title the first ten verses, "The Living Stone and the Chosen People." However, if you look at the Revised Common Lectionary, which I seldom follow, you will see when this passage comes up, they skip the last two verses of chapter 1 and begin Chapter 2 with verse 2.[7]
This opening verse, as I said before reading the scripture, addresses what's important for us to rid ourselves of if we're to live holy lives. Interestingly, however, the sins which are mentioned at this point in the letter are not what we might think of as most important.
Peter discourages sins that break unity
Peter doesn't address here what we might rate as the top ten individual sins. He doesn't say to be honest in your business dealings or faithful in your relationships, or no violence. There's no mention of avoiding immoral or illegal behavior… Peter will touch on some of those issues later in this letter.[8] But here, first, he harps on community-destroying vices. As one commentor on the passage points out, these are the type of sins "often tolerated by the modern church." He wants his readers (including us) to avoid actions that cause bickering and division within the church. He knows persecution can strain the fellowship. So, he first insists we do our part to help the church remain united in God's mission by avoiding malice and guile (or hypocrisy), insincerity, envy, and slander.[9]
Spiritual milk
Following this, Peter reminds us of our need of pure, spiritual milk. We must start off with what's essential, as an infant begins its nourishment with only milk. This is a familiar metaphor in the New Testament Epistles, but Peter also must have had in mind Psalm 34, "O taste and see that the Lord is good."[10] We discover God's goodness, which leaves us wanting more.
Coming to Christ, the living stone
The heart of this passage begins in verse 4, where he encourages his readers to come to Christ the living stone. Like Christ, society may reject us. As I've pointed out over the past two weeks, Peter's audience found themselves rejected and on the outskirts of society. While society may reject us, we should remember that we are precious in God's sight. As living stones ourselves, Christ collects and builds us into a spiritual house.
Stone Churches and this passage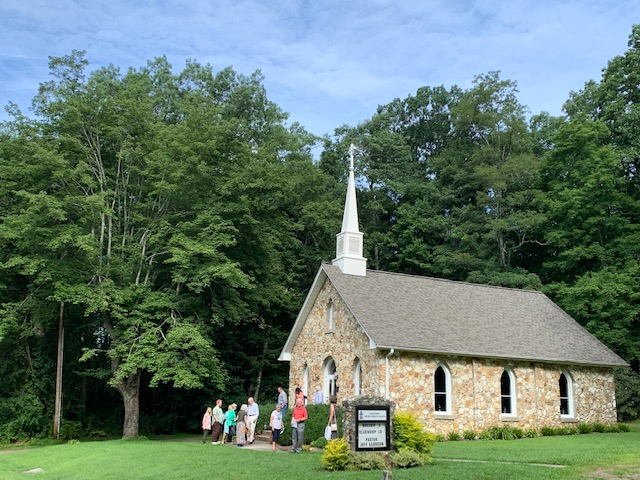 I can't read these verses without thinking about these stone-walled churches in which we worship here along the Parkway. Here again, we find an image of the importance of the body, the fellowship. Before these rocks were used to create these churches, they laid despised in fields. After all, they might be just below surface and at a place where they could nick a plow blade. In digging, they meant one had to lay aside the shovel and get out an iron bar to break up the stone.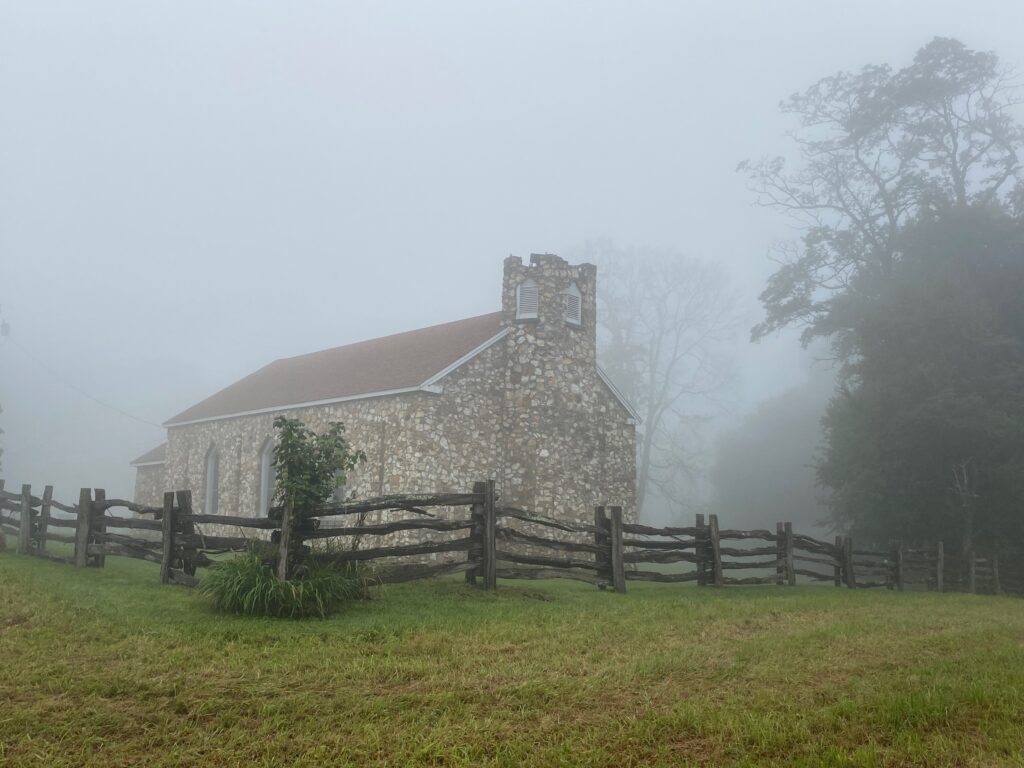 But as the members of these churches, who are now mostly gone, collected those "hated stones" out of their fields, they were brought here and mortared into these walls. Here, when combined with many other stones from other fields, they collectively serve a useful function. But when laying on or in the ground, a single stone might cause us to trip. Like the stones, when collected, we are much safer together than being alone where we (and because of us, others) might stumble. 
A Church of stoners?
On a side note, if you need to advertise our church to someone out on the margins of society, you can tell them that we're a church of stoners… Of course, Peter uses such illustration long before it was adopted by hippies and those strung out on drugs. If you want to make such a suggestion, be sure to also refer to this passage, so they won't get the wrong idea. 
The Cornerstone
Don't be offended that Peter suggests we're stones or rocks, for he also includes Christ in this grouping. Drawing upon Psalm 118:22, a verse quoted more often by Peter and Paul than any other verse in the Hebrew Bible,[11] Peter reminds us of that Christ is the cornerstone. The cornerstone, the most important stone in a building from which the walls are based, is Christ. 
And I'm sure Peter would include himself in this for the Savior changed his name from Simon to Peter, declaring that "on this rock I will build my church."[12]
We are somebody!
Peter begins to conclude this section of the letter with a bold proclamation. We are, as he writes in verse 9, "a chosen people, a royal priesthood, a holy nation, God's own people." I love the affirmation! Returning to my opening remarks from Charles Spurgeon. Yes, we're to be humble, but we are somebody because of what God has done for us. God calls us out of darkness and into the marvelous light and we're to rejoice in what we've experienced. 
An ancient poem
In verse 10, Peter closes out this section with an ancient poem that reiterates what he just said.[13] "Once you were not a people, but now you're God's people…" The ancient Roman world was a caste society where everyone had their place. And if you were on the bottom rung of society's ladder, you didn't have many rights. But the gospel disturbed that order. The church didn't see Roman citizenship as the end all. Instead, it was the citizenship into God's kingdom that mattered. And in that kingdom, everyone is important, not just citizens or senators or Caesar.[14]  
The mosaic that makes up these rock-walled churches is beautiful. But the mosaic that makes up the church, the inclusion of us all, is even more beautiful because we're all a part of the only kingdom that matters in eternity.
Conclusion: how we should live
So, how should we live because of Peter's writings? In our "Centered and Soaring" discipleship training we held back in November, one of the concepts taught was having "Jesus' Eyes." We're to see others as Jesus sees them. This is a powerful concept that should cause us to have empathy for others and free us from reacting to what we may take as an affront.
We don't know what others endure, so we should give them the benefit of the doubt. Someone cuts you off in traffic, you let it go. Yeah, they may be a jerk, but they might also be rushing someone to the hospital. We don't know, so we let them go. It may be humbling, but that's what we're called to do. 
Everyone is created by God, in God's image, so we treat them others than they treat us. It's hard, but that's how true disciples try to live. That's the challenge we have before us. Use your eyes to see others the same way Jesus see's us and them. Amen.
---
[1] Charles Spurgeon, The Soul-Winner (New York: Fleming H. Revell, 1895), 47. Quoted in Christopher A. Hutchinson, Rediscovering Humility: Why the Way Up is Down (Greensboro, NC: New Growth Press, 2018), 193.
[2] Philippians 4:4.
[3] 1 Corinthians 1:31.
[4] 1 Peter 1:3-12. See https://fromarockyhillside.com/2023/01/15/the-opening-of-first-peter/
[5] I Peter 1:13-25. See https://fromarockyhillside.com/2023/01/22/6254/
[6] 1 Peter 2:9.
[7] The Revised Common Lectionary is on a three-year cycle in which it attempts to "hit" the major themes in scripture, but not all the Bible. This year, on April 23, will have 1 Peter 1:17-23. Then on April 30, it will jump to 1 Peter 2:19-25, only to jump back on May 7 to 1 Peter 2:2-10. The lectionary omits 1 Peter 1:24 to 1 Peter 2:1  Commentaries also divide this passage up in different ways. 
[8] See 1 Peter 2:11-12.
[9] Peter H. Davids, The First Epistle of Peter (Grand Rapids: Eerdmans, 1990), 80.
[10] Psalm 34:8. For milk as a metaphor for basic Christian teaching see1 Corinthians 3:1-2 and Hebrews 5:13. 
[11] See Scott Hoezee, "Commentary on 1 Peter 2:2-10, https://cepreaching.org/commentary/2017-05-08/1-peter-22-10
[12] Matthew 16:17-19.
[13] Davids, 93.
[14] See Joel B. Green, "Aliens and Strangers in the World: A Contextual Theology," in 1 Peter: The Two Horizons New Testament Commentary (Grand Rapids: Eerdmans, 2007) 191-197.