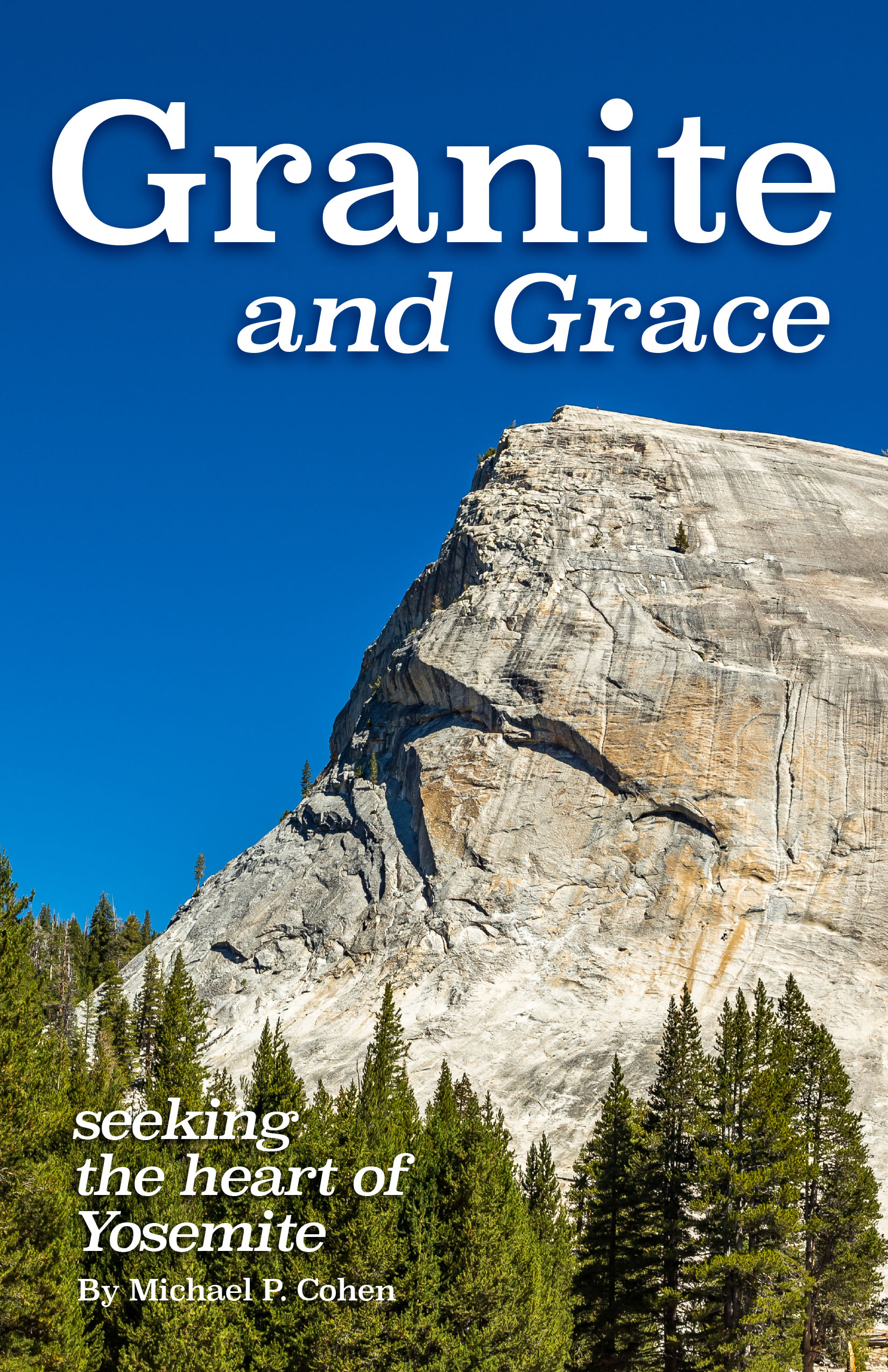 Michael P. Cohen, Granite and Grace: Seeking the Heart of Yosemite (Reno: University of Nevada, 2019), 220 pages. A few hand drawn maps and line drawings at the top of each chapter by Valerie Cohen.
When most people think of Yosemite, they think of the valley with its huge waterfalls and sheer-faced granite cliffs where, at night, you can see the flashlights of climbers' bivouac in hammocks slung along the rock walls. But there is another side of Yosemite. This part of the park is high above the valley and surrounds Tuolumne Meadows. The top of the park is also granite, mostly sculptured by glaciers. It is here, in a series of essays, that Cohen focuses his study of the rock that made the park so famous. For nearly three decades, Cohen taught at Southern Utah University. During the summer, he and his wife would leave the sandstone of the Colorado River Plateau for June Lake, on the backside of Yosemite. The two of them have been coming to Yosemite since childhood. Early in their life together, Michael worked as a climbing guide in the park while Valerie worked as a summer ranger. Now in his 70s and no longer climbing the steep pitches, Cohen reflects on a lifetime living around Yosemite.
Granite and Grace centers around a series of essays that are often told from the point of view of a walker/hiker/climber in Yosemite. As Cohen recounts walks and climbs, he branches out to discuss various rock formations. Within these essays, he covers the geology of granite, how it was formed under the earth and is often found at the edge of continents. He writes about how the science around granite has changed especially within increase understanding of plate tectonics. He discussed the makeup of granite and why it's appreciated by builders and climbers for its toughness. I had to laugh in appreciation of Cohen's fondness for granite as he speaks of eating many meals upon it, but not wanting it as a countertop. (Granite does contain some radioactive minerals and houses built on granite have to be carefully constructed to avoid radon gas buildup). The reader will learn the role of ice in shaping the granite found in Yosemite's high country. Weaving into his personal quests and the science behind granite, Cohen draws from a variety of literary sources. He quotes authors like John Muir and Jack Kerouac, poets such as Gary Snyder and Robinson Jeffers, and recalls songs from Paul Simon and Jefferson Airplane. While the book is part memoir that mixes in geology and literary interests, at its deepest, it is a philosophical exploration of an individual trying to understand a small section of the world.
In the concluding paragraph of the last chapter before the epilogue, Cohen writes a lyrical paragraph about granite's "otherness and freedom." His opening sentence, "I am attracted to granite and intimidated—especially by its textures—precisely because it is not flesh," sets the stage for reflecting on how the "otherness" of this rock that doesn't care or care if you care can provide a sense of peace. I was reminded of the last line in Norman McLean's novella, A River Runs Through It. While Mclean finds peace at being in the river's waters that gathers all that is, Cohen finds peace in that seemingly solid rock which is totally foreign and indifferent. Both views, I think, are valuable in our understanding the complexity of the human experience.
I recommend this book for anyone wanting to know more about Yosemite (this is not stuff you'll find in guidebooks). There is something for most everyone in these pages. If you're curious about geology, there are insights. If you want to know who we relate to the world in which we find ourselves, you'll find parts that will speak to you.. Cohen is a deep thinker who searches for the precise word to describe his thoughts. In reading the book, if you're like me, you'll pull out the dictionary (or google) to look up many of his words. And, if you're also like me, you'll want to go back to Yosemite. His description of the Dana Plateau (which was an island above the impact of glaciation) made me realize there are places I still need to explore.
I was given a copy of this book by the author (see below) but was not compelled to write a review. This is the fourth book I've read by Cohen.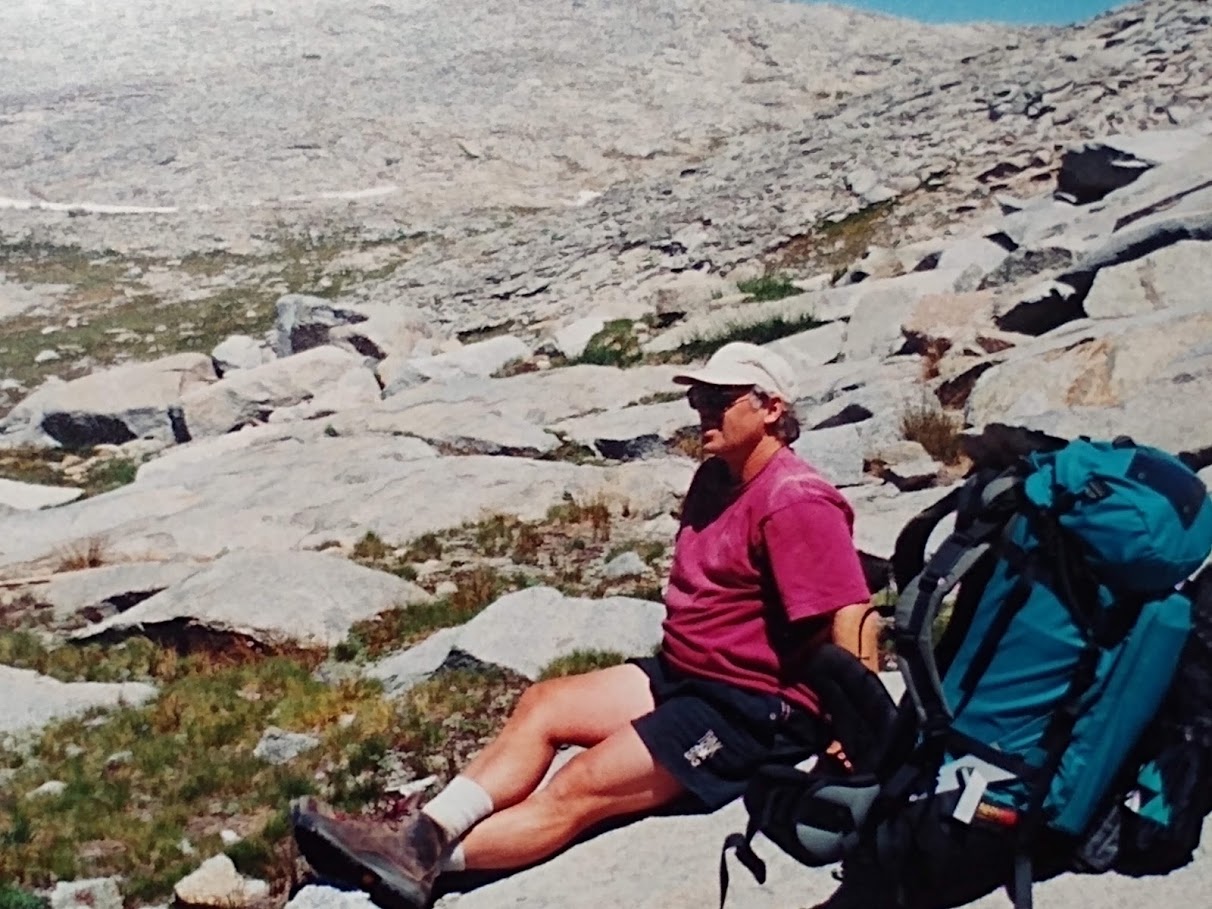 A Personal Note: My first visit to Yosemite was in 1985, thirty years after Cohen's first visit. I had flown to San Francisco where my girlfriend at the time was in grad school. We drove to Yosemite for a few days. I was amazed as we snaked up the road that parallels the Merced River. By the time we got into the park, I had used up all my film and had to buy expensive film in a park store to continue photographing the amazing sights. It was between Thanksgiving and Christmas and was snowing. The next morning, while my girlfriend spent the day inside the cozy cabin reading and preparing for exams, I laced up my boots headed out at daybreak. I hiked up toward Nevada Falls. It was amazing (I again ran out of film). Along the way, I met a hiker with a loaded pack. He had skis and crampons strapped to his pack that was filled with winter camping gear and provisions. He was heading up over the top to Tuolumne Meadows where he planned to ski along the highway and down Tioga Pass to Lee Vining. There, he was going to be picked up three days later. I was intrigued. Tuolumne Meadows was beckoning me like Eden.
I have been back to the park a half-dozen times since 1985 and, with one exception, I have always come into the park from the east, into Tuolumne Meadows. When another guy and I completed our hike of the John Muir Trail, Michael Cohen (the author) joined us near Devil Post Pile. As I was living in Cedar City at the time, I had gotten to know Cohen when I audited his class on creative non-fiction. Michael hiked with us for several days as we made our way down Lyell Canyon and into the Meadows. Wanting to avoid the crowds of Yosemite Valley, Michael's wife Valerie picked him there, while the two of us continued on for another two nights into the valley. When most people think of the park, they think of Yosemite Valley with its huge waterfalls, sheer granite cliffs, and hordes of tourist. Few make it over to Tuolumne Meadows. Cohen's book will help those who only travel through the valley understand what they missed in the high country.
Michael also appears in another book I reviewed in this blog, Rebecca Solnit's Wanderlust: A History of Walking.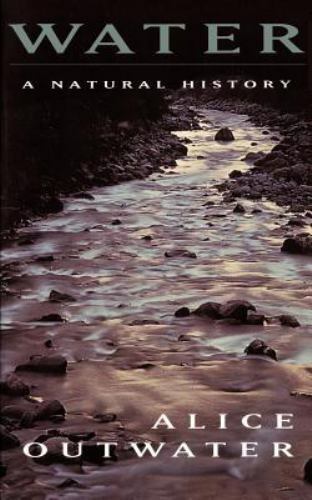 Alice Outwater, Water: A Natural History (New York: Basic Books, 1996) 212 pages with index and notes. Line drawings by Billy Brauer.
In this collection of what seems to be independent essays, the author describes the history and evolution of water in North America. She begins with the fur trade and nature's engineers, the beaver. In subsequent chapters, she writes about prairie dogs, buffaloes, alligators, freshwater shellfish, as well as the forests and grasslands. She explores the path of rainfall and how its been altered as we have altered the environment. She discusses the role of the toilet and sewer systems. Toward the end of the book (175ff), Outwater brings together all these seemingly diverse ideas as she discusses our attempts to "save the environment." She points out the fallacy in many environmental efforts. We attempt to preserve an "endangered species… as if they were items in a catalog… [while] missing the larger ecological picture." (181). At first, I was wondering where Outwater was going with these essays as they seemed to be independent of one another, but by the end of the book, I understood her point. She encourages us to see how the natural work really does work together.
Water: A Natural History is really a history of human impact upon the waters of North America (mainly the United States). Outwater recalls how we have misused our water and are now changing our views and our behavior as we strive to clean up our rivers and streams. She appears optimistic even while acknowledging there is more to be done. And example of her optimism is from seeing how the non-native zebra mussel, which was introduced by an ocean-going ship into the Great Lakes, is taking over the role of native mussels that have been wiped out by human activity. Having lived in the Great Lakes region for a decade, I know her view isn't shared by many who see the zebra mussel as problematic.
Much of the concluding chapters of this book comes from Outwater's work as an environmental engineer in the Boston Harbor cleanup project. Her writing is clear and concise. She caused me to ponder much about water and how we depend on it. I would recommend this book to anyone interested in one of things necessary for life—water. And I also find her name, "Outwater" to be appropriate for someone who writes on the topic! This is my second book by Outwater. I had previously reviewed her book, Wild at Heart which also covers many of these same themes.