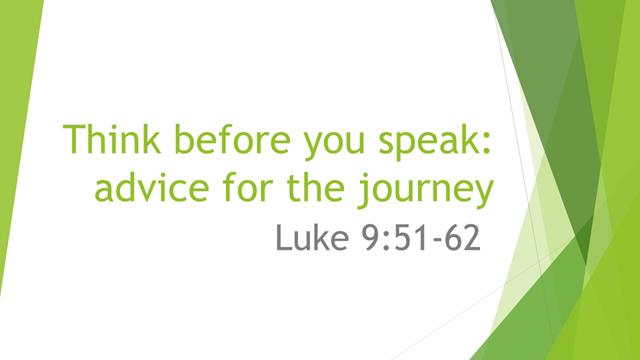 Jeff Garrison 
Skidaway Island Presbyterian Church
June 30, 2019
Luke 9:51-59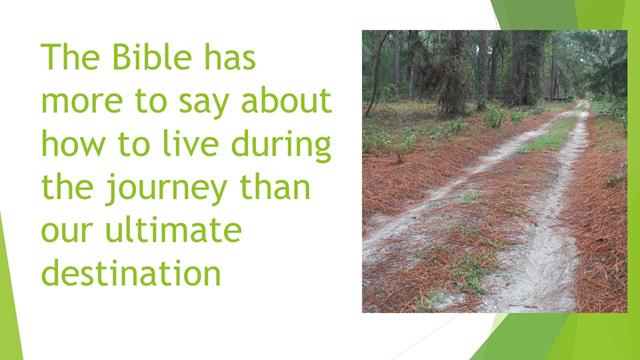 As I was pondering the direction of today's sermon, I came across this quote: "We do well to remember that the Bible has far more to say about how to live during the journey than about the ultimate destination."[1] In our passage today, which comes at a turning point in Luke's gospel, we find Jesus leaving behind his Galilee ministry and heading to Jerusalem. Luke uses this travel narrative as a unifying theme for the middle section of his gospel. [2] Jesus doesn't arrive in Jerusalem for another ten chapters. During this journey, there are lots of opportunity for Jesus to teach the disciples. Today, we'll look at one such lesson of how we're to live during our journeys.
Earlier in this chapter, Jesus with the handful of the disciples experienced the "Transfiguration."[3] It's a high point of the gospel, ranking up there with Jesus' baptism.[4] Interestingly, Luke follows both these "high points" with a story of rejection.[5] Jesus was baptized, then endured forty days of temptation, only to be rejected by his hometown.[6] Jesus was transfigured, seen in his full glory, and then rejected by a Samaritan village. Jesus teaches his disciples about rejection and how discipleship is hard. Are we willing to risk rejection in order to be a disciple? Think seriously about that question as I read this passage. Our scripture is Luke 9:51-58.
###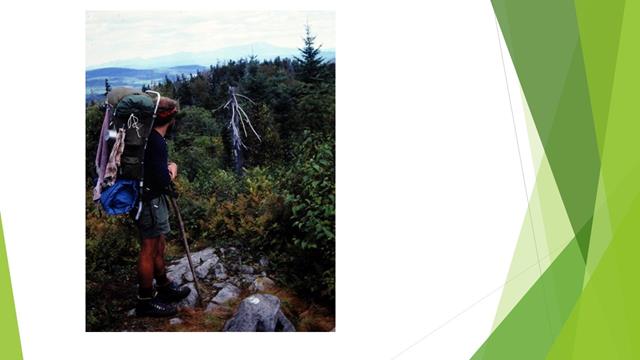 When I was hiking the Appalachian Trail, I came into Gorham, New Hampshire for the evening. It's a small town near the Maine border. I needed to resupply for the trail ahead. I was down to only oatmeal to eat, but I didn't have enough fuel for my stove to even prepare that.
On my hike I carried with me a multi-fuel stove that could burn regular gasoline. The benefit of such a stove is that I didn't have to buy gallon containers of white gas, of which I'd only need a liter. It saved me on gas. I'd only spend a quarter or maybe 30 cent to fill up my bottle. It was a lot cheaper than Coleman fuel, and both fuels were cheaper back then. So I stopped at a local Exxon station on the edge of town, set my pack down next to the pump, and pulled out my fuel bottle. As I reached for the nozzle, the cashier ran out of the store yelling obscenities and telling me I couldn't fill up my bottle.
"Why," I asked?
"You might spill gas."
"I'll be careful. I haven't yet spilled any and have filled this bottle at least a dozen times."
"We don't allow it," she said.
I was mad. I told her it's a good thing I didn't have a car with me, for I would run out of gas before I filled up at her station. Looking back, it seems that even without gasoline, I was able to throw some gas onto what was becoming a fire. She began to curse me and said that she wished all us hikers would go back to where we came. In response, I pulled out my journal, wrote down the name of the station, and asked her for its address. I promised to send letters to the Chamber of Commerce and to Exxon Corporate Headquarters. She had a few more choice words for me as I walked down the street and filled up my fuel bottle at the next station.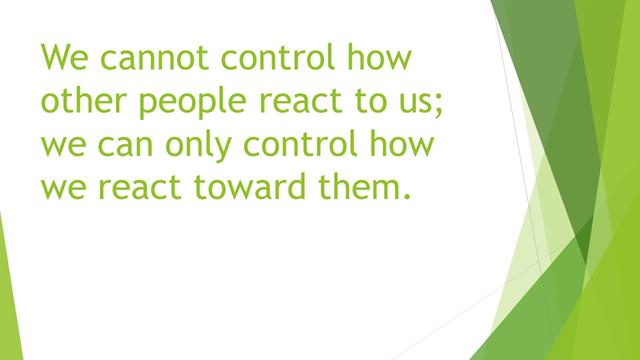 Having been rejected, I found myself steaming. As I left town and hiked north, I began to craft the letters I was going to write… but then I realized I was putting way too much negative energy into this situation. I decided to let it be and I never sent those letters. Had Jesus been among us hikers, I think he'd told me to do just that. Drop it. Harboring such feelings is never good. It just eats at you. We cannot control how other people react to us; we can only control how we react toward them.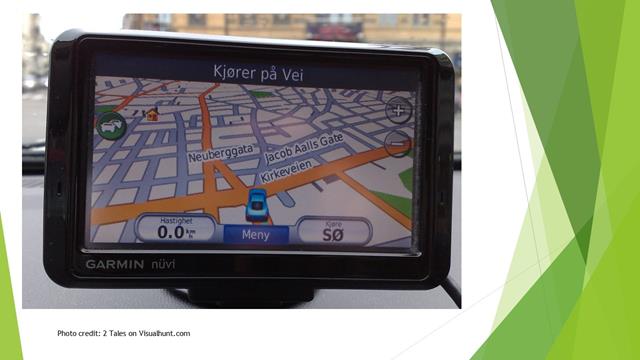 Jesus is heading to Jerusalem, taking the disciples with him. The text that he "sets his face" to go to Jerusalem, a phrase echoed throughout the next ten chapters. On this journey, we learn things not mentioned in the other three gospels. Jesus is not just walking, he's teaching and healing. But Jesus doesn't go directly to Jerusalem. If he'd had a GPS and set the destination for Jerusalem, the machine would have been constantly squawking "recalculating, recalculating" as he wanders around. It's in this wandering we find some of our most beloved parables, such as the Good Samaritan and the Prodigal Son. Along the way, Jesus stops and teaches people about who God is and how they should relate to their neighbors.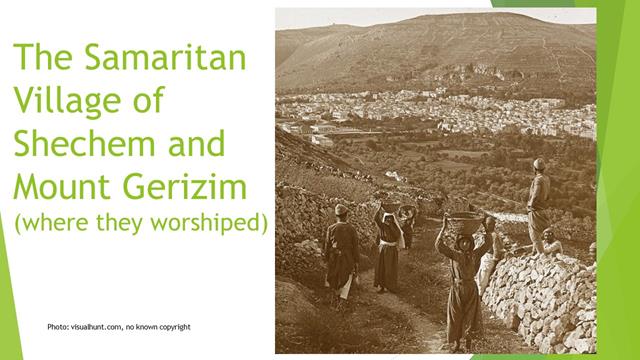 But not everyone is ready to see Jesus. Luke informs us that the Samaritans don't want anything to do with Jesus because he has set his face towards Jerusalem. The Samaritans, who do not see Jerusalem as holy and who worship on another mountain, have grown weary of self-righteous Jews trampling through their land on their way to Jerusalem.[7] They're just like the gas station attendant, who was tired of hikers coming through her town. In Biblical times, many Jews from Galilee would take the longer away around Samaria in order to avoid such encounters.
The disciples trying to arrange food and lodging for the journey are upset at the reaction they receive. Likewise, I was upset at the station clerk. "Let's nuke 'em!' "Let's blow them to smithereens!" "Let's get them in trouble with their boss, or the corporation." Ever hear people talk about enemies like that? Two of the disciples, James and John, whom Jesus nicknamed "Sons of Thunder,"[8] ask Jesus if he wants them to do away with this village… "You know, Jesus, just a little fire from heaven to melt their hearts."
       Jesus doesn't take rejection personally and encourages the disciples to get over it. Too often we forget that vengeance isn't ours![9]
Then there are people wanting to join Jesus on this journey. We're not told if Jesus turns them away, but he certainly uses no ad agency to sell his trip. "I have no place to lay my head," he says. The Message translation here has Jesus saying "we're not staying at the best inns, you know." Following Jesus isn't easy. Jesus makes a demand on our lives. "Are you ready to follow me," Jesus asks? "If you want to follow me, I have to be first and foremost in your lives," he says. "Nothing can come before me!"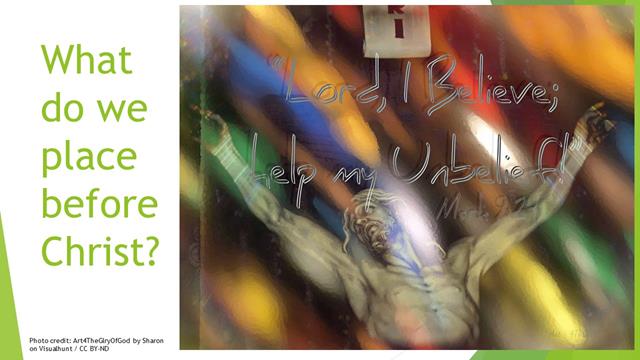 Do we put things before Christ? Think about your life and the things you value. Are you willing to give it all up for Jesus? Is Jesus at the center of your life? Is he what's most important?
There is a tension between the first and second part of this passage. In the first part, we're told not to be so zealous that we forget the mission. Jesus came to save, not to destroy. Among his followers there is not to be revenge against or violence toward enemies.[10] In the second half of the passage, Jesus says that following him is tough, but if we decide to do so, he'll demand our total allegiance. We can't jump halfway in, it's all or nothing.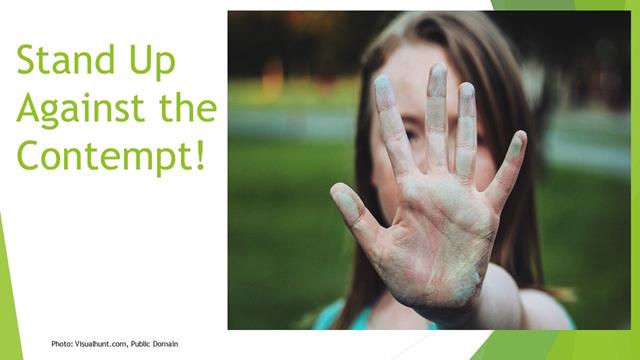 What does this passage say to us today? One thing we can gleam is this: If we want to be a follower of Jesus, we must be willing to stand up against the contempt that is so prevalent in our society today.[11] Jesus didn't allow the disciples to have contempt toward the Samaritans, and I don't think he's happy about how we treat others.
Contempt for others seems to have started in national politics where groups of people are identified as deplorable or sick or with some other adjective that says we want them to just go away. Thanks to cable news, it's ubiquitous. These Ad hominem attacks, which is what they are—a basic fallacy in debate, is used to dehumanize others. Ad hominem means "against the man," and it refers to one not attacking an issue, but belittling the person on the other side of an argument.
Just think about this. When we hear something we agree with, we jump on the bandwagon without thinking. It then becomes easy for us to let our contempt rule. "Let's call down some fire from heaven." Sounds good, doesn't it? It has gotten so easy to wish those we don't like would disappear or go away.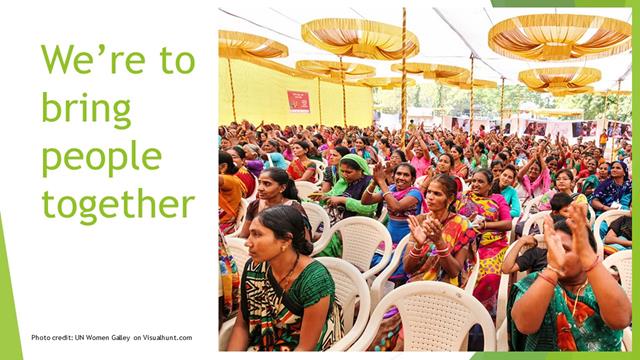 We not only see this tendency in our national politics, but locally, even in our own neighborhood. Just recall the way the island divided over the issue of incorporation. Many of the harsh words said had nothing to do with the issue, but was an attempt to discredit the other side. And it happens within churches, between friends and even within members of a family. When we know we're right and assume they're not only wrong, but are also evil or stupid for thinking that way, we quickly slide into thinking we'd be better off without them. We are showing contempt. We're like James and John in our story today. Sadly, it's easy to mouth off. And our words risk creating a larger divide between us and the other. But the Christian faith isn't about creating divisions. It's about bringing people together. It's about standing up for others, even those we may not agree with. It's about not spouting off at the mouth. It's about thinking before we speak.
Let me draw your attention to the quote I attached to the flyleaf of the bulletin. Take it home and ponder it this week. If you want to change the way we treat others in the world, don't wait for our national leaders to take the initiative. It's up to you, and to me, to live as Jesus taught. We're to love others, even our enemies.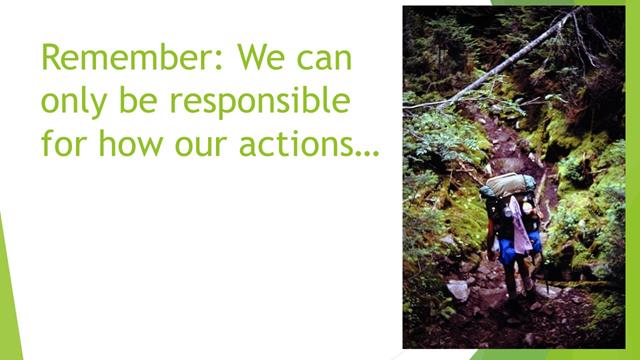 Today, I think back to that encounter in Gorham, New Hampshire, so many years ago. I wonder what would have happened if I had gone back to that cashier at the Exxon station and apologized. I wouldn't have to say she was right, but I could have acknowledged that my response and my thoughts about her were misguided. As humans, we can't be responsible for what someone else does. We can only be responsible for what we do and how we react.  Amen.
©2010
[1]This quote came from a Facebook Meme posted by the Clergy Coaching Network and was attributed to Philip Yancey.
[2] See Fred B. Craddock, Luke: Interpretation: A Biblical Commentary for Teaching and Preaching (Louisville: John Knox Press, 1990), 139-142.
[3] Luke 9:28ff.
[4] Luke 3:21-22.
[5] Craddock, 142.
[6] Luke4:16ff.
[7] Norval Geldenhuys, The New International Commentary on the New Testament: Gospel of Luke  (Grand Rapids, MI: Eerdmans, 1982), 292-3
[8] Mark 3:17
[9] Deuteronomy 32:35, Romans 12:19, and Hebrews 10:30.
[10] Geldenhuys, 292.
[11] See Arthur C. Brooks, Love Your Enemies (New York: HarperCollins, 2019).