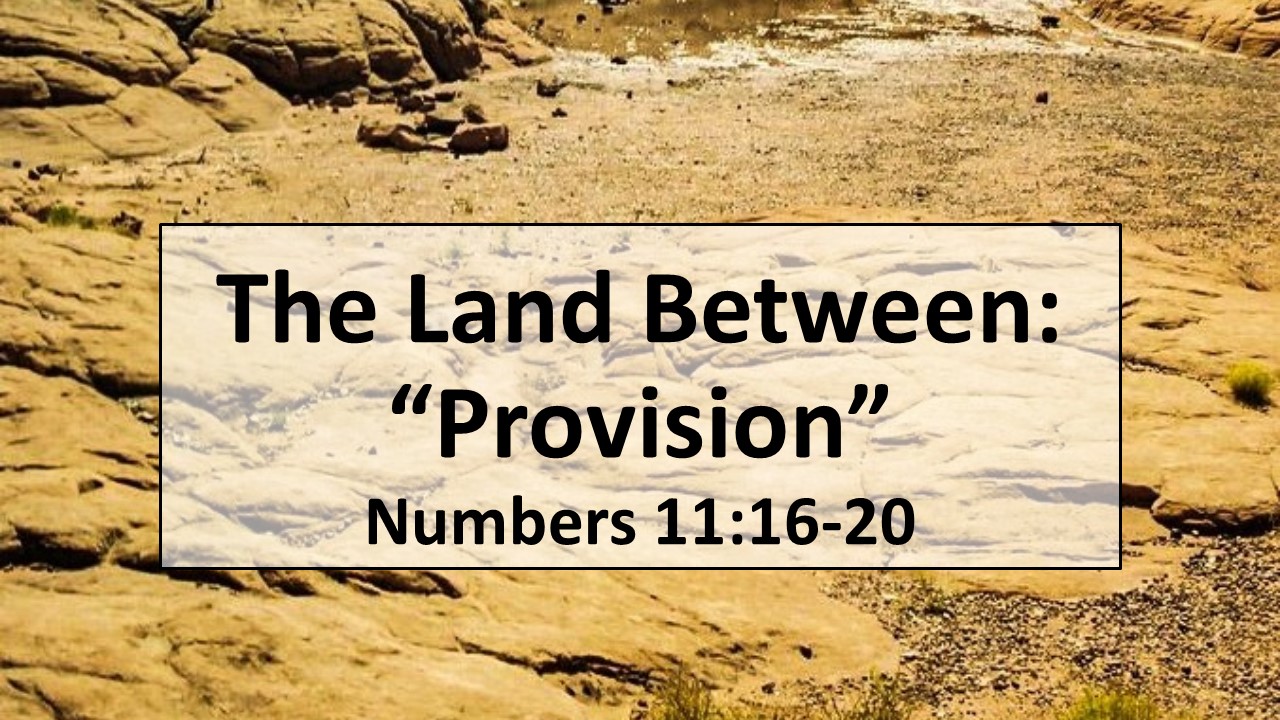 Jeff Garrison
Skidaway Island Presbyterian Church
Numbers 11:16-20
February 3, 2019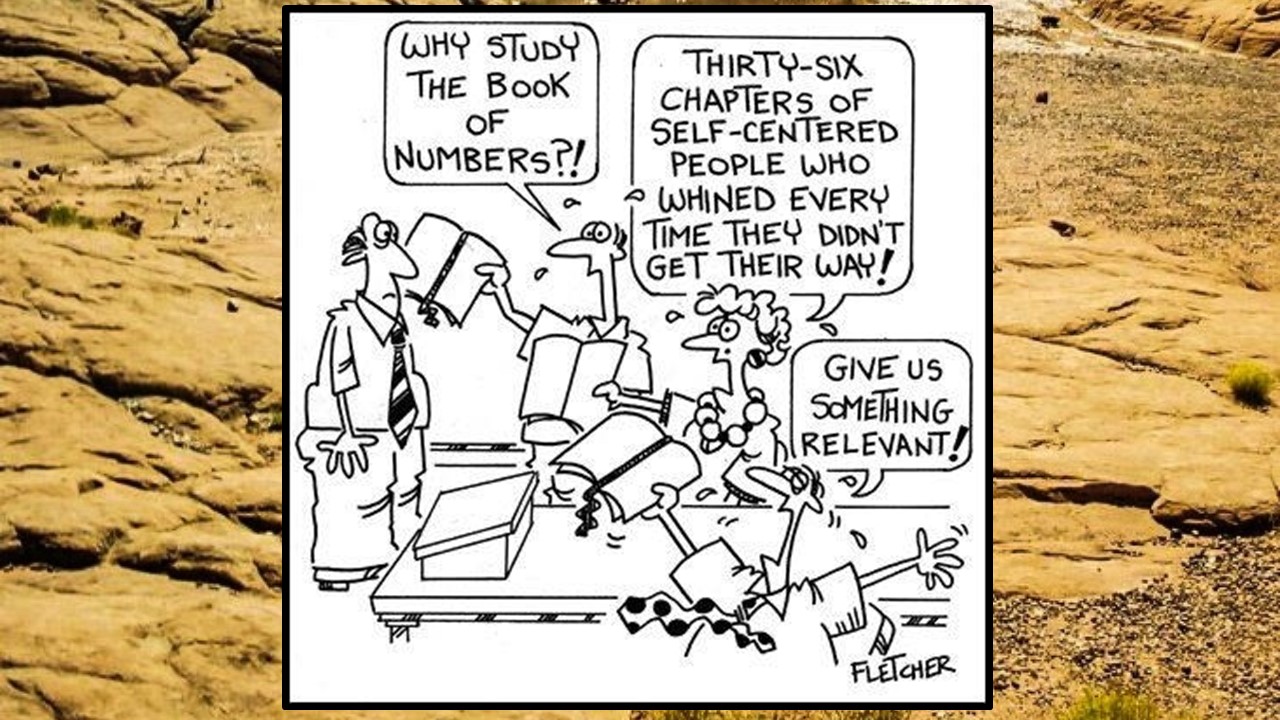 We are currently working our way through the 11th chapter of the book of Numbers. Some may wonder, "why Numbers?" After all, it's an obscure book in the Old Testament, filled with whinny, self-centered people. What could Numbers have to do with us? Well, we're not much different. We complain, we whine, we focus on our wants and desires, as we struggle trusting God…
          In this chapter of Numbers, the Hebrew people are in a crisis. They are in the land between, a hostile place between their former lives as slaves in Egypt and their promised future in the land of milk and honey.  But they haven't yet arrived and, in this in-between land, God forges them into a nation. They learn about temptations. In the last two weeks, we saw how it's easy to be greedy and to complain in this land. The people's complaints demonstrate their lack of trust in God. Moses, caught in his own land between, is being pulled apart by a grumbling people who want him to do their bidding and a God who expects him to lead the people. Although Moses also complains, he takes his complaints to God. "Believers argue with God," I quoted last week, "skeptics argue with one another."[1] Be a believer!
Today, we're going to see how God answers both the complaints of the people and the honest prayer of Moses. Read Numbers 11:16-20.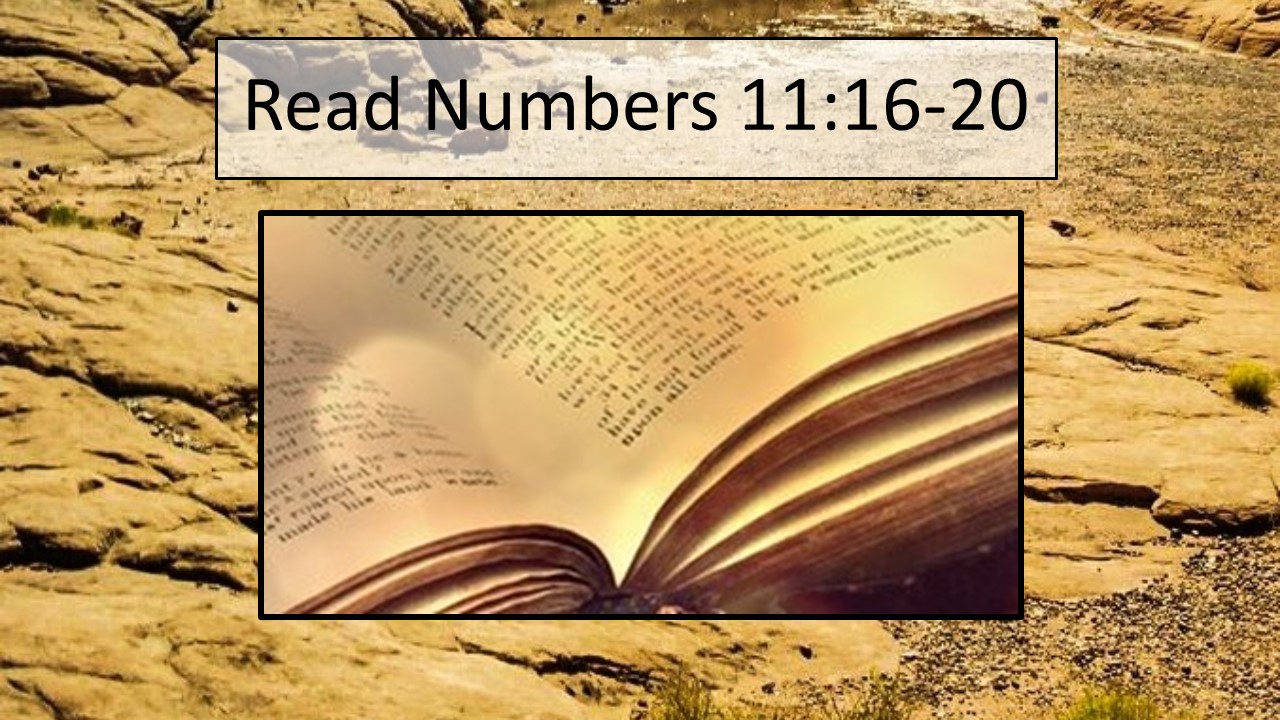 The foundation of the Boy Scout movement is the patrol method. The purpose of the scouting program is to develop and build leadership. Each troop has layers of boy leaders, from scribes and quartermasters, to patrol leaders and assistants, up to the senior patrol leader. Of course, there are also adult leaders who monitor the program, but successful adult leaders don't get overly involved. They let the boys make decisions and mistakes. They don't step in to stop such mistakes unless it's too dangerous or carries too great a consequence. The boys learn, even from their mistakes.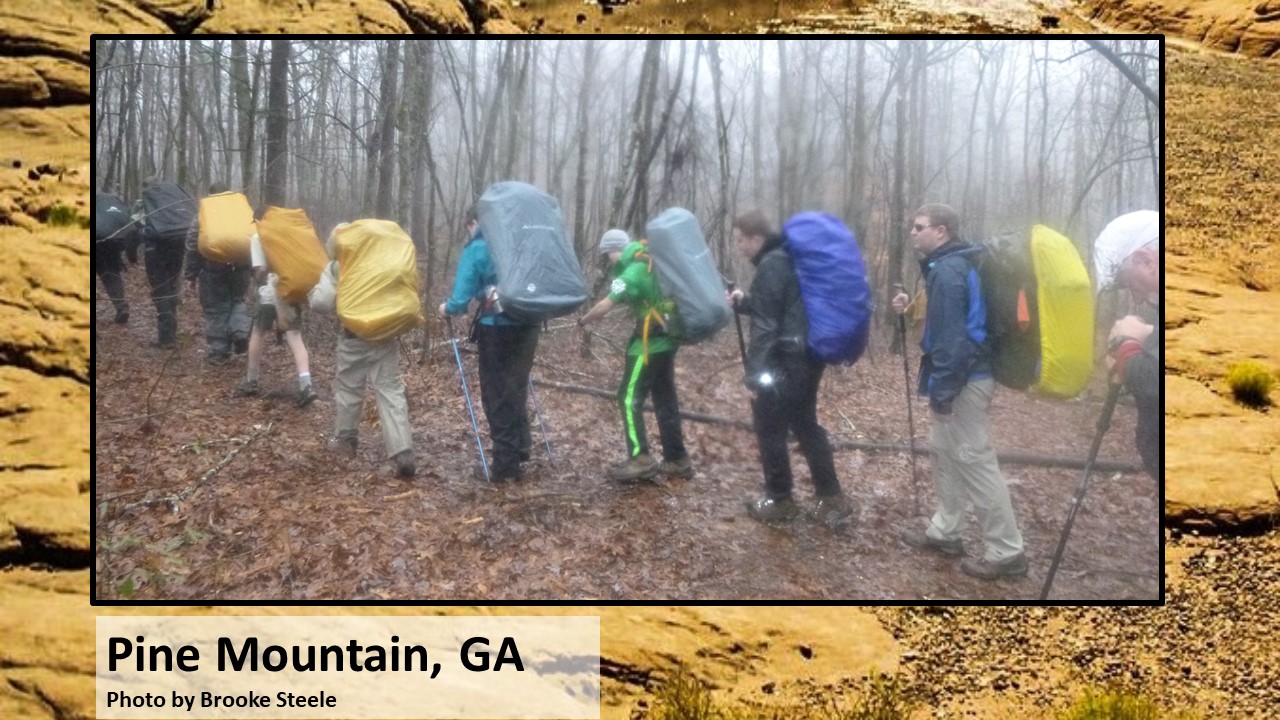 My first patrol leader was Gerald. He always seemed so mature even though he was probably 14 when I was 11. It rained on our first camping trip. That night Gerald gave his tent to two boys whose tent was flooded. Gerald said he would sleep in their tent. "Wow, this guy cares about us," we thought. Of course, he was partly guilty for he suggested our tents to be lined up in a straight line and equal distance from one another. This one tent happened to be in a low spot. The next morning, Gerald was up early, helping build a fire. He was full of energy for one who had slept in a wet tent. We later learned he slept in the scout trailer which was even drier the rest of the tents.
Several of us in this group went on to become patrol leaders and, having learned such unselfish values from Gerald, we also strove to be responsible leaders who took care of the members of our patrol. We'd made out duty assignments so each member took turns cooking, cleaning and bringing in the firewood. Those were good days and they remain as good memories.
          In our text today, we see God answering Moses' pleas for help. God consecrates leading men of Israel. They'll serve essentially as patrol leaders. Moses, with only his brother Aaron to help, has become weary by attempting to take care of everyone's needs. Moses is like a scoutmaster without patrol leaders or an army general with no junior officers and no NCOs to implement the plan. To address Moses' weariness, God has Moses pick seventy leaders from among the people and then takes some of the Spirit that was on Moses and gives it to those seventy. A new generation of leadership is established. This is the way the scouting program works. Those in leadership positions are constantly training new ones as younger scouts slowly take on the responsibility of the troop. And it's the way the church is to work. As new leaders are elected, they are ordained by the church with the older leaders laying their hands on the new as a sign of ordination.
Moses, in the text, sees that his concerns are being address. He faithfully cried out to God, trusting God's goodness and mercy. He now will not have to carry the burden of all Israel on his shoulders. Many shoulders make a light load!
        The people who have been complaining will also experience God's answer to their prayer. Moses is to have them to get ready. They're going to be eating meat! Of course, because they haven't trusted God, they'll eat so much meat they will get sick of it. It'll be coming out of their nostrils, which isn't a very pleasing picture. They had thought God had brought them into the wilderness in order that they might die, but now they'll once again experience God's power. God is able to answer their prayers and, in this case, will answer it in a way that they'll wish God hadn't.
          You know, it's amazing I still love peanut butter. One day, when I was in the second or third grade, I was hungry after the academic rigors of the classroom. I came home from school and went into the kitchen in search of nourishment. I spotted a large jar of peanut butter, a three pounder. It'd just been open. It was full. Seeing no one around, I unscrewed the lid and dug out a finger-full. I licked it off my finger. It was so good! Then went for another scoop. I bet none of the Scouts have every done this, have you? About the point that I had dug out a second finger full of peanut butter, my mom walked into the kitchen and yelled a few chosen words that I had not known were in her vocabulary.
Now, my mom could have been proud of me for not bothering her with a basic need, such as food, and taking matters into my own hands. But that's not the way she operated. Sanitation was akin to godliness in our house. Seeing my finger covered with peanut butter, she grabbed the jar and yanked it from my hand. "What do thing you're doing?" she asked. Without giving me time to respond, my mom went from police officer to the judge (forget the Constitution, under my parent's roof, the enforcement and judicial branches of government were intertwined). I was sentenced to hard time. For the next month or so, before I could eat whatever was being served, I had to eat a peanut butter sandwich. No jelly, just peanut butter on a slice of bread, until that jar was empty. Remember, this was a large jar, and it was now mine. I had to eat it all. Before Thanksgiving dinner with turkey and dressing and all the trimmings, I had a plain peanut butter sandwich. Before Christmas dinner with a ham and sweet potatoes, I ate a peanut butter sandwich. By New Years, it seemed as if the stuff was coming out of my nose. I felt a special kindship to the Hebrew children in the wilderness. And I've never stuck my finger into a jar of peanut butter again.
In the wilderness, God provides for the people. Leaders are provided who could take the burden off Moses. Food is provided to nourish the Hebrew people. But because the people do not trust God. They are punished, which went even further than being sick of the food, as we'll see next week. By the way, that's a teaser for what's coming next.
God has what's best for us in mind. Sometimes, what is best is nourishment. Other times, discipline is required. In the land between, both are necessary. What about us? Are we willing to trust God to provide? Are we willing to trust those whom God has called to lead us? And are we willing to learn from discipline?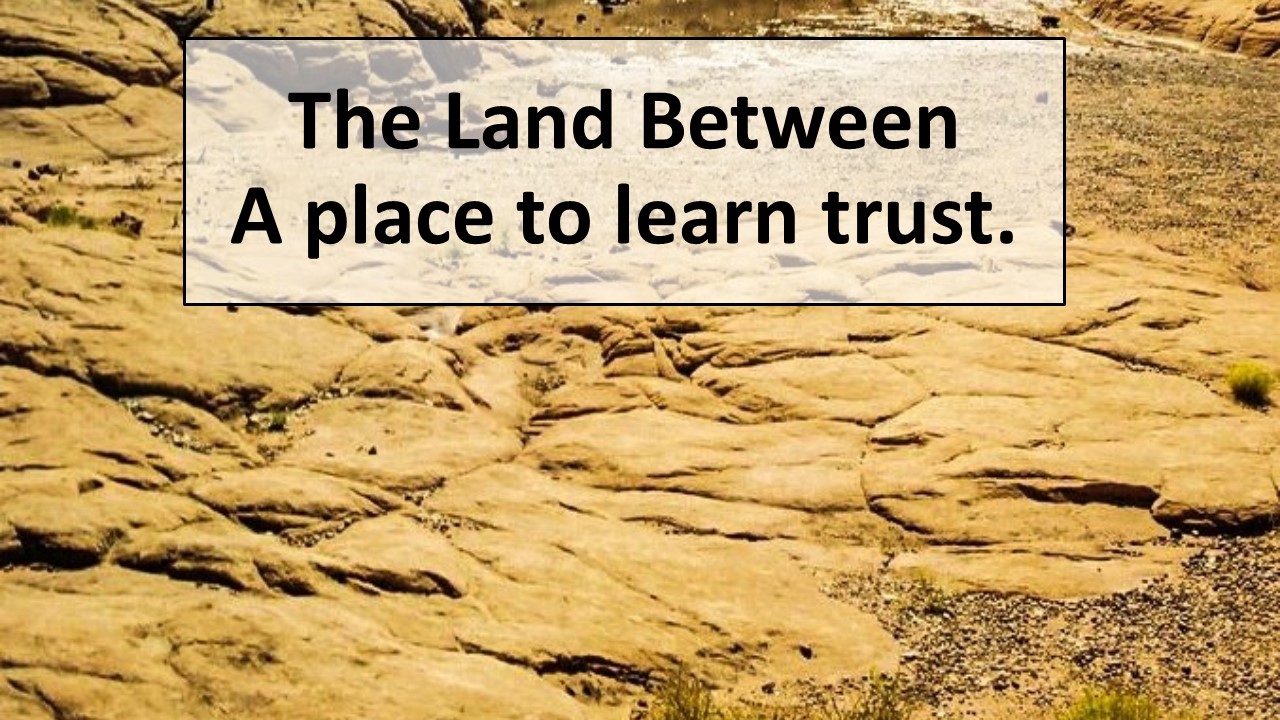 When we are in the land between, there are plenty of opportunities to experience and learn from God's graciousness. This is true for our scouts and all the rest of us, for we are in the land between, often, throughout our lives. We are all on a journey to a promised land, to the promised kingdom, to the heavenly banquet. And along the way, we should learn what we can. Amen.
©2019
[1] Eugene H. Peterson, Run with the Horses: The Quest for Life at Its Best (Downer's Grove, IL: Intervasity Press, 1983), 103.