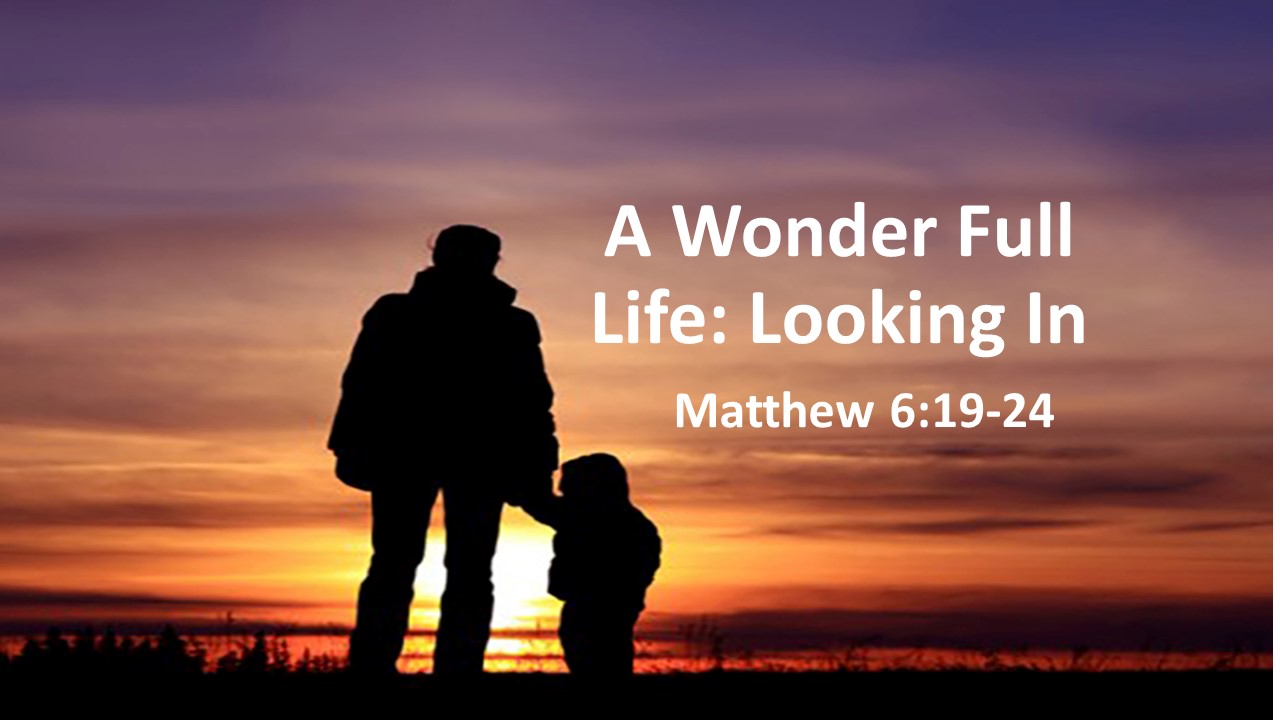 Jeff Garrison
Skidaway Island Presbyterian Church
November 10, 2019
Matthew 6:19-24
Our morning passage comes from Jesus' Sermon on the Mount. Jesus forces us to consider what we value. Ponder this. What would you grab if your house was on fire? Or, what would you pack if you had to flee, as a refugee or hurricane evacuee and could only take a suitcase? For some of us, our treasures are tangible things. An Arnold Palmer autograph, a trophy, a special putter, or a favorite Hawaiian shirt. For others, our treasures are in bank statements and stock certificates. Granted, most of us like to think we have more noble treasures—our families, our friends. But even with good treasures, a problem arises when they become the most important things in our lives. Then they began to control us and eventually will become our god, with a little g. Such a god will not satisfy our needs. Today, I encourage you to "look in" on what you value. Ask yourself what your life might look like if you spent more time storing treasures in heaven than on earth. Let's hear what Jesus has to say. Read Matthew 6:19-24.
###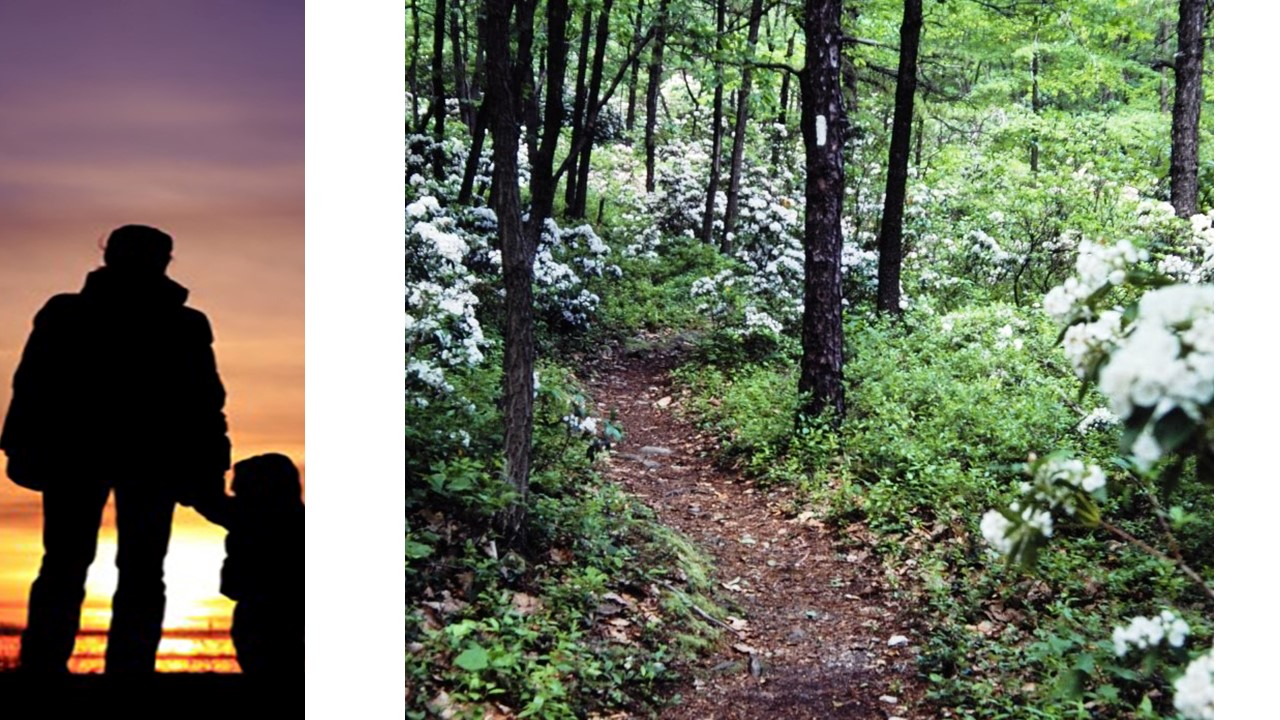 When hiking the Appalachian Trail through Pennsylvania, I stopped one night thinking I was going to get to spend an evening by myself. My plan was to get up early and catch some friends who were a day ahead of me. I was in the middle of fixing dinner when a family of four came trudging into the campsite. They were dead tired—they'd set out that day to hike ten or so miles and hadn't even gotten half that distance. The man asked if I would mind if they camp there, as there was a spring for water nearby and plenty of room. "Not a problem," I said, even though I wasn't overly excited about the prospect.
          Continuing with dinner, I kept glancing over at the family. They were quite amusing. It was like watching the backpacking version of a National Lampoon Vacation movie. The father even looked like Chevy Chase. They were obviously new at this and, making it even more humorous, they had not tried out their gear. I'll give them credit, they had good gear. It was all new and shiny and never out of the package. The family appeared as if they stepped out of an L.L. Bean catalog. With my dirty and torn clothes and well used equipment, I looked a bit like a hobo. After a comedy of errors, they finally were able to pitch their tent. Then it was time to eat.
I could tell the dad was getting flustered. Finally, he came over and asked for my help. He had a top-of-the-line stove, the same one that I had, an MSR multi-fuel stove. This was the preferred backpacking stove for long distance hikers because it burned regular gas. You could fuel up at a gas station. While a good stove, it wasn't the type of stove most folks had if they were just hiking for a weekend. Next, he had the top of the line cook set that all nestled together and included a windscreen in which you sat the stove. Knowing this, he left behind the simple windscreen that came with the stove. He was trying to put all this together, but there was one problem. The cook set was designed for a Sevier stove, not an MSR one. They didn't go together. No matter how he tried, it wasn't going to work. I told him to put away his windscreen and showed him how to set up some rocks upon which he could make a windscreen as he cooked. Soon, they were cooking dinner.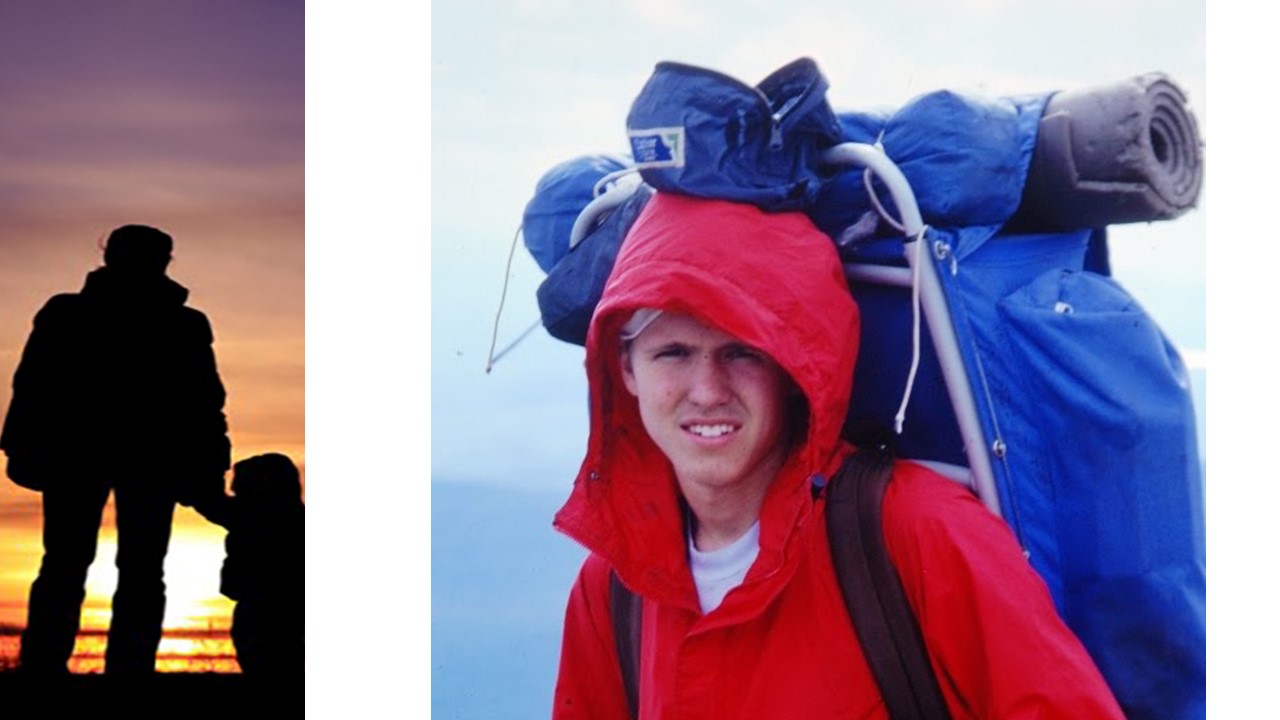 After they'd finished dinner and while his wife was putting their kids to bed, we talked. He was a physician. He'd hiked a few times with the Boy Scouts and now thought he'd like to get his family into it. He went to a backpacking store to get what he needed. I'm sure the guy selling gear had a nice dinner later that evening on the commission he made. Everything this family had with them, and they had way more than they needed, was first class (even if some of it wasn't designed to work with other pieces of gear). And the sheer volume of their gear was overwhelming. He confided in me that they were probably going to hike back to their car in the morning instead of continuing down the trail, for there was no way they'd make the distance they'd planned.
Talking with this guy, I realized a couple of things that I jotted down in my journal. First, in the woods, it didn't matter than he had the money to buy all this fancy gear. It didn't do him any good. Then I realized that backpacking is a great equalizer. When you have too many treasures, it weighs you down. This guy was carrying nearly eighty pounds on his back, and his wife had another fifty. Each of their kids had a small knapsack. All this stuff was killing them. My pack weight was more like his wife's and that was only when I was fully loaded with ten days of food, a liter of fuel, and two quarts of water. Thinking about this, I felt a bit of pride.
Then I realized that I, too, was storing up treasures, in the form of memories and bragging rights. Idolatry is a sneaking temptation. I wanted to be able to say that I hiked the whole trail and at that time was roughly halfway to Maine, a goal that was an obsession. Likewise, what the man was doing by getting his family out into the woods was also noble. But ultimately, neither of us was what we're to be mainly about. Hiking is okay, just as a lot of other things we enjoy are okay, provided they're put into priority. God must come first. It's not about what I can do. It's about what God can do through me.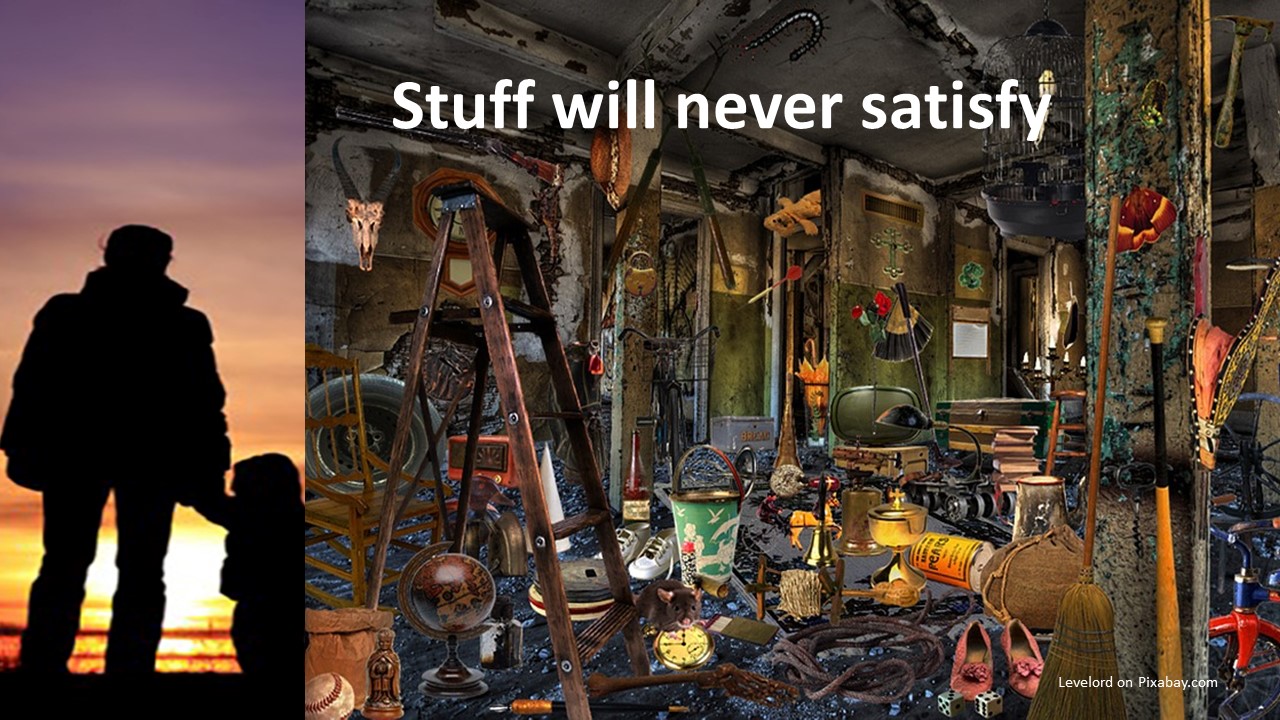 Jesus realized the danger of treasures. He knew "stuff" wouldn't be able to satisfy us like a relationship with God. When it comes to stuff, be it money, the junk we collect, or accomplishments, it's never enough. We will always want more. Supposedly John D. Rockefeller was asked how much more money he wanted. "Just a little more," he said. If we try to satisfy our appetites with our treasures, we'll always be hungry.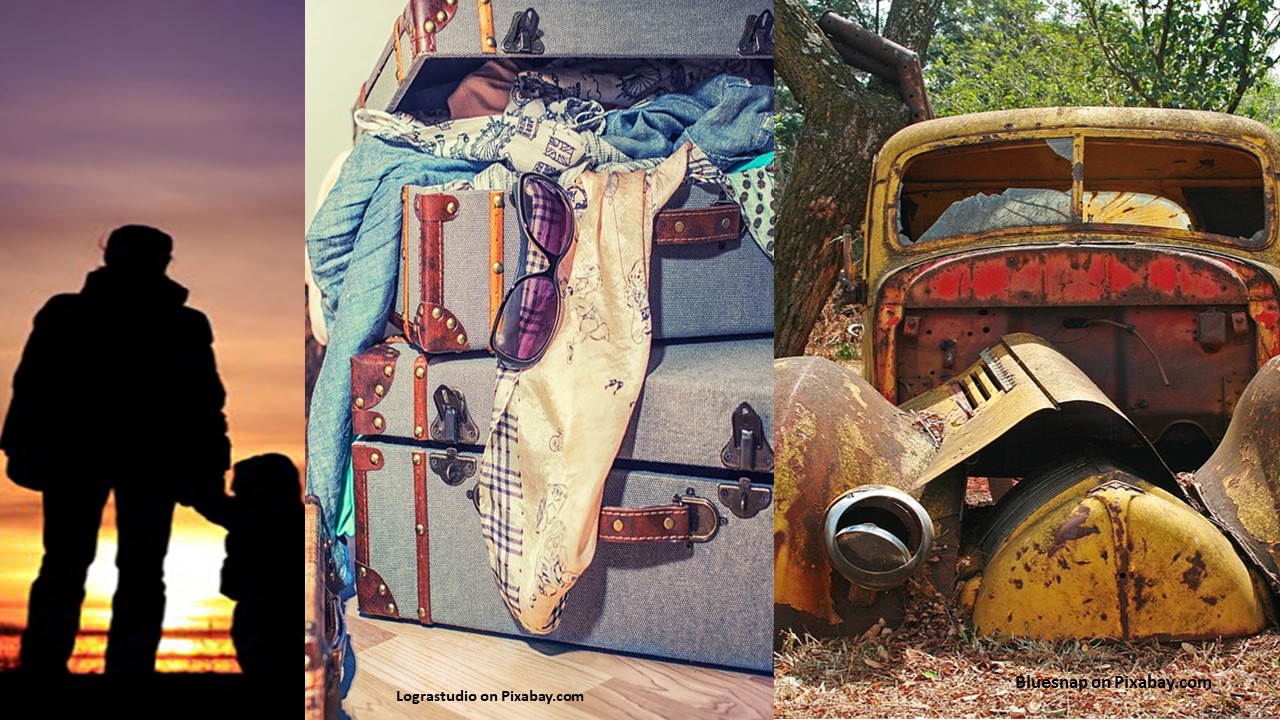 This passage is about us looking deeply and getting our priorities right. There are three connected proverbial thoughts here, which Jesus uses to encourage his listeners to evaluate their lives and to see where they are placing their trust. First, we're not to trust worldly treasures for they have a way of disappearing. A fine wardrobe can be destroyed by moths, objects crafted out of metal can rust, and what's to stop someone from stealing them when we're not looking. Notice, however, Jesus doesn't say that having nice things is bad. He just says we can't trust them to always be there and that the problem with such niceties is that when we place too much trust in them, we risk not trusting God. Ultimately, our treasurers are going to fail us.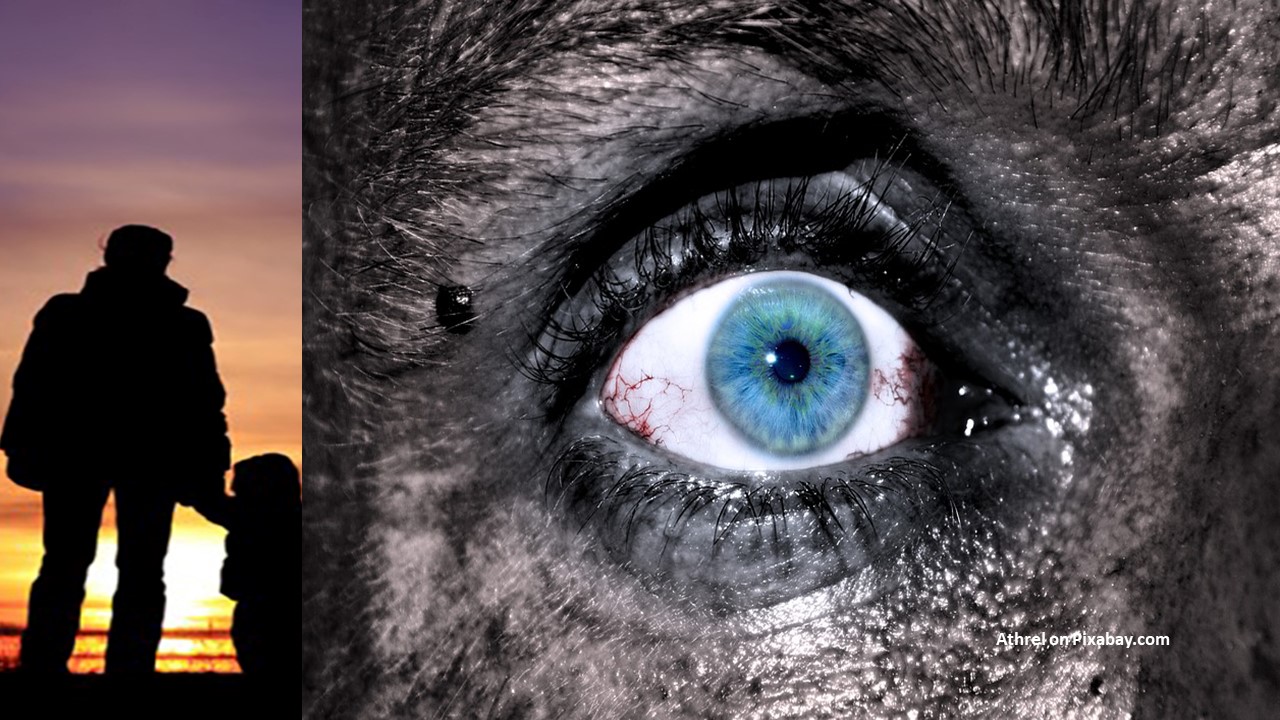 The second proverbial through is about a "healthy eye." My father just had cataract surgery this week and was telling me on Friday about how bright the colors are now that his eye is healthier. But Jesus isn't making a pitch for eye surgery. Jesus listeners would have known right away what he was talking about when he mentioned an unhealthy or evil eye. They understood that an evil eye referred to an envious, grudging or miserly spirit, while a good eye connotes a generous and compassionate attitude toward life. One of my professors from seminary, in his commentary on Matthew, says it's as if Jesus' says: "Just as a blind person's life is darkened because of an eye malfunction, so the miser's life is darkened by his failure to deal generously with others."[1] Generosity brings light into the world; greed darkens the world.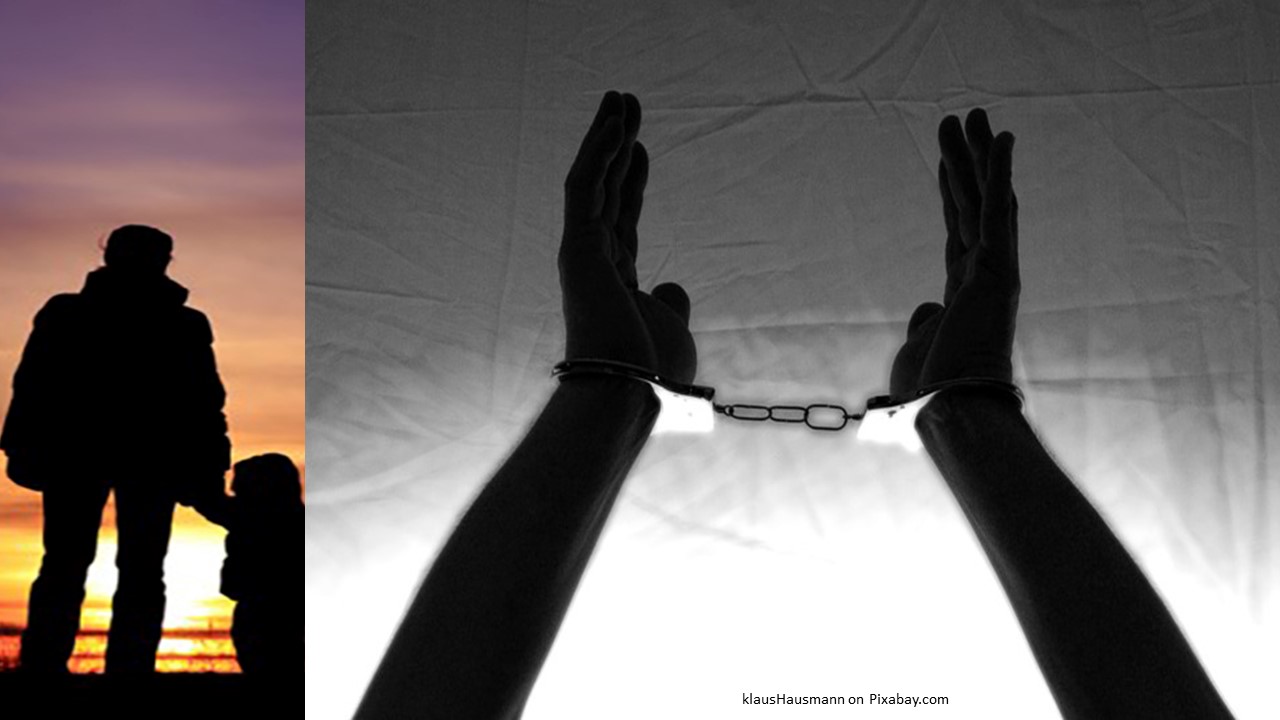 The next statement by Jesus concerns serving two masters. A slave would be run ragged if he had to answer to two masters. Likewise, if we try to serve both God and money, we find ourselves with two masters and the latter, money, makes a harsh master. There can never be enough. We need to place our priorities in order. We need to stick with God.
But then again, as I said, Jesus never says that treasures in and of themselves are wrong. He never says that our desire to have treasure is wrong… We're not Buddhists trying to remove all desire from our lives in search for enlightenment.[2] Instead, Jesus knows we have desires… So, he encourages us to put our desires into the right channels. "Strive to store treasures in heaven."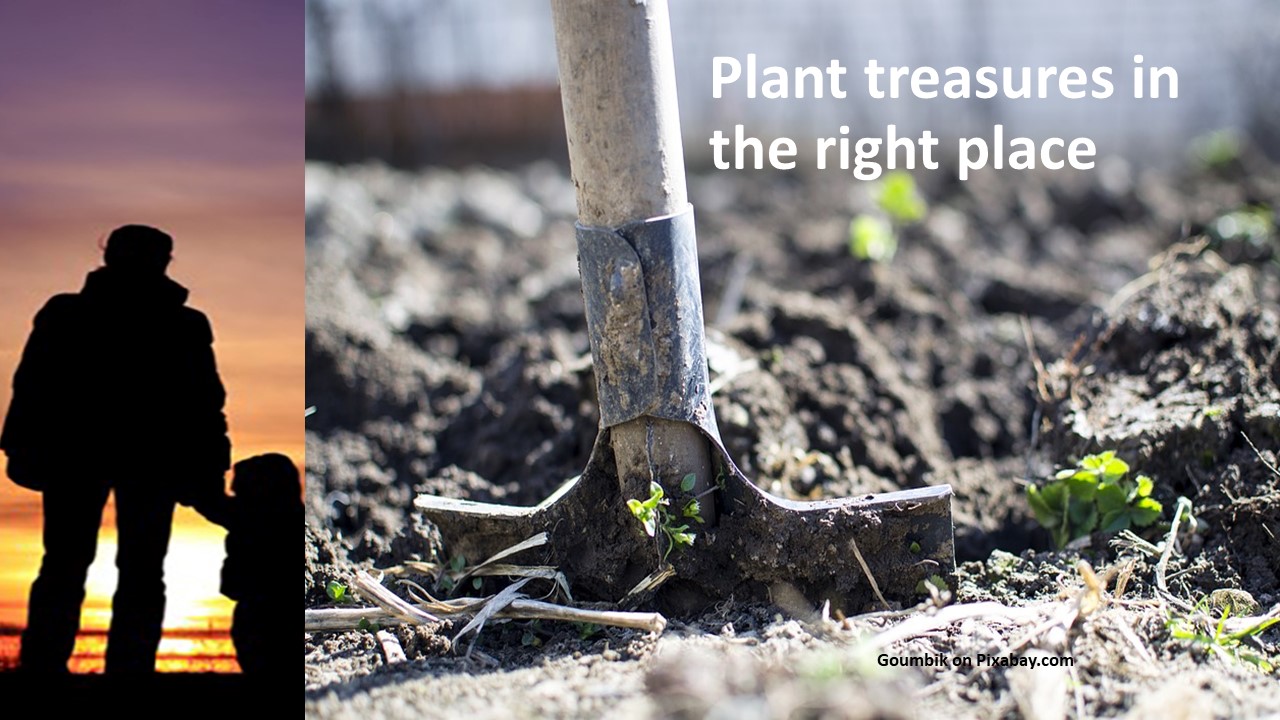 It sounds too simple. "Store up your treasures in heaven; don't worry about things here on earth." Easier said than done, right? We all worry about having enough for tomorrow—and the day and the year and the decade that follows. We must admit that our prayers for daily bread seem unnecessary when we have a pantry full of food. When we have too much, it's hard to depend upon God.
But Jesus wants us to trust in God, which is why we're to store up treasures in heaven. Jesus, in this passage, teaches a good Reformed concept. On earth, we're to be about doing the Father's work. And when we do what God calls us to do, we're storing our treasures in heaven. But when we forget about what God wants us to do and focus only on our wants and desires, we lose our way.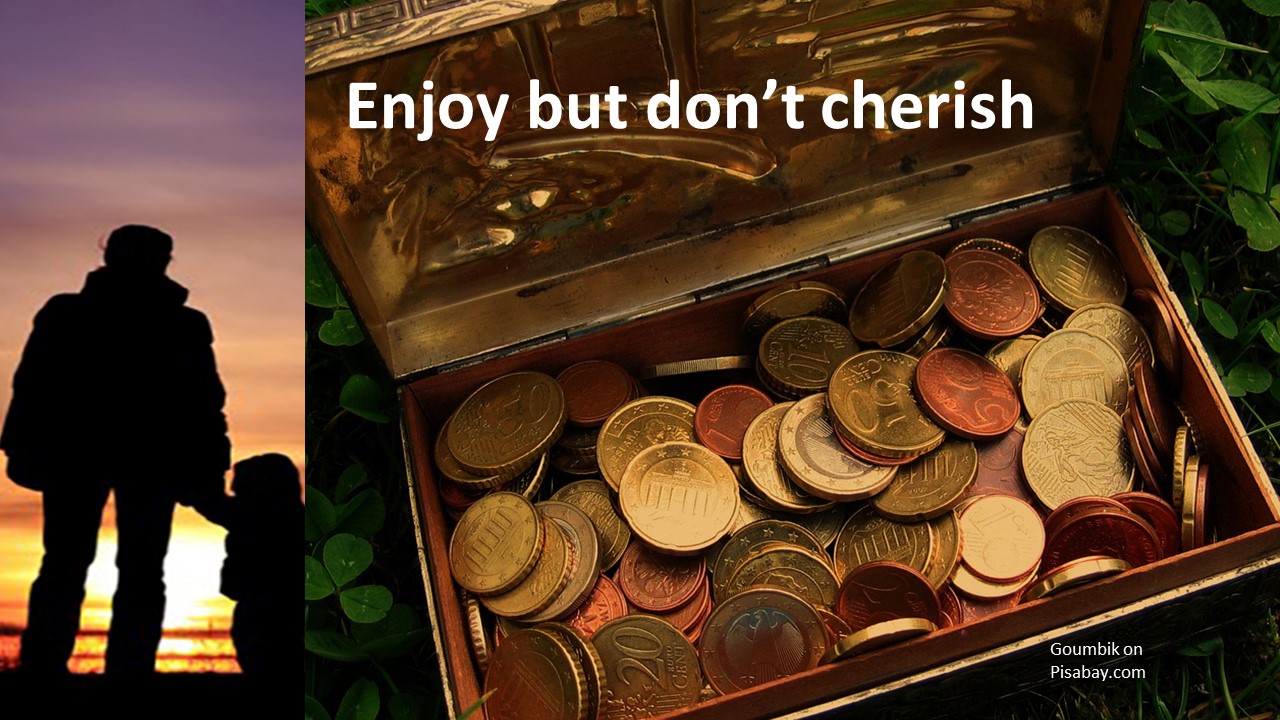 How might we learn not to store up our treasures here on earth? First, "Enjoy things, but don't cherish them." God created this world good and wants us to enjoy life and the blessings provided, but God gets angry when we see such blessings as being ours or being worthy of our worship. Second, "Share things joyfully, not reluctantly." If it bugs you to share something you have with someone who needs it, you should then know that item has gotten a hold on you. It's an earthly treasure, an idol. Finally, "Think as a pilgrim, not a settler." "The world is not my home, I'm just passin' thru," the old gospel song goes.[3] Store your treasures at your destination, then your journey will then be easier.
          Look inside yourself and use these thoughts to evaluate what you have: Enjoy, Share, and think like a pilgrim. A pilgrim is like a backpacker. Remember, you don't want your pack to weigh you down. Amen.
[1] Douglas R. A. Hare, Matthew: Interpretation: A Biblical Commentary for Teaching and Preaching (Louisville, KY: JKP, 1993), 72.
[2] Frederick Dale Bruner, The Christbook: Matthew 1-12 (Grand Rapids: Eerdmans, 2004), 321.
[3]  Kirk Nowery, The Stewardship of Life (Camarillo, CA: Spire Resources, 2004), 122-123.