Francis Wilhoit was born in 1920. He was a little younger than my grandmother, and he died a number of years before her, in 2010, at the age of 90. I never met him (as far as I know), but my Grandmother used to always tell me that I reminded her of him. When I was in college, she gave me a copy of his book, The Politics of Massive Resistance, and I expect I'm the only one in the family to have read it. It deals with the white reaction to the Civil Rights Movement. Wilhoit was outspoken against racism at a time few Southerners were speaking up about the problems. He was a professor at Drake University in Iowa. Years ago my grandmother sent me a copy of a poem that he wrote about her childhood home. Callie McKenzie was her mother (my great-grandmother) and Kenneth was her father (my great-grandfather). Wilhoit wrote this poem in 1977, which was over a decade after my great-grandmother's death and seven or eight years after my great-grandfather's death. Now all from those generations are gone.
Unfortunately the spacing Wilhoit used in the poem was lost when I posted it in WordPress. I will have to see if I can get it corrected (but not tonight).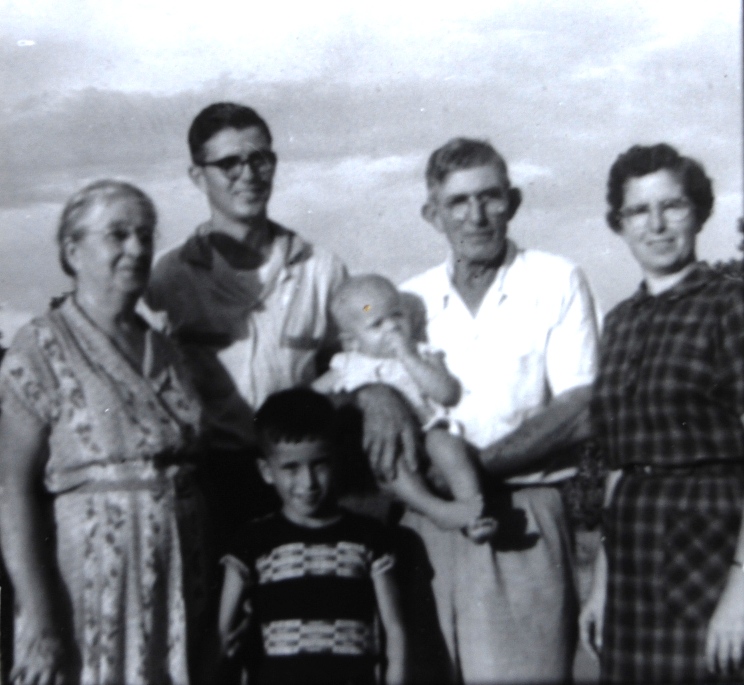 "Out at Aunt Callie's Place"
By F. M. Wilhoit
Based on a poem by James Whitcomb Riley
September 1977
Pleasant it was, O yes I know,
In the good old days in the glow
Of youth, when summer at last had come
And the call of the country beat like a drum,
And we went visiting, our hearts never glum
Out to Aunt Callie's Place.
It all seems only yesterday!
Though I'm now aged and silvery gray—
Out in the country, by the side of the road,
We aimlessly wandered through Nature's abode,
Not a fear in the world, not a care to unload,
Out at Aunt Callie's Place
We tramped the lowgrounds and crossed the wood
Where many an ancient oak tree stood,
Where jack rabbits sprang from tall wiregrass,
And honeybees buzzed in a swarming mass,
And threatened to sting as we tried to pass,
Out at Aunt Callie's Place.
And down to the house of Tom and Kate;
And up to the Garrisons' vast estate;
And on to the Old Place, over to Culdee,
From tobacco labors happily free—
Our faith as firm as the tallest tree
Out at Aunt Callie's Place.
Yes, I see her in the screened-in porch,
Her face as bright as a miner's torch;
And Uncle Kenneth and the children too!
Wasn't it great, for me and you,
To place among kinfolks, tried and true,
Out at Aunt Callie's Place?
The apples, the grapes and the gingerbread
And the jams and cakes—O how we were fed!
And the corn in the peas and the deep berry pies—
It all seemed to me like Paradise;
And the more we'd eat the more she'd devise
Out at Aunt Callie's Place.
In the old frame-house in the evening cool,
With supper done—as a general rule—
We'd take and talk and talk and talk
And listen to the crickets loudly squawk,
Or maybe join in a nighttime walk
Out at Aunt Callie's Place.
And many a time have you and I—
Barefoot kids in those days gone by—
Built mighty castles in the summer sands,
Dreaming of far-off, strange new lands,
Knowing we'd all meet Life's demands,
Out at Aunt Callie's Place.
And O, my cousins, how the times have changed,
By age and progress all disarranged;
She's waiting, though: a smile on her face,
Patient as ever, full of God's grace,
Calling us back, with a spiritual embrace,
Back to Aunt Callie's Place!
A few note (from me, not Wilhoit):
Wiregrass naturally grows under longleaf pines.
We lived several hundred feet east of "Callie's Place" when I was a child (we moved when I was 6). I can attest that the bee's my great-grandfather kept were known for their temperament and we always stayed away from the hives.
Culdee Presbyterian Church is the family church, which was located South of "Callie's Place," on the other side of the Lower Little River
My great-grandmother was known for her berry pies that she always baked in a wood-fired oven (there were two ovens in the house when I was a child, a gas range and a wood stove, and she mostly cooked and baked on the wood stove). She would set them out on the back porch (which was screened) to cool.
One memory of mine that Wilhoit must have forgotten was the nasty spittoon on the back porch and how my great-grandmother loved dip snuff and, I assume, my great-grandfather chewed tobacco. The spittoon was for when they had to spit it out.