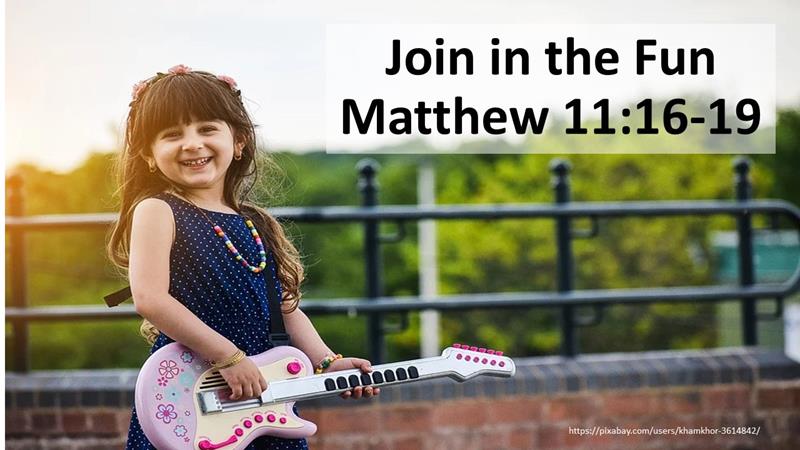 Jeff Garrison
Skidaway Island Presbyterian Church
July 5, 2020
Matthew 11:16-19
To watch this service, click here. To watch the sermon, fast forward to 20:00 minutes in the stream.
Opening of Worship:
          How many of you remember Calvin and Hobbes, the comic strip? I always identified with that kid. There was a time when Calvin was writing a self-help book. O Great, you might think, just world needs, another self-help book. But Calvin saw a fortune to be made, as he confides to Hobbes. His strategy is to convince people there's something wrong with them. It's rather easy, because advertising has already conditioned us to feel insecure about our weight, looks, social status, sex appeal, and so on… "Next, he'll convince people that the problem is not their fault." This, too, is easy because nobody wants to be responsible.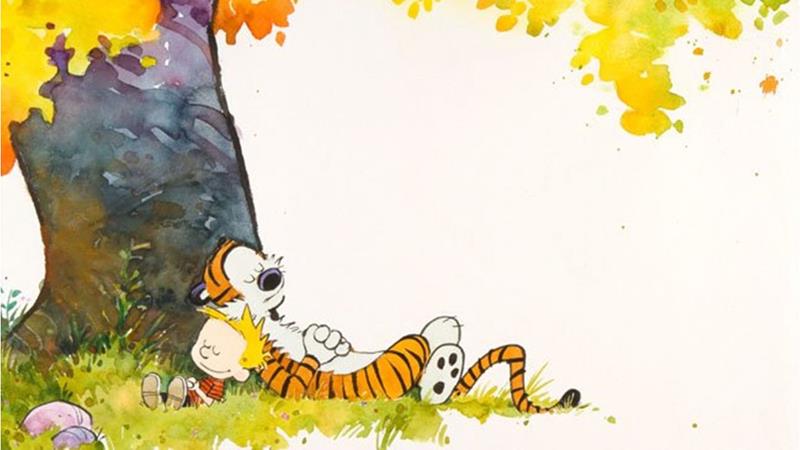 Having prepared the way, Calvin feels he can sell folks on his expert advice and encouragement. He's on to something. We long for satisfaction and we expect someone to show us where to find it.
But the answers are not so simple. For followers of Jesus, we must admit that we don't have simple or easy answers for life's problems. You know, the early church was known as "The Way."[1] That was because they didn't give out pat answers, instead they point to the only enteral truth they knew—Jesus Christ. The church was the way people learned about Christ and is the vehicle God uses to share the gospel to the world. Think about it…
Back to that comic strip, Calvin decides he'll help people get over their addiction to self-help books. His book is titled, Shut Up and Stop Whining: How to Do Something With Your Life Besides Think About Yourself."[2] Actually, there's some truth in that title. Sometimes we are too serious. We need to lighten up. We need to learn to play and enjoy life. That's the theme of my message on this 4th of July weekend: enjoy life and play!
Sermon (After Scripture Reading):
There was a congregational meeting in which the topic of money (or the lack thereof) came up. An elderly statesman of the church stood up and complained about the lack of commitment. "We need to be willing to pull our share; the Christian life is one of suffering and sacrifice." He concluded his speech, pleading "We need members who are willing to pick up their cross." Many nodded their heads in agreement, but there were a few who were uncomfortable. A younger woman stood timidly and challenged the older member with Jesus' words: "I come so you might have life and have it abundantly."
Do you feel the tension between these two positions? The older member demands sacrifice while the younger member wants to enjoy the life promised by our Savior. Both positions can be "proved" by scripture. Both are valid. We must live within the tension of the two.
This is a beautiful world God has created. We've been placed here to enjoy it. Think about all the good things we enjoy. We should relish life, each other, and our Lord. Life is a joyful dance and we should make the most of it. Of course, that doesn't mean that we shouldn't sacrifice, but there should be joy in our giving since God has given us so much.
Children, if given a half a chance, know how to enjoy life. Even in poverty, you see kids laughing. Have you ever watched a child act like they were mowing the yard when you were out sweating and pushing a mower? The child pushes their own Fisher-Price popcorn mower back and forth, just like you're doing under the hot sun. Perhaps you remember being like this as a kid? I couldn't wait until I was old enough to mow the yard. That desire lasted about three weeks after I was old enough to mow. At that point, I decided growing up wasn't such a big deal.
Kids play games. It's fun. Think about your childhood. You could be a real cowboy without having to shovel manure. You could be soldier without being shot at or a nurse without having to dump bedpans. Children have a wonderful view of the world. They enjoy acting like grown-ups, and that's okay. The problem arises when it goes the other way.
The way children act like they are "grown-ups" sheds light onto this parable of Jesus. In the passage, Jesus refers to a game played by kids in a village marketplace. The kids act like adults at a wedding or at a funeral. If it's to be a wedding, one child plays a flute and the rest dance together in a circle. Or, if they act out a funeral, they cry and pound on their breasts in mourning.
Jesus said that people of his generation were like children who refused to join the game. Imagine the marketplace. Sometimes, you know, children refuse to get involved. Maybe because they don't know the other children, or they've been picked on. It's a sad thing to see a child standing to the side watching other kids enjoying themselves. And yet, once these children get into the game, something magical happens. They forget their apprehensions and have a great time. Jesus tells us that those who refused to hear his call are like children who refuse to get involved. By not participating, they missed out on the fun. We adults can be like this when we take things too seriously.
Jesus goes on to say that John the Baptist, the guy who lived off insects in the wilderness and dressed like a "deadhead," is rejected as being a demon. John lived a rigorous life and people don't want to hear about that. Sin and repentance are never been popular topics. So along comes Jesus who enjoys life. Jesus, it appears, never turns down an invitation to a party… Think about the weddings and banquets Jesus attends. Jesus enjoys the company of people and the pleasures of food and drink. This leads some people to call Jesus a glutton and drunkard. And they criticized him for the friends he hung around: tax collectors like Matthew and other obvious sinners like the fallen woman who dried his feet with her hair. Talk about a way to develop a reputation. Imagine the gossip when word got around about that scene.
There is a "Catch-22" situation here. Folks reject John because he lives without comfort and they reject Jesus because he enjoys life. Most people of Jesus' generation wanted nothing to do with either one. They are too busy in their own little worlds to join the dance. But Jesus invites us all to join him. He invites us to live and really experience life. Are we ready for it? Are we willing to cast away our doubts and our troubles and to enjoy what we have been given?
In Joseph Girzone's parable of Jesus, titled Joshua, he writes:
Jesus came to earth to try to free people from the kind of regimented religion where people are threatened if they don't obey rules and rituals… Jesus came to teach people that they are God's children and, as God's children, they are free, free to grow as human beings, to become beautiful people as God intended. That can't be legislated. Jesus gave the apostles and the community as a support to provide help and guidance and consolation. Jesus did not envision bosses in the worldly sense. He wanted his apostles to guide and serve, not to dictate and legislate like those who govern this world.[3]
This passage encourages us to enjoy life—something we tend to do around Independence Day. We need to have fun, enjoy the summer. We should live that first beautiful statement in the Westminster Catechism, which defines our purpose as "enjoying God forever." Horace Bushnell, a 19th Century American theologian wrote during the dark days of the Civil War, "Religion must be a form of play—a worship offered, a devotion paid, not for some ulterior end, but as being its own end and joy."[4] Yes, we need to be concerned for sin, but not too concerned. Jesus came to free us up to live.
Now, let me talk a bit about sin. You know, there are basically two kinds. If you were present here in the sanctuary and I could ask you to name some sins, you might begin your list with the favorite sins of your neighbors: adultery, stealing, murder, greed, not wiping your feet before entering the house, forgetting an anniversary, and so on. But all sin can be grouped into two categories. The classical form of sin is that of pride which comes from our desire to be God. That's Eve eating the fruit because the serpent told her she would have the knowledge of God. It's the same sin we all commit when we live as if we are the ultimate authority. We're all guilty.
The other kind of sin is the opposite. The first type of sin was trying to be God, the second type is not living up to our God-given potential. In other words, we do not become the person God created us to be. Not enjoying the life that God has given us falls into this category of sin. In the parable, this is the child who doesn't join in the game the children are playing.
So, let's all be playful and enjoy God. Don't sit on the sidelines. Join in the dance. Enjoy life and live up to the potential God has given us. Doing so, we fulfill our purpose. Not only do we bring God glory, I expect we bring a smile to God's face. Think about it, God, like a parent, smiling while watching his child play with others. Amen.
[1] Acts 9:2.
[2]"Calvin and Hobbes" this comic appeared on June 6, 1993.
[3]Joseph F. Girzone, Joshua: A Parable for Today (NY: Macmillan, 1987) pp. 73-4.
[4] Horace Bushnell, Work and Play; or, Literary Varieties (New York: Charles Scribner, 1861), 21-22. As quoted by Leonard Sweet, The Jesus Prescription for a Healthy Life (Abingdon, 1996), 52.