Jeff Garrison
Bluemont and Mayberry Churches
June 20, 2021
Hebrews 13:18-25
I am sorry for the format issues in the bottom half of the sermon. I'm not sure what happened, and I have to now get ready to head to church! At least you can still read the text.
Setting the stage: At the opening of Worship
In a tweet this week, Pastor Timothy Keller wrote, "The gospel is neither religion nor irreligion, but something else entirely – a third way of relating to God through grace."[1] I like that. It sounds a lot like what we have heard repeatedly as we have worked through the Book of Hebrews. The message of Hebrews was directed to a people who long to have rules to follow. They prefer the structure of their old faith rather than the graceful freedom offered in Jesus Christ.
Today, we're at the end of Hebrews. There are just a few items to clean up, some business to take care of before the author puts away his pen. Like us, he wants to make a good impression. Like us, he wants to say what's important as he says goodbye.
Saying what's important, especially when saying goodbye, is a good message for Father's Day.
After the reading of Scripture:
We're at the end. Not of history, at least I don't think, but at the end of our work through Hebrews. We started this journey in January and since then, except for a break around Easter, have be enmeshed in this book. Are you ready for a new topic? I am. After all, this is my 21st sermon on the book. Today, we're looking at endings. How do we say goodbye?
Preparation for a trip
I think it was a Far Side comic. An ambulance delivers to the emergency room a patient from an accident. The doctor does a quick check, and then looks up to the nurses while shaking his head. "Dirty underwear, dirty socks, he's hopeless. Who's next?" The title below the drawing said something like, "Every Mother's Nightmares?
Was your mother that way? Did she make you wear clean clothes when traveling? Not only did mine do that, we had to leave a clean room behind. As bad as an accident might be, it would be horrible for someone else to have to clean up your mess.
Thinking first about others
While there is humor in such situations, in the defense of mom's everywhere (on this Father's Day), such ideas are rooted in thinking about other people. That's to be celebrated. It's not a bad thing to leave a good impression, whatever it is we're doing.
Letters and Texts
Back in the day when people wrote letters by hand, which were sent through the Postal Service with an envelope and stamp and all, there was a particular form to follow. Most often, you ended the letter upbeat, hopeful, or at least invoking a blessing on the reader.
Today, with character limits on text, few people even bother placing their name at the end. This creates a problem if the receiver of that text doesn't have your name in their address book. If you receive such text, you only have a phone number to go by. You must either figure out who sent it (and what they're talking about) or, at the risk of offended the sender, ask, "Who's this?"
I long for the good old days when we signed letters "sincerely," and then included our name. It seems the courteous thing for us to do. Leave a good impression. After all, we have no control of the future. Instead of letting things hang, we should say our goodbyes in a way that if anything happened to us, we wouldn't regret it.
So, we kiss our loved ones when they, or we, set off on a trip. We tell family members we love them. We tell our friends how much we appreciate them. Proper goodbyes express our care. It's the right thing to do.
An American Requiem
An American Requiem: God, My Father, and the War that Came Between Us is a wonderful family memoir by James Carroll. The book also warns us on how not to say goodbye. I first read this book twenty years ago and sadly lent it out and couldn't find it this week, but I remember much of the story.
Carroll's father planned on becoming a Catholic priest, but instead married and became involved in the early days of the FBI. He rose in the organization. He became J. Edgar Hoover's right-hand man. When the Air Force was created after World War Two, he was chosen to head security. He went directly from being a civilian to receiving the stars of a general. Carroll grew up in Germany and Washington, DC, in a privileged household. Because of his father's connections, he met Elvis Presley in Germany and dated one of Lyndon Johnson's daughters.
Assuming his father's dream, Carroll enters the priesthood. This was the mid-60s, the era of Civil Rights and Vietnam. His father, at this point in his career, ran the bombing of North Vietnam. While in seminary, Carroll came under the influence of the Berrigan brothers, remember them? One of the two preached his ordination sermon.
You can image how proud his dad was that his son was going to be a priest. After all, he'd felt the call but failed to follow it. His father invited all his friends. Sitting in the congregation that day were lots of generals and admirals. In addition, there were politicians, from the highest levels of government. And, in the pulpit, was an anti-war priest, who didn't hold back words. His ordination was a disaster. For years afterwards, Carroll never talked to his dad.
Then his father started to lose grip on things. It got so bad he was quietly retired from the Air Force. He was diagnosed with Alzheimer's. In his father's remaining years, Carroll, left the priesthood, married, and had children. He tried to reach out to his dad. He realized he'd made a mistake, that he didn't really understand his father, and that he embarrassed him. Sadly, his father no longer remembered or cared about what had happened. As his brain faded, there was no way to bring about reconciliation.
One reviewer of this book referred to it as Carroll's benediction on his dad's life. What he couldn't do in person, he put on paper.
Good endings are important
While it is not always possible, there's something nice about good endings. And that's what happens at the end of Hebrews. While I have insisted Hebrews is more like a sermon than a letter, the ending of the book takes on a letter format. The author, like someone writing a letter, wants to end on a positive note. He attempts to capture the hope of their relationship in Christ, and to close with one final summary of the gospel.
Our Hebrew Text
He starts by pleading for them to also help him and his community. Throughout this letter, he's encouraged his readers and listeners to remain faithful. Now he enlists their help. We need the prayers and support of others. I need you to pray for me. We all need others to pray for us. Whatever you take from this sermon, remember to pray for me and for one another. It's part of our commitment to one another as Christians.
Next, he expresses the desire to visit his friends. He doesn't make a promise that he will visit but expresses the hope it might work out. "God willing, I'm coming," is another way of saying what he means. He knows he doesn't control the future.
From what we see, the author has a close relationship with this community. They know each other well.
Then he offers a benediction which highlights what's been said in this letter. He invokes the name of the God of peace who brought Jesus back from the death. Jesus, our shepherd, by whose blood we have an eternal convent and who offers us new life. Then there's our part of this summary, living in God's will, through Jesus Christ.
This wonderful benediction captures so much of our Christian faith. Even if circumstances conspired against our author, so he died without visiting the recipients of his letter, he said what needed saying. He ends with a few more niceties. He gives them so news about Timothy. He says hi from those who are around him as he writes. That's about it. As I've said, we have come to the end.
Conclusion:
How should we graciously say goodbye to those we love and for whom we care? We have an example here, at the end of Hebrews. If your dad is alive, be sure to tell him you love and appreciate him today. If there has been some strain on the relationship, try to work out. If you have children of your own, the same thing goes.
In all our dealings with others: encourage graciously and with love. Amen.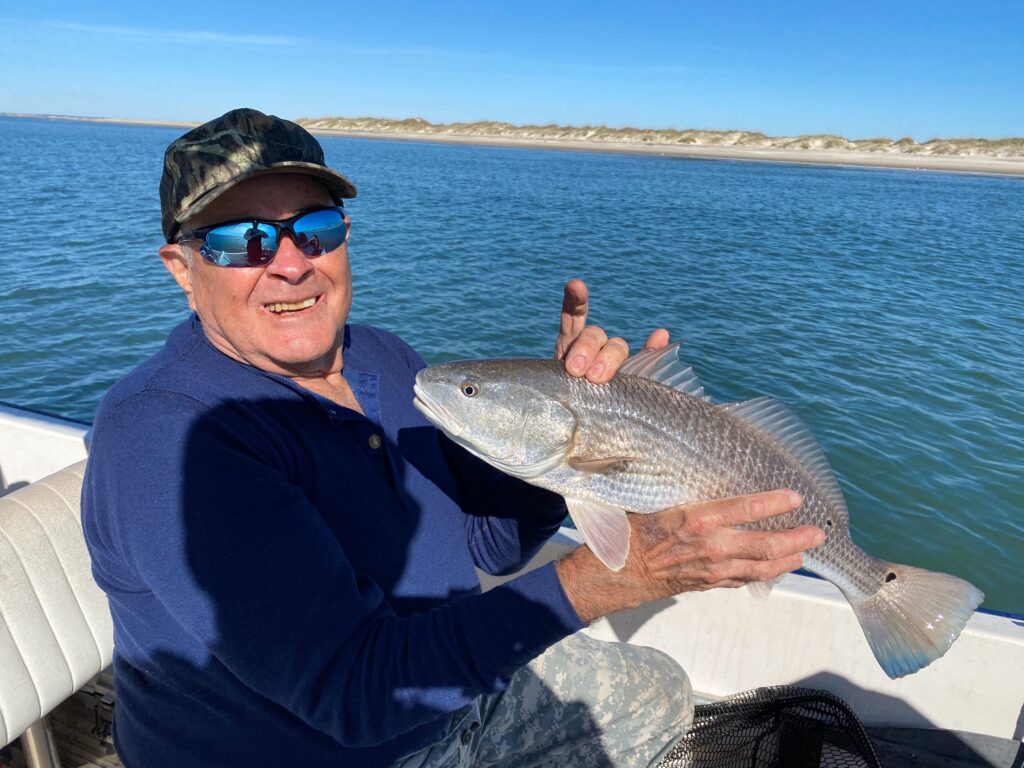 Happy Father's Day! My dad fishing off Cape Lookout. December 2020
---
[1] https://twitter.com/timkellernyc/status/1405471032622845957?s=20