Jeff Garrison
Bluemont and Mayberry Churches
June 6, 2021
Hebrews 13:1-6
At the Beginning of Worship
We gather on the first day of the week, on the day of resurrection, to worship. Why? What does it mean? Think about this in our time together.
Today, we're beginning our exploration of the last chapter in Hebrews. We have completed the heavy part of this book written to encourage those first century disciples who were considering abandoning their faith. The author pleads with them to continue following Jesus, making the case for the excellence of our Savior.
Worship God with awe is our call at the end of the eleventh chapter. The author of this letter/sermon wants us to praise God, not just on Sunday mornings, but with our lives. In the 13th Chapter, the author offers practical suggestions as to the shape our lives should take. These guidelines form around the concept of mutual love and knowing that God is always with us and provides us with what we need.
After the Scripture Reading
A Definition of Worship
I asked you at the beginning of our time together this morning what it means to worship. In his wonderful little book, Wishful Thinking: A Theological ABC, Frederick Buechner describes worship like this: "To worship God means to serve him." He goes on to say there are two ways in which we do this. One is to do things for God. "We run errands, carry messages, fight for what's right, feed his lambs and so forth. The other is to do that which we need to do for ourselves. Sing praises, tell God what's in our minds and on our hearts (we call that prayer), and to make fools of ourselves in the way lovers have always made fools of themselves for the one they love."[1]
Our reading today follows the advice we were provided at the end of the Hebrews 12. There, the author/preacher of this book, calls on his listeners to give thanks as we worship God with reverence and awe. We are well familiar with worship as a gathering in a sanctuary or perhaps even family worship around a dining room table. But we often forget that we're to live lives of worship. How might we do this? Today's reading lists several suggestions to set us out in the right direction.
Bookend concept: Philadelphia
These suggestions are bookended with two overseeing concepts. The first is Philadelphia, not the city but the original meaning of the word which is brotherly love. We can also translate this as mutual love. We can't limit such love just to our male siblings Love is the over-all trait of a Christian. We sometimes sing, "They'll know we are Christians by our love." Love becomes our identity. Paul reminds us that love never fails. Love, along with faith and hope, remain forever. But love is the greatest of these.[2]
Bookend Concept: God's Presence
The second concept, that bookends the other side of this advice, is the notion that God will be with us. God is always present. God's providence provides for our needs. Of course, this does not mean that just because God is with us, everything will go the way we want it to. That's not the case and our author knew it, as we see in a passage.
Knowing God is with us means we have no reason to be afraid. After all, our reading ended, "what can anyone do to us?" This doesn't mean we won't have hardship. Our reading makes it clear there are those in prison and who are being tortured. Jesus said a similar thing when he told the crowds not to fear those who can kill the body but fear the one who can destroy both the body and the soul.[3] The eleventh chapter of Hebrews ends with a final explanation point: "Our God is a consuming fire." Obviously, our author understands God's power, as well as God's mercy as shown in Jesus Christ.
The Call to Show Hospitality
So, what is it that we're called to do based on our mutual love and our belief in God? First, we're to show hospitality to strangers. Doing this, we're told, some have entertained angels. What are our experiences with strangers? In the ancient world, hospitality to those you did not know was chief virtue. Even pagans understood this. Stories of Zeus dressed as a beggar, and then rewarding those who, without knowing him, provides help, existed.
In the ancient world, people often took advantage of strangers.[4]There were few inns, and those that existed often were not places one wanted to find themselves. Hospitality was important. Several times in Hebrews, we've looked back at Abraham. He showed hospitality to the stranger.[5] Even today, in the Biblical lands, it is important that one receive guests in an honorable manner.
In the summer before I entered seminary, I spent much of my time off hiking portions of the Appalachian Trail in the South that I had not yet hiked.[6] One such hike was from Bastian, Virginia (where 1-77 crosses the trail) to Pearisburg, Virginia. My second afternoon on the trail, this was a three-day trip, I met a couple who had just moved to the area. They invited me to stay in their barn, which they wanted to make available to hikers. They also invited me for breakfast. We had a wonderful time talking, and they were excited to learn I would soon be entering seminary. They were also Presbyterians and were heading off to church as I headed back onto the trail. They added facilities for hikers and for many years, their barn was a welcome respite along the trail. Not that I was one, but I wonder how many angels they encountered?
While it is important for us to show hospitality to those we know, the litmus test for Christian hospitality is how we treat those we do not know. Even Jesus acknowledged that greeting a friend isn't anything to brag about. "Even the Gentiles do that," he said.[7]
Empathy to Those in Jail and Being Tortured
We're also to extend our hospitality to the less fortunate, including those in prison and jail. Often when someone is sent away, they are forgotten. Out of sight, out of mind, but that excuse can't be used by Christians. Here, as well as in the 25th Chapter of Matthew, we're reminded of the importance of reaching out to those in jail. In Matthew, we're told that such efforts are akin to comforting Christ.[8]
Furthermore, we're to have empathy for those who are tortured. The preacher may be thinking of Christians, who during times of persecution, faced torture. But I don't think he's only thinking of Christians. He does not distinguish between believers and not, only between the unfortunate who are tortured and those who are not.
Torture as a practice was regularly employed in the ancient world. That doesn't make it right. We should have empathy for those who are inflicted with such pain. The Message translation captures the idea of empathy when he says, "Look to victims of abuse as if what happened to them happened to you."
Whether torture is legally carried out by government or at the hand of rogue individuals, Christians should be outraged. Everyone deserves respect. After all, a foundational principle of our faith is that we've all created in God's image. We have an obligation to speak up when someone abuses someone else.
Marriage Fidelity and Avoiding Greed
Our last two entreaties involve two ideas we might pull apart. But they go together. One deals with marriage and adultery. The other focuses on greed and a desire to have more. In our world, we separate these ideas. After all, adultery is the seventh commandment and coveting the tenth. But these ideas are united by the language in this text. Furthermore, in the ancient world, they were not seen as separate concept.[9] Both were considered an inability to control one's appetite. We're to be content and thankful with what we have. Our obsessions, whether sexual or material, can get us in trouble.
Christians as Outstanding Citizens
The ethical call of Hebrews is that Christians should be seen not just by other Christians, but all people, as outstanding citizens within the community. We're to be contented with ourselves, to have good hearts, to welcome the stranger and to look out for those who are not able to help themselves. How are we doing?
Let's be Known for our Love
You know, when those outside the church see those of us inside it living in fear over the loss of power and prestige, fighting with one another and the world, and concern only for ourselves and our ideas, we provide them no compiling reason to join us. But if they would see the type of Christian raised up here at the beginning of the 13th Chapter of Hebrews, they will be intrigued. They may or may not join us. Ultimately, that's God's call. But they will know we are Christians. How? By our love. Amen.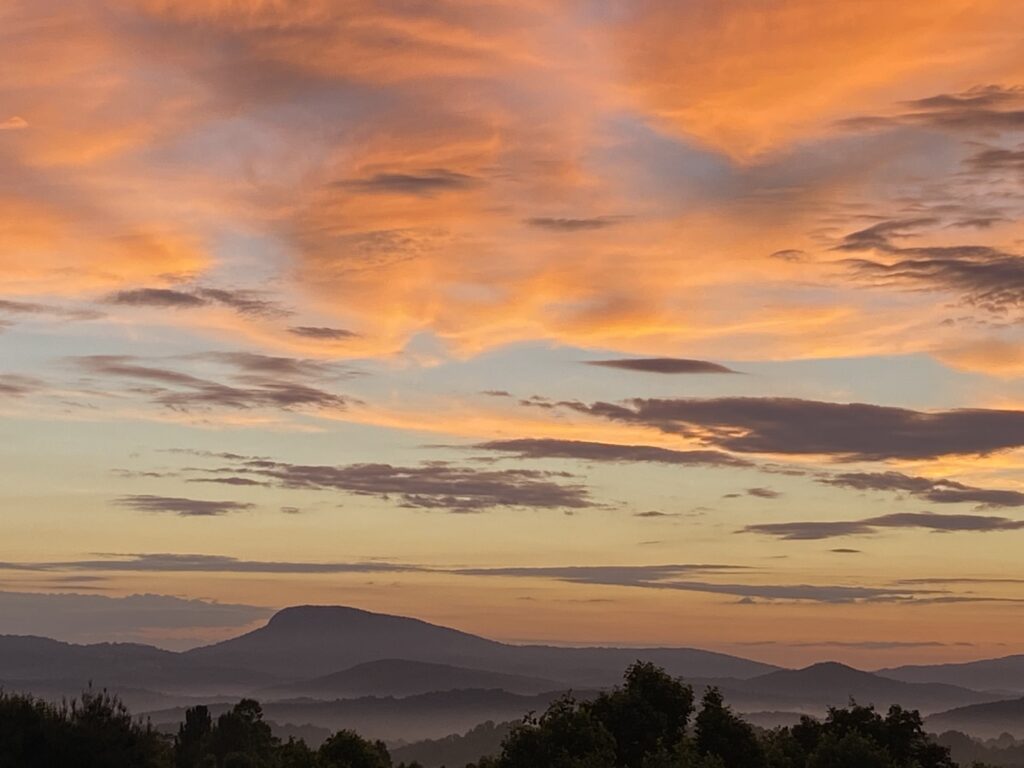 Good morning from the Blue Ridge. This was my view at 6 AM this morning!
---
[1] Frederick Buechner, Wishful Thinking: A Theological ABC (New York: Harper and Row, 1972), 97-98.
[2] 1 Corinthians 13:13. In this chapter, Paul uses the "Agape" form for love (the love God has for us, the type of love that looks out for the best in the other) and not the "Philos" form used here. While they have slightly different means, they are still close in meaning and both are translated as love.
[3] Luke 12:4-5.
[4] F. F. Bruce, The Epistle to the Hebrews (Grand Rapids, MI: Eerdmans, 1964), 389.
[5] See Genesis 18.
[6] From 1983-1986, I hiked the southern portion of the trail from Springer Mountain, Georgia to the Shenandoah Mountains in Northern Virginia. The summer of 1987, I completed the trail, hiking from the Shenandoah's to Mt. Katahdin in Maine.
[7] Matthew 5:47.
[8] Matthew 25:36.
[9] Luke Timothy Johnson, Hebrews: A Commentary (Louisville, KY: WJKP, 2006), 341-342.