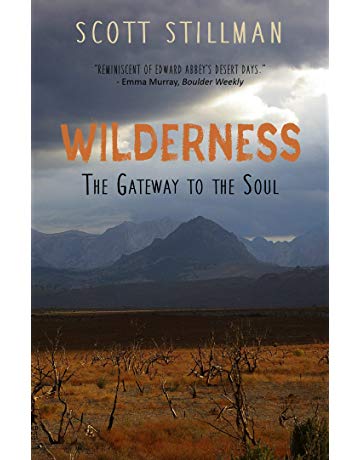 Scott Stillman, Wilderness: The Gateway to the Soul (Boulder, CO: Wild Soul Press, 2018), 198 pages.
I really wanted to like this book. I thought I would enjoy it. After all, like Stillman, I have done many wilderness trips, both overland and on water. I've solo backpacked, off-trail and cross-country, in some of the same areas in which he explores in his book. Wilderness is a collection of accounts of Stillman's mountain, desert and backwoods trips across the American West. Sadly, I found many of his stories to be flat. Too many lacked suspense and a plot line. To me, Stillman's book reads like my journals (in which I scribble and make notes of my experiences, and like him occasional composing a line or two of poetry). But I don't share my journals, I save them and later will distill from them what will go into a story. Instead of his journals serving as the source of ideas, it appears Stillman is offering up slightly edited journal entries.
My favorite story in this book was in the second chapter (Sycamore Canyon Wilderness, Arizona). The author is hiking through the Arizona desert, from Cottonwood to Sedona. In this story, I could feel the suspense and even some thirst as he struggled to find water. I would have liked to have felt such thirst (or sore muscles or fear) in all the stories. The wilderness can be a place many of us go to find healing, but we must also realize that it's a dangerous place. Only when we are willing to take the risk can we experience the transformation that such places offers.
It appears to me that Stillman has some good ideas about the role of wilderness (many of which I share). But instead of developing the idea from the experiences contained within a story, these ideas are dropped in as a "truth." Instead of the allowing the reader to gain from the struggles and the joy of being in the wild, coming to their own conclusions as we experience through words his experiences, Stillman tells us what to think. These are all solid ideas that I have held, such as it doesn't take a lot of
In my opinion, Stillman also overuses lists (this is the second recent book I've reviewed and made this observation). He will drop a series of one word descriptions describing the weather, what he's seeing, among other things. While occasionally a list can be a beneficial technique for emphasis, I felt many of these lists could be woven into the story and used as a way to draw the reader into his encounter within the wild. Stillman appears to strive for a minimalist style of writing (as in his hiking) by using short sentences and even many one-word sentences (which create a list).
Stillman has done a wonderful job advertising his self-published book. Using his incredible talents as a photographer, with a clever line or two from the book, I was sucked in. It's too bad that Stillman didn't publish a book of photographs with one or two line reflections. Such a book, while expensive to produce, would be a thing of beauty. There are no photos in this book except for those on the cover. In his advertisement copy, there is a quote comparing Stillman to Edward Abbey. While it is no doubt that Stillman, like Abbey, loves the wilderness and wants to protect it, his writings lack Abbey's wit and "reverent irreverence." Abbey always presented himself as a bit of a contraction (driving old gas guzzling cars and tossing beer cans out onto the desert floor while fighting against those threatening the environment). Stillman appears to have everything worked out neatly in his head, even before he has such experiences. His trips into the wilderness only confirms his beliefs.
I recommend everyone to find a way to appreciate the grandeur of the world in which we live. Such experiences help us understand ourselves better. But I cannot, in good conscience, recommend this book. Hopefully, the author will follow his hero, Edward Abbey, and continue to hone his craft. Abbey's first book, Jonathan Troy, was not very well received, but when his second book, The Brave Cowboy came out, he had found his voice. The West is a complex place (which may be why I've yet to write about it outside of a few academic and historical pieces). To understand the West as a place which can help us to understand ourselves better requires so many different levels of thought: human and natural history, geology, hydrology, weather, botany, forestry, animal science, industrial development, economics, among other studies.