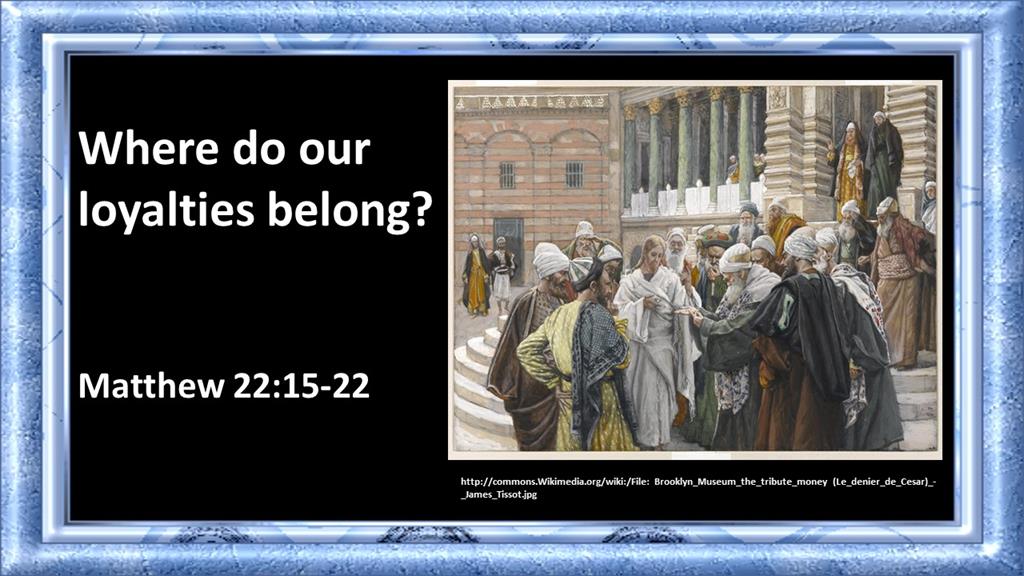 Jeff Garrison
Skidaway Island Presbyterian Church
Matthew 22:15-22
March 15, 2020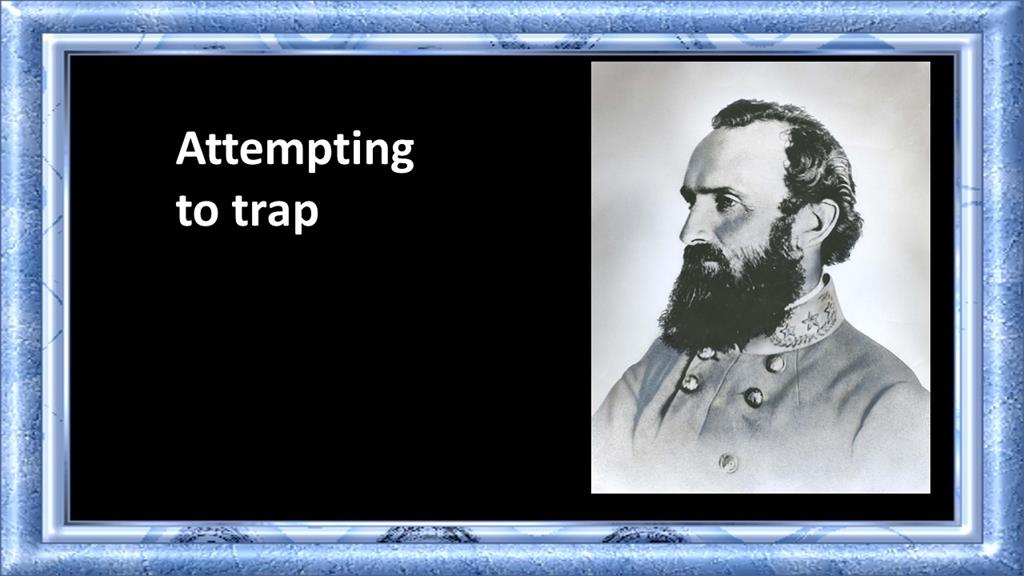 If you read the entirety of Matthew 22 (and with the extra time we may be having on hand as everything is being cancelled because of the Coronavirus, it's not a bad idea), you'd witness a masterful campaign to trap Jesus. But Jesus isn't so easy to catch. He's kind of like Stonewall Jackson in the Valley Campaign in the spring of 1862. Jackson faced much larger armies who wanted to trap and do him in.[1] Similarly, with Jesus during Passion week, he's confronted with a large number out to destroy him. But Jesus doesn't fall in their traps. Jesus bewilders his enemies.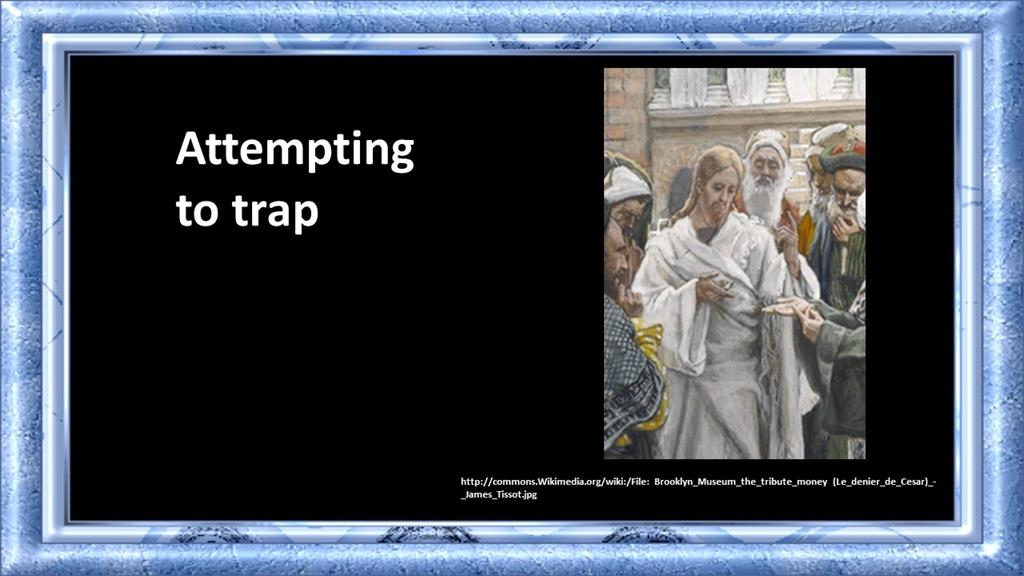 What's happened is that unlikely groups join together to challenge Jesus. The old cliché, "politics make strange bedfellows," rings true. Groups who wouldn't normally give each other the time of day have come together to take on Jesus. They sense that Jesus is challenging the existing order. You have a few Herodians, who are Jews who believe they're be better off cooperating with the Romans. They take their name from Herod, who had Jewish blood but worked for the Empire. And you have the Pharisees; a group of seriously committed religious leaders who believe in the resurrection. Theologically, they're most like Jesus, but Jesus constantly challenges them and exposes their hypocrisy.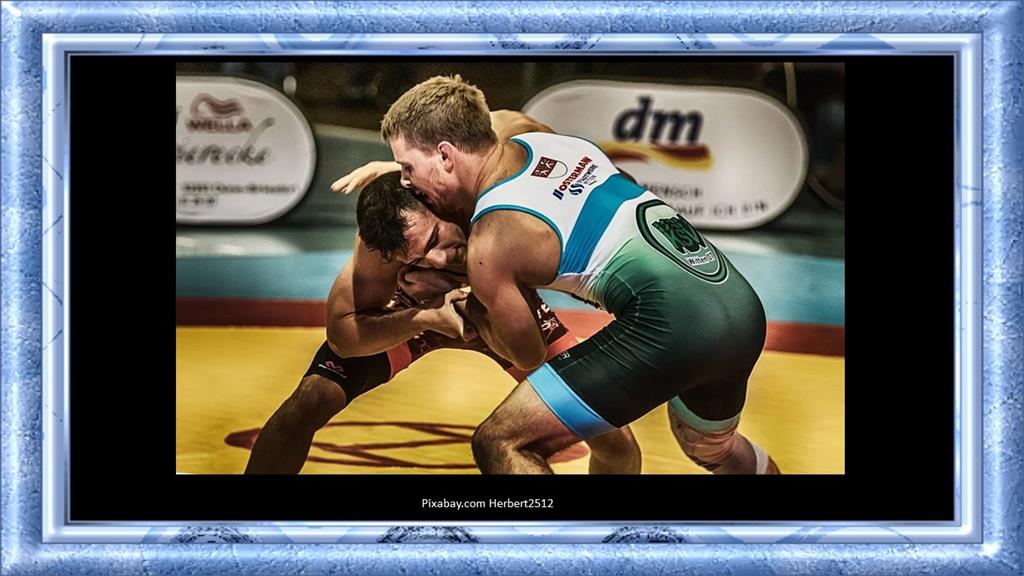 What we read this morning could be described as one movement in a tag-team wrestling match. The Herodians and the Pharisees team up on Jesus.[2] Once they are dismissed, in the next passage we have the Sadducees, the conservatives of the day, crawl up on the mat.[3] According to most translations, Jesus' "silenced them," but the original language is a bit harsher. A better translation would be that Jesus "muzzled" them.[4] Think of muzzling a dog!  Jesus is on a roll! But the Pharisee's still come back for more.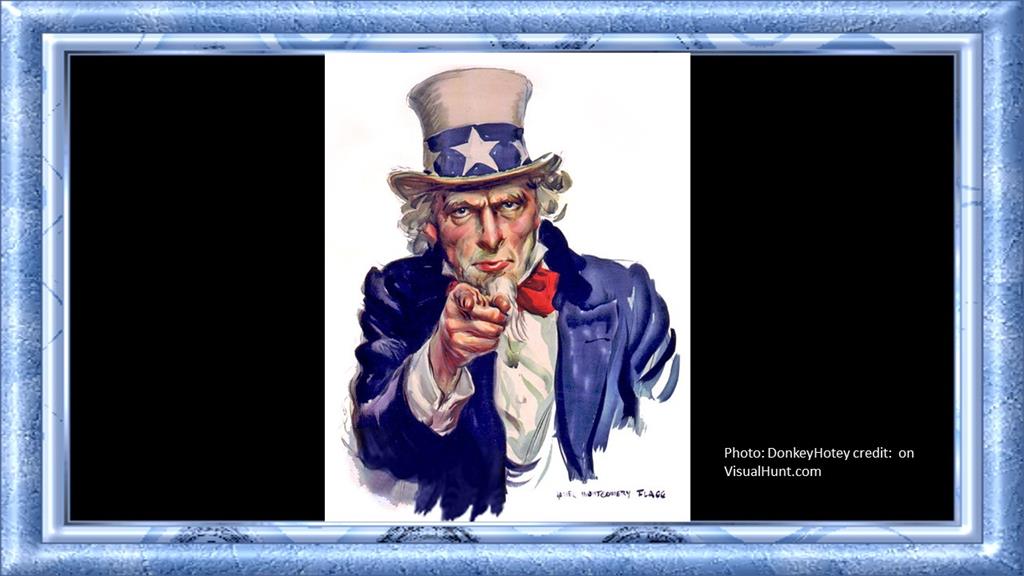 So what is Jesus telling us in this passage? Do you remember those big posters that use to sit out in front of the Post Office and government buildings with Uncle Sam pointing his finger and saying: "I want you!" I believe we could easily surmise this text into a big poster of God saying: "I want you!"
Let's now look deeper into the passage. We're told that the Pharisees are plotting to entrap Jesus. How does Jesus know this? We could say that because he was God he knew, but that explanation does not uphold the human side of Jesus. The human side of Jesus would have realized something was up when he saw the Pharisees and the supporters of Herod walking hand in hand.
These two unlikely groups approach Jesus. They try to butter him up a little by telling Jesus he's sincere, he speaks the truth, and that he is impartial. This Jesus' second clue. "For flattery is on their lips, but their heart is set on their gain," we read in Ezekiel.[5] Most of us, I would expect, are smart enough to realize something fishy is up when those who have nothing to do with us began to butter us up. And that's what happens here. With compliments, they try to catch Jesus off-guard before snapping the trap with their sixty-four thousand dollar question.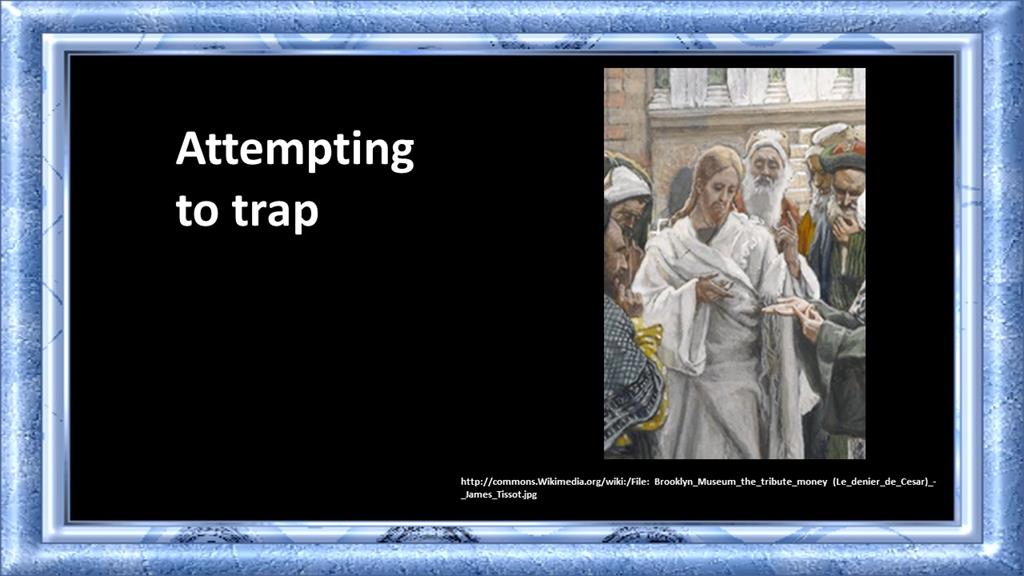 "Tell me," they ask, "Is it lawful to pay taxes to the emperor, or not?"  Jesus has to be careful. Last week you heard Deanie preach about the revolutionary act of Jesus cleaning the temple. Now they want Jesus to make a revolutionary statement against the civil authorities. If Jesus says they should not pay taxes, the Herodians could have him arrested for treason. But then, if he says to pay the taxes, the Pharisees can attack him for not being a patriotic Jew.[6] It's almost a no-win situation.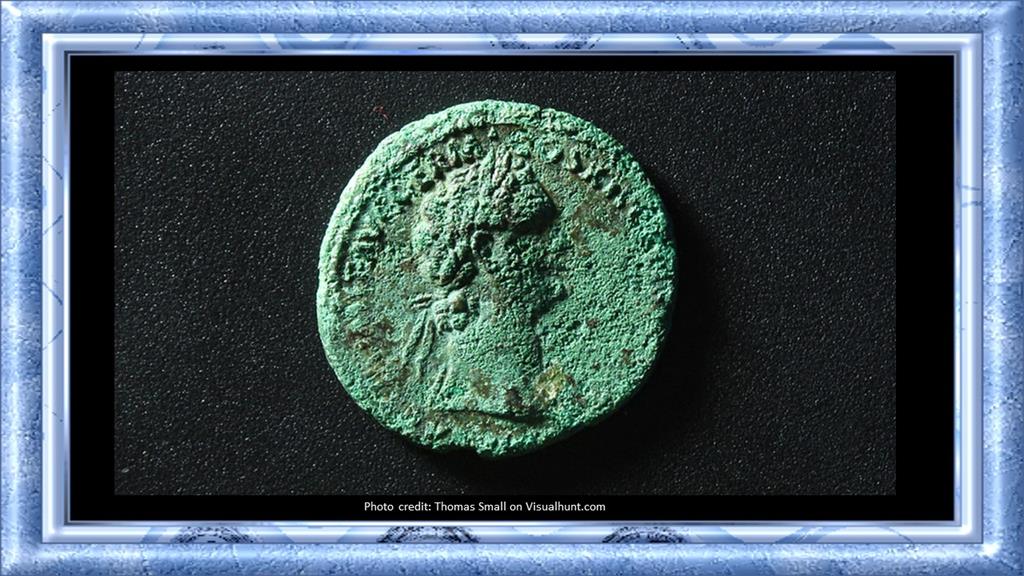 Jesus asks them for a coin. Unlike us, he didn't have to worry about where that's coin has been or picking up some a virus from its surface. However, Jesus still has to be careful. The disciples, we know, had a common purse and he could have gone there to fetch a coin, but then the Pharisees might have charged him with toting around an engraved image of the emperor.[7] So Jesus has them to look at a coin they are carrying, and he asks them whose picture is on it…. They reply, "Caesar's." Jesus then flips the coin back to them, saying give Caesar what is Caesar's, and to give God what is God's. The little band of tempters are astonished. They are amazed. They don't know what to say, so they leave.
These men are amazed, but do they understand all that Jesus says? They hear "Give unto Caesar what is Caesar's," but do they hear "Give unto God what is God's." Do they understand what Jesus meant? Probably not for they continue their attempts to attack Jesus throughout this chapter. But let's not worry about them. How about us? Do we hear what Jesus is saying? Back to that revised army poster of Uncle Sam saying, "I want you!" Jesus is saying, "God wants us!"
The coin had an image on it, Caesar's, therefore give it to him. In Genesis, we're told we're created by God, in God's image.[8] The coin belongs to Caesar, it bears his image; our lives belong to God, they contain God's image.  Caesar may have a lien on our possessions while we're on earth, but God has a lien on our total being—now and forever.  God is calling us to dedicate our lives. God, in Jesus Christ, is in that poster pointing, and saying, "I want you.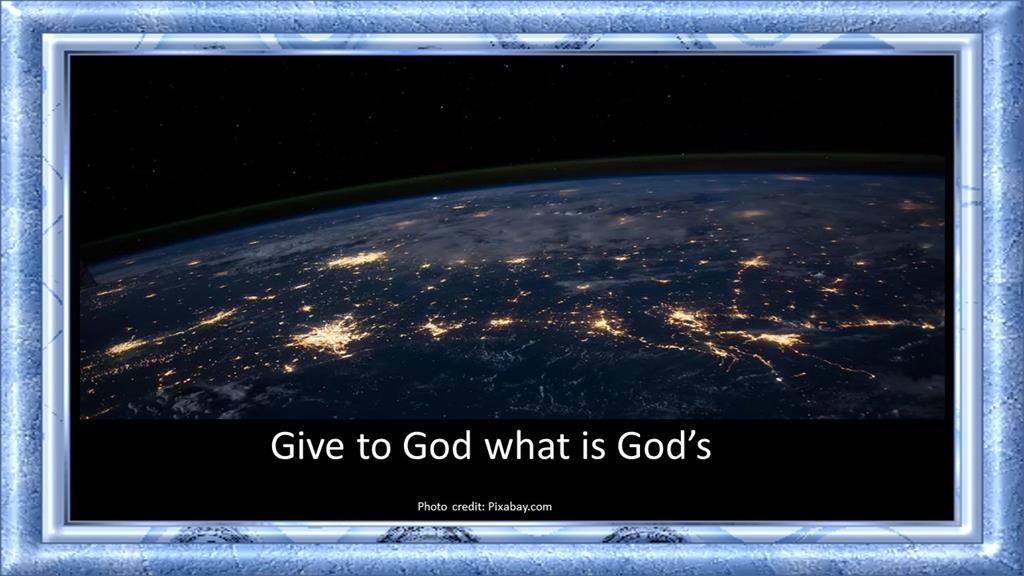 Give to God what is God's.  This phrase is often overlooked.  We tend to get hung up on what is Caesar's and what is ours. We get hung up on the petty details and we miss the important question. What does it mean for us to give ourselves to God?
Sure, a part of devoting ourselves to God is about money, but it's more than that. Money is only a start for God wants and expects much more from us. God wants us to trust him and then to do what we can to live in a manner that will further God's work in the world. If we believe that we are owned by God and not Caesar, our lives should reflect such faith. If we believe that we belong to God, and are in God's hands, we have nothing to fear, not even the Coronavirus. For regardless of what happens to us on this earth, God has us in his hand and is working out all things for good.[9] That may be hard to believe considering that panic that is going on around us, but it's true. It's why Christians for the past two thousand years have risked their lives and their well-being on behalf of others. Yes, we can give Caesar what is Caesars. But we can also take risk and do what is right and noble and good because we have trust in God.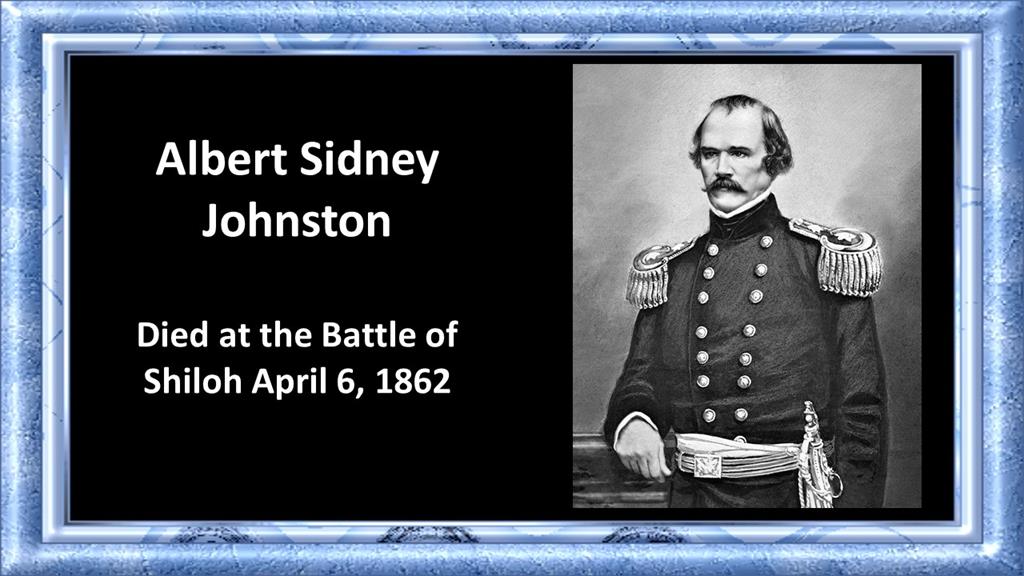 Earlier I mentioned Stonewall Jackson, whose biography I'm currently reading. But let me tell you two other Civil War stories, they're both short, and demonstrate this point. At the Battle of Shiloh in the spring of 1862, Albert Sidney Johnson led the Confederate troops as they overwhelmed the Union forces near Pittsburg Landing along the Tennessee River. It was a bloody day and the Union lines were broken in places. During a lull in the first day of battle, Johnson, seeing a number of wounded Union soldiers in need, ordered his surgeon to set up an aid station and to tend to their needs. According to Shelby Foote in his novel about the battle, his surgeon, Dr. Yandell protested. Johnson cut him off saying "These men were our enemies a moment ago. They are our prisoners now. Take care of them." A few minutes later, a stray bullet struck Johnson's leg and without medical aid, he quickly bled to death.[10] To this day, there is debate as to whether or not Johnson's death caused the tide of the battle to turn. But the tide did turn and General Grant became a national hero.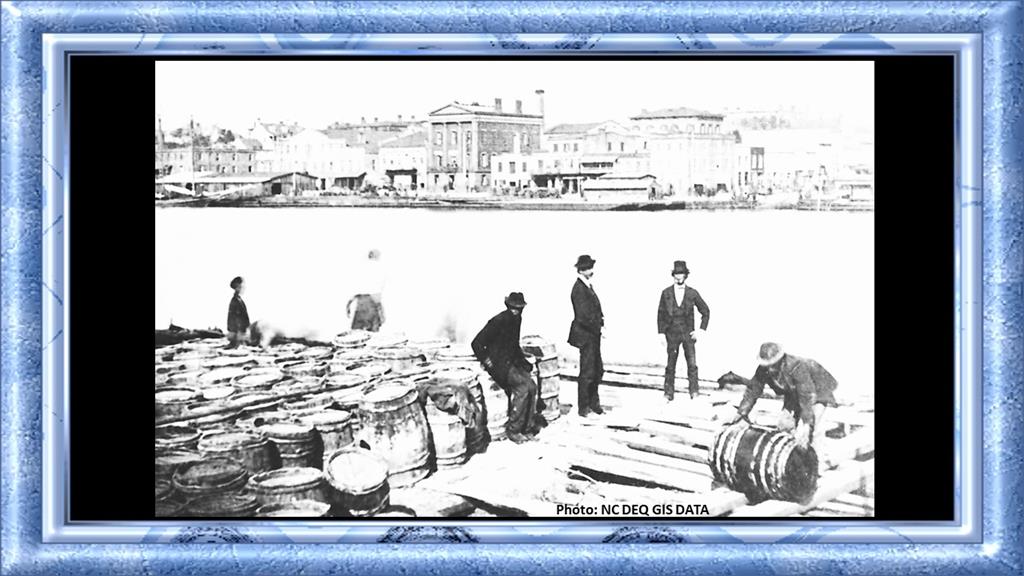 A second story comes from the city of Wilmington during the Civil War. In 1862, a blockade runner that had come in from the Caribbean brought Yellow Fever to the town. Those who could fled to the country, but several of the pastors and the leading citizens of the town stayed behind, feeling it was their Christian obligation to help out the victims. Over 400 people died of Yellow Fever that fall, including many of those who intentionally stayed to care for the dying.[11]
Of course, with the current threat we face, we need to think about our response. We need to help when and where we can, but we also need to be wise enough not to become a carrier of the disease. So while mercy might call us to act boldly, it also might call us to isolate ourselves (especially if we've been recently travelling and could have potentially been exposed to the illness). Such isolation might help slow the spread of the disease and, with the phone and the internet, there are many other ways that we can read out to those for whom we care and love. The Christian faith calls us to be brave, after all we don't belong to ourselves but to God. But it also calls us to be wise!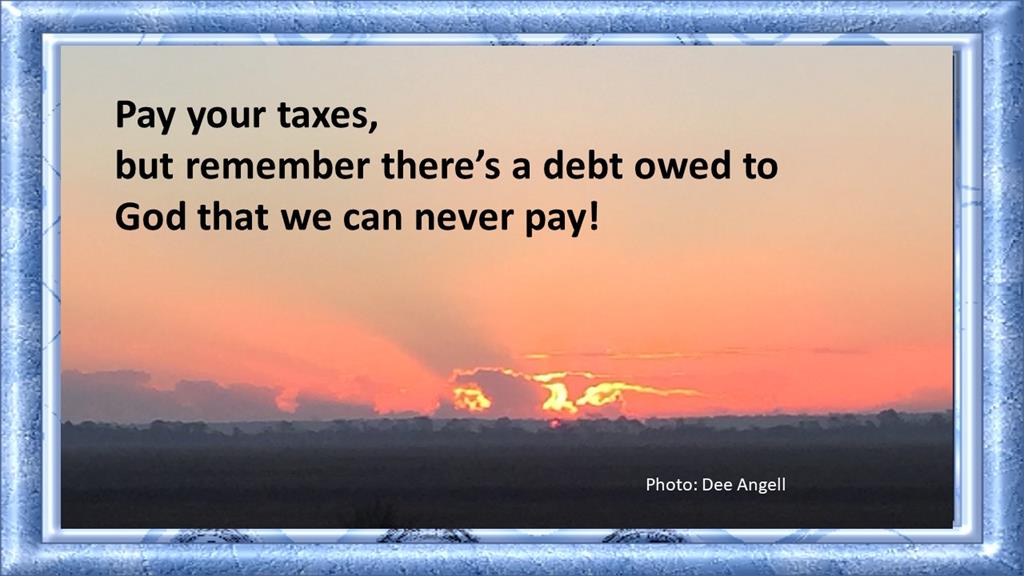 Give to God what is God's, is the message here. So yes, we should pay our income tax. And when you write that check this April, we might remember that giving Caesar his due can be a lot easier than giving to God what is his. For our whole life belongs to God. But then, God's given us life and in Jesus Christ has redeemed us to be his people. That's a debt we can't repay, nor is such repayment expected. As the old hymn goes, "Jesus paid it all."[12]  Amen.
©2020
[1] I have been reading S. C. Gwynne, Rebel Yell: The Violence, Passion, and Redemption of Stonewall Jackson (New York: Scribner, 2014).
[2] Matthew 22:15-22.
[3] Matthew 23-33
[4]  Frederick Dale Bruner, The Churchbook: Matthew 13-28 (Grand Rapids: Eerdmans, 2004), 410.
[5] Ezekiel 33:31b.
[6] Bruner, 397.
[7] Bruner, 398.
[8] Genesis 1:27.
[9] Romans 8:28.
[10] Shelby Foote, Shiloh (1952, New York: Vintage Books, 1991), 199.
[11] James Sprunt, Chronicles of the Cape Fear River, 1660-1916 (1919: Wilmington, NC: Dram Tree Books, 2005), 286-288.
[12] "Jesus Paid it All," Elvira Hall (1865).