Please remember, especially during this time when we need to maintain social distance from one another in at attempt to stop the spread of the COVID-19 virus, that you can always worship virtually with Skidaway Island Presbyterian Church on Sunday mornings at 10 AM Eastern Daylight time.  Just go to sipres.org and click, "Watch Live."  The sermon will also be available to watch later this week on our church website.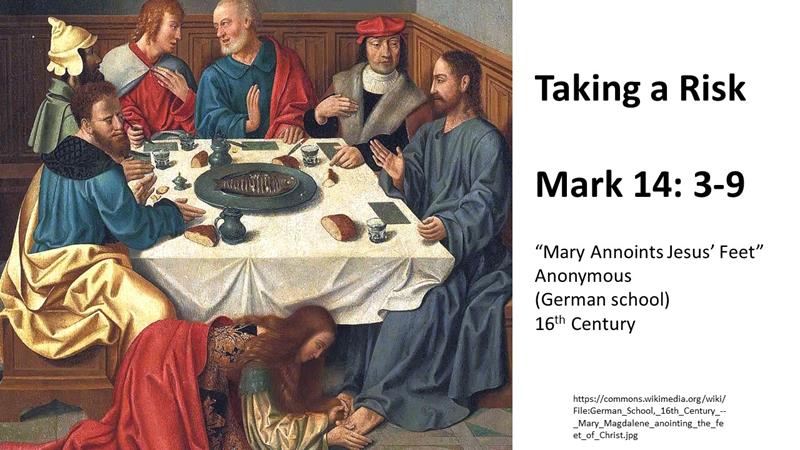 Jeff Garrison 
Skidaway Island Presbyterian Church
Mark 14:3-9
March 22, 2020
As we've done in the first few Sundays of this series, let us concentrate on this painting that depicts the passage I'll read. Focus in on this guy, looking down as this woman who is anointing Jesus. Let's get into his head. Listen: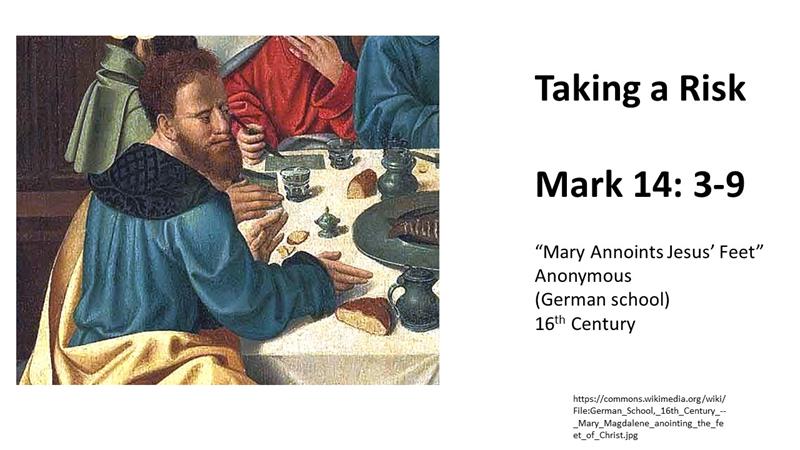 None of us are happy with the way things are going in Jerusalem. It's not just the political oppression. We're troubled by the dire situation of the hungry, the poor, the sick, and the disturbed. The Roman's don't' care about them? At least we try. Every penny we scrape up we try to pass on to those who need it. Before Jesus arrived for dinner, some of us were also wondering if we should save some money in case we needed to hide out in the not-too-distant future.
          And then SHE walks in.
          Look at that beautiful alabaster jar! Get a whiff of the oil. This is expensive stuff! And a whole bottle. How much does this stuff cost? It seems a ridiculous waste, given what we had just been talking about. This kind of money could go a long way.
          Look at her. She's not said a word. Yet she is intense and devoted. This love lavished on him is somewhat embarrassing and yet it's what I really want to do—tell Jesus how he has changed my life and how finally I have a purpose. I'm loved, and it's such a gift. But how can I offer any gift to Jesus. He's "The Messiah," anointed by God. But here she is anointing him! I'm jealous and fear we are losing him. He tells us to stop judging her. "She is preparing me for burial," he says. No! Don't say that, Jesus. It can't happen.
Soloist sings: Enter
Enter the story
Enter the place you belong
Not just looking on
For this is your story
Enter the story
Enter
Enter the passion
Enter the place we belong
Not just looking on
For this is our passion
Enter the passion
Enter the story…
Enter the passion…
Enter his passion.[1]
 Let's listen as I read of this story from Mark's gospel. Listen for the differences.  Read Mark 14:3-9.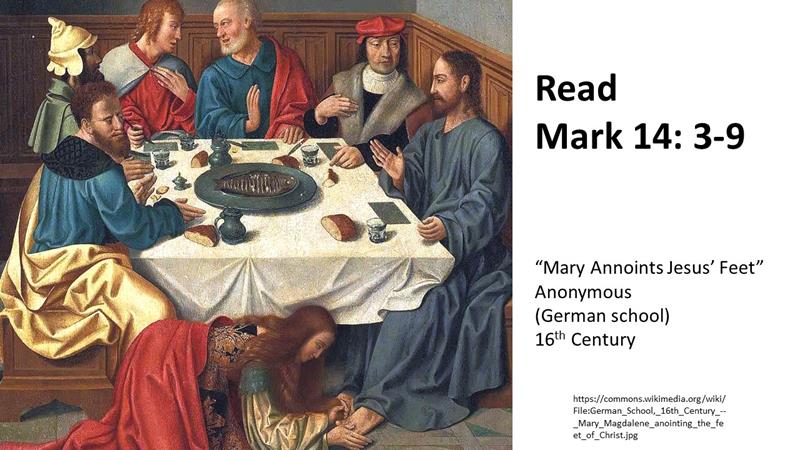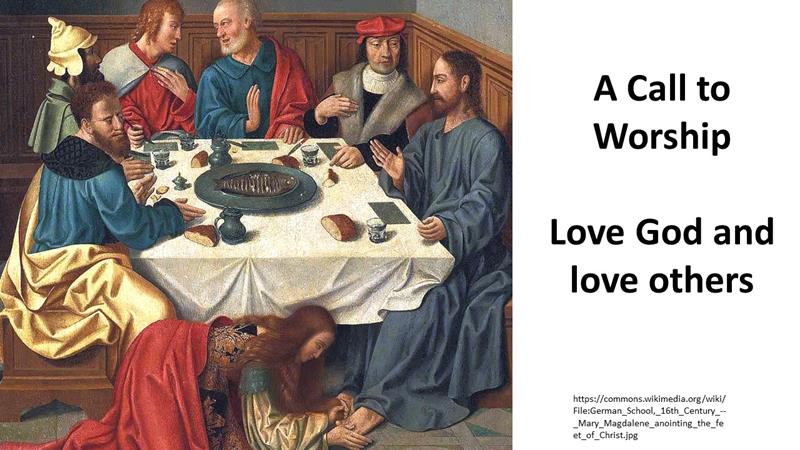 There are two big meals highlighted in the final week of Jesus' earthly ministry.[2] We all know about the Passover meal, the Last Supper, but a few days earlier there's another highlighted meal in which a woman enters and anoints Jesus. In two of the gospels (Luke and John), like the picture we see, the woman anoints Jesus' feet.[3] In Matthew and Mark, from which we read today, the story is of the woman anointing his head with oil, something that might be done for a king.[4] Reflecting on this scene, Dale Brunner suggests it serves two purposes. It's a call to worship. Jesus is to be worshipped, something that will come clearer in less than a week, after the resurrection. The second purpose is as an illustration of the double-love commandment Jesus used to summarize the law—the love of God and the love of others. This woman demonstrates her love of God through her unselfish actions toward Jesus. And Jesus, by protecting her dignity, shows how we can care for others.[5]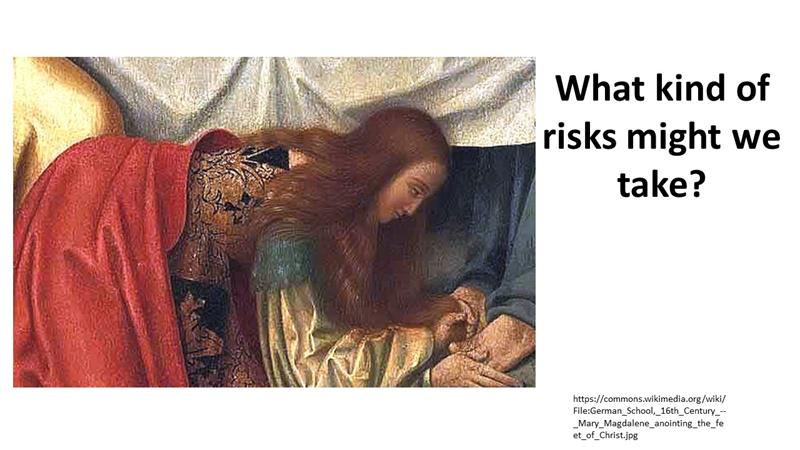 Think for a minute about this woman. Because this story is told a little differently in each of the gospels, we tend to get it all mixed up. In Luke's gospel, she's identified as a sinner. Her presence upsets those around the table. But that's not the case in Mark's gospel. She's totally anonymous. Luke may have been describing a different event. If that's the case, both women take risk to show love and devotion to Jesus Christ, and that should be a message to us.[6] What kind of risks are we willing to take for our faith?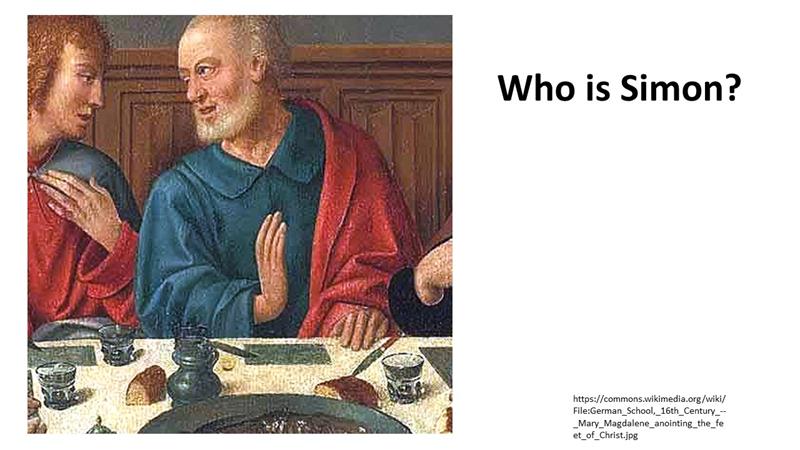 Jesus is at a banquet in a home where he can relax. He's reclining. It's a laid back affair. He's with friends. We're not sure who Simon is. It was a popular name back then. But being labelled "the leper" takes the reader back to early in Jesus' ministry when he cured a man with leprosy.[7] Leprosy was generally an illness that created isolation, but maybe, if he'd been healed by Jesus, he's proud of the description and continues to use it after his healing as a way to honor Jesus. Maybe this was a dinner party in honor of Great Physician?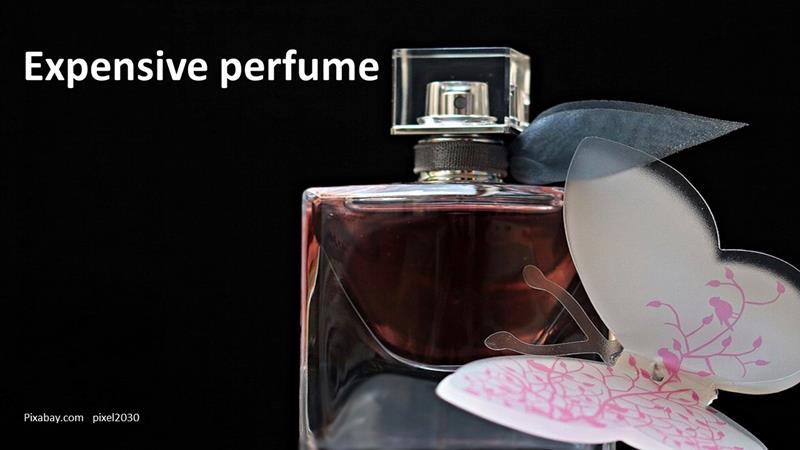 Now consider the risks this woman takes. She shows up uninvited. She shocks the guests with her generosity. Ever give a gift and wonder and worry if it would be accepted? Her gift does upset those around the table. Why isn't this money being given to the poor? They ask. Jesus' protects her dignity, saying she'll be remembered because of what she's done. And Jesus doesn't stop there. He goes on to say we'll always have the poor, but he won't be around long, at least not in person.
The verse concerning the poor always being with us is possibly the most misinterpreted passages in scripture. Think of all the times you've heard this passage quoted in support of inaction when it comes to helping the poor. I bet many of us, and I'm guilty, too, have used this passage in such a manner. But it's a misuse of scripture. Jesus is quoting the Old Testament. Deuteronomy 15:11 reminds us that we will always have the poor, but because of that, we should always be willing to help. "Since there will never cease to be some in need on the earth, I therefore command you, 'Open your hand to the poor and needy neighbors in the land.'"[8] The ubiquitous poor are not there so we can opt-out from helping. They are there to remind us of our need to help others.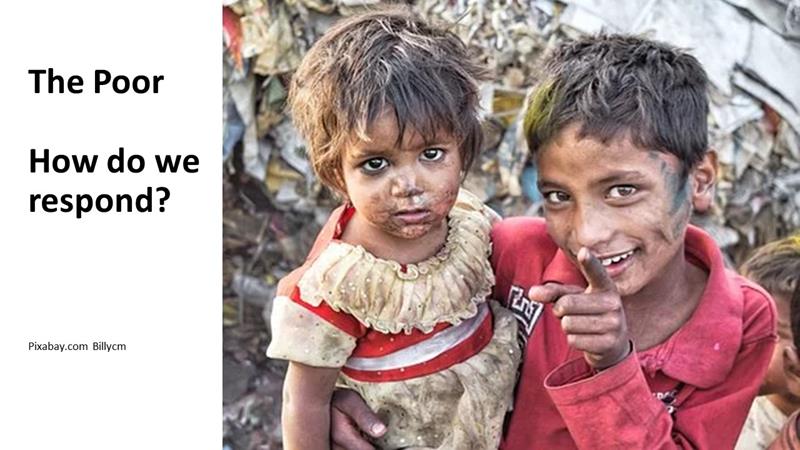 In Matthew's gospel, we're told that helping the poor and needy, the sick and the prisoner, is the same as helping Christ,[9] but here she is able to do something to show her devotion and love. It's kind of like buying flowers for someone. They may seem frivolous as they don't heal us or enrich us. In a few days they wither. But we don't give flowers for such reasons. We do it because we want to be able to do something, to show our love and concern. This woman can't keep Jesus from the cross,[10] but she can do this, and she does.[11]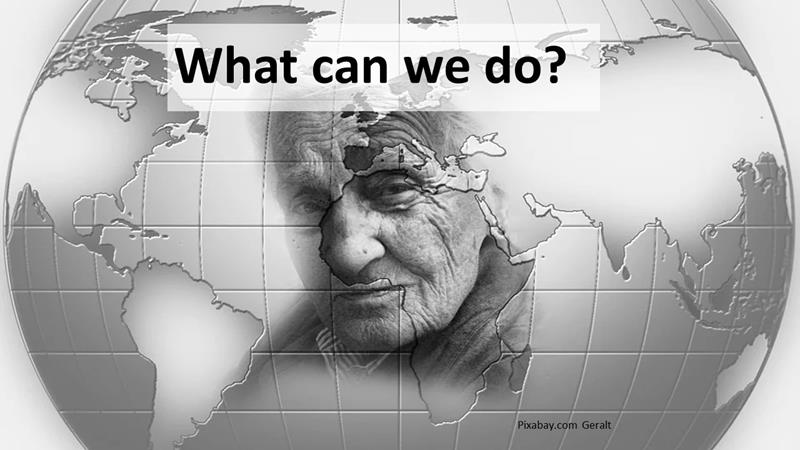 What can we do? We certainly can't heal the world, just as the woman couldn't keep Jesus off the cross. But what kind of risk might we take for Jesus? Things are changing so rapidly around us. It's scary. But we need to remember, this is not the first time Christ's church has witnessed pestilence. In the 14th Century, a large percentage of the population died from the plague, but at the same time Great Cathedrals were being built.[12] Our call is not to fear and worry. Our call is to be faithful to Jesus. If we are sure that Jesus, as Lord, has our best interest in his hands, we can take risks that will further the kingdom and do good for others.
There are going to be a lot of hurting people in our world in the near future. Not only will we have to deal with folks who are infected, and a small but not insignificant percentage who may die. But we will also have to deal with those who are so traumatized they aren't sure what to do. We're going to need to encourage those who are depressed. In the short-term, we're going to need to find new ways of connecting beyond handshakes and being physically present. And then they're those losing their jobs as the economy contracts. I fear it will only get worse. We are going to need to support them. We'll need to live fearlessly, trusting despite evidence to the contrary that God has things under control. This is a time that we as the church and as individual believers need to be bold and positive. For we're on God's side and our Savior won't abandon us.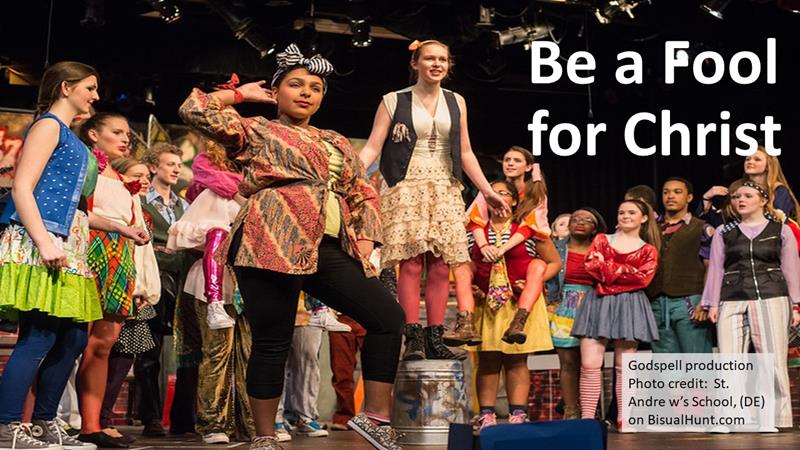 This woman might be seen as a fool for Christ. She faced ridicule, but Jesus protected her dignity and honored her. Don't be afraid to be a fool for Christ. For our Master will take care of us. Amen.
©2020
[1] This edited monologue is from the Worship Design Series: "Entering the Passion of Jesus: Picturing Ourselves in the Story." Subscription from www.worshipdesignstudio.com.
[2] Three of the four gospels place the woman anointing Jesus at the table during his final week of earthly ministry. John's gospel names her "Mary." In addition to this passage, see Matthew 26:6-13 and John 12:1-8.
[3] Luke 7:36-50 and John 12:1-8.  Luke's gospel, unlike Matthew, Mark and John, place this event earlier in Jesus' ministry, not in the week of his death.
[4] Matthew 26:6-13 and Mark 14:3-9. Anointing the head may symbolize Jesus' kingship. It was often something done to honor guests (which the host may not have done on this occasion). And it's also points to Jesus' coming death. See Morna D. Hooker: Black's New Testament Commentaries: The Gospel According to Saint Mark (1991, Hendrickson Publishers, 1997), 327-328.
[5] F. Dale Brunner, The Churchbook: Matthew 13-28 (Grand Rapids: Eerdmans, 2004), 599.  
[6] For this idea of her taking risks, see Amy-Jill Levine, Entering the Passion of Jesus: A Beginner's Guide to Holy Week (Nashville: Abingdon Press, 2018), Chapter 4, "The First Dinner: Risking Rejection."
[7] Mark 1:40-45.
[8] Deuteronomy 15:11, NRSV.
[9] Matthew 25:31ff.
[10] There are two types of anointing. She anoints Jesus (GK: myrizo) brial. Anointing for kingship and as "the anointed one" or the Messiah uses another word (GK: mashiach). See Levine, 95.
[11] Mary Ann Tolbert, Sowing the Gospel: Mark's World in Literary-Historical Perspective (Minneapolis, Fortress, 1996), 274.
[12] See Barbara W. Tuchman, A Distant Mirror: The Calamitous 14th Century (New York: Knopf, 1978.