If you have time on your hands as we wait out this pandemic, there are two good books that I recommend to anyone who enjoys history. In they cover three wars (Mexican, Civil, and World War II).

S. C. Gwynne, Rebel Yell: The Violence, Passion, and Redemption of Stonewall Jackson (New York: Scribner, 2014), 672 pages including appendix, notes, bibliography, maps. There are eight pages of black and white photos.
Stonewall Jackson was an amazing man. Deeply religious, somewhat of a hypochondriac, who had led an honorable but not overly impressive life, he rises to the top during the Civil War. Gwynne portrays his life and death in a compelling manner that shows not only what he meant for the Confederacy but also to America. At the end of the book, he may have overreached when he suggests that Jackson's death at the height of his career was the first major death in this country by someone at the height of their fame. While the nation had lost former presidents and war heroes, most had been out of office or their deaths came years after their military career. Jackson's death, mistakenly shot by his own troops, occurred just after his army won a major victory over a much larger Union army at Chancellorsville. In two years, Lincoln's death would be the next major American hero to die at the zenith of their life.
Jackson was a man who overcame many obstacles. He was orphaned at an early age and sent to live and work with relatives in Jackson Mill, Virginia (now West Virginia). However, Jackson was ambitious and while not a great student, he was able to work himself into West Point. There, he worked very hard as it was quickly evident that he was not prepared for the rigorous course of study. By the time of his graduation, he had come from the bottom of the class to graduate at number 17. His class of 1846 would produce more generals than any other class at the Academy: 22 in all, 12 for the Union and 10 for the South.
In the Mexican war, Jackson stood out as a brave officer, one whose artillery unit held its ground against a much larger Mexican force at the Battle or Contreras, just outside of Mexico City.
After the Mexican War, Jackson served at a military post in Florida before taking a teaching position at Virginia Military Institute in Lexington, Virginia. He was considered a poor teacher except for in the subject of artillery.  He was known for his Puritanical habits, but also had a happy home life until his first wife died, along with her daughter, in childbirth. He would marry again. Anna, his second wife, would also lose a child. In 1862, staying with her parents in North Carolina (her father was a Presbyterian pastor and president of Davidson College), she gave birth to daughter whom Jackson would only see for a few days including the day he died of his wounds. Jackson, while very private in person, was much more social and warmer with his family. This biography liberally quotes from Jackson's personal letters that show his warmth.
Jackson was also a very committed Christian and a member of the Presbyterian Church. He had considered the ministry, but never became a a public speaker. He was a Deacon and started a Sunday School for African Americans in Lexington, both slaves and free. Interestingly, while he owned six slaves, they were obtained in a unique manner. His second wife received three as a wedding present, but the other three had been purchased by Jackson. The first, Albert, had asked Jackson to buy him and to let him work off his bondage for freedom. Jackson did and leased him to VMI as a waiter. When he was ill, Jackson took care of him, and before the war, Albert had paid Jackson for his purchase. Amy, his second slave, was about to be sold to pay a debt of her master. She, too, asked Jackson to buy her. And the third slave he purchased was a young girl owned by an older woman in town. This girl had a learning disability and Jackson agreed to buy her, thinking she could be useful to his wife. The three slaves that came with Anna included her nurse from infancy and her two teenage sons. Anna would teach both boys to read.
Much of the book is about Jackson's rise to one of the great military geniuses of the Civil War. Being from the Virginia mountains and lacking the "blue blood" of Virginia's planter class, Jackson was initially looked down on by many within the Southern leadership. This had also been the case when he was a he had been a student at West Point and a few of those earlier feuds (from "Blue Blooded" Virginians) continued into the war years. Jackson became a hero at First Manassas (Bull Run). Then, given command of the mountainous area in Western Virginia, he crippled three much larger Union armies that had been sent against him with a plan to burn the breadbasket of the Shenandoah Valley. Jackson was known for the element of surprise, pushing his men harder to do what no one thought possible. He was not one to share much information with others, including his commanders. These had to learn to trust his commands. Jackson was also strict as a commanding officer, demanding obedience of his orders. Often, his strictness, especially his punishment of those under his command, were overruled by the President of the Confederacy, Jefferson Davis.
Jackson was involved in the Peninsula campaign. During this campaign, Jackson failed on several occasions to achieve the initiative but coming on the aftermath of his victories in the Shenandoah Valley, his failures may have resulted from exhaustion. He would later take a lead role in routing the Union Armies a second time at Manassas. Afterwards, at Harper's Ferry, he captured the largest group of soldiers up to that time ever captured in America, even larger than the number of British who surrendered at Yorktown. A few days later, at Antietam, Jackson was responsible for the Union's inability to break the Confederate lines and achieve a victory. He would later be responsible for the Union disasters at Fredericksburg. During the winter of 1862-1863, Jackson spent time encouraging religious revivals and establishing a chaplain corps for the Confederate Army. As the winter waned, Jackson's brilliant strategy at Chancellorsville stopped the Union attempt to move behind the Confederate Army. It was there, where he was shot in the arm and hand. His arm was amputated. He would later die of his wounds. His was a glorious career, that was cut short by a mistaken identity.
This book reads like a novel. It is the second book I've read by Gwynne. A year or so ago, I read Empire of the Summer Moon. Both are excellent reads. Gwynne's research is impressive, and his writing is engaging.
###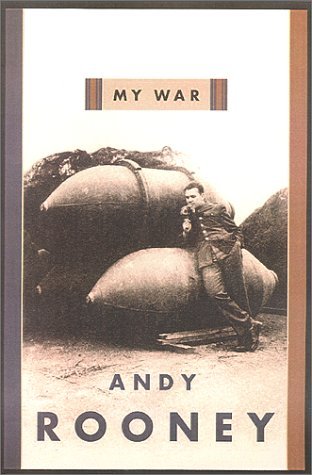 Andy Rooney, My War (1995, NY: Public Affairs, 2000), 333 pages including an index and a few black and white photographs.
Like many Americans, I always enjoyed listening to Andy Rooney. He was the best part of the CBS news show 60 minutes and even if I missed the show, I tried to catch Rooney's monologue at the end. Reading this book about his war years, I could hear his voice and imagine him reading the words to me.  The book is filled with insight and humor, as only Rooney was able to pull off.
Rooney was in college before the war. The draft had begun, and he had been called up for the Army. He trained to be in the artillery. Even back then, Rooney was something of a troublemaker. He told about one officer whom he disliked and who was bucking for a promotion. Rooney's job was to put the right amount of powder bags into the gun behind the projectile. They would call out the coordinates and the bags of powder needed, and Rooney would either put too many or two few and the projectile would either fall short or overshoot the target. The officer didn't get the promotion. After the war started, Rooney's unit headed to England, where he received a lucky break. He transferred into the correspondence pool, become a writer from the Army's Stars and Stripes newspaper. With a million Americans in Europe, the newspaper was a major production. It was also a training ground for those who would step up and take starring roles in American media for the rest of the century.
While in England, Rooney was assigned to a wing of the 8th Army Air Force. He would write stories about the mission and the men whose daring raids over German was attempting to crush the German industrial might. But it was a costly business as planes were often lost behind enemy lines. As a correspondent, Rooney even had an opportunity to go on such missions, including one horrific event that he describes. In this book, he also writes honestly about what he didn't write for the newspaper. He'd heard and witnessed many horrors that he wouldn't report on because it would not have been good for morale
As D-Day approached, Rooney was assigned to go ashore with the Army. He spent most of the rest of the war driving his own jeep around Europe in search of stories. At times, he was dangerously close to the enemy and at other times he was enjoying the good life of food and wine. He did miss out on the Battle of the Bulge when he was temporarily reassigned to New York (each of the correspondents took turns of working a few weeks in the New York offices).  But he was back toward the end of the war. When other reporters told him of the horrors of Buchenwald (one of the German concentration camps), he wouldn't write about it as he couldn't believe what he was hearing. He set out to see for himself, an event that continued to haunt Rooney for the rest of his life.
As the war in Europe came to an end, Rooney had a chance to travel to American bases in India, Burma and China, before traveling home.
I appreciated Rooney's insight on heroes, which he suggests that it's best that we don't meet our heroes. Hemingway had been a hero of his, until he met him in Europe. He was never much of a fan of General Patton, which he remarked in one of his 60 minutes monologues. He recalled how Patton's daughter wrote to inform him that her father wouldn't have been impressed with him, either.
My biggest complaint about the book was Rooney's take on my home state of North Carolina. He didn't like the state and even questioned why his friend and North Carolina native Charles Kuralt liked it so. Sadly, Rooney had the misfortune of spending 6 months in barracks at Fort Bragg, which is one of the less nice parts of the state.
A couple of quotes:
"Patriotism and war go together. Anytime anyone gets to thinking patriotism is one of the supreme virtues, it would be a good idea to remember that there was never any group of people more patriotic than the Nazi Germans. It's strange that a love for country brings out the vicious character in so many people. In that respect, it's a lot like religion. Here are two things that almost everyone believe are good, patriotism and religion, but between them they account for almost all the people who ever died in a war."
"The whole business of reporting makes me suspicious of history."
###
How are you handling this pandemic and avoiding crowds? Read any good books lately?