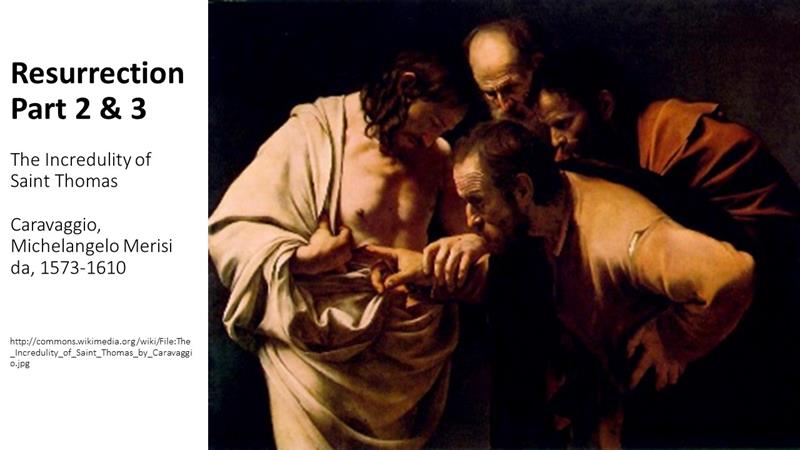 Jeff Garrison
Skidaway Island Presbyterian Church
April 19, 2020
John 20:19-29
Throughout this Easter Season, we're looking at post-resurrection stories of Jesus. We find these mostly in the gospels of Luke and John. As we left off last week, Jesus had risen and had appeared to Mary Magdalene. He sent her off on a mission to tell the disciples. Prior to her arrival, all they know is that Jesus' tomb is open, and his body is gone. They are fearful, worrying that they may end up facing the same kind of death Jesus' endured. But that changes.
What is this resurrection about? What does it mean for us, today? In Richard Rohr's devotional this week, he quoted Franciscan sister and scientist Ilia Delio:
Christianity can help us realize that death and resurrection are part of the evolutionary path toward wholeness; letting go of isolated existence for the sake of deeper union. Something dies but something new is born—which is why the chaos of our times is, in a strange way, a sign of hope; something new is being born within.[1]
Is this a time of hope? In this time of pandemic, what do we need to let go of? How might we become more whole? How might we develop a deeper union with Christ? Our text provides some suggestions.
We're continuing to look at art to help us get into the Scriptures. Today's painting, of Thomas checking out Jesus' wounds, is by Caravaggio, an Italian painter of the late 16th and early 17th Century. Let's get into the head of the other disciple looking over Thomas in this depiction of the event. What do you think was going on in his mind?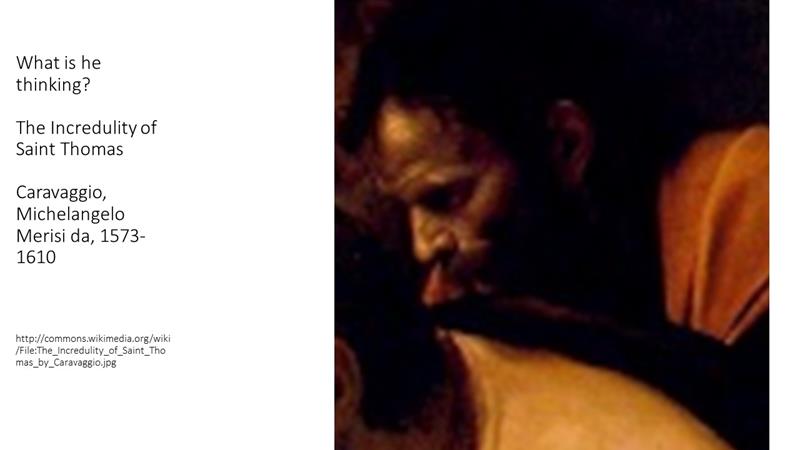 Like Thomas, I also have doubts. I was just not willing to speak up. Can this really be Jesus? After all, his body was so broken when they pulled him off the cross. Yet, he's now in front of us. Jesus insists that Thomas, who doubted when they said Jesus had risen from the dead, stick his finger into his wound. I'm watching. Thomas is reluctant, but Jesus grabs his wrist and pulls his hand toward the wound. Can this really be the same Jesus, that just a little over a week ago, hung on a cross?  And is he the same Jesus we followed throughout Galilee? Will people believe us when we tell what we've experienced? I no longer understand what is happening, but I know that nothing will ever be the same.
Let us read from the gospel of John, chapter 20, beginning with verse 19.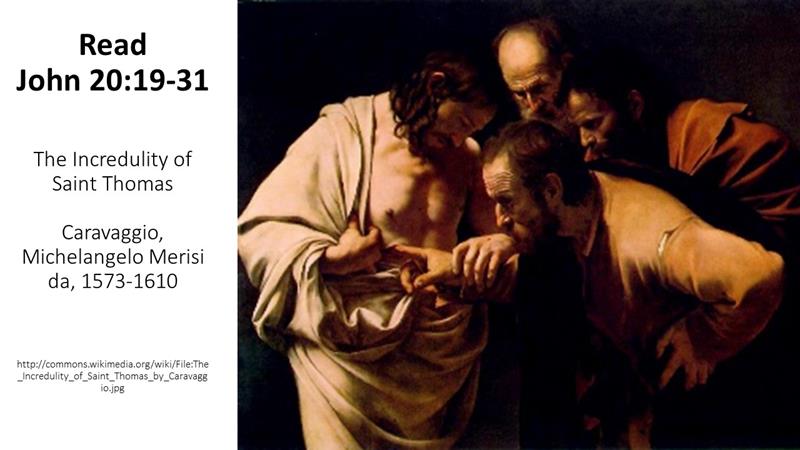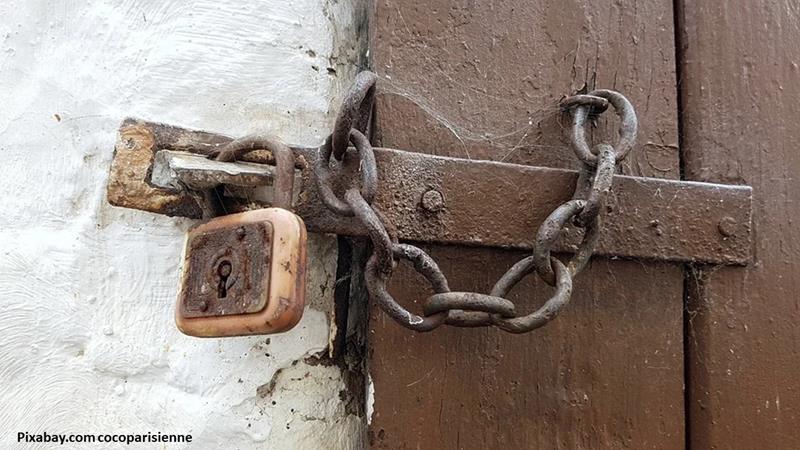 What a week it. From the Parade to the cross and now on the evening of the first day of a new week, the disciples gather in secret. The doors are locked. Everyone is exhausted. Fright and fatigue show on their faces. After three years, they only have each other. And now there's a rumor going around, started by Mary Magdalene, that Jesus is alive. Some think it possible, but others believe it's just idle tale?"[2]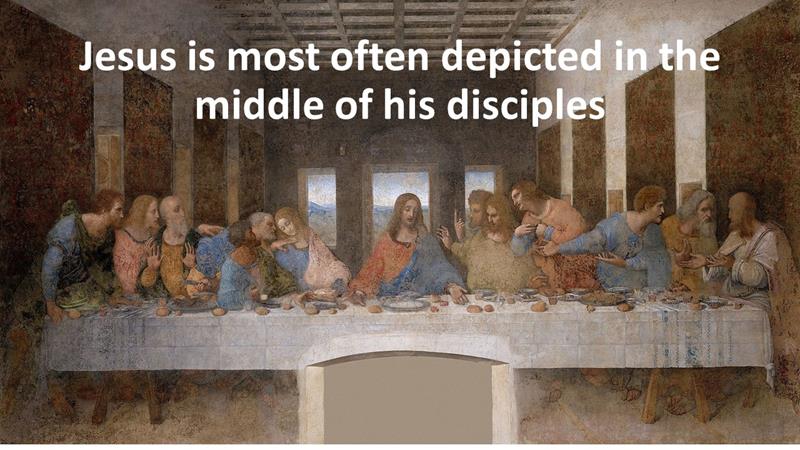 And then suddenly, as the sun sinks in the West, Jesus appears. How did he get through the locked doors? But here he is, when he belongs, in the middle of the middle of the gathered disciples. Jesus was the one who unites the disciples. He's always in the middle. He was even in the middle of those crucified on Friday. The middle is where Jesus belongs.[3] Remember that!
Holding up his hands, greeting his friends, Jesus says: "Peace be with you." What a sight! The nail holes are evident. There's a rip in his side where the Roman spear was thrust. The fatigue on their faces disappear, but the fright remains.
Again, Jesus says: "Peace be with you," only this time he continues, telling them that just as he was sent by the Father, he's sending them out into the world. The unique thing about the resurrection is that Jesus speaks to the disciples as if they are his equals and able to continue in his mission. Then, reminiscence of God blowing breath into the nostrils of the clay figure there in the Garden, giving life to Adam, Jesus blows upon the disciples.[4] Obviously, they weren't worried about COVID-19.
A week later, the disciples are again in the house… Again, it's the first day of the week, Sunday, the day after the Jewish Sabbath, the day of resurrection, the primary day that most Christians worship.[5] Again, the doors are locked. The shades are pulled… So much for Jesus' command to go out into the world… It's been a week since they've seen the resurrected Christ, with his wounds still visible, yet they're still hiding, still afraid for their lives, still afraid to go out into the world…  Then Jesus reappears. And, where is he? Standing there among the disciples—in the middle—where Jesus belongs.
Thomas, the empiricist who wants to see, sense, and touch Jesus before he commits himself to believing is also present. Knowing this, Jesus invites Thomas to place his finger in his wounds… Imagine Thomas reaching out his hand. And then he sees. In awe, Thomas cries out, "My Lord and my God!"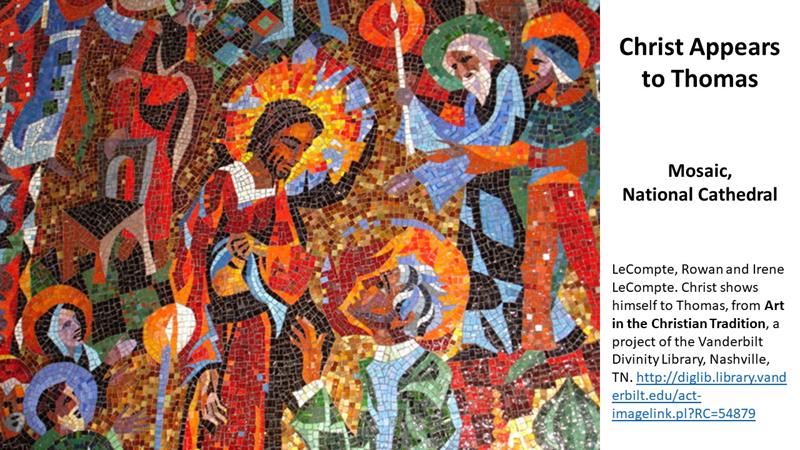 We could argue that this is the climax of John's gospel. "My Lord and my God," acknowledges that Jesus is more than the Messiah. We get a whiff of this in Matthew's gospel where we're told the women at the tomb worshipped Jesus.[6] We don't worship a person; we worship God. Thomas takes this a step further and declares that Jesus is God. His confession has gone beyond all other confessions of the disciples up to this point.[7] A doubter at first, Thomas is the first disciple to recognize Jesus as more than a teacher. Jesus is God. Furthermore, Thomas' proclamation is a political statement. Roman emperors were addressed as "Our lord and god." Here, Thomas confesses who truly is Lord and God, and it's not Caesar or anyone else to whom we might be lured into professing allegiance.[8] By calling Jesus Lord, Thomas asserts Jesus is worthy to obey. By calling Jesus God, Thomas declares that Jesus should be worshipped, as we're doing today.
N. T. Wright suggests that Thomas serves as a parable for our need to both have the historical and scientific facts. He wanted to touch, to experience, and to see. But when he claims Jesus to be God, he transcends the historical and scientific realm into something "higher and richer." We're into a new creation.[9]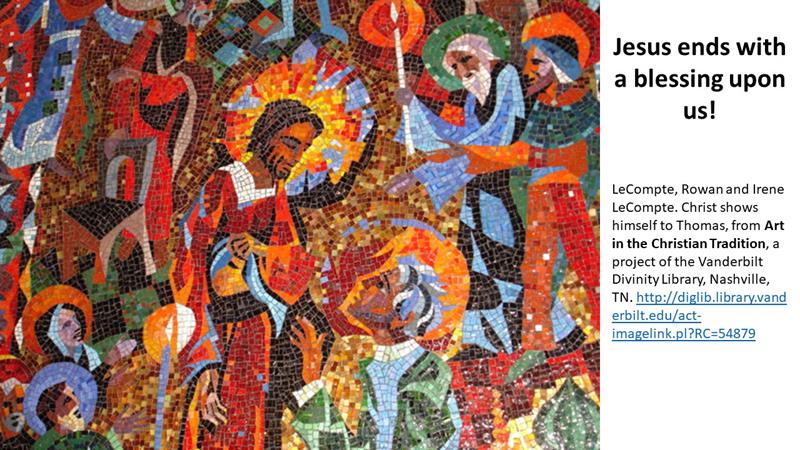 What all this means to us, today, two millenniums after the resurrection? Jesus' last words in this passage are interesting. It's a blessing on us. "Blessed are those who have not seen and yet have come to believe," Jesus says.  Did you hear that?  He's talking about you and me; he's blessing those of us who have not had an opportunity to stick our fingers into his wounds. Instead of seeing, we believe due to the presence of the Holy Spirit and the testimony of others who have felt Jesus' presence in their lives. And because we have faith in Jesus Christ, we're to listen to his teachings and to live lives that strive to glorify him. That's the challenge we have, as individuals, to listen to Jesus and to live faithful.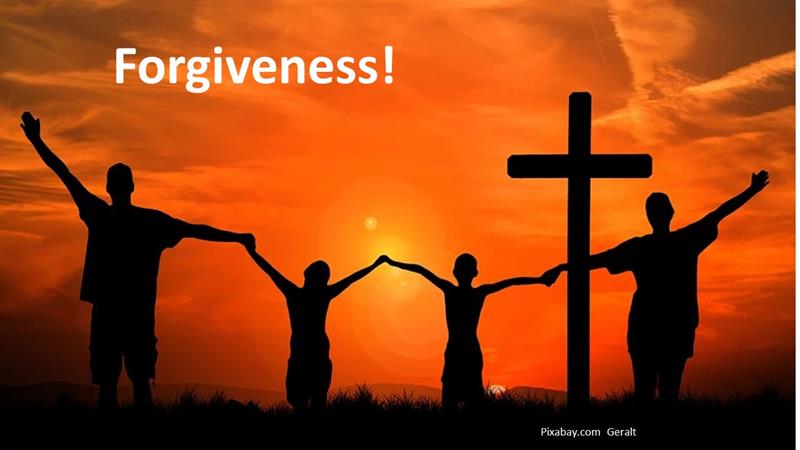 Furthermore, as a community of believers, we're able to offer forgive sins. That's quite a task. You know, there are a lot of good things that the church does in the community that other groups can also do, and in some cases these groups can even do it better than the church. But there is one thing that no other group can do. The government can't do it, civic clubs can't do it, political parties can't do it—and that's forgive sins. As God, Jesus has this power and he grants it to his church. For this reason, the church is an essential business. But the church isn't a building; the church is wherever God's people are at, which now, hopefully, is in the safety of our homes.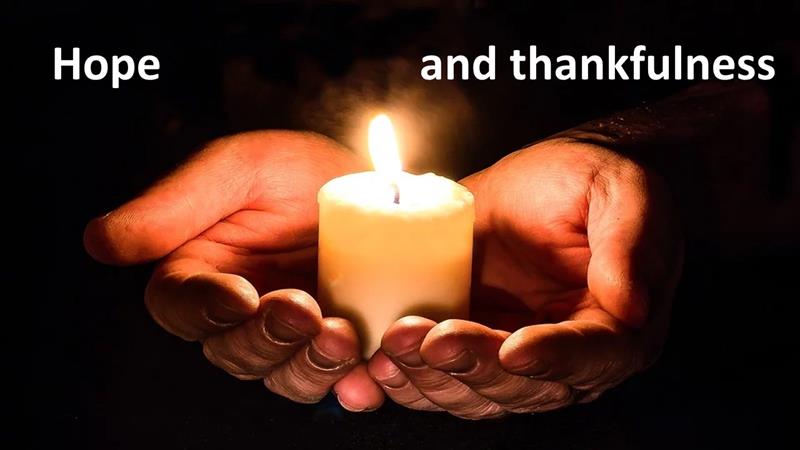 There's a lot of hope in this passage. We have a God who can do incredible things and I believe God is doing that right now. This pandemic is offering us a chance to pause and re-evaluate our lives and what is important. We have plenty of time as we sit around the house watching TV and reading novels. But just remember this, the church isn't here in this building, it's where you and all the other believers are located. And, more importantly, as it was in that first Easter, and the next Sunday, Jesus needs to be present, in the middle of us. It's easy to be depress these days, but Jesus is here, ready to give us strength and hope and encouragement. While this pandemic might suggest that it's not safe to invite people into our homes, the exception is Jesus. Invite him into your home. Spend time with him during these weeks of isolation, asking him what you might learn from this time. For Jesus is not in the grave, he's descended to the Father, but he's left behind his Spirit to guide and comfort us. And for that, we should be thankful.  Amen.
©2020
[1] https://cac.org/death-transformed-2020-04-12/?utm_source=cm&utm_medium=email&utm_campaign=dm&utm_content=summary
[2] Luke 24:11, "and these words seemed to be an idle tale."  John's gospel only tells about Jesus' encounter with Mary Magdalene prior to meeting his disciples later in the day.  See John 20:1-19.
[3] Frederick Dale Bruner, The Gospel of John: A Commentary (Grand Rapids: Eerdmans, 2014), 1162.
[4] See Genesis 2:7.
[5] Christians worship on the first day of the week because the Lord rose that Day (John 20) and the Holy Spirit descended upon the church on that day (Acts 2:1ff). See also 1 Corinthians 16:2.
[6] Matthew 28:9.
[7] As an example, the climax in Mark's gospel comes with Peter's confession that Jesus is the Messiah, but Thomas makes a stronger Christological statement, proclaiming that Jesus is also God. See Mark 8:29.
[8] Raymond Brown, The Gospel According to John XIII-XXI: The Anchor Bible (New York: Doubleday, 1970), 1047.
[9] N. T. Wright, Surprised by Scripture: Engaging Contemporary Issues (New York: HarperOne, 2014), 60.