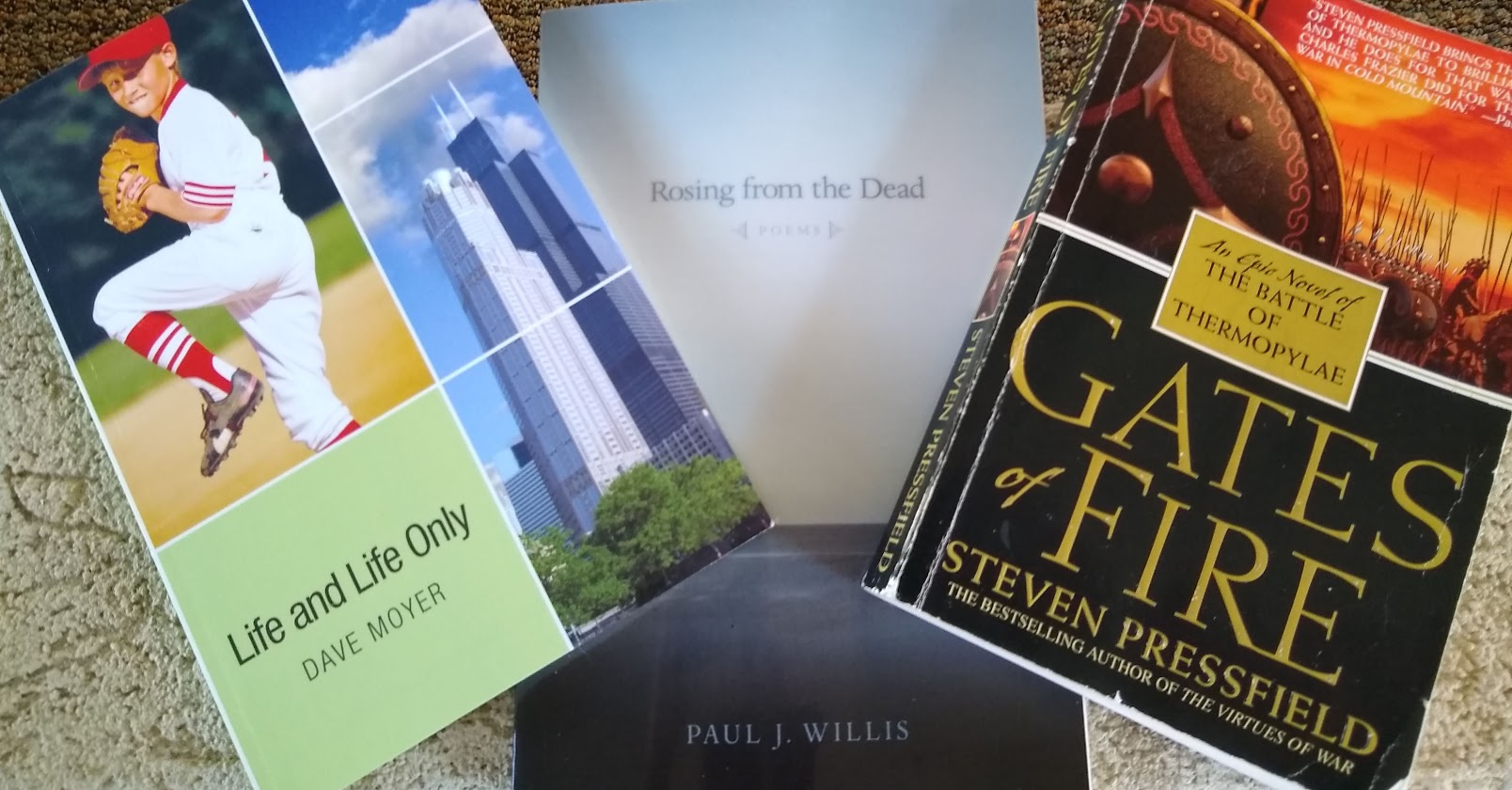 Steven Pressfield, Gates of Fire: An Epic Novel of the Battle of Thermoplyae (New York: Bantan Books, 1998), 386 pages.
I thoroughly enjoyed this novel that is based on ancient Greek historians' writings, especially Herodotus.  The story is told through the eyes of Xeones, who was from the city of Akarnania. He alone had been found barely alive after the Persians wiped out the small Greek contingent conducting a delaying tactic against the much larger Persian army at Thermoplyae. Thermoplyae (the hot gates) is a narrow pass that received its name from the hot springs in the mountains. Xerxes, the Persian king had his surgeons work hard to save Xeones so he could learn more about Greece and the bravery of the 300 Spartan soldiers had shown at the pass. Xeones insist that he was just an aide to a Spartan officer, but would tell what he knew. He begins the story from his youth, when his city of birth was destroyed by another Greek city. He and his older cousin, Diomache, were able to escape (even though Diomache is raped several times by enemy soldiers), but as they made their way to the hills they learned how to survive in a cruel world.  Xerxes wants to go to Sparta with the hopes of becoming a warrior and defeating his enemies. Later, while they are living off the land with Bruxies, an old man from their city, Xeones is caught at a farm and his hand is nailed so that he no longer is able to hold a spear in the fashion of a Spartan warrior. He feels his life is over, but has a vision of Apollos who gives the vision of using the bow. His wounded hand can't grasp a spear, but it can pull back the string and he becomes an excellent archer. Eventually, Bruxies dies and Xerxes and Diomache split up. Diomache heads to Athens and Xerxes to Sparta.
Once in Sparta, Xeones learns about the Sparta ways. While he will never be a part of the Sparta elite, he is chosen as partners to help young Sparta men in the rigorous training to become warriors. He becomes an aide to an officer, which places him at Thermoplyae. Pressfield does a wonderful job of providing a picture of Spartan society as Xeones tells his story to the Persians, as well as their preparations and the battles they fought as they kept the Persians from obtaining the pass for several days before failing after a group of Persians were led through the mountains and able to get behind the Greeks. The reader gains knowledge about Greek society, religion, and mythology roughly 500 years before the Common Era. However, the language of the warriors is often coarse and book describes a lot of violence (which was true of the time in which they lived).
Paul J. Willis, Rosing from the Dead: Poems  (Seattle, WA: WordFarm, 2009) 99 pages.
This is a wonderful collection of poems by a professor from Westmont College in Santa Barbara, California. There are three sections of poetry, each about a "chapbook" length. In "Faith of our Fathers," we learn the meaning of the author's name, his interest in baseball and football, as well a beloved Sunday School teacher who "fell from grace." In "Higher Learning," the author writes about becoming more aware about life. There are poems about other professors, the library, language, the downhill road to bifocals (and a few pages later trifocals) and even a poem about smart classrooms.  The third section, "Signs and Wonders" is my favorite. Most of these poems are set in the outdoors, whether in a backyard or deep in the wilderness. Most of the poems are in the American West, but a few are set at other places around the country. Willis has a keen eye to spot something unique and then to write about it. At places, the outside world slips in such as the hearing of a freight train during the night. Many of the poems are set at places that I find special like Telescope Peak, which rises high above the western rim of Death Valley. Willis is the only poet I know who can tie together "ripening ticks in the fall" and Advent.
I first read this collection in 2012. I had come to know Paul through the Festival of Faith and Writing at Calvin College in Grand Rapids. As a board member of Pierce Cedar Creek, an ecological center about 50 miles away, I encouraged Paul to do a reading. That day, before the reading, Paul and I hiked six or miles within the property. It was early spring, the skunk cabbage had pretty much played out. It was too early for there to be trilliums in bloom, but the May apples were appearing. That evening, Paul presented a poem he'd written that afternoon, after we'd take that hike, about what was happening in the bottom lands. It was good to revisit these poems.
Dave Moyer, Life and Life Only (New York: IUniverse, 2009), 188 pages.
I have mixed feelings about this book. It's a wonderful story of Dan learning what's important after several failures (as a pitcher after a career debilitating injury and a failed marriage). But I was disappointed in the writing, much of which felt I was just being old the facts and not being brought into the story. The book could have been greatly strengthened by more dialogue and narrative and less of a statement of what happened. At times, it felt like I was being told the details, but not shown the action. The author does tries to link world events that happened during the years of the book, which can be a very good way to show the passing of time, but it felt a little over the top and often as we were given lists of the things that happened in a given year. The book would have been strengthened if such events could have been woven into the story. The same is true of Bob Dillion songs. Dan is a Dillion fan. While some of the songs are worth listing, especially when they could be written into the narrative, a list of every song played in a concert was a little too much for me. However, like Dan, I agree that "Blind Willie McTell" is one of Dylan's best. I also thought Moyer did a good job describing Savannah (of which I live just outside of), which is where Dan had played with a traveling ball team and a city he'd later travel to with his first wife. She was a Georgia Peace from Swainsboro (I've even been to Swainsboro).  While Dan seemed to make a mess of things with his first wife after his arm problems kept him from pitching in the majors, he does get things right with his daughter and with his second wife.