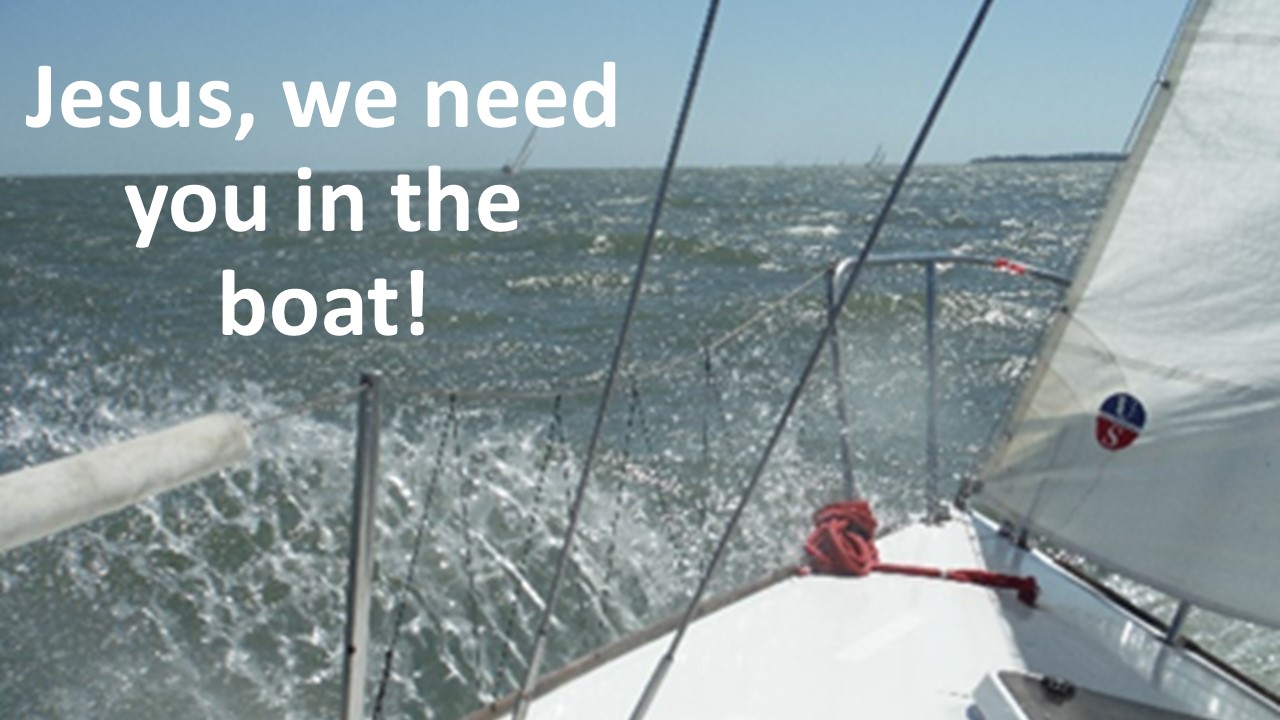 Jeff Garrison
Skidaway Island Presbyterian Church
Matthew 14:22-33
August 9, 2020
To watch the sermon, go to our YouTube page (linked here). The sermon begins at 16:30.
As you heard in Deanie's wonderful sermon last week, it had been a tough day for Jesus and the disciples. Jesus had received the news that his cousin, who'd herald his coming, had been executed. Jesus and the disciples tried to get away, but the crowds caught up to them. Jesus stopped and spent the afternoon talking and healing. The crowds feasted on Jesus' words, but the disciples knew that words would not fill an empty stomach. The twelve watched the sun drop in the western sky. In the age before fast food, there was no place to eat and they knew folk's stomach's would soon be growling. Worried, they interrupt Jesus and suggest he sends the crowds away so they can go into the villages and buy food. They are surprised to learn that Jesus expects them to feed the crowds. With Jesus' help and a bit of fish and bread, everyone is fed and to drive home the point, there is enough food that each of the disciples left with a full basket. Then, as people are licking their fingers, Jesus has the disciples get into a boat to sail for a distant shore. He, himself, stays behind, saying he'll catch up later, and disappears into the hills. Jesus still hasn't dealt with the grief of John's death. Like I said, it's been a long tough day and it ain't over yet.
Everyone else gets to goes home while the disciples row toward a distant shore. Then, in the darkness of night, something happens. Clouds move in, darkening the moon and clouds. The wind picks up and whitecaps begin to dot the lake. The disciples struggle with the oars as the waves rise. Normally at night, the sea calms as the air cools, unless there is a storm. And on this night, there's a storm building. The disciples, which include four fishermen, panic. They struggle, hoping to keep the boat afloat long enough for the storm to abate. With the bow into the waves, some pull on the oars while others bail water.
The storm blows throughout the evening and into the early morning hours. The wind has put so much water into the air that everything is misty. It's hard, in an era without navigation lighting, to make out the shoreline. So, they keep rowing, which is good advice, for you need momentum to push through the waves.  Keeping the oars in the water helps maintain the boat's stability. This goes on for hours.  Imagine how exhausted they are when they see someone walking across the water toward them. It's not surprising they think it's a ghost. Even if you didn't believe in ghosts, you'd reconsider. Or maybe, you'd think it's the angel of death, coming to extract its toll. Exhausted and seeing such an apparition is enough to push you over the edge. But just when the disciples fear all is lost, they hear Jesus' sweet Galilean voice. Jesus calls to them across the water; he's coming to them in their hour of need.
Had the disciples had time to think theologically, they might not have been so shocked. After all, one of the first thing God does in creation is the calm the chaos of the waters and in the Exodus, God divides the waters so Israel can escape the wrath of the Egyptians.[1] In Psalm 77, God is portrayed as making his way across the mighty waters and in Job, we're told of God trampling the waves.[2] God's control extends even over the waters and if Jesus is Lord, it should be of no surprise that he walked out on the sea to rescue the disciples.
But the disciples are not clearly thinking this night. All they know is that they are in trouble and their friend Jesus is coming to bail 'em out (I know, that's a bad play on words). They are in need and here comes Jesus. The storm, it appears, rages until our Savior takes a seat in the boat, but even if it had continued, Jesus' presence would have been enough. With Jesus there, their fears are calmed.
There's a mini lesson in this for us. When we know someone in need or trouble, we often don't act because we don't feel we can do anything helpful. But being present is one way we can act. Just being presence with a person in need can help. Furthermore, when we are in need, it is comforting to know Jesus is with us. The comforting presence of our Savior is enough to calm our troubled souls. Just having a friend beside us in the boat is a blessing. We make more out of Peter getting out of the boat in this story, but it's more important for us to understand the need to have Jesus in the boat. But let's now consider Peter.
Peter is so excited that he wants to try Jesus' stunt himself. Before he gets to the boat, Jesus says, "Okay, come on out." Peter does. He walks on water. Think about it. This is an amazing feat. But the problem is that he thinks about what he's doing. When Peter looks around and sees the waves and the water under his feet, he panics and immediately sinks. You know, in a couple of chapters, Jesus, in a play on Peter's name, which comes from the Greek work, petra, or rock, proclaims that upon this rock he'll build his church.[3] Its generally assumed that because Peter was a strong man from having spent a lifetime pulling nets that he received the name that means rock, but perhaps there's some humor in all this. Ever heard of someone who "swam like a rock?" That's Peter!
Can you image the disciples gathered around Peter and Jesus, snickering about Jesus building his church upon the rock—the rock that sank? But Peter wasn't building the church alone. Peter had to have faith in the Almighty to step up into the leadership role after Jesus' ascension. In a way, however, we're all like Peter and sooner or later, we'll all find ourselves in over our head and sinking and at that point we'll need a lift, like the one Jesus gave Peter. Jesus will be present with us and will help us when we are in need.
In a way, we're all like Peter, who was a man of human frailty. Peter often screwed up. He thought he could tell Jesus what not to do… "No, No, No, don't go to Jerusalem to be crucified."[4] And then later, when Jesus was arrested, Peter, perhaps Jesus' closest disciple, denies knowing him.[5]  And here, he's able to take a step or two on water, as long as he focuses on Jesus, but then sinks when he's distracted. We're a lot like that as individuals and the church. There is a lot God can accomplish in us if we remain focused on Jesus. But when we stop focusing on Jesus, we get in trouble.
This is what most people focus on in this story. John Ortberg even wrote a book titled, If You Want to Walk on Water, You have to Get Out of the Boat. And that's what we think this story is about: having that kind of faith in Jesus and focusing on him so that we can walk on water and not slip under the waves. But such an interpretation of this passage makes it into a moral story in which we feel guilty because none of have walked on water,[6] nor have we known anyone to walk on water except perhaps up north when the lakes are frozen. If this is only a story about stepping out in faith, we'd feel pretty bad because none of us is up to the task. So, let me suggest another interpretation.
There is good news even with Peter's near drowning. When life begins to overwhelm us, as it appears to be doing these days as we worry about the pandemic and the economy and the upcoming election and everything else going on in the world, it is easy to be overwhelmed. It is easy to slip under the waves. But just as Jesus came into our lives when we first believed, he is also there when we get in over our heads. He's there to help us turn our lives around. We can learn from our mistakes, which is a very thing for we have a forgiving God who is willing to help us when we depend on him and not on our own abilities.
You know, I image there was quite a bit of tension in that boat before Jesus stepped in. The twelve disciples were all afraid, but there may have even been some tension between the four fisherman and the rest of the disciples. The other eight, who were not seamen, were depending on the fishermen to know what to do. Why did they allow themselves to get into this dangerous predicament? But when Jesus comes aboard, they all calm down, as does the wind and waves. They know they'll be alright. And as the wind dies and the waves cease, they do what we should do whenever God saves us. They worship Jesus. That's the message we should take with us. Don't worry about jumping overboard and trying to walk on water. Instead, let's make sure we invite Jesus aboard our boats. For Jesus comes to save us and our response is to worship him. May it be so.
©2020
References:
Bruner, Frederick Dale, The Christbook: Matthew 1-12 (Grand Rapids, MI:
Eerdmans, 2004).
Hare, Douglas R. A., Matthew: Interpretation, A Commentary for Teaching and Preaching (Louisville: John Knox Press, 1992).
[1] Genesis 1:1-13 and Exodus 14.
[2] Psalm 77:16-20 and Job 9:8.
[3] Matthew 16:18.
[4] Matthew 16:21-24.
[5] Matthew 26:69-75.
[6] See Scott Hoezee, "Proper 14A (August 3, 2020), Matthew 14:22-33 at the Center for Excellence in Preaching website.