Aaron McAlexander, Greasy Bend: Ode to a Mountain Road (Stonebridge Press, 2016), 224 pages, a few black and white photographs.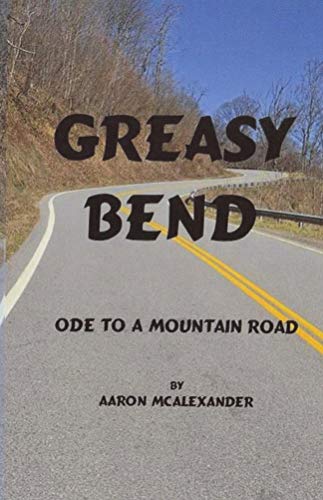 Highway 58 cuts across Southern Virginia, from Cumberland Gap (Along the Tennessee/Kentucky border) to the Tidewater. The highway crosses swamps, fields of peanuts and tobacco, old industrial towns like Danville and Martinsville, then climbs the Blue Ridge and the Grayson Highlands before it enters Kentucky. Highway 58 used to be the Main Street in Meadows of Dan, near the Blue Ridge summit, where the author grew up. Just to the east, near "Lover's Leap," were several especially dangerous hairpin curves. When the fog rolled in, these curves were even more deadly. Each had a name: Midkiff Curve, Green Martin Curve, Greasy Bend, the Bob Fain Curve, and the Harley Hopkin Curve. McAlexander tells of accidents that occurred along this stretch. Today, there are still curves and steep drop-offs, but the road has been improved and modified so that it's not as dangerous as before.
Using this ribbon of highway as a backdrop, McAlexander tells of stories of growing up in the 40s and 50s along Highway 58. Many of these stories are of himself, but there are other legendry stories of outlaws and bootleggers that fill the pages of this book. We learn of country stores, AM radio stations that brought farm reports every morning, raising and inseminating dairy cattle, cutting hay, the secrets of good cornbread, and the reliability of the old Ford 8N tractors.
Today, many of these stories are only known when they're on paper, the rest of such stories are as lost as are the towns that Highway 58 now bypass (even Meadows of Dan is bypassed, with the four lane running just north of town). This book is a delight to read. I kept it on my nightstand, reading a story each evening before bed.
I only have one bone to pick with McAlexander. He cited on the back cover that US 58 at 508 miles in length, is the longest US highway in a single state. Being from North Carolina, I immediately became suspicious. I knew it wasn't as long as US 64 is between Manteo and Murphy (that's 545 miles in length). US 64 in North Carolina is the same mileage as US 1 is in Florida, which runs to Key West. I got to thinking about other long roads. US 90, from El Paso to Orange Texas is 774 miles in length. But the longest I found (and I stuck to roads I've driven at least a portion of) is US 101, which runs along the Pacific Coast with 801 miles of asphalt in California.
This is the 3rd book by McAlexander that I've read since moving to SW Virginia. I've also reviewed Shine on Mayberry Moon and The Last One Leaving Mayberry. Each book is a treat! 
Some photos I've recently taken (all within a mile of US 58)