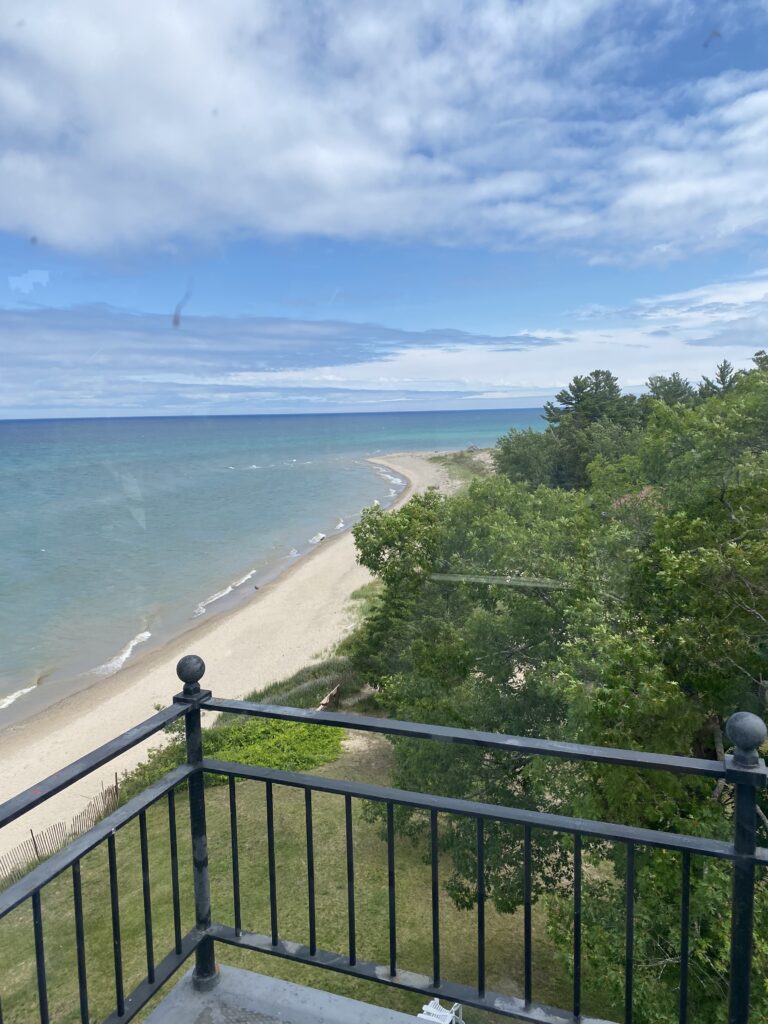 I am spending the next two weeks in the Upper Peninsula of Michigan. I'm staying in DeTour, which is at the far eastern end of the UP's mainland. It's where you catch the ferry from Drummond Island. I have a wonderful view of the St. Mary's River, where the freighters make their way from the lower lakes up to the locks at Sault St. Marie (the Soo Locks). During this time, I will be reading books, maybe doing some writing, some hiking and spending a few days with a friend on his sailboat. I will also preach two Sundays at DeTour Union Presbyterian Church (in exchange for staying in their manse, the church is seasonal and brings in ministers to preach in exchange for a week in a very comfortable home).
Also, I have very limited internet, so don't expect to see me too much on the WWW for the next two weeks. But I'll be back in August.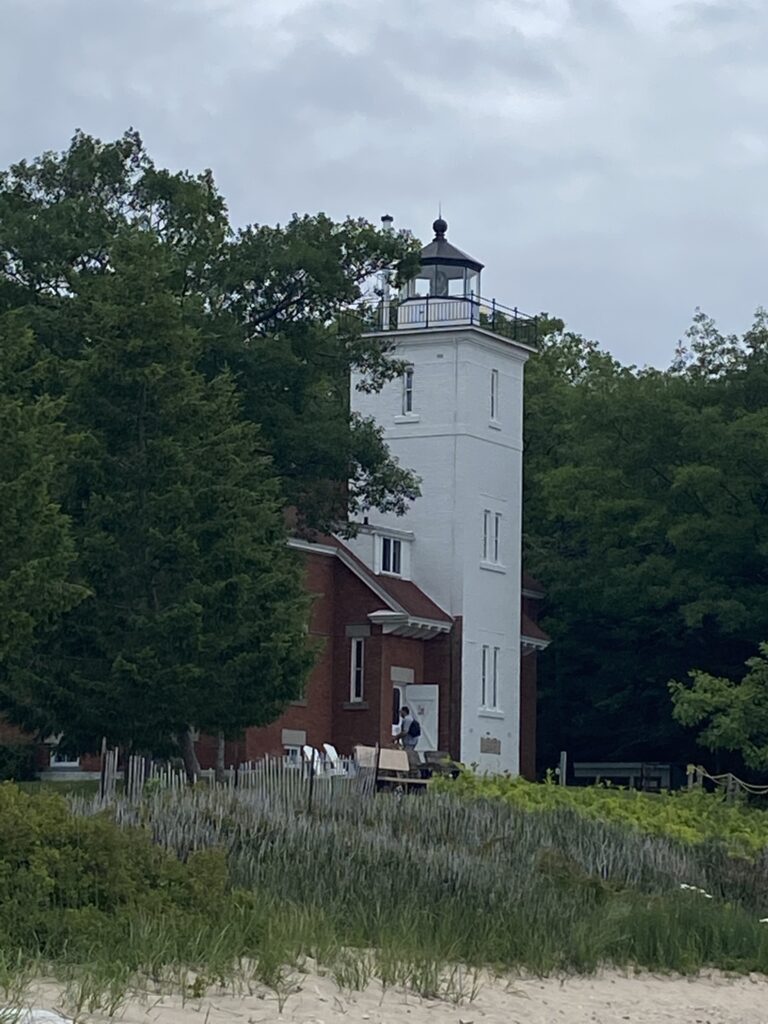 Driving up, I took US 23, which runs around Saginaw Bay and the shoreline of Lake Huron, through the towns of Tawas City, Alpena, Roger City, and Cheboygan. Even though I lived in Michigan for over a decade, this was the first time to take this drive or to be beside Lake Huron. I have driven MI 22 (which runs from the Leelanau Peninsula down the west side of Michigan) many times (and I highly recommend that drive). But this time, taking US 23, I was in for a new treat.
I spent Wednesday night in Standish, heading out in a new direction on Thursday morning. Sadly, it rained most of the way, but by late morning, it had stopped. So I stopped and spent an hour or two exploring the 40 mile lighthouse.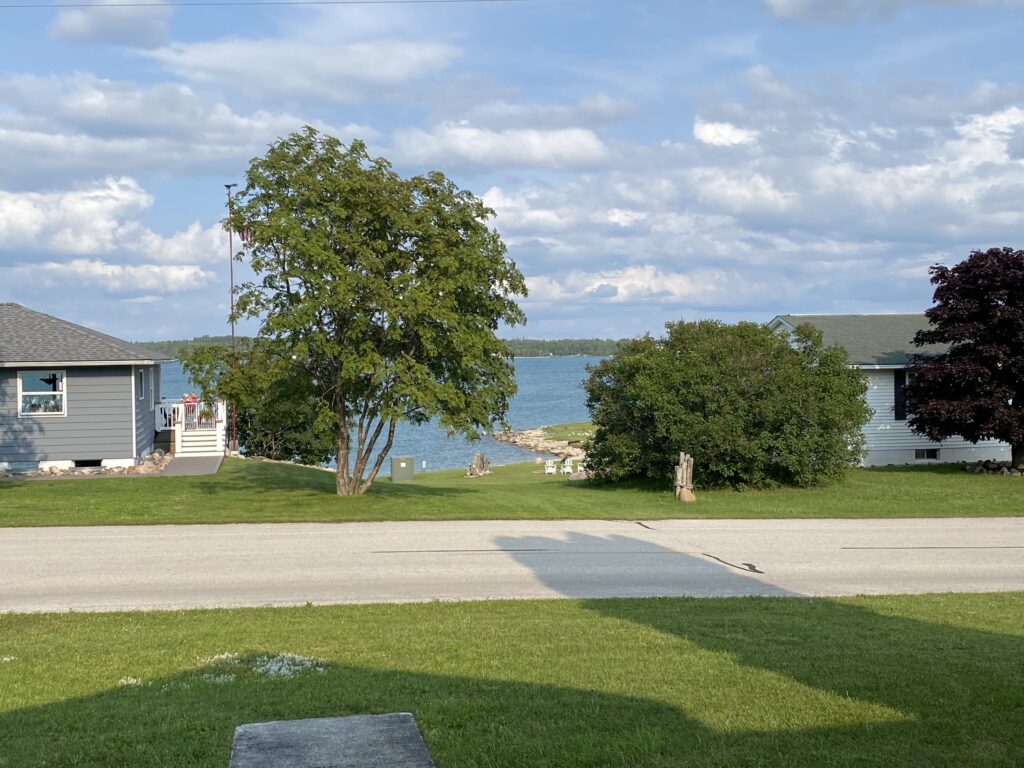 One of the hardest things for a pastor is to say goodbye as someone moves away. A few years ago, I started writing blessings for those moving away. This past Sunday at Bluemont, we said goodbye to Charles and Diane. Here's my blessing and a photo of the three of us. Bluemont is currently meeting outdoors so this was done under our picnic shelter.
A Blessing for Charles and Diane Sullivan
For the past twelve years,
you have lived on the mountain,
bringing joy to your neighbors
and to our little rock church.
Charles played Santa at Christmas
while Diane faithfully attended the Women's Bible Study
and, with her sister Bev, began "Hanging of the Greens."
You've enjoyed the seasons,
the warm summer days,
the cool fall ablaze in color,
the winters with whisps of smoke from chimneys
indicating a warm home,
and the rebirth in the spring,
when the birds fill their air with their songs
and dogwoods line the Parkway.
But like the seasons,
our lives and our needs change,
and health reasons call you back to the flatlands,
to be closer to your children.
So go forth with our blessings,
trusting in God as you enter this new season.
Continue to "have a ball"
and to be "the life of the party."
And when the weather is good,
and you have a few hours to spare,
we'd love to have you drop in,
we're not that far away.
Until then, go with God
whose unbounded love connects us
in this life and the one to come.
Jeff Garrison
July 11, 2021