Michelle Layer Rahal, Straining Forward: Minh Phuong Towner's Story (Maitland, FL: Xulon Press, 2018), 355 pages, 10 pages of photos.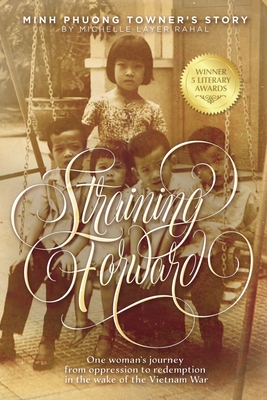 I was introduced to Minh in 2011. I was preparing a sabbatical after leading First Presbyterian Church of Hastings (Michigan) through a building and relocation program. As I was going to be traveling overland from Asia to Europe, we attempted to find preachers from parts of the world in which I would be travelling. Through a connection with Pittsburgh Theological Seminary, I was introduced by phone to Minh. Although I have never met her in person, we talked several times by phone and became friends on Facebook. Of the international preachers the congregation heard that summer, Minh had made an impression. Hers is a haunting story. She connected with several Vietnam veterans and touched everyone with what she had endured as a boat refugee who fled the country as a teenager after the fall of South Vietnam in 1975. This is her story, told through her friend and author, Michelle Layer Rahal. 
         This is a brutal and honest book which has come out at a time when refugees are again in the news. It would be scary and dangerous for anyone, but especially for young woman, to be torn from family and alone in a foreign country. Being a refugee is to be vulnerable. Minh's story illustrates the dangers.
         Minh's world started coming apart long before she became a refugee. Raised in a family well-enough off to employ servants, her first experience of sexual abuse came from the family gardener. She attempted suicide (it would not be her first attempt and the thought of suicide would continue to run through her mind). Then, at age ten, the Vietcong killed her father and two younger brothers during the Tet Offensive. Minh's life became chaotic. Sent to live with her grandfather, she found herself verbally abused. Her mother and aunt kept trying to set her up with American soldiers. Then, other family members sexually abused her.
         As the war was ending, her family tried to escape, but was unable to get out of the country. The family split up with the idea that it would be safer. The North Vietnamese captured her and her brother. They were captured, imprisoned, tortured by the conqueroring army. The captain of the prison selected her to be his mistress. Although still abused, he later helped her and her brother Thanh escape.
         On their third try, she and her brother made it out of Vietnam. Picked up by a Taiwanese fishing boat and taken to Taiwan, they could have moved to America. However, Minh had studied French at a Catholic School in Vietnam. With an uncle who lived in France, they decided to move to there. The living conditions were horrible. She eventually relocated to Australia, where she became a nurse, married an American living there, and gave birth to two children. But it wasn't an easy journey. She was raped both in Paris and in Australia. She struggled with English and then to pass her exams. She was an exceptional worker, which allowed her to care for her family. But she suffered from Post-Traumatic Stress Disease (PTSD), which created many problems for her life.
Two threads that run through the book are her relationship with God and her dealing with depression, thoughts of suicide, and her struggles with relationships (beyond that with her siblings) which has much to do with her struggles with PTSD. As a young child, she had grown up Catholic in Vietnam. It had given her the foundations so that she would pray when things were bad. But from her experience, she saw God as angry and vengeful and wondered what she'd done to deserve such treatment. It took a lot of work for her to learn to handle her emotions and the way her past colored her world.
         Minh and her first husband divorced. When he moved back to the United States, taking their youngest daughter, Minh decided to relocate, too. Living in Virginia, she remarried, became involved in Vienna Presbyterian Church in Virginia, and went to seminary. The Presbyterian Church ordained her in 2017.
I recommend this book. The ordeal Minh endured reminds us of how hard it can be for refugees and those without the protection of a country or a strong parent. Minh's understanding of the role her past trauma played in her life and her coming to understand God as a gracious and loving Father should provide hope to those troubled in the world.