Richard Lischer, Open Secrets: A Memoir of Faith and Discovery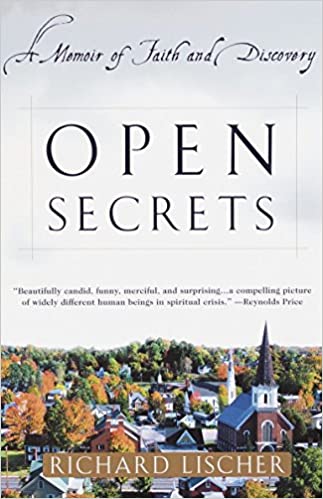 (NY: Random House, 2001), 242 pages, no illustrations.
A delightful collection of essays that describes Lischer's first three years as a pastor in Southern Illinois, just east of St. Louis, Missouri. He arrives driving a Ford Pinto. Fresh out of school, he finds his church in the middle of a cornfield. It takes time for this well-educated pastor to relate to his congregation, but he gradually begins to love these people. Nationwide, Civil Rights and Vietnam are in the news, but this little church seems to be far from the headlines. Lischer fights over the American flag in the sanctuary and the gossip that seems to spread so fast that the pastor is the last to know. Providing marital counseling to a couple dealing with adultery, Lischer lets a "shit" slip out. To his amazement, considering their issues, this offends the couple. He conducts a graveside funeral with military honors and learns, at the last minute, that the honor guard made up of local veterans, are firing live bulletins. He deals with greedy funeral directors trying to upsell fancy caskets that are beyond what the beavered can pay. In telling this story, Fischer also shars the quirks of this congregation which publishes everyone's giving in their annual report. 
While Lischer claims to be a Lutheran, he doesn't indicate which synod he belongs. But in the essays, he writes about taking on a teaching position at an exile group from Concordia seminary. This would put him on the "liberal" wing of the Lutheran Church, Missouri Synod. I know this because in my first church, there was a small Missouri Synod church in town. The pastor had been in seminary at this time of a fundamentalist take-over. He left the seminary to attend and graduate from the "seminary in exile." Many in the church wasn't happy with him being cozy with those who supported women's leadership roles in the church. 
The stories in this collection can be funny and sad. As I was reading them, I thought a lot about my own first pastorate and how many similar stories we shared. This book might be paired with Craig Barnes' book, Diary of a Pastor's Soul, which I read last year. Barnes writes about a pastor's last year before retirement. It would be beneficial for a seminarian or someone considering the ministry to read both both books.
Gregory Orr, A Primer for Poets & Readers of Poetry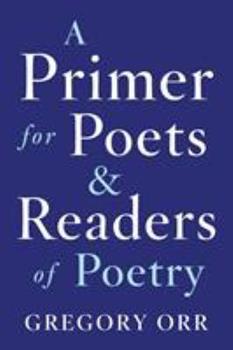 (New York: Norton, 2018), 325 pages. 
What an incredible book. While I'm no expert on poetry, or literature about writing poetry, I found this book helpful, interesting, and easy to read. The only other book I've read writing poetry was Mary Oliver's, A Poetry Handbook. I feel Orr's book to be superior. Unlike Oliver, he doesn't spend a lot of time discussing meter and some of the more technical issues of poetry. While it has been years since I read Oliver, from what I remember Orr goes much deeper into the use of metaphors and of how words in poetry brings understanding through naming, singing, saying, and imagining. While not spending as much time on meter, Orr does dedicate many pages to how words sound when place together in the process of creating a poem. I found Orr's writing to be helpful not just for the understanding of poetry, but also for the understanding of life. In this way, the book reads like a gift. While this book could be used as a textbook, with many helpful exercises, it was not dry as one might expect a textbook to be.
Drawing from his vast bank of knowledge from poetry, literature, mythology, the Bible, philosophy, education, and other fields, Orr sees poetry residing in the paradox of a chaotic world and a desire for order. It takes both to create poetry. Just as God speaks above the chaos in Genesis 1, and creates the cosmos, poetry attempts to bring order to the chaotic. Poetry helps us understand the world in which we live. Drawing from Greek mythology (and from the writings of Nietzsche), he recalls the interplay between Dionysus (the god of chaos and ecstasy) and Apollos (the god of beauty and harmony). Art requires both.
Poetry allows us to image a better world as we cross the "threshold" between chaos and order. In this manner, poetry can be political and used by the powerless to challenge their oppression.
Orr sees two ways of our ordering the world, that lead to two types of poems: lyric and narrative. The lyric describes something in the moment, bringing intensity to a landscape or an emotion. Orr sees such poetry as being more dominate in America today. Narrative poetry is more story based. Of course, poems don't always fall into one of these two camps. Many (if not most) poems are somewhere in between the two camps, maybe closer to one form or the other. For my own poetry, while I see some of both, most of what I have attempted to write falls into (or close to) the narrative camp.
This book is "illustrated" with many poems drawn from different times in history. While there could have been more poetry from cultures other than the West (there are some), I think this is excusable as he writes for an English-speaking audience. For both the poet and the reader of poetry, he suggests keeping a notebook of our favorite poems, so that we can go back an examine them and learn their meanings. This exercise seemed to be a good idea, but I have yet to do it.
There is also a very helpful glossary of poetry terms at the end of the book. I would love to reread this book with friends and hear what others think.