Jeff Garrison
Bluemont and Mayberry Churches
March 13, 2022
Acts 8:26-39
At the Beginning of Worship: 
Last Sunday, I kicked off my Lenten sermon series on "Why Church?" with a discussion on why Jesus established the church. In the sermon I pointed out that the word used in the Greek New Testament for church is the same word used in the Greek Old Testament for the people or the community of God. The church is the people of God. 
Perhaps I should have gone a little deeper and emphasized that Bluemont and Mayberry Presbyterian Churches is not "the Church." Yes, we're churches, but we 're only a drop in the bucket of the church on the earth, which include people of all races and ethnic groups and languages. While we like to think that we're important, we're should always remind ourselves that God's work in the world is much larger than those of us who gather in each of these rock buildings along the Blue Ridge Parkway. Nonetheless, we're still a part of that movement of God, that began with Jesus and continues through the Apostles' and down to us.
Today, our theme will be the church as a safe place for people to ask questions and to explore their own relationship to God. We should all be asking questions and encouraging others to ask questions. We may not have all the answers, but we have faith in the one who does.
Before the Reading of Scripture: Conversion in Acts
Before I read the Scripture for today, I would like to discuss the idea of conversion to the faith as it occurs in the book of Acts. Interestingly, there are no patterns that becomes a standard for all conversion in Acts.[1] Conversions involved large numbers of people, as it did on Pentecost.[2] It involved family groups as it did with the jailer in Philippi.[3] And at times it involved a single individual, as with Paul[4] and with the Ethiopian eunuch, which we'll look at today.
The catalyst behind each set of conversions is different. The Pentecost crowd heard the call to repentance. The Philippian jailer and his family witnessed the faithfulness of Paul and Silas. Paul's conversion came with a command, for the Lord had something for him to do. And in our story, the conversion comes from Philip leading the Ethiopian through the scriptures.
God Must Act for a Conversion to Happen.
Ultimately, these conversions came through an act of God, whose Spirit worked within the lives of those converted to bring about a change in their lives. In a way, conversion was never the end, but the beginning of a new life following Jesus. Conversion is not our destination, but a start of a journey that won't end until we've gone home to be with the Lord.[5]
Let's now listen to the story of Philip and the Ethiopian. I was shocked to see that I had preached on this text early in my time here on the Blue Ridge. But today, I'm approaching the text from a different angle than I used back in late 2020.[6]
After the Reading of Scripture: 
I mentioned how there is no universal model for conversion in Acts, but there appear to be two necessary things that need to happen for a conversion to occur. First, God's Spirit must act in the life of one being drawn into the faith. Second, there must be someone to help interpret what it means to be a follower of Jesus. Even with the dramatic conversion of Paul on the Damascus Road, he was sent while still blinded by the light, to believers who helped him understand Jesus.[7]
In our text today, we see the Ethiopian is intrigued with what he is reading from Isaiah, but he has no context. Had he continued along the road back to Africa by himself, he would have just remained confused. But God works by whisking Philip out onto the Wilderness Road, where he's able to help the Ethiopian understand.
Notice what happens. Philip and the Ethiopian converse about what he's reading. Philip doesn't just jump up on the carriage and say, "You must be saved." Instead, he asks if he understands what he's reading. And then he allows the Ethiopian to ask questions. And, once his questions have been answers, the Ethiopian is at the point that he wants to take the next step and asks to be baptized.
The Need for Questions.
One of the things we can learn from this text is that we need to be open and willing to answer questions. The idea Christian community isn't one that has all the answers. If we believe we have all the answers, we are mistaken. We think too much of ourselves if that's the case. We don't have all the answers, but we believe in a God who does have the answers. And we are to help direct or point others toward God's Son, Jesus Christ, who can lead them back to God the Father. That's what is happening here with Philip and the Ethiopian.
Of course, you may be wondering what this has to do with church? Too many people think we must draw more people into the church building. And while it's a noble goal, it's the wrong way to look at church. The church, as I've already noted, is the community of God. And that community exists beyond the walls of buildings. What Philip was doing was to go to where there was a need.
We're to do the same. Instead of trying to drag "the heathen" into a church building so they might we saved, we need to go to where they are at. And we need to seriously listen to their questions about our faith. We must befriend them and love them for who they are, as does God. And we need to be honest when we don't have an answer. Humbly, we need to let others know that we live faithfully as a follower of Jesus and while we don't have every answer, we trust him.
Questions and the Sermon
By the way, this idea of the church as a place for communication has implications that I don't like for the sermon. Sadly, often the sermon is one direction, with me giving you my ideas about the Scriptures. Ideally there should be a way for this to become a two-way conversation. But that's hard to do in an hour, so I encourage you to discuss the sermon with each other afterwards.
Reaching out to different people
Another thing we learn from this text is that the people God sends us to interact with may not look anything like us. This Ethiopian didn't look like a Hebrew. He probably had very dark skin. He stood out in the crowds around the temple. Too often the church has focused only on reaching people who are, in many ways, like us.
As the book of Acts shows, the church is to be constantly expanding its boundaries as it reaches people for Jesus Christ. But that's not just the work of missionaries, for there may be people in our community that don't fit into the stereotype of what we think a Christian should look like. Sadly, few churches do this very well. In the 1960s, Martin Luther King, Jr pointed out that Sunday morning was the most segregated time in America. And the segregation extends beyond racial divisions. We feel comfortable with those most like us, but the church throughout Acts is always being called to step out in faith and to reach others. 
Example of a church reaching out
In the late 1990s, I spent parts of several summers in San Francisco as I was doing course work for my doctorate. Each Sunday, I sought out different types of worship experiences. One of the most engaging churches was on the edge of the Mission District of the city.[8] It was an old church with thick brick walls, and it was packed. Not only were all the pews filled, but there were also people sitting in every windowsill around the church. This congregation had three services each Sunday, and there was a line for each service waiting to get in. It was an amazing experience.
But what impressed me most wasn't the numbers, but the make-up of the congregation. There were blacks and whites, Hispanic and Asians. There were rich people, who allowed the church's valet attendants to park their brand-new Mercedes. And then there were homeless people who staggered in. There were those who walked the streets at night as prostitutes and drug dealers as well as those who had offices in the nicer buildings of the city. This was before COVID, so we all packed in together.
Why church? Because every one of those people who gathered at that church, whether young or old, rich or poor, had a need to hear the message of Jesus Christ. We all have that need, and we all should have the willingness to help others meet this need.
Conclusion.
An ideal congregation, in my opinion, is a place where we can have a friendly dialogue about what's important in life. And as these conversations occur, as with Philip and the Ethiopian, we can help one another foster a better relationship with our Savior. And for us to create such a conversation, we need to be open to people's questions. Are we? Amen.
---
[1] For an in depth discussion on conversion in Acts, see: William H. Willimon,, Acts: Interpretation, A Bible Commentary for Teaching and Preaching, (1988, Louisville: John Knox Press, 2010), 100-105.
[2] Acts 2:37-42.
[3] Acts 16:25-34.
[4] Acts 9:1-9
[5] For a discussion on conversion in Acts, from which I draw upon in these paragraphs, see William H. Willimon, Acts: Interpretation, a Bible Commentary for Teaching and Preaching (1988, Louisville: John Knox Press, 2011), 101-104.
[6] To see my sermon from December 2020, click here: https://fromarockyhillside.com/2020/12/advent-2-joy/
[7] Acts 9:10-19.
[8] Glide Memorial Church.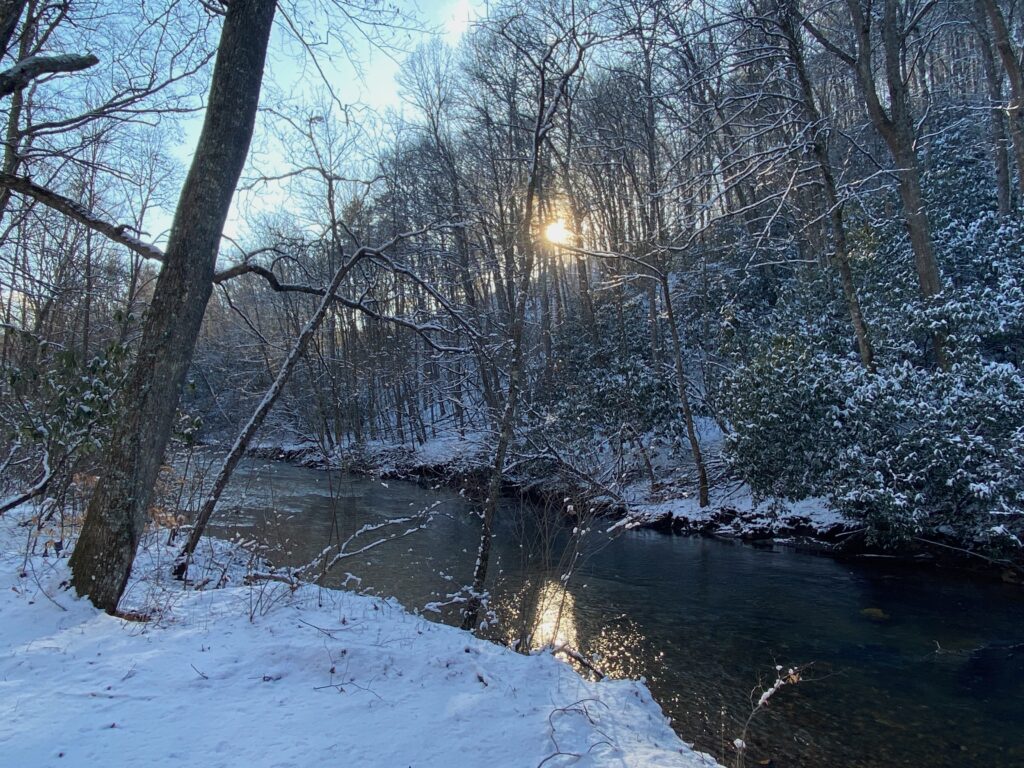 Sun sinking over Laurel Fork (February 13, 2022)