Over New Years Eve and early January 2005, I took a group of college students from First Presbyterian Church of Hastings, Michigan to New Orleans. We helped with the relief work after Katrina. The amount of damage from that hurricane still haunts me. This is a piece I pulled up from the past, that tells of our ride back to Michigan. Most of us took the train. Two other adults flew down and rented a large van for us to travel around. We stayed at St. Charles Avenue Presbyterian Church, which had survived the storm in relatively good shape. Through Project Rhino and the Presbyterian Disaster Assistance, we had a foreman who drove a truck and pulled a tool trailer that had all the equipment we needed as we mucked out houses and stripped them of furniture, drywall and old insulation. After they dried out, another crew would come back and treat the studs for mold and then another group would drywall the homes and prepare them to again be habitable.
Also, 2005 was before I had a camera in my phone. I was still shooting film for the few shots I took. Sadly, I didn't take any shots of Bo or his barbecue joint.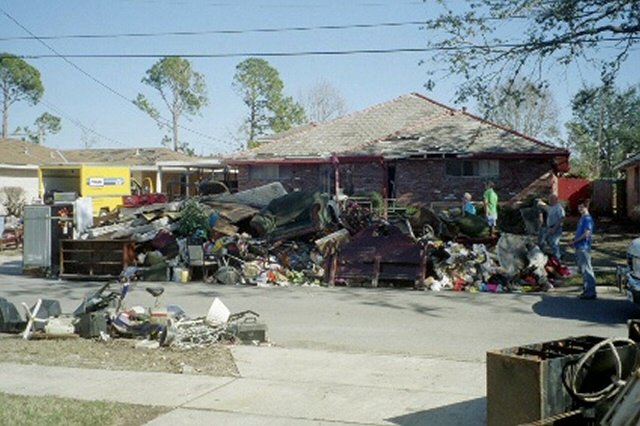 About ten minutes out of Greenwood, Mississippi, I finally have a cell signal. I call Bo's Barbecue Bar and Grill and order half a dozen barbecue pork sandwiches and ribs. I'm not sure what to expect. I met Bo on the trip down. It was early in the morning and I was out on the platform taking a walk in the warm Southern air, while Amtrak s changed the crew. There, I met an old black man who talked about his barbecue joint and gave me his card in case I wanted something to eat on the way north. 
A week later, I'm back on the train, heading north. We're running late and are told the stop will be as quick as possible to make up some time. When the train stops, I run to Bo's bar. It's a dive. A half a dozen patrons are drinking beer.
"Hey Amtrak," one calls, "you're going to Chicago, why the 'Stiller cap? (I'm wearing a Pittsburgh Steeler cap).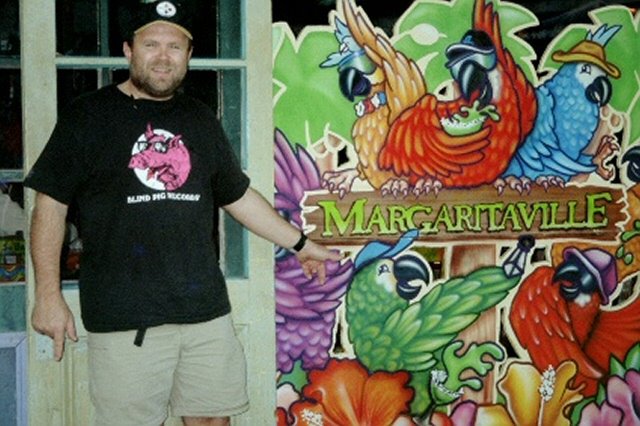 I'm the only white boy in the place. Bo calls me back to the kitchen. He takes each rib, dips it in sauce, places a couple between white bread, wraps them in foil and places them in a bag. I grab the order, toss him some money, and run back to my car. I step back on the train as the whistle blows. We resume our northward journey. The ribs are heavenly and a big hit with everyone. It's been a long time since that Shrimp Po Boy I had at lunch at Crabby Jacks.

Our eyes were opened on our last day in Na'Arlens. After five hard days of work, mucking out homes and pulling down drywall and hauling unsalvageable stuff (which was most everything) to the street, we have a tour of the worst of the city. We're taken down into the ninth ward, to the place where the levee broke allowing a barge to sail into the neighborhood. They're still searching houses for bodies here and nothing we've seen can compare to the destruction. It looks more like what I've seen on the news of the Asian tsunami. Washed from their foundations and broken into splinters, these homes are demolished. There's nothing to be saved. We also go and look at the break off the 17th Street Canal. The destruction is great, but not nearly as bad as the ninth ward. Some neighborhoods are recovering rapidly, others will take years if they ever rebuild.

I wake up overnight in Memphis early, it'll be a longer break. The engine takes on fuel. It's cold, but the fresh air is invigorating. I step out of the car, walk up and down the tracks for a few minutes before heading back to my seat. Most people are asleep.  A few are reading. One lady, her head back with her mouth gaped open, sleep soundly. Wickedly, I think I should take a picture. She appears attractive, but not in her sleep. After a few minutes of reading Stephen King, On Writing, I turn out my light, fluff my pillow up and place it against the window, falling asleep to the rock of the train.

Next think I know, it's 5:20 AM. We're in Mattoon, Illinois. On the platform, a group of eight young Amish women wait to board. They're just outside my window and from the second deck of the Superliner, I'm looking down on them. They appear as a flock of ducks, turning their heads back and forth in unison, looking up and down the track, as if they're a little uneasy about the journey they're embarking upon. I fall back asleep. At 6 AM, I get up, go downstairs to the bathrooms, and wash up before heading to the lounge where coffee is available as well as a plug to charge my computer.

As light begins to come upon the land at dawn, the scenery has changed from when the sun went down yesterday evening. The blue skies, cypress swamps and pine hills are replaced with grayness. The sky is gray, the bare trees are gray, when we go through towns, buildings are gray as well as the crumbled remains of factories. The spaces between towns are filled with bare fields that in another five months will showcase corn and soybeans. It's over one of these fields that the sun finally breaks through, just above the horizon, burning off the morning fog. For a few minutes, the sky assumes a pinkish hue, only to quickly return to the gray as the sun continues its march across the southern horizon. Railroads merge in and out. We're nearing Chicago. Someone spots the Sears tower and we soon complete the first leg of our journey. Just three more hours on a train and we'll be back in Michigan. Tonight, I'll sleep in my own bed.