My Reading of Eugene Peterson
As a seminary student, I first introduced to the writings of Eugene Peterson. I don't remember the class, but I had to read Working the Angles. Later, a girlfriend during my senior year gave me a copy of Five Smooth Stones for Pastoral Work. Shortly after graduating, I read The Long Obedience, which focuses on the Psalms of Ascents (Psalm 120-134). I would later read Under the Unpredictable Plant (a commentary on Jonah), Reverse Thunder (commentary on Revelation), among others. This was all before Peterson began to publish his own translation of Scripture which, when completed, came out as The Message. Shortly after its publication, I meet Peterson at a pastoral conference for those serving in Utah (where I was at the time). I remember him being willing to sign any book but The Message. He didn't feel he should sign a book as he didn't write it. It wasn't his book, he just translated it. I also found myself surprised that he didn't have the big booming voice one assumes of preachers. His voice was high pitched, but his words drew you in.
Peterson has been influential in my pastoral life. In 2013, after having completed a major building campaign and church relocation, I considered leaving the ministry. About this time, I read Barbara Brown Taylor's book, Leaving Church. In the past, I had always found Taylor's writings supportive and insightful, but read this book reinforced my thoughts of abandoning the ministry. Then, thankfully, I picked up Peter's recent memoir, The Pastor. I again found purpose and encouragement for continuing the ministry. I am indebted to Peterson.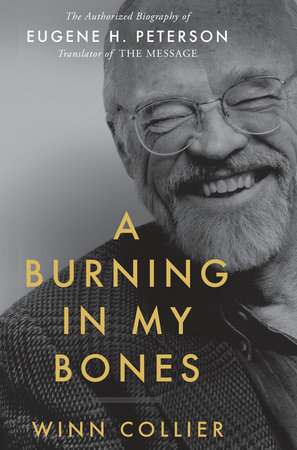 My Review of A Burning in my Bones
Winn Collier, A Burning in My Bones: The Authorized Biography of Eugene H. Peterson (WaterBrook, 2021), 339 pages including some photos and notes.
Eugene Peterson is from Montana and the West played a major role in his life. His father was a butcher and his mother often served as a Pentecostal preacher. From this background, Peterson was nurtured for what became his ministry. After college in Seattle, he attended seminary in New York City. While there, he begins to attend a Presbyterian Church and later even worked as a student at a Presbyterian Church. A student of languages, he started work on a doctorate with some of the top Old Testament professors in the country (Albright and later Childs) but felt the call to ministry.
Peterson was ordinated by the Presbyterian Church and sent to Baltimore, Maryland where he and his wife would help organize a new Presbyterian congregation. He would serve this church for 29 years. There were exciting times, especially in the beginning, followed by a period of doldrums, till finally Peterson understood his calling. Unlike many with his skills, he resisted the temptation to build or seek a larger church. He wanted to be a pastor. And in Scripture, he found solace. With his skill in language, he would often translate passages for Bible Study and preaching. These became the beginnings of The Message.
Much of Peterson's life until he left the ministry is also told in his memoir, The Pastor. However, Collier provides a more critical view of his life. In addition to having access to this former volume and to his papers, Collier spent time talking to Peterson and interviewed his wife and family, along with colleague and friends.
As a pastor, Peterson began to write books and would take an extended yearly vacation to Montana. After retiring, he devoted himself to completing his translation of scripture in addition to teaching five years at Regents in Vancouver. Then he returned to his beloved Montana for the last years of his life. During this time, he began writing a series of books on pastoral theology. The last section of the book, from where Peterson left Baltimore to his death, was the most enlightening to me. I especially liked the sensitivity Collier shows in Peterson's apparent flip-flopping on the issue of same-sex marriage. Sadly, his mind was becoming muddled. Shortly afterwards, he was diagnosed with Alzheimer's.
Conclusion
Peterson has left behind a great volume of work that will benefit the church for years to come. His life was devoted to God's word and God's people. In many ways, he was both embraced and rejected by those on the ideological extremes, for Peterson refused to be used as a political pawn in church wars. I am thankful that Collier has provided those of us who found much to appreciate in Peterson's writings an insight into his life. Last spring, at HopeWords Writer's Conference in Bluefield, West Virginia, I met Collier. At the time, I had to admit that I had his book (it was a Christmas present) but had not read it. He signed my copy anyway. Now, I have read it!