I wrote this essay in the late 1990s. when I served a congregation in Utah and had no idea I would eventually end up back in the South… I recently pulled it out and edited it a bit before sharing it. The essay shows some of what I was reading at the time. If I would undertake such a quest to again to put my thoughts on preaching on paper, I'm sure it would be quite different. Nonetheless, much of what I wrote still seems relevant.
-C. Jeffrey Garrison
Ramblings about my preaching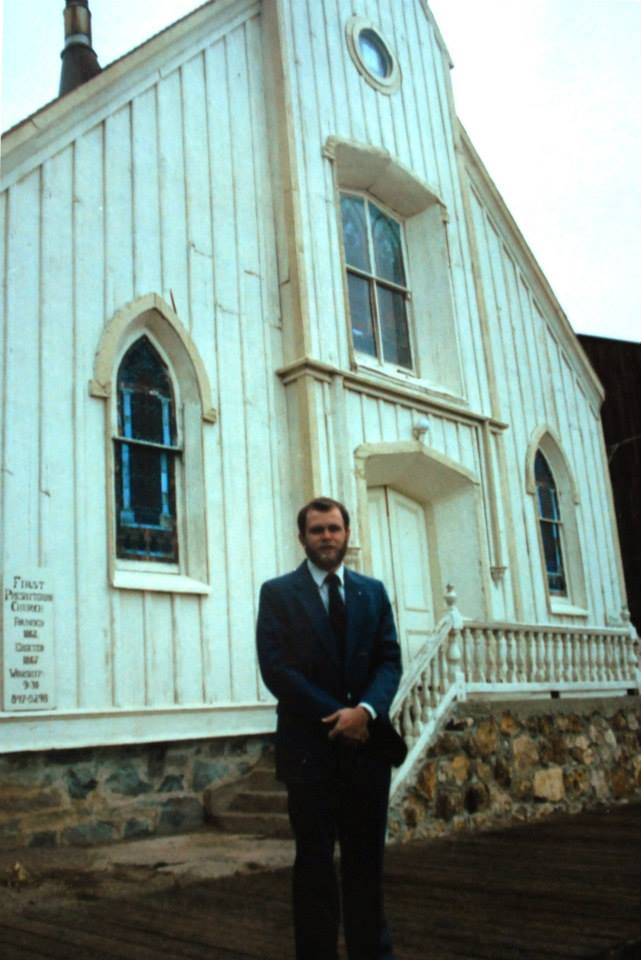 After worship, Howard Bennett, the church organist, came up to me smiling, his arm outstretched, and loudly proclaimed, "We have a preacher!" It was the second Sunday of September, 1988, Camel Race weekend. I had just preached my first sermon for the First Presbyterian Church of Virginia City, Nevada. For the next twelve months, I would serve the congregation as a student pastor. It felt good to hear Howard's praise. I didn't consider myself a preacher. I needed his affirmation for I didn't know if I had what it would take to deliver a year's worth of sermons to a group of people I was just getting to know. Howard's praise provided confidence!

I based my sermon that day on the question Jesus asked the disciples in Mark 8:27, "Who do people say that I am?" The theme was Christocentric, heavy on theology and void of humor. Thinking back, I'm sure what Howard meant by his affirmation was that I sounded like a preacher. No longer am I sure it was a compliment, although I'm positive Howard meant it that way. What happened, I now believe, is that with a strong pulpit presence, I discovered how to make people listen—or at least stay awake. I'm not so sure this is all together positive. Staying awake in some of my sermons might fall into the cruel and unusual punishment category.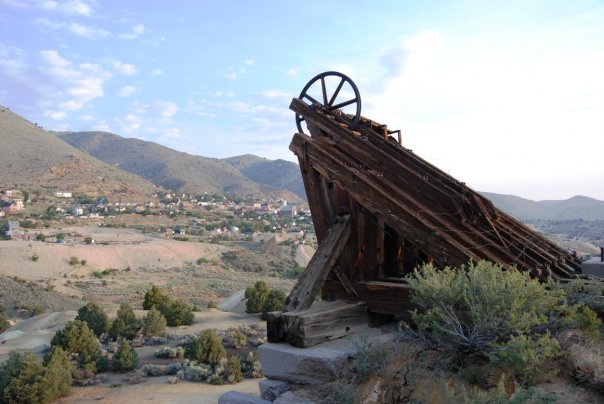 My Accent
One thing I learned early on in preaching is that there was a benefit to my accent. I disagree with Norman Maclean's father, a first generation Scottish Presbyterian preacher in Montana. The elder Maclean tried to eradicate his Scottish brogue and despised those who came from the mother country and flaunted their accent. Instead, I have found that having an accent makes people take notice. Perhaps it's because they must concentrate on listening. Down South, I'd be just another prophet without honor instead of the celebrity I became during my three years in the pulpit in upstate New York.. Sometimes, of course, the benefits of an accent are mixed and lead to misunderstandings. There are still people in Virginia City who believed my Palm Sunday sermon about Pilate, had something to do with a pilot (perhaps he flew for Air Rome).

Although I count my accent a benefit, I have always considered my uniquely southern-style grammar and diction a liability. I've struggled with grammar and when I get excited and talk fast, any rules of grammar which I might have picked up along the way fly out the window. Even though I'm proud to be a Southerner in the pulpit, at times I'm a bit afraid the congregation might think of me as a bumbling idiot. Southerners in general suffer from this malaise which serves as an antidote to our healthy sense of pride.
Mentors
A few years ago, I had the opportunity to spend a week studying with the late Dr. W. Frank Harrington of Peachtree Presbyterian Church in Atlanta, Georgia. The conference was in Hastings, Nebraska and consisted of Presbyterian pastors in the Rocky Mountain or Plains states. Frank, the pastor of the largest church within the denomination, amazed me in how commanded everyone's attention with his thick slow southern voice. Frank vindicated southern preaching for me. His approach in the pulpit was like a Southern lawyer addressing the jury. Leaning up against the pulpit, speaking in a slow conversational tone, he'd get us to laugh and to cry and then, when he had us hooked, demand we make some decision concerning our faith. "Always preach for a conviction," Frank repeatedly reminded us.

Frank was a true Southerner. Like all great preachers—J. Wilbur Chapman, B. Frank Hall, C. Kenneth Hall, D. Lyman Moody. C. Wesley Jennings and C. Jeffrey Garrison—he had an initial in front of his real name. Although he never admitted this, I'm willing to bet he cursed his parents to the grave for not using his first name. As a Southerner, Frank had the ability to tell stories and to laugh at himself, invaluable gifts for preaching. All of us have fallen short of God's glory and Frank's prime fault was that he hailed from the lesser of the Carolinas.

With only a few notable exceptions such as Norman Maclean, Southern authors have, in my humble opinion, been the only literary voice in twentieth century America. Even non-Southerners such as Big Sky writer, A.B. Gurthie, Jr., big game stalker Ernest Hemingway and the quintessential bum Jack Kerouac found it necessary to sojourn in the South. As with Frank Harrington's preaching, these authors remind me that we Southerners have something to say. Sometimes it might not be what people want to hear, but we say it anyway, partly because we're ornery, partly because that's what we feel God calls us to do.
What is preaching?
H. Eddie Fox, a Southerner who hails from the Methodist tradition, defines preaching as proclaiming:
"the biography of the deeds of God in terms of one's autobiography with the hope that persons, enabled by the power of the Holy Spirit, respond to God's act of forgiveness in Jesus Christ, in repentance and faith, and live out the new life in faithfulness to the kingdom of God."

This definition leaves out an important component of preaching, the call of God. As Fox and his co-author George Morris points out a few pages later, the Jonah story demonstrates "two fundamental truths." Going to Nineveh wasn't Jonah's idea and hearing about God wasn't the Ninevites' idea. God wanted the word out. Preaching is proclaiming God's biography, but at God's request. When I honor this request, I trust God's Spirit works in the life of the hearers so they may be moved by God in ways I, as the preacher, may never know.
The humbling knowledge that God's in charge

Sometimes preaching is humbling. There was a woman in the Virginia City congregation who was living, with kids, in an abusive situation. During one sermon, she heard me say something that empowered her leave her husband and seek safety. To this day, I'm not sure what she heard because I was preaching what I thought was an ecological message about taking care of God's creation. God does work in mysterious ways—even to the point of allowing someone hear the gospel in a sermon that has little to do with the message. John Calvin explains the power of preaching to be in the Word, not in the minister. Though humbling to our egos, there is comfort knowing God uses preaching and teaching to "awaken faith and promote sanctification." The burden of preaching is lifted from our shoulders and placed upon God's broad shoulders.

Of course, knowing God works through our preaching does not excuse us from preparation. Preaching is hard work. We must incorporate God's Word into the modern situation and do it in a way that doesn't bore our congregations to death. Preaching should not be, as I once heard a professor from a reformed theological seminary sarcastically quip, "taking out and examining the doctrines." Preaching should be alive. It involves telling stories—God's story and our story. And telling stories should be fun and humorous.
Humor
Billy Sunday, the so-so baseball player for the Pittsburgh Pirates who became a sensational (or sinsational?) evangelist, once said: "God likes a little humor, as evidenced by the fact that He made the monkey, the parrot—and some of you people." Today, the preacher task is more challenging. Media moguls, with resources to create mind-blowing scenes, have taken over storytelling. The preacher must rely on the use of words and an occasional gesture to connect to the mind of the listener so that his or her imagination might visualize the possibilities that exist within God's kingdom.
Honesty
Probably the greatest gift a preacher can give to his or her work is honesty. This means we may have less to say than we'd think. One of the problems with preaching is that people expect us to have answers and we, wanting to please, also want to answers questions concerning life and faith. But do we? What do we really know?
Presence
Wendell Berry, a Kentucky tobacco farmer who spins a pretty good story, tells about the preacher in Port William's, Kentucky, who, upon learning that a son of parishioners is missing-in-action during World War Two, immediately goes over to family's home. A relative of the missing man, while discussing this visit, says, "the worst thing about preachers is they think they've got to say something whether anything can be said or not." The task of preaching is to be honest and at times admit we do not know what God is doing. Instead, we are called to be faithful. As the funeral liturgy goes, "even at the grave we make our song, alleluia, alleluia, alleluia."

Development of my theology;
Or, before you get into the pulpit, you better have something to say
I was born in Pinehurst, North Carolina, just two days after the death of Humphrey Bogart. This was the same year that Jack Kerouac published On the Road, Burt Lancaster and Kirk Douglas shot it out in the Gunfight at the O.K. Corral, and Elvis released "Jailhouse Rock." In some existential sort of way, these events may have played a role in my theology. Since I don't know anyone alive who understands existentialism, I'll refrain from speculation.
Culdee Presbyterian Church
My theological development started on Easter Sunday, 1957. The location was Culdee Presbyterian Church, located in Eastwood, North Carolina, a community which even then didn't have a post office. It had a Shell Station, a small grocery store called "Bunches," and a Presbyterian Church. The Post Office closed about the same time the last logging train pulled out of Eastwood Station. This was before my grandmother's birth. Culdee Presbyterian Church was built on a sandy ridge between Nick's Creek and the Lower Little River. My Scottish ancestors settled this land two hundred and some years earlier. Out on the ridge where the church sat, they staked out a cemetery filled with many of my ancestors.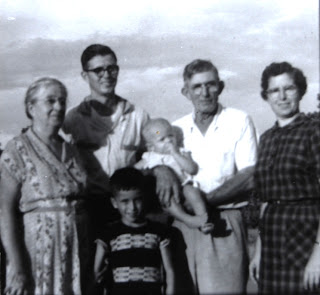 At the time of my baptism, Culdee consisted of a white-washed pine board church and a cinder block Sunday School building. The McKenzies, Blues, and McDonalds had organized the congregation in the dark decades after that fateful and foolish charge up Seminary Ridge. Ninety-five years later, they were just beginning to get over it, although it would take another generation or two to completely purge the system. On that Easter Sunday, dressed in my finest, my mother and father, flanked by grandparents and great-grandparents, presented me to the Reverend J. Thomas Young to be baptized. A few drops later, I was marked as a member of the Covenant.

Garrison/McKenzie Influence
The Garrison/McKenzie clan played an important role in my early theological development. My Grandfather Garrison had converted to Presbyterianism from a hard-shell Primitive Baptist background, due to his marriage to my grandmother. His conversion represented a pentecostal event in the life of Culdee. The congregation witnessed God's love extending even to those without a Scottish name. He serves as elder at Culdee for many years. The presbytery elected a commissioner to the General Assembly of the Presbyterian Church, US. Unfortunately, his health kept him from attending. Although he died twenty years ago, to this day I still think of my grandfather as the ideal elder. He regularly read and studied the Bible. His prayers at the table, when the family gathered, were reverent and brought to my mind an image of a good and loving God.

My Great Grandfather McKenzie has also served as a model of faithfulness for me. He served as an elder for forty years and for most of that time was also the Sunday School superintendent. My great grandfather died when I was in Junior High, but I can still see him in the room at my grandparents. He lived with them the last couple years of his life. He would sit in his rocking chair and read the Bible. When the good book wasn't in his hands, it would be sitting next to his bed on the nightstand. The family in which I was born was steeped in the Bible.
Early memories of church
My early memory of church was watching our neighbor, Art Zenn, prepare the site for a new building with his bulldozer. It was great fun to watch him push dirt around. The congregation started construction on its new sanctuary around 1960. My grandfather was on the building committee and did much of the plumbing and heating work. My father and great-uncle built the copper clad steeple. A crane hosted the structure into place. In 1962, just a year before we moved away from the area, the new building was complete. They tore the old, white-washed wooden sanctuary down. The new brick church began to grow as it reached out to new people in the community. No longer are all the officers Scottish or married to a Scot.
Cape Fear Presbyterian
I grew up in was Cape Fear Presbyterian Church in Wilmington, North Carolina, a city we moved to when I was in elementary school. My fondest memories are working on the Boy Scouts of America God and Country award with the pastor, C. Wesley Jennings. Mr. Jennings only had daughters and found the scouting program a way to make up for this shortcoming. He prodded my brother and me through the program. During this time, I began to understand more about what it meant to accept Jesus Christ as one's Lord and Savior. As I started High School, I began to read the entire Living Bible, in a teen version called "The Way." The Bible had been a Christmas gift. I checked off each chapter read in the front of this Bible. Although I gave up the challenge after a few months, I read over half of the Scriptures.
Encouraged to consider the ministry
While in High School, my congregation started electing women and youth to church offices. I was honored to have my name placed in nomination for deacon and surprised to be elected. In the Southern Presbyterian Church, Deacons had oversight of the budget and buildings as well as being responsible for taking up the offering and serving as ushers. I bought a suit and assumed my duties. The hostility within meetings shocked me. Money does that! While serving as a Deacon, people began to suggest I should become a preacher.
The ministry was not an altogether new idea. I had told my grandmother, when I was ten, that I planned to be a Presbyterian minister. As soon as the words were out of my mouth I began to wonder where they came from. However, the ministry seemed an exciting possibility, yet I wasn't totally comfortable with the idea. It would be another decade before I felt the call to the ministry. By then, I had graduated from college, worked in a bakery, and for the Boy Scouts. I had also been married and divorced and had moved to western North Carolina.

My call to ministry was a process that began with my healing from a broken marriage. My first wife and I had problems. We separated. Then she became pregnant from another man. We quickly divorced, and she remarried. Crushed, I slipped into a period of depression which lasted a couple years.
Experiencing a call
A new town and new friends restored my confidence, and a new church again offered me a chance to serve by spending one night a month in a homeless shelter. It was also a time of decisions as I was trying to decide if I wanted to stay on with the Boy Scouts or seek some other form of employment. During this time, the thoughts of seminary began to come to me. On a backpacking trip early in January 1986, while mulling over options, I decided I'd try seminary. When I got home, I called one of the pastors at the church I'd joined in Hickory. Even though we'd never discussed the ministry, he asked, "what took you so long?" That Spring I received affirmation from many minister friends, two of whom were Lutheran.

I also received my first opportunity to preach that Scout Sunday, just a few weeks after deciding to enter seminary. As a scout executive, I had often been invited by troops to "say a few words" at their church. Then, out of the blue, this pastor whom I'd never meet, called and told me he planned on me giving the sermon on Scout Sunday. I was floored. The first Sunday in February 1986, I preached my first sermon in a Methodist Church. That summer, I sold my house and moved up north and entered Pittsburgh Theological Seminary. I'd chosen Pittsburgh over Union at Richmond and Columbia in Georgia because I'd never been there and wanted to see what it was like. Besides, Roberto Clemente had played ball there.

Looking back on it all, I can see God's hand gently nudging me toward seminary and the ministry. While at Pittsburgh, I worked in two different congregations, both of whom encouraged me in my journey. God's guidance and the love and encouragement of these folks prepared me for the task of preaching. My own journey taught me to trust and place my faith in God.

Impact of Growing Up Southern On My Theology
Oscar Wilde supposedly said, in the aftermath of the American Civil War, that "one couldn't admire the moon in Georgia without being told how much better it looked before the War." Mark Twain noticed the same thing in conversations about the moon in New Orleans. These two accounts mean either my Southern ancestors spent a lot of time looking at the moon during the closing decades of the nineteenth century or someone stole another's story without properly crediting them. It doesn't much matter anyway.
The Truth Behind Southern Mythology
It's a well-known fact that southerners, at least those of us who are Caucasian, reminisce over the antebellum period when our ancestors spent afternoons sipping mint juleps in rocking chairs on the porch of the big house. Listening to these stories, one must assume this was also an era before mosquitoes, ticks, sand gnats, and flies. Those pests must have been introduced as retribution by those pesky Yankees.
The truth is that few of our ancestors enjoyed such luxury, but after Sherman burned everything, one could always act like the family lost its fortune during the war. Even when I was a child, 100 years after it was all over, what seemed important was not how much money your family had, but how much it had before the War. If the truth was known, my kinfolk was probably out in the swamps, hard at work chopping wood for the still that made whiskey for the mint juleps that everyone else's family enjoyed on their front porches. While swatting gnats, they'd swap stories about ghosts which, once they got around, explained those mysterious lights in the swamps and help keep the revenuers at bay.
Lost Eden or New Jerusalem
All this nonsense just goes to prove that Southern Theology, at least the theology of the common folk, focuses more on the lost Eden than it does on the coming kingdom. In other words, we look back more than we look forward. Although it rings true in the South, in some ways this is true about all of America. "The biblical image of humankind living in a garden dies hard in America," notes William Pannell, a professor of evangelism at Fuller Theological Seminary. We long for the past and this hinders our ability at sharing the gospel in a world that no longer looks or shares the same heritage as we do. Pannell jokes that southern style religion as shown on television is "merely a camp meeting with air conditioning." The people such productions reach "are in harmony with the style and message of the preacher."

Just because Southerners tend to look back to the garden doesn't mean we don't anticipate the return of Christ. We think and worry about the second coming a lot. We certainly don't want to do something we're not supposed to be doing when Michael's trumpet blows.
My great granddaddy, who was born in the late 1880's, often shared stories about his childhood with me. Sometime around the turn of the century, he was in another man's watermelon patch doing what boys from the South do best. He'd cut open a watermelon, eat it's heart out, drop the rest of the melon for the birds and seek out another ripe juicy one to enjoy. It was the middle of a hot cloudless day when suddenly the sky turned dark, and the temperature dropped. He noticed that the birds singing as if it was evening. My great granddaddy looked up and saw the sun disappear. He dropped the watermelon and ran for all eternity, as fast as his bare feet could take him. He didn't want to be caught raiding another man's watermelon patch on judgment day.

It is my belief that one's theology needs to look both backwards and forward. We need to look back beyond the Civil War, to first century Palestine and that man we claim to be God named Jesus Christ. And we need to look forward, not in a fearful way to the horrors of judgment, but to Jesus' promise of a new and coming kingdom. Perhaps looking forward has been difficult for southerners because of the guilt of our past. Even the most ardent racist would have a hard time reconciling a belief in a kingdom where non-whites would be subservient to the rest of us.
The Spirituality of the Church
One of the theology I grappled with coming out of the Southern stream of the Presbyterian Church is the concept known as the "Spirituality of the Church." This doctrine was taught by one of the South's greatest theologians, the "humble" James Henley Thornwell, a man who admitted he wanted to be "regarded as the greatest scholar and most talented man that ever lived." The concept of the "Spirituality of the Church" separated the church and state into "two separate spheres of authorities and functions." The church was to be spiritual. Its task was evangelism, to bring people to Christ and then to send them back into the world where they carried out social obligations as Christians.
There is much appeal in this concept. It is true that a regenerated individual who lives his or her life in Christ should make a wonderful public servant and carry forth Christ's will into the public sector. The church is the one organization designed to bring people into a relationship with God. There are other organizations better suited to carrying social change than the church. However, the concept has been misused to keep the church quiet on serious social issues (like slavery and race relations). Prophets of old did not limit the scope of their wrath to the spiritual realm and neither should the church. Jesus reminder that we need to be wise as serpents and as gentle as doves probably applies here.

The doctrine of "the spirituality of the church" as well as a strong emphasis on Scripture, helped separate politics from the church. As a result, the pulpit became a place where only sins specifically forbidden in Scripture were condemned. An interesting challenge to this doctrine, which crossed denominational lines, came from the Methodist revivalist Sam Jones. A former alcoholic, Jones became an ardent prohibitionist and turned his revivals into "civic reform crusades" seeking to limit society's access to alcohol, prostitution, and gambling. By the time I grew up in the South, the drinking of alcohol, which is not prohibited in scripture, was often portrayed as the root of all evil. This created sort of a split personality amongst southerners. Some sins not listed in scripture were condemned while others, such as racism, were labelled as a political problem and not discussed in the pulpit.
Acknowledging sin
Growing up southern, I memorized at a young age Paul's word, "all have sinned and fallen short of the glory of God." I think I could have quoted this verse even before I could quote John 3:16. However, there seemed to be a distinction between sins. Although we've all sinned in some spiritual sort of way, some of us have sinned more than others and those of us who have sinned by the flesh have thereby fallen further from God's glory and are to be looked upon with contempt. It is biblical that we've all sinned, but this categorization of sinfulness only serves to create a false pride in those who are strong enough to avoid being caught in the sins of the flesh (drunkenness, adultery, etc.).
I wish someone, at an early age, could have reinforced the concept of God's grace as well as they taught the concept of sin. I would have been a lot more accepting of others had I understood all along that God's love extends equally to even the vile sinner.

Current State of My Theology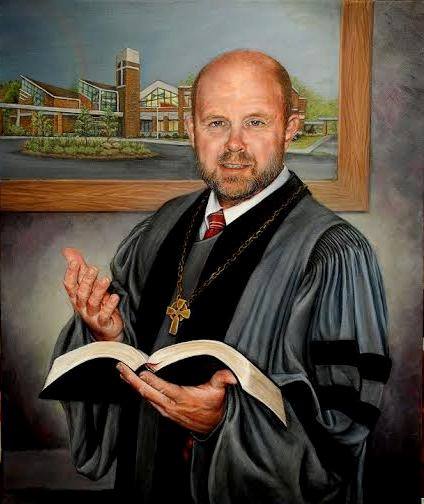 Somehow, I managed to survive growing up in the South. As a preacher, I am thankful for my past, it provides great source material for sermons. Partly due to my growing up in the South, I was instilled with reverence for Scripture, Almighty God, a need for a Savior, the importance of a religious community, and a fear that hell is being unable to swat mosquitoes in a backwater swamp on a hot day. Most of these traits have served me well as I've tried to tell others about Jesus Christ.