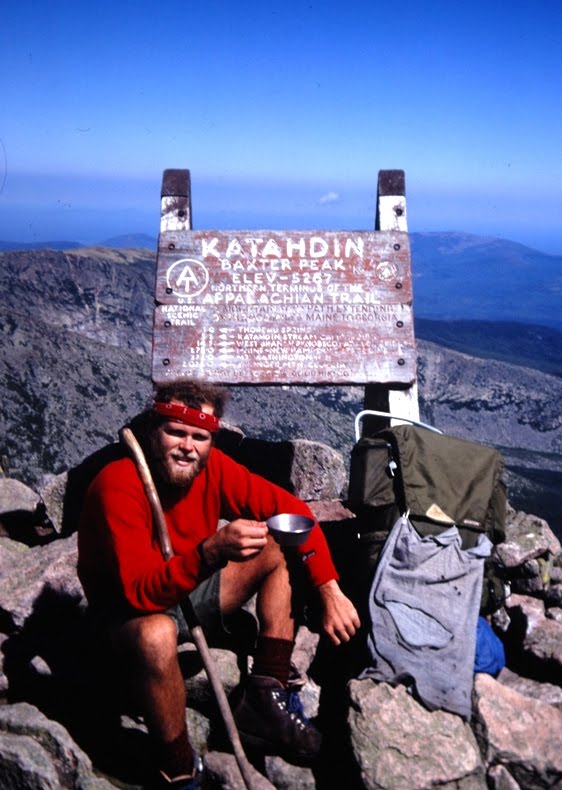 As I've been treated with back to back bouts with COVID, I spent much of my time reading about the Appalachian Trail. I don't think I've read a book about the trail since I read Bill Bryson's A Walk in the Woods, back in the 1990s. It was great to visit the trail once more as I read these three books that brought back lots of memories and made me a little homesick. I'm including a few pictures from my own journey. The photo to the left is of me on Mt. Katahdin in 1987, after having hiked from Virginia to Maine to complete the trail.
By the way, I finally received a negative COVID test on January 9th!
Ben Montgomery, Grandma Gatewood's Walk: The Inspiring Story of the Woman Who Saved the Appalachian Trail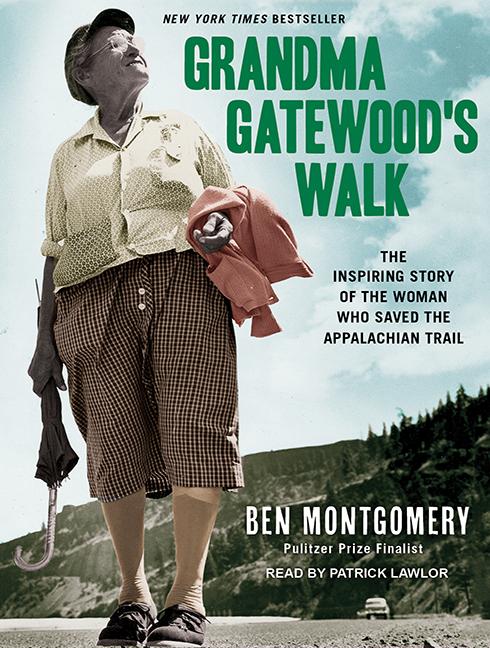 (Chicago: Chicago Review Press, 2014), 277 pages including the index and sources. Maps and some photos.
I have been meaning to read this book for the past three years, ever since my ministry colleague on Skidaway gave me a copy. Of course, I have known of Grandma Gatewood's walk since at least the early 80s, when I first started hiking the Appalachian Trail. Having completed the trail and having read many books about it (the last probably being Bill Bryson's book in the mid-1990s), I had kind of put the trail out of my mind. But as I began reading about Grandma Gatewood, I was drawn back into the lure of the trail. This book is well written and is easy to read.
Part of the danger of having completed the Appalachian Trail is that I read this book through my own lens. Even without going back into my journals, the names of the towns, shelters, rivers, waterfalls, ponds, and mountains, all began to come back.
While I enjoyed the book, my critical eye questioned a few of the authors observations. I don't think Gatewood saw any chestnuts on the trail. Certainly, even thirty years later when I was hiking the trail, there were shoots coming up from old stumps, but the chestnuts in the Appalachian Mountains had died in the 1920s. She didn't have to fear water moccasins along the trail as they are not found in the mountainous areas of the south (and even Gatewood only acknowledging seeing rattlesnakes and copperheads). And the rugged rock in Pennsylvania was not created by glaciers (they tend to smooth out rock), but by upturned limestone that leaves a jagged edge to the rock that creates a challenge in what would be an easy part of the trail to hike. Finally, the author twice referred to Boy Scout "Packs." It's a Boy Scout Troop, Cub Scouts have packs. Again, these are just minor points. Overall, the books drew me in quickly and I read it in a 24-hour period while quarantined for COVID.
For the bulk of the book in which he tells of her first (of three) completions of the Appalachian Trail, the author creatively tells two stories. At one point, he'll be telling of Gatewood's hike as if he was with her as she made her way in her tennis shoes along the trail. Then, he'll go back to share vignettes of her life before she set out in her mid-60s to hike the trail. We learn about her hard life and her abusive marriage. Gatewood had a wanderlust streak in her and had once before left home We also learn how she'd left her husband once before and traveled out to California in the 1930s. But she had children to tend. It was after they'd left home that she began hiking.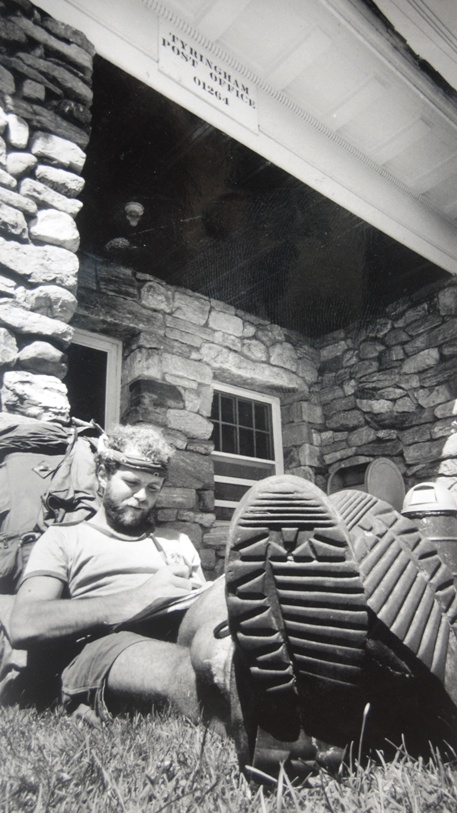 As Gatewood began hiking, she became famous with newspapers and Sports Illustrated running articles on her. After she completed the trail, she was on the Today's Show and game shows. She continued hiking, doing two more trips on the AT, along with walking the Oregon Trail. She promoted the Buckeye Trail in her home state of Ohio. She died in 1973.
There were a lot of her stories to which I could relate and share similar experiences. She hiked through two hurricanes. I had a similar experience going over Standing Indian Mountain. That hike was miserable. The trail became a stream with the water over my boots. The next day, it was clear. I met a couple from Franklin, a town in the valley, who said the town had received 10 inches of rain that day I was climbing Standing Indian.
On her hike in 1955, coming off Mt. Cube in New Hampshire, Gatewood met the wife of Meldrim Thomson, whose family had a farm and a maple syrup operation off the side of the mountain. The author notes the Thomson would later become governor of the state. They became friends.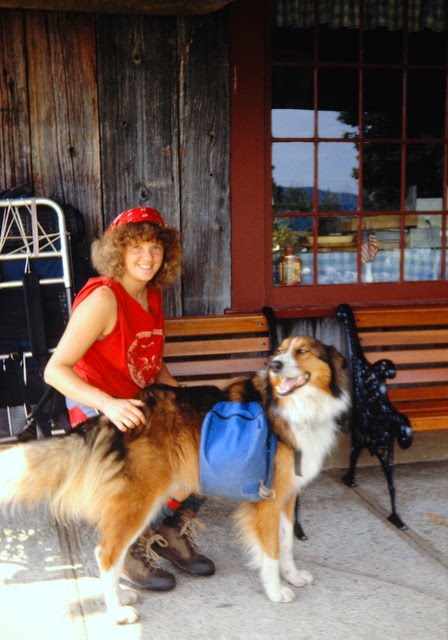 In 1987, when I came through this section, I stopped that morning for breakfast at a well-known pancake house that Mrs. Thomson ran. As she was cooking pancakes, I read framed news clippings about her husband that was posted on the wall of the diner. When she brought the cakes and a bottle of maple syrup, I said it appeared her husband had been governor wondered if he was still involved (he'd been governor in the 1970s). She said yes that he was out campaigning with Paul Laxalt who was running for President. As I was hosting my pack to head back to the trail, a pickup truck pulled up and two men in suits got out and ran over to me. It was the former governor with Paul Laxalt, who shook my hand even though I was not a New Hampshire voter. Laxalt pulled out of the primary long before the vote that February.
Even if you have not hiked the AT, Emma Gatewood's story is one of courage and fortitude. I think you'll enjoy taking a walk with her. I recommend this book. 
---
Earl V. Shaffer, Walking with Spring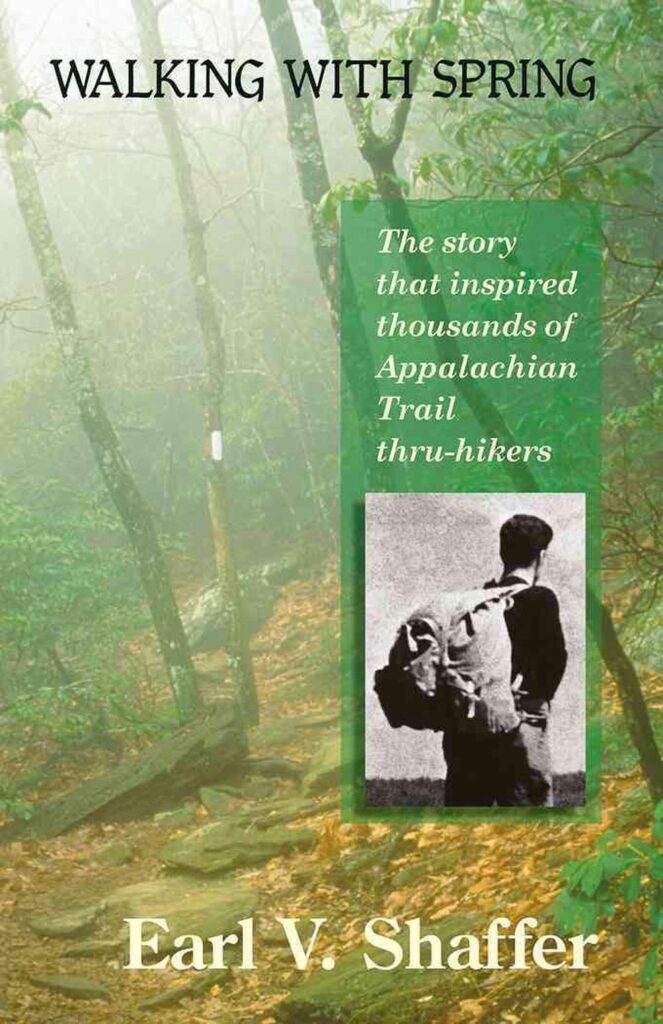 (1983, Harper's Ferry, WVA: Appalachian Trail Conference 2004), 152 pages, no index or bibliography.
I first read this book in the mid-80s. I was living in Hickory, NC, dreaming of the trail. I lent my copy to a friend and never got it back and moved shortly afterwards. A few months ago, I was in a store along the Blue Ridge Parkway and spotted another copy and thought I should read this book again. When I first read the book, I had hiked most of the Appalachian Trail south of Bastian, VA (where I-77 crosses). A few years later I finished the trail after doing a long hike from the Shenandoah's to Katahdin in Maine.
This book took me back to a time when the trail was young and not well known. Shaffer was the first person to hike the entire length of the trail which in one season. At the time, the trail ran from Mt. Oglethorpe, Georgia to Katahdin. A few years later, the southern terminus of the trail would be moved to Springer Mountain. While much of the trail and even some of the shelters were familiar with me, there have been many changes. Going through Southern Virginia, the trail Shaffer hiked headed east from Damarcus, where it picked up and paralleled the Blue Ridge Parkway. This section had a lot of road walking and plans had been made much earlier to move to trail to northward, toward Pearisburg, VA, before swinging it eastward and paralleling the parkway starting north of Roanoke. The plans, which were made before the war, didn't materialize until around 1950. Interestingly, Shaffer would have hiked past Bluemont Presbyterian Church, one of the two Rock Churches I serve. While he doesn't mention Bluemont, he does comment on Puckett's Cabin which is two miles north. (See my book review of Orlean Puckett: 1844-1938.) He hiked this section at the right time because the flame azaleas were in bloom. He missed Mayberry Church for at the time the trail left the parkway and crossed over the crest of the Pinnacles of Dan before returning to the parkway just south of Mabry Mill.
In one of his poems at the beginning of an earlier section titled "Mountain Medley," he wrote:
A medley of summit pastures,
Spring flowers and whip-poor-wills,
Stone Churches and upland rivers,
And steep farm-sided hills.
This section of his book deals with his travels that crossed the Big Pigeon, Nolichucky, and Watauga Rivers, which are along the North Carolina and Tennessee border. I wonder if he mistakenly posted the poem there.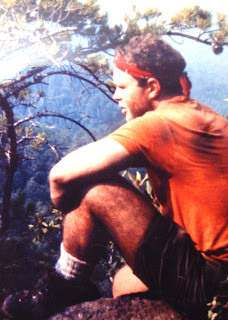 Shaffer also hiked before the availability of lightweight gear. He often ate canned food. He didn't take a stove; instead, he built fires to cook his meals. He traveled light, with just a poncho which doubled as a shelter (with him putting his rain hat over the hole in the middle of the poncho). In 1948, much of the trail had been neglected because of the war. Another big difference in Shaffer's hike and mine was getting into town to resupply. While we both often hitchhiked, he was often able to catch a bus. I only did this once, in Garrison, NY, where I caught a bus into Peekskill to get my boots repaired.
Shaffer, himself, had been a soldier in the South Pacific. While he often comments on his status as a veteran, he never writes about the war itself. But the war is mentioned. When a New England ranger invites him into his home in the woods and immediately sets on a pot for tea, he's reminded of the kindness of New Zealand soldiers offering tea. On occasions, he meets other veterans from the Pacific, and they discuss their experiences which are not shared in the book. Shaffer, having lost his pre-war hiking friend in the war, had a good reason to "walk it off." (Doug Peacock, who was a green Beret in Vietnam and the model for Edward Abbey's Hayduke in The Monkey Wrench Gang, titled his memoir Walking It Off). In doing some research after finishing this book, I learn that he did write about his Pacific experiences in a book of poetry titled Before I Walked with Spring: A Dough Boy's Odyssey and Other Poems of World War II.
Essentially, this book is about his walk on the Appalachian Trail. It's a day-by-day journal that give us a taste of what Shaffer experienced on his "long cruise." It is apparent that Shaffer is well-read as he often refers to literary works. He is also a poet and includes many of his own poems. The book wasn't published until the 1980s which probably explains why he used a metaphor of "programing a computer." Except for a few scientists, that term doesn't seem to fit in the world of 1948.
Shaffer's prose provides an understanding of the landscape. I didn't realize that the New River in Virginia was the last of the rivers to flow west (and via the Mississippi, south to the Gulf of Mexico). Nor did I really put it together that Sunfish Pond, in New Jersey, was the southern most natural pond/lake on the trail. I do remember commenting in my own journals about how the water sources changed. South of New Jersey, there are many springs from which you get water. As you head north, they become fewer and fewer.
If you want to learn about the Appalachian Trail, this book is a good place to begin.
---
Sherry Blackman, Tales from the Trail: Stories from the Oldest Hiker Hostel on the Appalachian Trail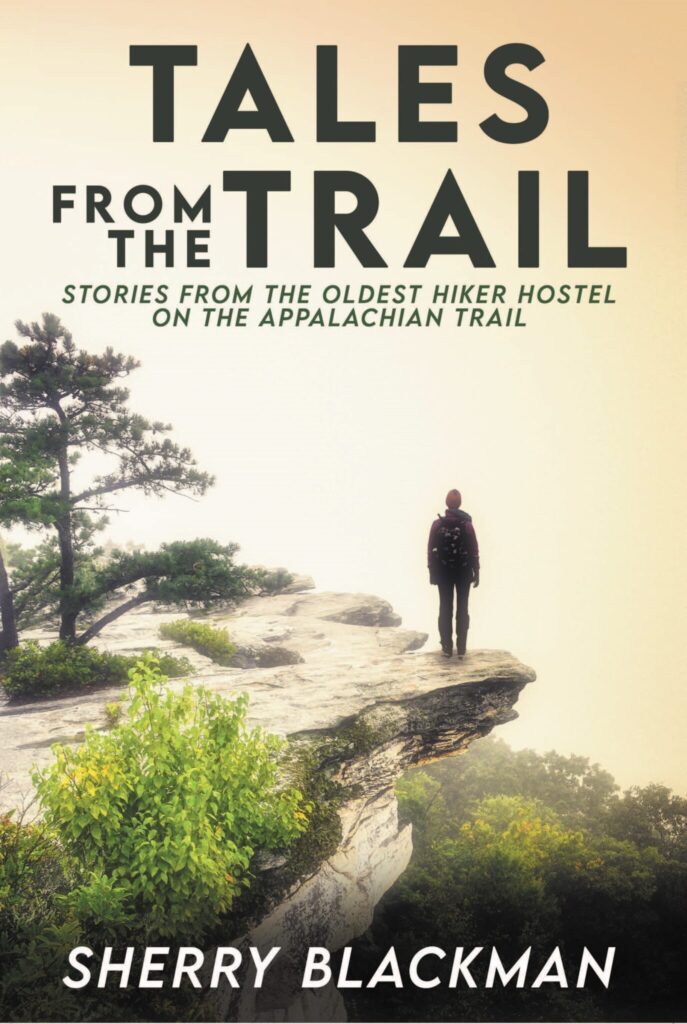 (North Hampton, NH: Mindstir Media, 2021), 231 pages including six pages of photos.
The Reverend Sherry Blackman, a former journalist, serves as pastor of Church of the Mountain, a Presbyterian Church in Delaware Water Gap, Pennsylvania. The church's basement has served as a hostel for those hiking on the Appalachian Trail (AT) since 1976. In 1987, I spent two nights there while hiking from the Shenandoah Mountains of Virginia to Mt. Katahdin in Maine, which finished my goal of hiking the trail.
In this collection of essays, Blackman recalls many of the hikers she's met along the AT since she began her ministry there in 2014. These stories explore a host of themes common to the human condition. Some hikers try to find something they feel they've lost. Others try to forget or to figure things out. The walking wounded often stop. Some wounds are physical. They try to push through the pain and limitations as they make it along the trail. Others carry mental and spiritual wounds. Can they find forgiveness, acceptance, or hope? And then there's the ugly side, those who must be removed from the hostel for the safety of the other hikers. One essay recounts the number of murders that have occurred along the trail over the past 50 years. Mental illness is another battle many faces and which often leads to challenges for those running the hostel. Through all this, we also see how Blackman and those who run the hostel strive to be graceful. They listen and don't try to force advice on those who come their way, as they offer hikers a shower, a bunk for a night or two, and once a week, a potluck dinner.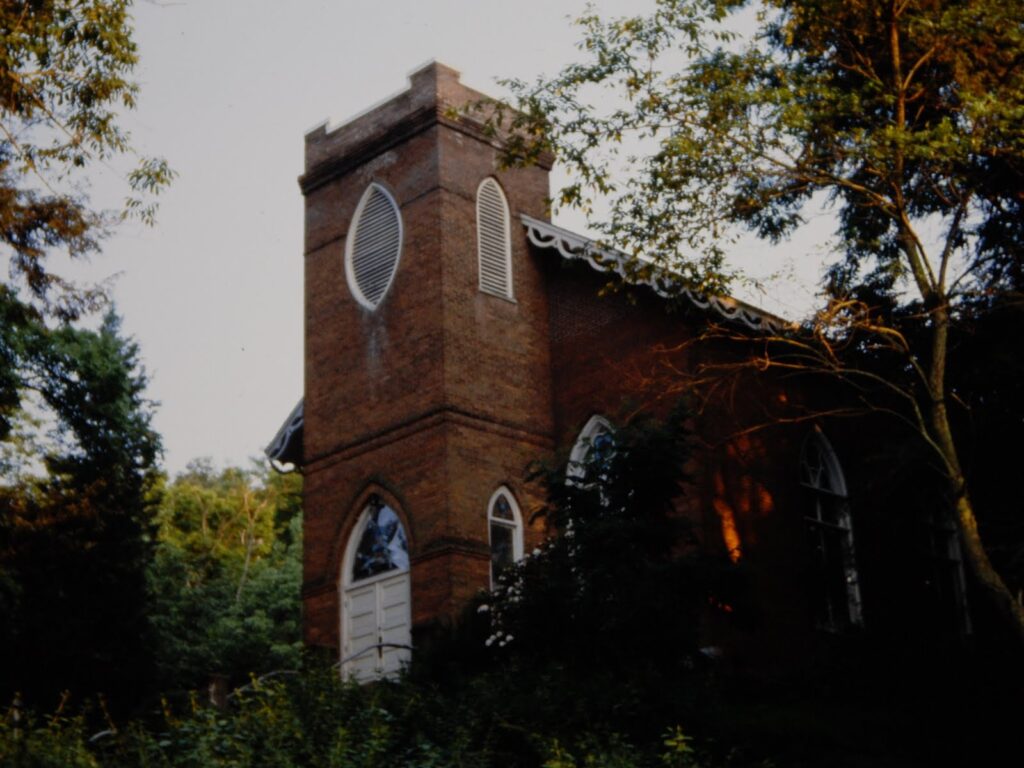 In all these essays, we see Blackman listening and accepting the hiker wherever they are on their journey (not just on the trail, but in their lives). Often, her conversations turn to spiritual issues. She asks gentle questions as she helps the hiker along their way. She provides compassionate and insightful counsel, along with learning herself from the stories of others. She also acknowledges the limitations we all have and how hard it is when we can't help some people.
Delaware Water Gap is just a little beyond the halfway point for those who are hiking north from Georgia (the actual halfway point is around Caledonia State Park just north of the Maryland border. Those who have started in Georgia (northbound hikers) have been on the trail for roughly 1200 miles. The last hundred miles, while not having difficult climbs, are tough because of the upturned limestone rock grinds the feet down. Blackburn has an essay on the rocks, too. Being in the middle of the trail means Blackman only gets to encounter a hiker at point in their journey. Reading these stories, I recalled work as a night on-call chaplain where I often visited with those going into transplant surgeries and never knew what happened afterwards. That's the way much of life plays out. Blackman does her part, then the hikers head down the trail.
I found a lot of insight into one hiker who, after hiking the trail, visited after he finished pointed out: "At the top of Katahdin, there are no blazes to tell you where to go now." As the stories remind us, lots of people set out to hike hoping to find something, but ultimately, there are few Damarcus experiences along the trail. Most hikers gain insight about themselves without having a revelation.
I recommend this book to those interested in the trail as well as those in ministry who need to consider how we relate to others whom we interact through our lives.