Years ago, I read several books by Martin Clark and reviewed them in an old blog. Clark, a retired judge, just down the mountain from me in Stuart, Virginia. I meet him in person about a year ago. I've finally have read and now reviewed his most recent book. Much of his recent book takes place around where I live and serve in ministry.
A note about my reading: We're 1/3 of the way through 2023. When I reviewed my readings from 2020, I noted that I needed to read more fiction and books by women authors. So far, I have exceed my 2022 totals for both categories.
Martin Clark, The Substitution Order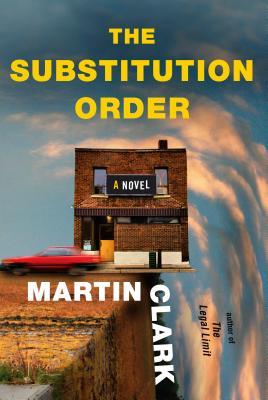 (2019, New York Vintage Books, 2020), 338 pages.
A substitution order is a legal term for when an attorney turns over a case to another attorney and a judge has to sign off on the exchange. This is just one of a string of events Protagonist Kevin Moore secretly arranges to obtain revenge on those who had scammed and helped ruin his life even more than he had already done. On his own, attorney Kevin Moore quickly developed a cocaine habit after trying it at a law conference. The urge to get high led to his quick downfall, ending in an arrest, the loss of his law license, and his divorce. While he confesses his mistake, he didn't need someone trying to scam him from legal malpractice. But that happened. 
With his life in ruins, Moore lives in a cousin's house in Meadows of Dan, Virginia. Disbarred, he leaves his legal career and now spreads mayonnaise on sandwiches at the SUBstitution, a Subway knock-off in Stuart, Virginia. Substitution orders and orders at SUBstitution, Clark is a master at double-entendres.  While working at the restaurant, Moore saves a puppy from a dumpster. He names the dog Nelson, and he becomes a part of Moore's life.  A stranger offers him an opportunity to benefit on a scam. Moore who (except for three months) appears to have lived the life of a Sunday School superintendent, declines. The stranger who offers Moore the chance also threatens him if he doesn't participate with them. 
It appears Moore's life couldn't get worse, but it does. A crooked probation officer plants dirty urine in his drug test as well as a gun and bags of drugs in his car. Moore finds himself in real trouble.
In the middle of his problems, Moore has a stroke. Thankfully, a farmer who was renting farmland from Moore's cousin, happened to be driving by and see's Moore collapse. As a member of the local rescue squad and fire department, he rushes in. Seeing the obvious symptoms, he takes Moore in his truck down the mountain to the hospital. Moore slowly gets better and falls for a home health nurse.
While he is getting better, he must deal with a legal malpractice scam. His insurance company is willing to settle, but Moore has an idea of what's happening. To everyone else, Moore's theory seems farfetched, and he must take things in his own hands. But everyone is skeptical.
It looks like Moore is going to attempt to run from the law. But there are some twists in the plot. Despite a somewhat happy ending, Moore spends time behind bar. He also would prefer everything would not have happened and that he would have never tried cocaine.
I enjoyed this book and surprised by the ending. My copy of the book came from a gift without an expectation of a review.
---
Martin Clark, The Many Aspects of Mobile Home Living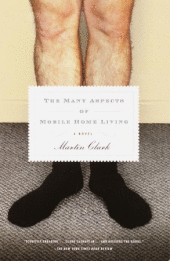 ( )
This is one crazy book. My life has been crazy for the past few weeks and it has been a pleasure to occasionally retreat into Evers Wheeling's world. Wheeling, a young district court judge in Norton, North Carolina is bored and ready for adventure. It arrives one day when the beautiful Ruth Esther English, one of the top car sales associates in the Southeast, seeks his help with her brother's trial. She must get her brother Artis out of jail to help her recover money and a letter left by her father. Wheeling refuses to do anything illegal to help Artis, but when his case comes up, the police have screwed up the evidence so that he has no choice but to free him.
Soon everyone, including Evan's brother Pascal, are off on a trip to recover the hidden money in Salt Lake City. Pascal, like Evers, had inherited a small fortune from their parents. Unlike Evers, Pascal lived as the Prodigal (except there was no father to come home to), and after blowing much of his inheritance, spends his days living in a double wide, smoking pot. Evers also has a fondness for the weed and seems to get most of his caloric intact in the form of distilled spirits.

When I reviewed Clark's other novel, Plain Heathen Mischief, I noted that it had more twist and turns than Lombard Street, San Francisco. The Many Aspects of Mobile Home Living has more twist and turns than the highway out of Owen's Valley and into Yosemite via Tioga Pass.
There are many characters and more than a few deaths and a lot of "who-done-it" questions. Those who die include Evers' non-live-in wife (she refused to live in Norton). After Evers discovers her in bed with a "cow farmer," they are locked in a divorce battle. Although her death seemed to be a suicide, it was also suspicious. At first, Evers seems a likely suspect, but then Pascal confesses although he later recants. Due to the many problems with his confession, he is offered a plea bargain that nets him only a couple of months in jail.
Of course, there's more to the story but to tell it all would be to ruin the story. Read it and laugh. And don't get too hung up on all the characters, because some just disappear without explanation and not all questions that are raised by the story get answered. The book may not be neat and tidy in that way, but such is life in a double-wide inhabited by a bunch of lazy pot smokers.

There are also many characters in the book. Paulette is a sharp dressed African American attorney from Charleston, West Virginia. Paulette represents Ruth Ester and later defends Pascal. Ruth Esther's brother Artis is short and African American and obviously not blood related to his stately "white" sister. There are also boozing doctor and a handful of good ole boy cops. And then there are some mysteriously white tears. A hint of mysticism is found in the pages of the novel and at one point, I wondered if I was reading a legal thriller or fantasy. The mix-mash of characters create lots of humorous moments—such as when Judge Wheeling does a double take when he's introduced to Artis, Ruth Esther's brother, realizing there is no way they're real siblings.

There are a few things in this book that I will have to blog about later. The first is the town of Climax, NC (yes, there is a town and when I was a high school debater, we often drove through it going to tournaments in the High Point, Greensboro, and Winston Salem area).
Next is William Jennings Bryan. The letter that Ruth Esther wanted was written by Bryan to a "teenage" lover of his, a letter which is real would have tarnished Bryan's Puritan image. When I was in college, I did a paper on Bryan and discovered that I wasn't at all interested in the Scopes Monkey Trial (for which he is remembered) but as him being a populist (probably in reality a socialist) candidate for President in 1896. He carried much of the nation. Although many in the religious right revere Bryan for being the prosecutor in the Scopes Trial, they would be horrified to realize that his political philosophy wasn't anywhere near theirs.
The final thing I should blog about sometime is Salt Lake City. I've spent a lot of time in that city when I lived in Utah. Two corrections that I might suggest to Clark, you don't need a cab to get from the Hilton to Temple Square (if I remember correctly, the Hilton is only two blocks west). Secondly, Mormons don't' wear crosses.
---
Martin Clark, Plain Heathen Mischief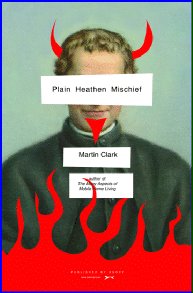 (New York: Alfred Knopf, 2004), 398 pages. Reviewed in 2007

The Reverend Joel Clark has lost everything. The pastor of Roanoke's First Baptist Church pleads guilty to having sex with Christy, a 17-year-old parishioner. He's sent to jail for six months. When released, his wife serves him with divorce papers. He's also issued a lawsuit from Christy. She hopes to receive five million for her emotional damages. With his world crumbling, he left with only one loyal friend, Edmond, who picks him up when he's released and takes him to his sister's house in Missoula, Montana.
On the way, they stop to see Sa'ad X Sa'ad, Edmond's Las Vegas lawyer friend (Las Vegas, Edmond assures Joel, is just a little detour on the way from Virginia to Montana). Both guys are flim-flam men. They offer Joel a stake in an insurance scam. The disgraced preacher at first rejects the temptation, but when he's unable to secure a job and he finds himself with a crook for a probation officer, he accepts the offer to make some quick cash so that he might help his sister and his former church (Good motives, bad ideas). As soon as he agrees to participate in the scam, Joel's luck changes and he lands two jobs, one as a dishwasher and the other as a weekend fishing guide on Montana's rivers.

Plain Heathen Mischief has more twist and turns than Lombard Street in San Francisco. Every time I thought I had the plot figured out, Clark threw another twist. This book was anything but predictable; making it both enjoyable to read while keeping me from doing other things because I was unable to put it down. I will not spoil the ending of the book by giving additional details of the plot except to say that Joel's interpretation of "having sex" is a lot broader than our former President's interpretation.

Through the misfortunes of Joel, many which he brings upon himself, Martin Clark explores ethics and morality. By seemingly resigning himself to the notion that he must do something, and the end justifies the means, Joel finds himself deeper and deeper in trouble. Although he preached grace, Joel appears to have little of it for himself. He seems to think it's up to him to keep his former congregation and his sister afloat. Such a burden almost drowns him. The book also demonstrates how wrong we can often be about other people and their motives. Although Joel is an educated man with a master's degree, he is naïve, which provides many comic scenes throughout the book.

I wonder about Martin Clark positioning Joel as a Baptist minister. In many ways, he seems Baptist in name only. I don't know too many Baptist ministers (or any or ministers for that matter) who keeps Aquinas' Summa on the nightstand. Joel also reads Tillich, Bonhoeffer, Niebuhr and Barth. Although Joel doesn't drink, he doesn't have a problem being with those who do, as we learn when he enjoys a night in Vegas, accompanied by Edmond and Sa'ad and three beautiful women.

My favorite characters in the book are Sophie (his sister) and Dixon (his boss at the outfitting service). Like Joel, Sophie's life crumbled when her well-off doctor husband left her and took off for France in the hopes to make it as an artist. Although she has problems with organized religion, she comes off as a good person who refuses to cut corners or to do anything that's morally questionable. Likewise, Dixon is a person who tries to do right. I love his comparing churchgoing to the blues.

Churchgoin' to me is a lot like blues music. Everybody always talks it up, says great things about it, and you know its supposed to boost your soul, but when you actually do it, when you go sit in a smoky club for two hours hearing some old brother with a bum leg an a pair of Ray-Bands play the same slow, self-indulgent, strung-out three notes and squeeze his eyes shut, you start thinking, man, his crap ain't so hot. Truth is, you'd rather be down at the Holiday Inn lounge tossin' back dollar shooters, pawing the strange women and dancing to disco… (page 263)
My only complaint is that the book is a bit long. The story could be tightened up a bit, which I think might make the book funnier. However, I'm really shouldn't complain. Not only did I enjoyed the book, I didn't want it to end. I'm looking forward to reading Clark's other book, The Many Aspects of Mobile Home Living. Martin Clark is a circuit court judge who lives in Stuart, Virginia.
---
Martin Clark, The Legal Limit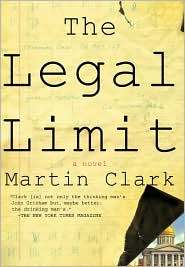 (New York: Alfred Knopf, 2008), 356 pages

Mason Hunt, the Commonwealth Attorney, has come a long way from his horrific childhood with an abusive father. Respected in the community, he's married to a devoted and sexy wife. They have a beautiful daughter and live on a gentleman's farm. He also has a dark secret, one that can destroy him. And then, fate turns against him. His wife is killed in a tragic car accident and his convict brother, with whom he shared the secret, decides he's going to use the secret to get himself out of jail. Life unravels.

Gates Hunt, Mason's older brother, took the blunt of his father's blows, often protecting his younger sibling. Gates was a promising football player, but couldn't hold it together and as a young adult, slipped into the world of drugs and crime. Mason graduates from college and goes on to law school. Home one weekend, Mason and Gates are riding together when they have a run-in with Wayne Thompson, Gates' girlfriend's ex. They were on a remote road, no one was around. Threatened, Gates pulled out a pistol, shoots and kills Wayne. The two of them flee. Mason creates alibis, which they rehearse over and over. He also takes his brother's pistol and disposes of it. The crime goes unsolved.

Twenty years later, Mason has come back to his hometown as the prosecutor. His brother, having shunned a plea bargain and demanded a jury trial for a drug bust, is serving a long sentence in the state penitentiary. As a single parent after his wife's death, Mason finds himself struggling to raise a teenage daughter. He also finds himself being wooed into supporting a business opportunity for the country, an opportunity which promises short-term jobs and is funded with money from the state's tobacco settlement. Then, to get out of prison early, his brother fingers him in the unsolved murder of Wayne Thompson.

I won't spoil the ending, but it suffices to say that Mason's troubles are never truly over. The book demonstrates how secrets come back and haunt us. We also see howitzers are nearly unredeemable. Finally, we see how we get caught in our lies. Except for his youthful mistake, helping his brother beat a murder rap, Mason is a good man. In fact, his honesty and integrity (in all but this one area of his life) causes his downfall (he wasn't about to let an innocent man take the fall for his brother's crime).
This book raises many questions for the reader to ponder. What role does fate play? Why was Gates the older brother? Why does one's wife die in an accident? It also raises questions about the evil intentions of some people (Gates, prosecutors, those in law enforcement, and those involved in schemes to spend tobacco money on a questionable development which only promise that they'll be financially rewarded). Another question is about loyalty to family (Mason to Gates, Mason's mother relationship to Gates, Mason to Curtis, his colleague who also have secrets, and Mason to his daughter). And finally, as the reader I pondered the question of justice. Was justice done in the case? Not really. We're reminded of the Thompson family and their questions. A better question might be, "Could justice be done in this case?"

I enjoyed this book. The Legal Limit is not as funny as Clark's other two novels, but in many ways, this is a more serious and tightly constructed work. I'm still pondering the ending of the book. Although I think I understand what Clark is driving at, I also feel that the ending is the weakest link in Clark's cleverly told story. 
---