Jeff Garrison
Bluemont and Mayberry Presbyterian Churches
May 28, 2023
Numbers 11:16-30
At the beginning of worship:
It's Pentecost, which is often cited as birthday of the church.[1]It's also Memorial Day weekend, a time to honor those who gave their life for our country. And while it hasn't quite felt like it lately with our cool morning temperatures, summer is right around the corner.
Summer is a season to celebrate. Not only because of God's Spirit, it's a season to realize some of God's greatest gifts: homegrown tomatoes, okra, sweet corn, and evenings to sit outside and listen to nature's chorus as birds, bugs and frogs sing praises. During summer, we should be even more thankful!
Before reading the scripture:
Pentecost is about the coming of God's Spirit. We heard about it in our earlier reading from Acts. God's Spirit descends and 3000 people are saved. For my sermon this morning, I want us to turn to the Old Testament book of Numbers. (Anyone bring a calculator?) Here we have another occasion in which God's Spirit moves.
The Hebrew people are in the wilderness. Having fled Egypt, they wait for the green light to go into the Promised Land. But first, they need to learn a few things. This chapter has several interwoven themes:
The Hebrews complaint about food (They're tired of manna and demand meat).
A worn-out Moses doesn't know how much of this complaining he can take.
And God, by all indications, also seems to be weary of complaints. God takes care of Moses while teaching these hardheaded people a lesson they'll never forget. 
You might want to read the entire chapter later, as it all goes together. I'll hit the main themes which are in our reading today.
I've always loved peanut butter. It's amazing I still do.
Learning a lesson
One day, I think it was in the fall of my second-grade year, I was hungry after the academic rigors of the classroom. Coming home, I started digging in the kitchen cabinets to find food. I spotted a large jar of peanut butter, a three pounder. It'd just been opened. There was a bit taken out, but most of the top of the butter was smooth and untouched and so appealing. Seeing no one around, I dug out a finger full. I ate it off my finger and then went for another dip. That's when my mom entered the kitchen.
You know, Mom could have been proud of me for taking care of a basic need, hunger, but that's not the way she operated. She maintained a clean house. In her book, sanitization went along with godliness. Seeing my finger covered with peanut butter, she grabbed the jar and asked, "What do you think you're doing?" Then Mom the Cop became Mom the Judge. I was given hard time. I had to eat the rest of the jar of peanut butter. For the next month or two, before I could eat whatever we were having for lunch or dinner, I had to down a peanut butter sandwich. No jelly, just peanut butter. That jar of peanut butter was now mine and I had to eat it all! It's a miracle I still like the stuff.
Before Thanksgiving dinner with turkey and stuffing, I ate a peanut butter sandwich. Before the Christmas ham, I ate a peanut butter sandwich. By New Years, peanut butter was running out of my nostrils. I felt a special kinship to the Hebrews in the wilderness…
Threads within the passage
As I mentioned, this passage contains several different threads. The Hebrew children are tired of eating the same thing day after day. An exhausted Moses is tired of leading the people, and a weary God, with a sense of humor, is expected to make everything right. Within these stories, we are provided, on several different levels, an understanding about leadership, human greed, and the ways of God and God's Spirit.
God's solution to Moses' weariness 
God tells Moses to gather seventy elders and to bring them into the tent, the tabernacle, the place where they're reminded of God's presence. God wants to relieve Moses' burdens and plans to do this by taking some of Moses spirit and placing it on the elders. We might assume this will provide them the encouragement they need to help lead.
Furthermore, God promises to help in another way. Hearing the complaints about their bland diet, God promises meat. So much meat, in fact, they'll get sick of it (just like I got sick of peanut butter). They'll eat meat until it runs out their noses (thankfully we do not have a potluck dinner today, for this is not a passage to preach on such an occasion).
Moses questions God's ability to act
Moses, however, doesn't worry about them getting sick. Looking around the wilderness, he can't image how God is going to give a morsel of meat to all these people. It would take a lot of herds to feed everyone, and cattle drives were unknown in the Sinai.
"Moses," God asks, "do you think God Almighty is limited in power?" And if you read on ahead in this chapter, you'll find that God does have the power to work in a seemingly natural way to provide for the people's needs. God brings forth a great wind that blows in quails and the people feast on stuff game hens and after a month, they're sick of them.
Moses' obeys
For now, Moses obeys God. He calls together the seventy elders into the tabernacle. While Moses and the seventy huddle in the tent, the Lord descended in a cloud and takes some of Moses spirit and sprinkles it upon the seventy. I'm not sure why God didn't just give them some of his own Spirit. Maybe God wants to emphasize Moses' leadership.
Then everyone begins to spout prophesies, including two men back at the camp. These guys, it seems, were supposed to be with the rest of the men. We're not told why they didn't go to the tent, but they too show signs of the Spirit. People become alarmed. A kid runs to tell Moses about what's going on.
Before Moses has a chance to react, Joshua, his second in command, steps in and demands the men be stopped. Moses, however, refuses. Notice how Moses handles this situation. Like God had done to him, he gently rebukes Joshua with a question, "Are you jealous for my sake?"
God's Spirit is free
A key to understanding this passage is the truth Jesus taught Nicodemus. The Spirit of God is like the wind and will blow whenever it so desires.[2] We can't control the wind, no better than the disciples could control the tongues of fire on Pentecost. God's Spirit is that way. We have no control over it; we're at God's mercy.
Moses' life is a testimony of trusting God
Moses understands. The life of Moses is a testimony to the power of the Spirit, a power that changes and redirects human lives. Moses is our example. God changed him so that through him, God could offer hope to an entire nation. Moses experiences this power firsthand. While he'll question God, he knows better than to try to control God,. He's willing to let the two men continue prophesying.  
Joshua, a Presbyterian?
Joshua, on the other hand, wants everything to be neat and in order. He's the good Presbyterian in the group.[3] To him, it just doesn't seem right someone outside the assembled group in the tent would behave in such a fashion. "It's bad for morale," he concludes. Maybe he thinks these guys will undermine Moses' authority.
We should give Joshua credit, he's loyal to Moses, but he fails to understand the powers with which they deal. God's Spirit is beyond even Moses' control. Ultimately, it's not loyalty to Moses that matters. The question Joshua should have asked himself, (and we should all ask ourselves) "What is the will of God?" Are we loyal to the God who creates, redeems, and sustains all life?
Understanding God's freedom
When we try to control God's spirit, we get into trouble. God's ways are not our ways. We don't always understand what God is doing, even when God works through us. What's important is for us to be open for God movement. We need to spend time studying his word and being in fellowship with him and other believers so that when God's Spirit beckons, we will hear the call and respond.
Be careful of what we ask
Be open to the leading of God's Spirit, but there is a second underlying theme that I want us to briefly consider. You've heard, I'm sure, the old saying, "be careful what you ask for, you just might get it." This might have been the occasion the proverb was first used. It would be like us praying for rain and getting a flood. Or wanting some peanut butter and having to endure a whole jar. We got to be careful of what we ask and expect from God, we might just get it…
The Hebrew litany 
The Hebrew people constantly bickered with Moses during the Exodus journey. Their litany, which they continually recited, went something like this:
Why did you bring us out here? To be killed by the sword?
Why did you bring us out here? To die from thirst?
Why did you bring us out here? To starve to death?
Why did you bring us out here? To die of boredom from a bland diet?
These people had a hard time trusting the Lord, even though the Lord always came through. God saved them from Pharaoh's army. God provided water when their lips were parched, and manna when their stomachs growled. But it was never enough! Instead of taking stock with what they had and giving thanks, they always wanted more. And when they had enough, they wanted something better.
Before demanding more, be thankful
Now, I don't think it is wrong, in and of itself, to desire better things. Hard work is a good. It's the foundation of free enterprise capitalism and helps improve our world. But we must be careful! It's wrong to want more without giving thanks for what we already have. As believers, we must bring our desires into alignment with God's will. Otherwise, like the Hebrews in the wilderness, we'll be miserable. Only when we are content with what God supplies, will we find contentment.
Who should we emulate?
My advice, after considering this passage:
We shouldn't be like the people of Israel, only looking out for ourselves and wanting more.
We also should not be like Joshua, jealous of others with God's power.
Instead, we should strive to be like Moses, open to God's leading!
Be ready for the Spirit to act
If we are open to what the Spirit is doing, we too can be good leaders. But we should never forget that it takes more than just us. It takes God's Spirit working in our lives and in the lives of others. Like Moses, we can never be a leader in a vacuum. We depend on others, and we depend on God's Spirit if we want to be of use in building up the kingdom. This is what Pentecost is all about: God empowering us to further God's kingdom.
We have a God of power who can enable us to do wondrous things. Do you believe it? Are you open to God's spirit in our lives, in the life of our church, our community and our world?  If so, hang on! God might surprise us still. Amen.
Commentary consulted
Philip J. Budd, Word Biblical Commentary: Numbers (Waco, TX: Word Books, 1984), 122-131.
---
[1] Pentecost is fifty days after Easter and is also known as Whitsunday. It was also a Jewish celebration and pilgrimage following the wheat harvest. In time it became known as when the giving of the law occurred on Sinai. It was on this day, according to Acts 2, that the faithful had gathered and the Holy Spirit descended upon them, sending the disciples out preaching. This is why some see it as the "birthday" of the church, but that date could also be the date Jesus says that he would build his church upon Peter the Rock (Matthew 16:18), or in the sending out the disciples (Matthew 10:1), or the 70 to do mission (Luke 10:1-10).
[2] John 3:8.
[3] We Presbyterians take seriously what Paul says about "decently and in order." See 1 Corinthians 14:40.
---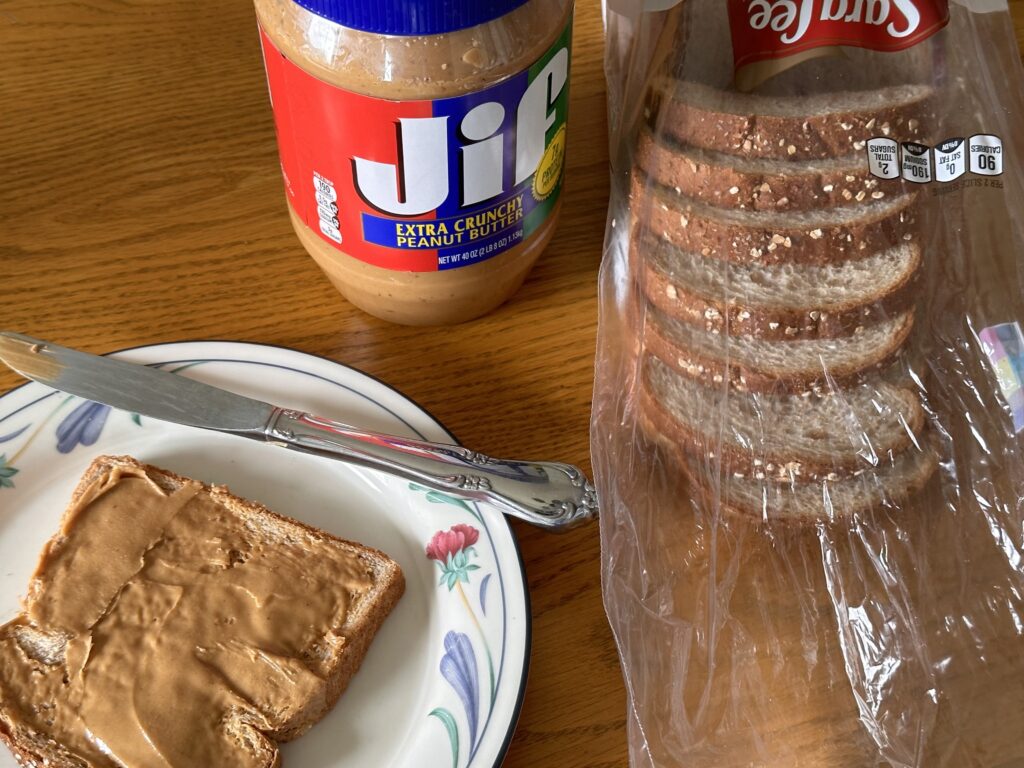 It seems the old 3 pound jars of peanut butter are now 2 pounds and 8 ounces.