I am heading to a conference at Ghost Ranch, a Presbyterian Conference Center in North New Mexico, so there will be no sermon this week. Instead, let me catch up by providing three short (for me) book reviews of works I recently read (or listened to the unabridged audio book).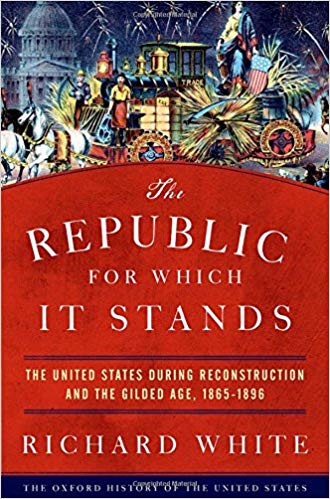 Richard White, The Republic for Which It Stands: The United States during Reconstruction and the Gilded Age, 1865-1896 (Oxford, 2017), 928 pages
This book is a part of the Oxford History of the United States collection. Richard White is a noted Western United States historian and author of It's Your Misfortune and None of My Own: A New History of the American West (Oklahoma, 1991).  It's a massive book that begins with the death of Abraham Lincoln and ends with the election of William McKinley.
White merges together two eras that are often separated by historians: reconstruction and the Gilded Age. He makes the case that the two should be connected. This was the age that America was rising to its world prominence. It was also an age where the country was growing rapidly, especially through immigration. As a uniting theme for this period, White choses the home. The home found itself under attack as the country shifted from the home being the basis of the economy dependent on small farms to a nation of industry where workers toiled for wages. Although politicians on both sides of the aisle would lift up the home as the ideal, the home (as the White Protestant ideal) was under attack and rapidly changing during this period. Economically, this was the period of the gold standard. White's knowledge of the West, where mining had a vested interest in bimetallism (using both gold and silver for currency), helps him to navigate this debate. Another economic concept that was highly debated was the meaning of labor. As the economy changed from farming to industry, who free were corporations and workers to collectively bargain. This leads for long discussions about court decisions, especially around the 14th Amendment.
In the book's forward, it was noted that a grammatical change occurred within America following the Civil War. Before the war, people would say, "The United States are…"  After the war, people would say, "The United States is…" During this era, in which America filled in the vast territories of the West with states, the United States became the country we know. Only a handful of states were added after 1896.
I enjoyed this book, but then this is the period I have studied the most. My first college class, taken in the summer between high school and college, was a history class that focused on United States and Europe from the 1870s through the First World War. And I would later write a dissertation in this era, focusing on the church's role in the Nevada mining camps. White covers a lot of material in this book (and his lists of sources at the end of the book could keep a historian busy for a lifetime). This is a wonderful addition to the Oxford History of the United States collection.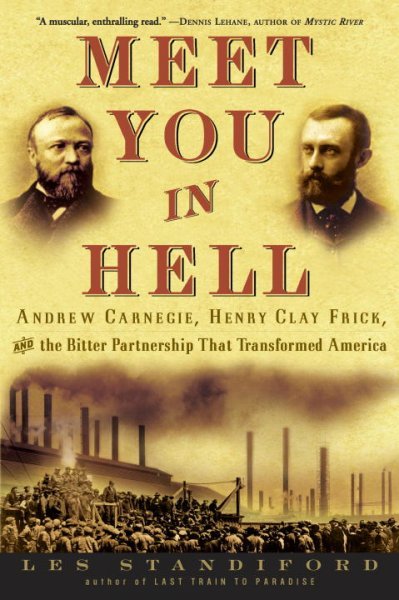 Les Standiford, Meet You in Hell: Andrew Carnegie, Henry Clay Frick, and the Bitter Partnership That Changed America (Broadway Books, 2006), 336 pages
I listened to an unabridged copy of this book.
This was my third book by Standiford and I have enjoyed them all. I have twice read Last Train to Paradise, which is about Henry Flagler and the building of the East Coast Florida Railway to Key West. I have also read The Man Who Invented Christmas which is about Charles Dickens and the publication of A Christmas Carol.  As with his writings of Flagler, in Meet You in Hell, Standiford turns again to industrial titans of the late 19th and early 20th Centuries, looking at the partnership between Andrew Carnegie and Henry Clay Frick. When Carnegie merged his steel empire with Frick's coal and coke (a purified form of coal used in steel making), a mighty industry began that eventually led to the corporation known as United States Steel. But it wasn't a smooth partnership. The two were willing to stab the other in the back, which led to bitter conflicts in both business and in politics (their last great rivalry was Frick opposition to what became the League of Nations, while Carnegie supported the effort to bring nations together in order to end war. Although a "peacemaker", Carnegie made a lot of money supplying steel plates for the American navy.
The title comes from a request from Carnegie to meet with Frick shortly before his death. Frick's responded back, "I'll meet you in hell," noting that he felt that was both of their destinations in the life to come.
The highlight of this story is the 1892 Homestead Strike. The strike occurred while Carnegie was summering in his native Scotland. Frick played hardball with the miners, bringing in Pinkerton's which led to a bloody stand-off. Frick himself was even shot, but not by a striker. An anarchist attacked Frick following the strike. To the workers Frick became a hated man. Many thought it would have been different had Carnegie had been at the helm.  In fairness to Frick, Standiford points out how Carnegie also undermined unions even while speaking positively about them.
In addition to providing insight into their business partnership, this book provides short biographies of both men and covers their life after they had made their fortunes. Carnegie went on to build libraries and establish foundations. Frick established a top-notch art gallery in New York and also a large park in Pittsburgh.
In the last chapter, Standiford attempts to link the early 21st century with the ending of the 19th century. While there are similarities (little wage growth for workers, few union members, expansive growth and income for corporations and management), I think he's stretching it as we are in completely different economies. Still, as one who has read several books about Homestead, I enjoyed and learned much from this book.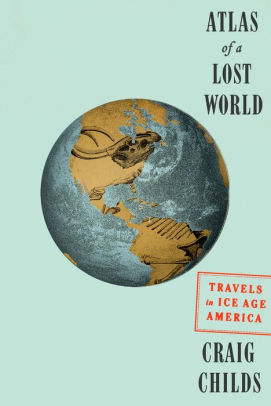 Craig Childs, Atlas of a Lost World: Travels in Ice Age America (Pantheon Books, 2018), 270 pages.
Like the above two books, this is also a history book, but it goes back a lot further and covers a time frame that extends from roughly 30,000 years ago to 12,000 years ago, at a time where North America big game hunters were going after mammoths animals that make the modern day bison appear puny, The book is also a travelogue in which the author spends time on the Bering land bridge and popular hunting areas from the Pacific Northwest to Mexico and east to the Florida panhandle. At each site, Child's informs the reader about the tools used to hunt the animals and theories as to how they lived, while imaging what it the area would have been liked during the ice age. Childs and his companions suffered to cross Alaskan mountain ranges and to deal with a buggy and wet campsite in Florida. On another occasion, they play-act the last great hunt of the beasts who were gone from the Americas over 13,000 years before Europeans arrived. At another site in Northern Minnesota, Childs freezes his butt off camping in the winter.
Atlas of a Lost World was interesting. I learned a lot about tool making and Childs personal relationships (he and his wife split up somewhere between Alaska and Florida, I'm not sure where), but I felt the book lacked a purpose that could have strengthened it. Childs does attempt to link the dying off of the great mammals with climate change, but that seems a little stretched. Certainly, the reader comes away from the book understanding that change is constant on earth, as species die and others adapt.
Childs is an accomplished outdoorsman, but I question his knowledge of poisonous snakes in the Southeast. He seemed to be overly concerned with the deadly poisonous cottonmouths (water moccasins) dropping from trees into boats. These snakes aren't known for climbing trees. There are several types of water snakes, some with similar markings to the cottonmouth, who do climb trees, but they are not poisonous. Of course, it's more exciting to worry about a poisonous snake dropping in one's boat. A cottonmouth might still fall into a boat, but not from a tree. They are known to sun on logs and if you bumped the wrong log with your canoe, the snake might slide off in an attempt to get away from you and end up where you don't want him.
This is my third book by Childs, who is by training a water hydrologist. The first book I read of his is my favorite, The Secret Knowledge of Water. I later read The Soul of Nowhere In this work, he studies another long-gone group of people, the Anasazi, whose civilization flourished until around the year 1200, when they seemed to die out, although they are probably the ancestors of the Hopi, Navajo, and other Native American tribes in the American West.