From my recent readings. They're all different! 
Anjali Sachdeva, All the Names They Used for God (Siegel & Grau, 2018), 257 pages.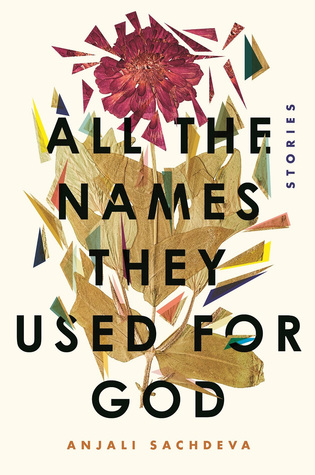 This is a collection of short stories and the first book by Ms. Sachdeva. I heard Sachdeva read from her book last summer when I was at the Iowa Summer Writing Festival. She held a reading at the Prairie Lights bookstore. I was impressed with her writing and that she's from Pittsburgh!  I purchased a copy of her book, read a couple of stories and put it down. Almost a year later, I picked the book back up and reread some of the stories along with the others. Each story is a surprise..
The stories are all unique with a bizarre twist. Some are darker, such as Pleiades," which tells the story of a scientific couple who, in the interest of science, gives birth to seven twin sisters. Then slowly, they all die off.  In "Killer of Kings," she tells the story of an aged John Milton as he writes Paradise Lost. While this is the only historical character in the stories, even this story has a twist with an angel sent as a muse and scribe for the blind poet. Some stories seem more normal, like "Logging Lake", where couple set out hiking in Glacier National Park. But she disappears, leaving everything behind. Did she run off with the wolves? "Robert Greenman and the Mermaid" tells the parallel story of a mermaid who is drawn to a shark while she lures fishermen. The details of the commercial fishing shows Sachdeva's research into the stories. Another story, "Manus," is a dystopian world controlled by aliens. The story that provides the title of the book, "All the Names for God," recreates the lives of the girls in Nigeria who were kidnapped by Islamic terrorist and, because of their special powers, are able to exact revenge.  While all the stories have twists, they're all different, but a delight to read and leaves the reader with something to ponder.
###
John Vigor, Things I Wish I'd Known Before I Started Sailing, (Dobbs Ferry, NY: Sheridan House, 2005), 187 pages.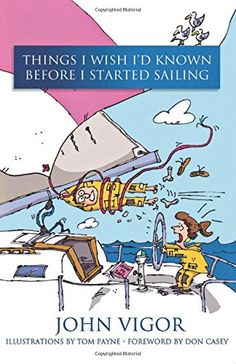 Maybe I should have read this book ten years ago. Instead, when I started sailing, I picked up a copy of John Rousmaniere, The Annapolis Book of Seamanship, which is very serious and covers a little of everything. Since then I picked up a few other books that deal with sail shape and racing techniques, which I can only take in small chunks at a time (or I can read them and quickly fall asleep). But this book was fun to read. It's sort of a dictionary to random things about sailing. Each entry, which appear alphabetically (there are approximately 200 of them), covers different topics. By drawing from a variety of entries, one learns incredible things. Like the chance of a boat being hit by lightning is 6 in 1,000 (according to the insurance industry). But you'll probably not be hurt, but you might if you're hugging the mast or holding on to a wire shroud. But it's more likely that lightning will blow out your electronics. However, occasionally it's been known to blow a hole through the boat in which case you're really screwed because a 2 inch hole a foot underwater will allow 4000 gallons of water an hour to seep into your boat (and what self-respecting lightning bolt only blows a two inch hole into anything). But 4000 gallons of water an hour is about a 1000 gallons more water than a good bilge pump can remove, so you'll be playing a losing game. But that doesn't matter because with your electronics fried, your bilge pump won't work. This led me to look at his recommendations for life jackets (or PFDs, and there's no entry for what is essentially an important piece of equipment when you have a two inch hole in the hull). There is, however, an entry for life rafts. The author basically says they're worthless.  Despite this, there's some good information in this book and it's conveyed in a humorous manner.
Just in case you wanted to know, there are also some formulas that are obviously provided as a way to make celestial navigation seem easy. To determine how much water will be flooding into a boat, one only has to take the diameter (in inches) times the square root of the height the water must rise to equal the outside water level (or how far below the water level the hole is). By the time you've done this calculation, you're probably no longer breathing air. Another helpful formula predicts the resistance of a given boat to capsizing. All you have to do is to divide your boats displacement (in pounds) by 64, find the cube root of that number. Take the beam (in feet and tenths of a foot) and divided it by the cube root above. If your answer is less than 2 you boat is relatively safe from capsizing. It would be advisable to do these calculations before you sail into a rogue wave, and regardless of your boat's number on the capsizing scale, you might want to put on your PFD while the wave is still on the horizon. Remember the Poseidon Adventure!
Of course, don't think this is a technical book. The author also discusses luck and suggest that the most valuable instrument in sailing around the world is a depth finder. And there is ideas for a "boat renaming" ceremony to placate the ocean gods.
###
Alice Outwater, Wild at Heart: America's Turbulent Relationship with Nature, from Exploitation to Redemption, read by Joyce Bean (2019), 9 hours 31 minutes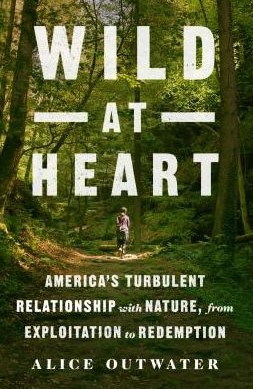 Outwater has written a history of America's relationship with nature, and how we have moved from seeing nature something to be conquered and tamed, to something with value to be preserved. She begins by discussing how several Native American tribes approached nature. The Hopi saw themselves as guardians of nature. The Abenaki sought balance with nature. And the Chinook gave thanks. I was beginning to think she was going back to an idea that we just had to go back to how the tribes lived, but that was not her purpose. Instead, she sat out the beginning of our thoughts about the environment. Then she moves on to discuss the idea of the "commons." What isn't owned by an individual, but is seen as owned by everyone and about to be exploited. At one time, land was seen in this way, until it was "claimed" and "used." The air and the water, until more recently, was seen this way, which led to people dumping all kinds of stuff into his "common" space. But over time, we realized how it is all interrelated.
I found it interesting how the pollution of our rivers began as an attempt to "clean up" urban areas as we tried to get sewage out of the streets. Treatment centers came about relatively recently and have resulted in much cleaner rivers. The same is true for air.
I had a sense that she was attempting to make a political wake-up call for Republicans. From Teddy Roosevelt, to Nixon, Reagan, and the first Bush, she lifted up achievements in how they have worked toward or approved attempts to save wilderness, to clean water and air, to reduce acid rain and save the ozone layer, all which have been somewhat successful. But the danger of rolling back such gains for short term profits, as she has more recently seen, is problematic. Instead of being a doom-day prophet, she calls for rational approaches to the use of resources. She sees the removal of dams, the attempts to rebuild species that have been nearly wiped out by hunting or habitat loss, as positive signs that we can move quickly to address climate change.
This is a good book to understand how our views of nature has shifted over the years. I listened to the Audible version of this book.