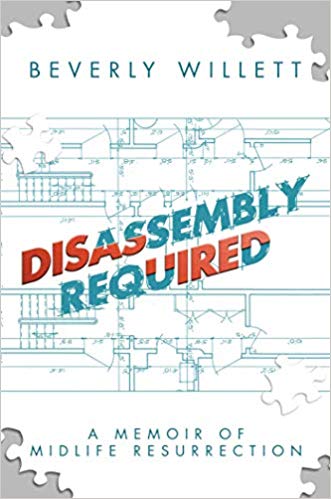 Beverly Willett, Disassembly Required: A Memoir of Midlife Resurrection (New York: Post Hill Press, 2019), 269 pages.
The framework of this story is rather simple. The author sells her home in Brooklyn, New York and moves to Savannah, Georgia. But we quickly learn that this was not an easy decision. Willett had placed so much hope in the brownstone house she'd sold. It was her nest where she raised her children. But eventually, she would be the only one living there. Her husband had abandoned her for another woman, and the house held the memories of when she had learned of his betrayal. The house also held the memories of her daughters, but once the last had started college, the big house was lonely and too much to maintain. Knowing the difficulty to keep the house and feeling she needed a new start, Willett decided to sell. Once that decision is made, there is much to be done as the reader learns about hoarding and the decisions to be made about saving and storing stuff, along with our reluctance to let go of stuff.  Then there's the work to be done to prepare the house for market, the real estate listing, the waiting, and finally selling of the home so the author heads south.
This story is more than just what is required to sell a house. It's a spiritual journey as the author struggles to come to term with her relationship to stuff. The house is part of her, as is all the stuff that is in it. Likewise, the people around her (like here) are changing. Willett, who grew up a Southern Baptist who had married a secular Jew, discusses the role her faith plays as she comes to depend on it more and more as she becomes more active within an Episcopal congregation while also spending time learning the wisdom and mediation practices of Buddhism. The reader will identity with Willett as she makes this transformation that eventually leads her to her new life in Savannah and perhaps learn for her new wisdom. I recommend this book to all readers. I expect those going through difficult mid-life changes would find this book helpful and encouraging.
I am a friend of Beverly Willett and have been in a writing group with her that meets at Flannery O'Conner's childhood home in Savannah since 2015. I purchased the book and did not receive compensation in exchange of writing this book review.