Jeff Garrison
Mayberry and Bluemont Churches
August 8, 2021
Daniel 1:1-7
Introduction at the beginning of worship
This Sunday I'm going to begin another series of sermons, this time through the Book of Daniel. This is an interesting and somewhat controversial book within what we call the "Old Testament." While the Jewish Bible contains the same books as our Old Testament, they are arranged differently. While we think of Daniel as a prophet, the Jewish Bible has him as part of the writings, that include books like the Psalms, history, and wisdom literature.[1]
There are other controversies. Daniel is not the most accurate historian. His dating of events is, at times, in conflict with other books in the Old Testament.[2] He also gets some details confused. In today's readings, we're told of King Nebuchadnezzar siege and defeat of Jerusalem. At the time, Nebuchadnezzar wasn't king. He was the crown prince, but shortly thereafter became king. But this is a minor fact.
There is also a debate among scholars on the dating of the book.[3] Was it written in Babylonian or later, probably in the second Century before Christ? Or, as I tend to lean, was the book written at a later day collecting stories that came from Babylon.
While the dating of Daniel is uncertain, what's certain is that the book involves how one might live faithfully when society challenges one's faith. When we consider the book in this light, there is much that we can learn and apply to our lives today. Daniel offers hope, for we learn that despite what happens, God is still in control and working to fulfill his plans.
After the reading of Scripture
As you know, I spent two weeks away, one of which was study leave. I settled into a house overlooking the St. Mary's River in northern Michigan. This is where the freighters make their way to and from the mills along the shores of Lake Michigan, Huron and Erie, to the mines along Lake Superior's shores. I was armed with a stack of books for the times when no ship was in sight. In addition to the Bible, my books included a couple of commentaries on the Book of Daniel, Howard Thurman's Jesus and the Disinherited, and a brand-new biography of Karl Barth that has just been released in English.
On the surface, it may seem that these books have nothing to do with one another. Thurman, who was a classmate of Martin Luther King, Jr's, father, wrote for to the African American community in the 1940s. Barth, a Swiss theologian who had taught in Germany, found himself exiled back to Switzerland in 1935 for his criticism of the Nazis. And then there was Daniel.
I found a thread that ran through all these books. I sum it up with this question, "How do we live faithfully when we have lost almost everything?" Growing up in South Florida in the first half of the 20thCentury, Thurman addresses this topic for his readers who were oppressed. In a way, they never had much to lose, except for their dignity.[4] As for Barth, he was forced from a prestigious chair of theology and even lost the distinction to be called, "Doctor" when the German university revoked his title.[5] But both found there was something more important than even than life itself. What's important is to be faithful to the gospel of Jesus Christ. God must come first in all our lives.
The Book of Daniel begins at the low point in Israel's history. Israel has been defeated. Part of the temple treasury now sits in the temples of Babylonian gods.
The first to be exiled to Babylon
Some of her brightest and most promising young men are hauled away into exile. This was the first invasion by Babylon, in 605 BC. Jerusalem would be attacked and defeated two more times by the Babylonians, the last resulting in the destruction of Solomon's temple in 587 BC. That attack resulted in a large majority of the people being led into exile. But that would come later.
What happened to Jerusalem when first defeated is that Babylon, to force compliance in its conquered territories, took some of the leading young men for training in Babylon. On one level, they were hostages. But these dudes were also lucky. They were sent to an elite school, provided with good food and living quarters, and taught by the best teachers.
This is an old strategy still in use. The Chinese Communist party pulls some of the most promising students from their ethnic minorities, often from western China, and relocates them into the eastern part of the country to educated them into the ways of the Han Chinese. Our nation did this with Native American youth, who were relocated to the "Indian School" in Carlisle, Pennsylvania.
The hope of such a strategy is that these "educated" students will become leaders within their communities and encourage everyone to adopt the dominate culture. In Babylonian's case, it was also to have trained interpreters who could speak and write in both languages, which were quite different.
But the problem with such a system is that something is always lost. Those who are taken lose their connections to their families and heritage and, in many cases, their religion.
In the case of the Hebrews taken during the first and second exiles, which included not just Daniel and his three friends, but also Ezekiel,[6]they lost their connection to their homeland. In a way, it seems, they've lost their God. For you see, in the ancient world, a nation's deity was seen as having power only where the people lived. When you were defeated in battle, it was easy to assume your enemy's god was stronger than your god.
God's in control and practices "Tough Love"
However, Daniel makes it clear that the God of Israel, who is the God, with a capital "G", is the God over all gods. In the second verse, we're told that God allowed his own people to be defeated, giving them to the Babylonians.
Obviously, God practices "tough love." We should remember this!
This was a secret for the Hebrews in exile and for those in later generations. The God of Abraham, Isaac, and Jacob is the God of all creation. Nebuchadnezzar could think he was in control. He seemed to have the freedom to steal from the temple in Jerusalem and to give those objects to his own gods in Babylon. But he didn't know that this didn't reflect badly on the God of the Hebrews. Even though he didn't know, Nebuchadnezzar was used by God for a purpose larger than even his kingdom.
Jerusalem finest youth
So, the Babylonians haul off some of Jerusalem's finest young men. We're not told their age, but they're at the point in life that they are considered wise and capable of serving in the king's palace. My guess is that they were in their late teens or early 20s.[7] They are young enough they can still grasp another language, but old enough to have mastered being in the king's service. Now they're entering a three-year program to serve a new king.
The significance of new names
One of the first things that happens when they get to Babylon is a name change. No longer will they go by their Hebrew names. They now have Babylonian names. In a way their identity is stolen. When someone assigns you a name, outside your parents, they are attempting to show their control over you. These Hebrew young men no longer have control over their own lives, as we're going to see over the next month or so.[8]
Roger Kahn, the great baseball writer, wrote about having lunch with Jackie Robinson, the first African American to play in the major leagues. This was a few years after Robinson had retired from baseball. Robinson invited Kahn to lunch to discuss his autobiography.
While eating and chatting, a man came up to their table and said, "Could you be a good boy, and give me your autograph." Robinson blew up, "What did you call me?"
Shaken, the man backed away, and asked again, more politely. "That wasn't what you said," Robinson yell. Then he asked who the autograph was for. When the man said it was for his grandson, Robinson agreed to sign an autograph.
Afterwards, Kahn asked Robinson if he wasn't being too hard on the man. Robinson laughed it off and said, "That'll be the last time he calls a black man a boy."[9]
When you have the power to name, you have power over what you name. This is a Biblical concept that we see in the beginning of Genesis, where God gave Adam the right to name the animals.[10]
Conclusion
Over the next few months, we're going to see more of our four Hebrew friends that we meet in the opening verses of Daniel. They serve as examples of how to live when society attempts to change us in ways that will deny our faith. Daniel is a good book for the church to explore at a time when we have lost influence in the world. From this book, we learn that even though we may have lost influence, God is still God. In the end, what matters is our faithfulness to God.
And the question we're left with, the one we all must answer, when we like Daniel have lost all that is important, is this: is God enough? Amen.
---
[1] A case can be debated as to where Daniel belongs. If one sees apocalyptic chapters (2, 7-12) aligned with Israel's prophetic tradition, it makes sense for Daniel to be a prophet. However, the first six chapters are more "historic" than prophetic and there is also those who like Israel's apocalyptic writings with wisdom literature. With Daniel, you also have prayers. Taking these ideas into account, a case can be made for it to fit within Israel's writings (history and wisdom). For a detail discussion, see the Introduction to Robert A. Anderson's Daniel: Signs and Wonders (Grand Rapids: Eerdmans, 1984), xiii-xvii.
[2] W, Sibley Towner, Daniel, (Atlanta: John Knox Press, 1984), 22.
[3] Anderson, 2-4
[4] Howard Thurman, Jesus and the Disinherited (1949, Boston: Beacon Press, 1996).
[5] Christiane Tiez, Carl Barth: A Life in Conflict (Oxford, 2021), 
[6] The opening of Ezekiel places him in Babylonian before Jerusalem's final fall. See Ezekiel 1:1-3. Also chapters 4-10.
[7] At this point, I disagree with Bill Creasy and his Bible study on Daniel (that Mayberry's Sunday School class is using). Creasy thinks Daniel to be much earlier, around 12, but I am not sure a 12-year-old would have been at the level in their training to be considered wise and capable of serving in the king's court.
[8] Another book that I read while gone was Gregory Orr, A Primer for Poets and Readers of Poetry (New York: Norton, 2018). He devotes an entire chapter on how some poetry, to bring order to chaos, uses naming. The one who names claims a certain about of power. See chapter 8 (pages 160-182).
[9] This recalled from memory from Roger Kahn, The Boys of Summer (1973).
[10] In Genesis 1, God gives the man and woman dominion over creation. In the creation story in Genesis 2, this dominion is shown by giving the man the right to name. See Genesis 2:7.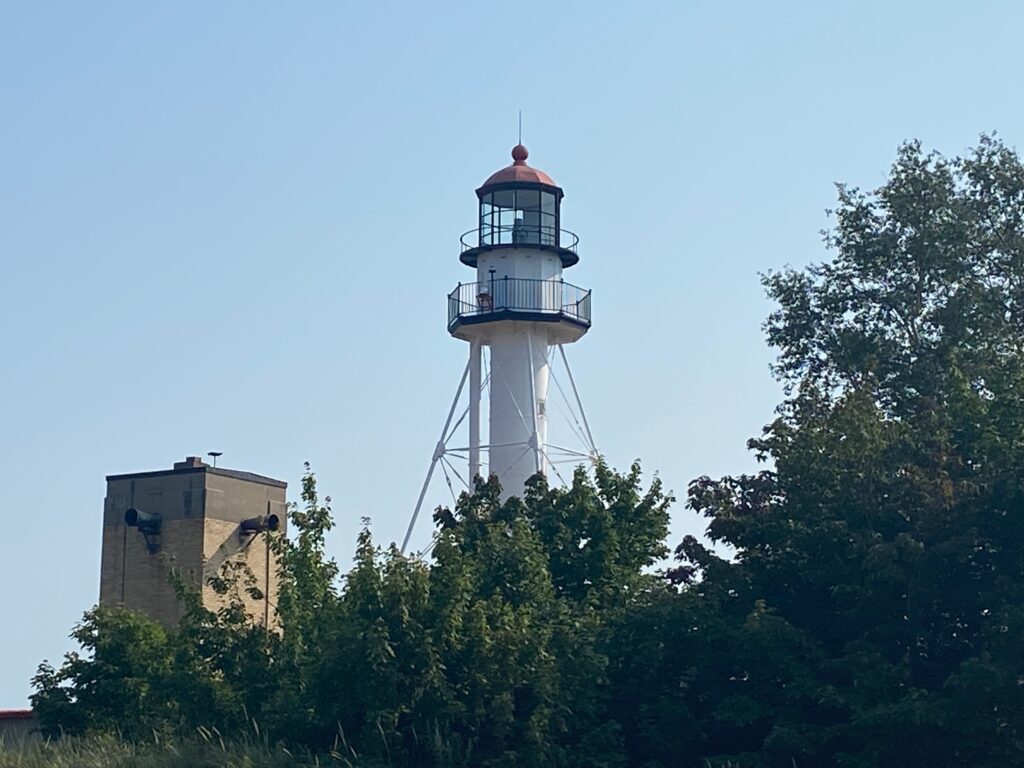 The lighthouse and foghorn at Whitefish Point, MI