Jeff Garrison
Bluemont and Mayberry Churches
August 22, 2021
Daniel 2 
At the beginning of worship
Today we're continuing our look at Daniel. Daniel, as we will see, is like Joseph. If you go back to Genesis, you may remember Joseph's ability to interpret dreams allowed him to gain favor in Pharoah's household.[1] Daniel's ability, through prayer and God's guidance, allows him to grow in statue within the Babylonian court. Daniel makes it clear. He's not the one making things possible. It's God working through him. We should always give God the credit. 
Before reading the Scripture 
I want to provide an overview of the entire chapter. We must handle this chapter as an entire piece, but I won't read it all. It's too long. You might go to sleep. And there is some repetition. I encourage you to go home and read it for yourself this afternoon. 
The chapter opens with the Babylonian king having a bad dream. It's unsettling and he wants to know what it means. He doesn't tell anyone the dream. Maybe he forgot. I've had those kinds of dreams, where I'm troubled, but can't remember just why. Or maybe he assumes that if his magicians, astrologers, and wise guys can tell him the dream, their interpretation will be spot on. However, not knowing what the dream is about, their hands are tied. The king is ready to have their heads. But Daniel steps forward. After praying with his three friends whom we met in the first chapter, he asks to see the king. 
The king dreamed about a giant statue. The head was gold, and as you worked down the statue, each part was created from a less valuable material. A chest and arms of silver, a belly and thighs of bronze, legs of iron, and feet and toes of iron and clay. In the dream, a rock struck the feet and the statue crumbled and was blown away.
Daniel interprets the dream in this manner. The head represented the king. He probably set up a little on his throne hearing that. But kingdoms don't last forever. Inferior materials make up each kingdom following Nebuchadnezzar's. They became less glamours. Then, the rock that no hand has cut destroys it all. Humans built the first four kingdoms. After these human kingdoms vanishes, God establishes an everlasting kingdom.  
The king is pleased, despite the fact his dream indicates that his kingdom won't last long after his death. He promotes Daniel and the heads of all Babylon's wise guys remain safely attached… He also, through Daniel, acknowledges and honor's Daniel's God. However, there is nothing to indicate that the king is converted. Instead, it appears he adds the Hebrews God to his list of Babylonian gods. 
We must remember, that's not good. Our God is a jealous God!
Read Daniel 2 (1-6, 24-28a, 31-35)
After reading scripture
Concern for everyone
On Monday morning, while scanning through my Twitter feed, I came upon one a tweet that hit home. I had just read through Daniel 2. A woman complained that her church, last Sunday, made a big deal out of praying for the Christians in Afghanistan. She commented that only a fraction of the population there is Christian and suggested we should be praying everyone in that troubled nation. 
She's right. If we are followers of Jesus, who teaches us to pray even for the wellbeing of our enemies,[2] we should lift the entire region in prayer. I hope you're doing this. I think our friend Daniel, as we will see in this text, would agree.
Human and God wisdom

Chapter two of Daniel illustrates that human wisdom is limited and will always fall short. Human wisdom calls for us to pray for Christians in Afghanistan, but that should only be a part of our prayer. Instead, we're shown through the story that unfolds in this chapter to depend on God's wisdom. The wisdom of God demands that we love the world God created, and all who are in it. 
Our story
Our story begins with an unhappy king. When the king is unhappy, everyone is unhappy. One commentator describes the situation as what happens when you combine insecurity, anger, and power.[3]
The king wants an interpretation of his dream, but he also has another demand. He expects his interpreter to also tell him the dream. His regular advisors, which include all kind of astrologers and fortune tellers, find themselves stunned at this request. They get something right. The knowledge to know what the king dreamed can only be revealed by someone divine. They're in a pickle for the king is ready to do away with them, if they are not able to do what he demands. Of course, if they can accomplish this task, they'll be richly rewarded.
Then Daniel, whom it appears would also be executed, steps forward. He offers to take this problem to his God. He buys some time and gathers his friends. The four commence to pray. We used this prayer in our call to worship this morning.[4] Daniel is given the answer and goes straight to the king, pausing long enough to have the king's executioner stop sharpening his ax.
This is the point I made at the beginning, of our need to be concerned and for praying for everyone. For you see, Daniel doesn't just save himself, he even saves his enemies. These guys not only worship other gods, they will also later attempt to trap Daniel and his friends.[5]
Daniel's interpretation of the dream
Daniel both describes and interprets the dream. The giant statue has to do with a succession of kingdoms starting with Nebuchadnezzar's. There appear to be four distinct kingdoms which historically have been interpreted two ways. One interpretation of Daniel's interpretation has the four as Babylon, Persia, Greece, and Rome. Another has the four as Babylon, Media, Persia, Greece.[6]
The everlasting kingdom
But the interpretation of this dream isn't what's important for the story. Instead, we see the inability of human efforts to create a lasting kingdom. What's important is God's work in the present and into the future. At some point, beyond these for realms, we have an eschatological vision of the everlasting kingdom. This kingdom is not made of human hands, but by God. In other words, humanly established kingdoms will all end, sooner or later. Only that which God establishes lasts forever. It's a message we see throughout scripture.[7]
The king's response
Our chapter ends with the king of Babylonian, bowing as in worship before Daniel, as he offers incense and grain. We may wonder why Daniel didn't reject such adoration. When Paul and Barnabas were in Lystra, after healing a man, the crowd thought the missionaries were Zeus and Hermes, Greek gods.[8] But unlike those in Lystra, the king recognizes that it's not Daniel, but it is his God who has the wisdom necessary to interpret the dream.[9]
Need for a close relationship to God
Having successfully identified and interpreted the dream, Daniel and his three friends are rewarded by the king. This part of the story, like what we saw from chapter 1, is part folk tale showing Daniel besting the wise men of Babylon. Such stories would, no doubt, delight the ears of the persecuted Hebrews. However, we must remember that the folk tale part of the story is just the surface meaning. The deeper meaning is that Daniel's God, the God of creation, is far more powerful than the pantheon of Babylonian gods.
We should learn from Daniel the need to have a close relationship to God. When in trouble, he prays. Not only did he pray, but his friends join him. He knows if there was an answer to be had, it can only come from Almighty God. Daniel, while well educated in Babylon, was wise enough understand such knowledge wasn't going to help the king's court interpret the dream. So, he goes deeper. He seeks God for help. We should do likewise.
Knowledge is good, but a close walk with God is always better.
Thankfully, for those of us who live on this side of the incarnation of God in Jesus Christ, we can have an even closer relationship with God. Having come to us in the flesh, we know that God knows what our lives are like and what we need. Our task, as followers of Jesus, is to nurture such a relationship in prayer and in study, so that when the need arises, we will have the wisdom of Daniel. Amen.
ã2021
---
[1] See Genesis 41.
[2] Matthew 5:44.
[3] Alistair Begg, Brace by Faith (The Good Book Company, 2021), 33.
[4] Call to Worship and Opening Prayer. (From Daniel 2:20-23a)
Pastor "Blessed be the name of God from age to age,
for wisdom and power are his.
People: God changes times and seasons,
deposes kings and sets up kings;
Pastor: God gives wisdom to the wise
and knowledge to those who have understanding.
People: God reveals deep and hidden things;
he knows what is in the darkness,
and light dwells with him.
All: To you, O God of our ancestors, we give thanks and praise, for you have given us wisdom and power. Amen.
[5] See Daniel, chapters 3 and 6.
[6] For a detailed account of each of these theories, see Robert A. Anderson, Daniel: Signs and Wonders (Grand Rapids: Eerdmans, 1984), 20-25.
[7] As an example, see Isaiah 40:8, Revelation 1:8.
[8] See Acts 14:8-20.
[9] See Daniel 2:47.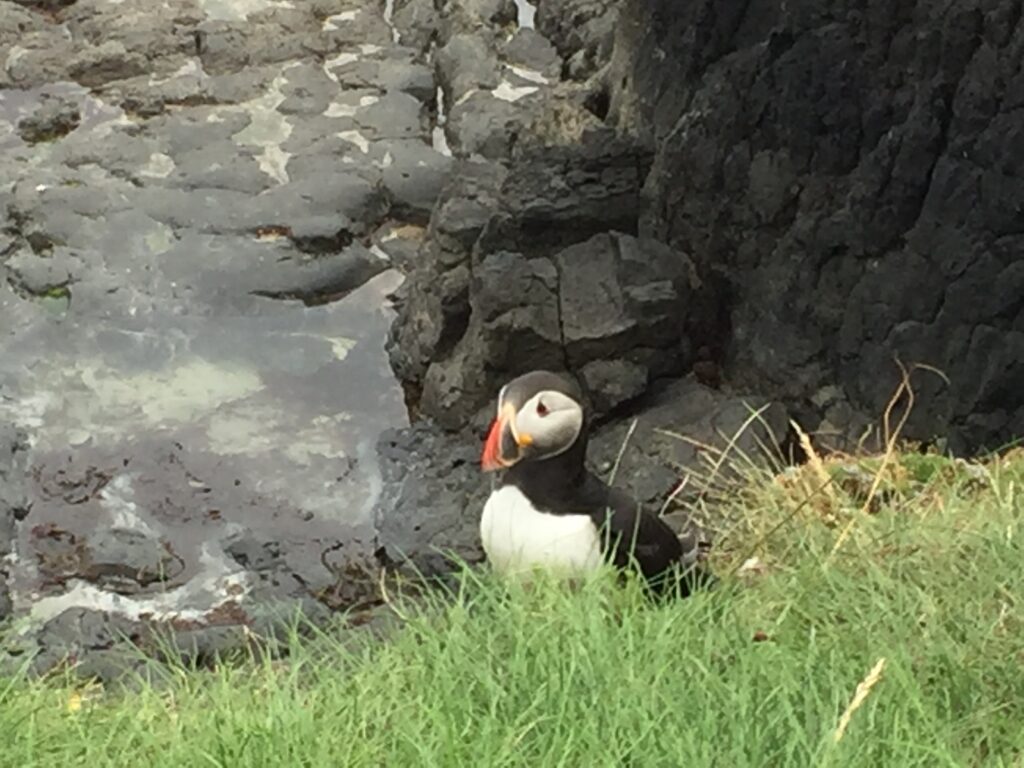 Photo of a puffin taken by the author in Scotland in 2017