In the past two months, I've read a dozen books, but haven't published any reviews. While I don't review every book, I am way behind.  Part of my reason for such much reading comes from my two weeks in the Upper Peninsula of Michigan, when I had lots of time to immerse myself into books. Here's three reviews: 
Roger Kahn, The Boys of Summer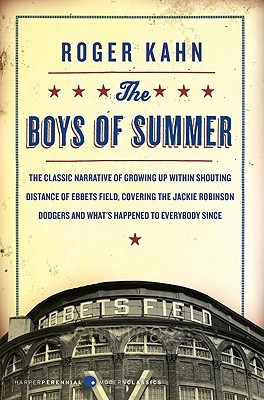 (1971, revised in the 1990s, audio book 2009), 15 hours, 11 minutes.

What a delightful book. I knew about this book for years, but recently decided to listen to it when driving back from Michigan. Kuhn drew me in with his memories of growing up in Brooklyn. At the age of 24, he started covering the Dodgers as a newspaper sports reporter. He worked with the team for just a few good years. They won the National League pennant but lost the World Series to the Yankees during Kahn's tenure as a reporter (they'd later win the World Series and soon afterwards move to Los Angeles).

After telling of his love for baseball (with a father who also loved the game and a mother who wanted him to immerse himself in poetry, music and the classics), he provides insights into the key players during his time with the Dodgers. This was the team that broke the "color barrier" with Jackie Robinson. At the point Kahn begins to cover the team, Roy Campanella and Joe Black, both African Americans, joined Robinson on the team. Sadly, these three greats had rather short major league careers as they had spent many years playing in the Negro Leagues. Many of the others (including some of the African Americans), had shortened careers due to serving in the military during World War II.

The other players who consisted of the team's core include Gil Hodges, Pee Wee Reese, Billy Cox, Duke Snider, Carl Furillo, Preacher Roe and Carl Erskine. While Kahn spends a lot of time with Robinson, I got the sense he especially appreciated the goodness of Pee Wee Reese, a southerner who befriend Robinson and who had a generally good attitude on life.

This book was written in 1970, as Kahn looked up each player and interviewed them about their years in baseball and their life since retirement. It was noted that ball players often retire when their childhood friends are just beginning to build a life for themselves as they enter middle age. They all took different routes. There was a lot of sadness, too. Jackie Robinson's son tragic death after having beat addiction and of Roy Campanella's car accident that left him paralyzed at the end of his career are two examples. There were also failed attempts at business while others did well. I remember reading a biography of Campanella when I was probably in the 5th or 6th grade. It covered his accident, but I don't remember anything about his terrible divorce in which his wife said he could no longer 'satisfy' her. But he did remarry and seemed to have a good life and certainly maintained a good outlook on life.

Kahn updated this book in the late 90s. At this time, many had died. Like Robinson, Kahn also lost a son to drugs. In the later addition, he draws upon Shakespearean themes (which would have made his mother proud) as he speaks of each generation needing to step aside for the next. He also noted his risk on this book. By the time he finished writing it, he was down to just over $200 in his checking account. Then, he immediately was offered of advances of $100,000, one for paperback rights and the other for a Book of the Month selection.
If you like baseball, you'll enjoy this book. Another book I enjoyed about the Dodgers in the 1950s, before moving to Los Angeles, is Doris Kearns Goodwin's, Wait Till Next Year: A Memoir.
Barbara Kingsolver, The Poisonwood Bible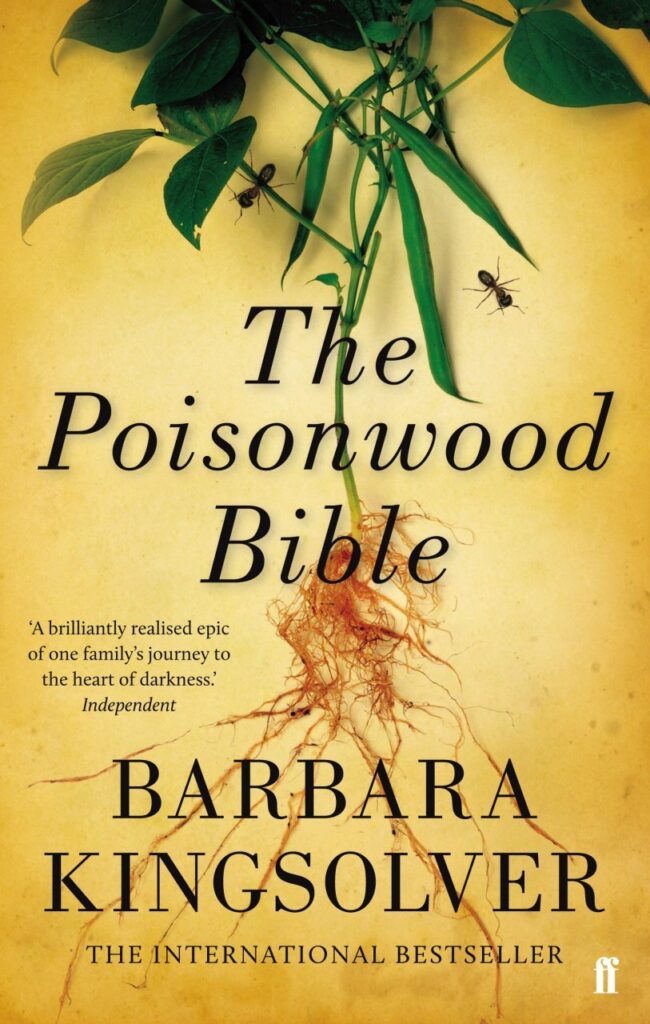 (1994, audible 2008) 15 hours 34 minutes
I have had this on my TBR pile for some time. I finally listened to the audible recording of the book, finishing it up on my drive to Michigan. It is a gem. The author illustrates the turmoil and changes coming to the Congo at the end of its colonial period. Kingsolver draws this picture by telling the story of the Price family from Georgia. Nathan Price, the father, moves his family (against the advice of his denomination) to the Congo in the waning years of the Eisenhower administration. He has visions of baptizing the natives in the river (which the natives know is filled with crocodiles and aren't exactually interested in baptism). Humor seeps through the pages as Nathan attempts to learn the local language but missing some inflection points. Instead of saying "Jesus is the Beloved," he shouts, "Jesus is the poisonwood tree." He doesn't find success.
But this book isn't really about religion or even though Nathan's inability to understand African customs. In a way, he's set up as a caricature of flawed missionary efforts. Ultimately, the book is about Africa and ways the West have attempted to deal with the continent.
The story is told through Nathan's wife, Oleanna, and his four daughters: Rachel, Adah, Leah, and Ruth May. Each of the women are changed by Africa and each (except for the one who dies from a poisonous snake bite) finds a way to survive. As the Congo erupts into violence toward the end of Belgium rule, and as most non-African residents flee, Nathan is determined to stay when he feels he's been placed. In the end, the girls discover bits and pieces of how their father became disconnected with reality and dies.
After the death of her youngest child, Oleanna decides to flee with her daughters and find a way back to America. Along the way, she loses her oldest daughter, Rachel, who runs off with a South African pilot. It turns he's not just involved with ferrying people around and, as they suspected, illegally transporting diamonds. He's also working for the CIA. Seeing him and his plane as her ticket out, she flees. She eventually leaves the pilot for an embassy official, and then him for a wealthy resort owner. Her last husband dies, leaving her with the property. Rich in an improvised land, she provides one insight into how Africa is viewed as she continues as a white "colonizer" who despises the natives.
Leah, another daughter marries an African man whom she befriended. Idealist, she attempts to understand the culture and to help the people as she and her growing family struggle to survive. While she has a struggle, she is also American. As a result, her family can travel to the states for educational opportunities and vaccines. Adah returns to America with her mother and becomes a medical doctor who studies tropical viruses and diseases. The mother grows flowers.
I liked how Kingsolver was able to use different characters to provide us with different points of view. However, I thought the Nathan character to be too unrealistic. It should be to the credit that the mission board who discouraged him becoming a missionary, for it was obvious he had no business being there. We learn a little of his backstory (a World War II wounded vet). It appears he a past to overcome and a need to prove himself. I found it strange that he often quoted from and even taught and preached from the Apocrypha, books which are not in the Protestant canon. I can't imagine any Baptist Church allowing a minister to use these texts that are not within the (Protestant) Bible.
Kingsolver story kept me engaged. I appreciated how she connected to the conflict at the end of the colonial period. In the last half of the book, she quickly covers then next thirty years which showed the conflicts and failures of the troubled continent. A worthwhile read or listen.
Christiane Tietz, Karl Barth: A Life in Conflict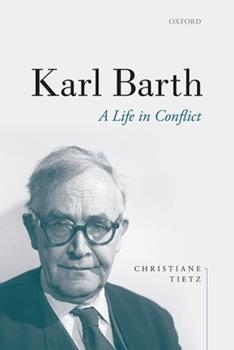 Victoria J. Barnett, translator, (German edition 2019. English edition: Oxford, UK: Oxford Press, 2021.
I'm in a clergy group that reads theology and then gets together once a year to discuss the readings. This year, we've been reading Karl Barth. It's been 30 years since I read Barth, reading his Commentary on Romans a few years after graduating from seminary. When I was a student in seminary, I had the sense that Barth's influence on theology was beginning to wane. This didn't bother me for I often found Barth so wordy that it took him forever to make a point. Yet, a review for this newly translated book convinced me to read it.
Barth was Swiss, but found an early following in Germany, where he studied and became a distinguished professor of theology. In the years after World War 1, he broke with the 19th Century liberal tradition and began to embark on a new direction of theology. This brought him attention around the world. Critical of human ability to understand God, he insisted that only God could speak for God (364). He placed high regard for Scripture. While Jesus Christ is the foundation of the church, the church access to God through Christ is from Scripture.
Then came the rise of Nazism. Barth denounce the Nazis. He involved himself in the Confessing Church movement that challenged the mainstream church who either supported or remained quiet as the Nazis solidified their power. The book goes into detail about Barth's role with the Barmen Declaration that declared that God alone is owned our allegiance. Early in the Nazi movement, pastors and professors in Germany had a "pledge allegiance" to Hitler. This offended Barth and he refused. His thoughts and actions led to his removal from Germany and his honorary doctoral degree being revoked (It was reinstated after the war).
Returning home to Switzerland, he continued to keep an active role what was happening in Germany. For a former pacifist, he even joined the Swiss version of the National Guard and trained for a potential German invasion. At the end of the war, he sought to make peace with Germany and to help both the Jews and the Germans who suffered so much. He also strove to ease the conflict that existed between Eastern Europe and the West. I would be interested in reading more of his thoughts about how the church should conduct itself when under a hostile government as many of the Eastern Europe Churches found themselves as these countries came under communism control. Would Barth provide an insight into how the church might continue in a world that is more hostile to its mission?
I knew Barth was Eurocentric. He certainly carried on a dialogue with European scholars but seemed to ignore American and even British theologians. In another book I have been recently given by Barth on 19th Century Protestant Theology, he limits his survey to the continent. I suspect Barth's Eurocentric focus has led to his decline in status as voices from theologians from around the world became more available. It wasn't till after the war that he made it to the United States (where his son Marcus was teaching). Later in his life, his thoughts even influenced Catholic theology and Vatican II.
While I have not read other biographies of Barth, what I suspect makes this book stand out is the access Tietz had to personal papers and letters between Barth, his wife Nelly, and Charlotte von Kirschbaum. Kirschbaum served as Barth's secretary, but they developed a 40-year relationship ("Notgemeinschaft" was the term they used to describe this relationship). Of course, this put great strain on his marriage, his family, and his teaching. This conflict peaked in the early 30s, as Barth was consumed with the rise of Nazism. While Tietz covers this factually, I found myself playing "psychologist" and wondering how the stress of the world may have led to this relationship which seems to cast a shadow on the remaining decades of Barth's work. Yet, would Barth had been able to complete his massive "Church Dogmatics" without her aid?
I would recommend this book to those interested in 20th Century Theology.