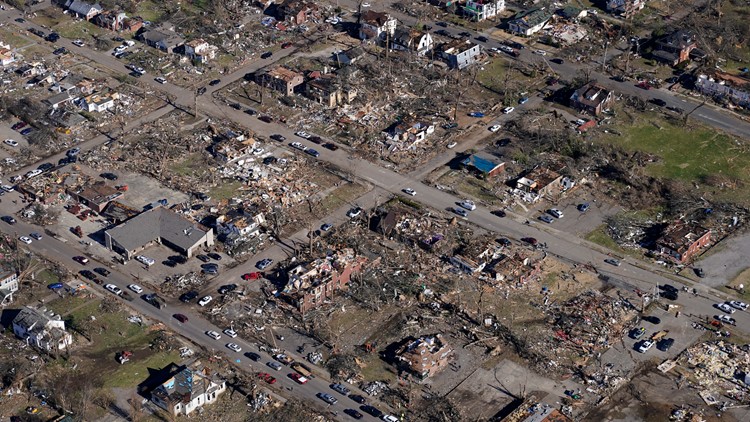 On the evening of December 10th, a storm system produced terrible tornadoes in mid-America. The storm began in Arkansas and moved northeast into Missouri and Kentucky. By Sunday morning, when the clouds cleared and the sun rose, a destructive path, at places a mile wide and over 250 miles long, remained. 89 people dead and nearly 700 injured. 74 of these deaths occurred in Kentucky, 13 in Dawson Springs where nearly 60% of the structures in the town were beyond repair. Just east of the town, the tornado swept an empty coal train, including its engines, off the tracks. It is unusual for a storm to strike so late in the year and to remain on the ground for so long. This storm will go down in history.
A few days after the storm, Libby Wilcox asked about us doing a mission trip to help those who had lost so much.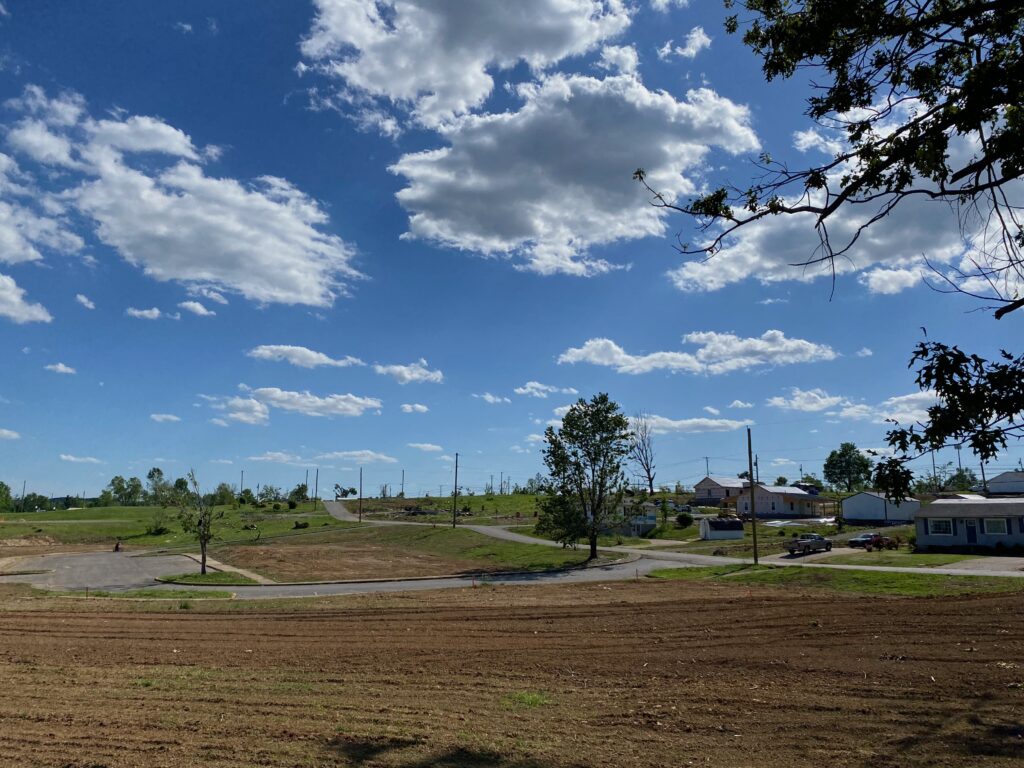 On Sunday, May 15th, after worship, a group of us from Bluemont and Mayberry, two of the rock churches along the Blue Ridge Parkway, headed to Kentucky to volunteer to work. The heavy clean-up was over. Now, where there used to be homes, one can only see the outline of foundations. Those participating in the work group included Libby, Fred and Ann Tanner, Shep Nance, Danny Miller, and me. In addition, we collected towels and sheets to give given to families who had lost everything. Before we left that Sunday, someone gave Libby money to buy our lunches on the drive to Kentucky. People are generous.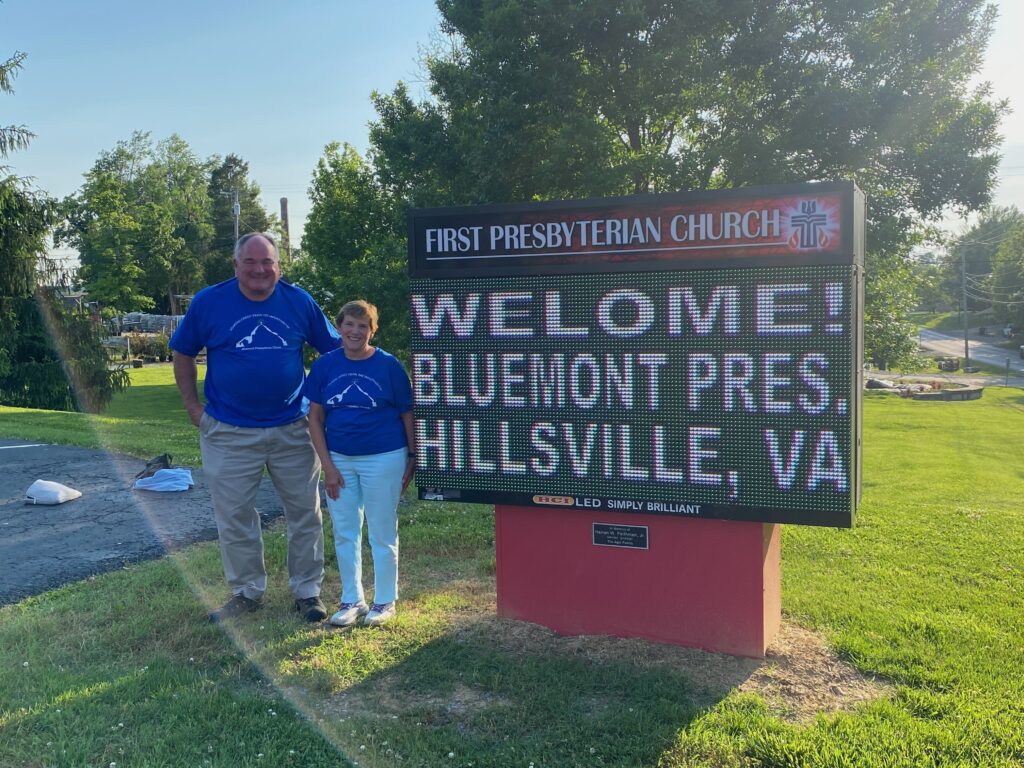 We traveled to Madisonville, where we stayed at First Presbyterian Church while volunteering to help rebuild in Dawson Springs. Before the pandemic, First Presbyterian hosted the "Great Banquet," a three-day spirituality retreat similar to Cursillo or Walk to Emmaus. With COVID, they suspended the retreats. After the storm that struck just south of Madisonville, they decided to utilize their retreat space for outside groups working to help rebuild. The church was a wonderful host, with not only bunk rooms, but shower rooms and a full-sized kitchen. Not only did they feed us on Wednesday night, but they also had an ice cream chest which was open and available when we came back from the worksites.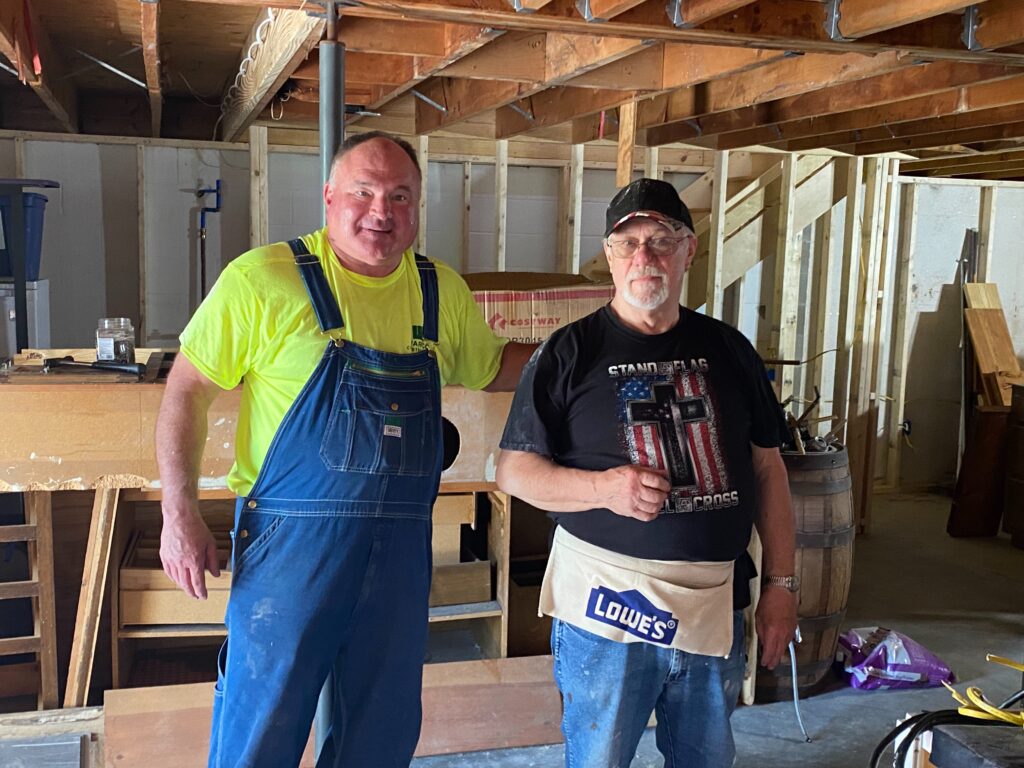 Having been on several such trips, I have learned that each one is different. One must be flexible. Our first day was spent at a home which was on the north edge of Dawson Springs. While the home wasn't destroyed, it required major renovation. Just south of this house, destruction was total. Looking across the valley, where there had once been homes, it was now empty except for a few rebuilding projects.
On Monday, we rewired a basement (which had been partly destroyed by the storm and required metal posts every few feet long the foundation, that held the house to the ground). Several of us rewired while others helped clean up upstairs behind a Methodist team that was working at the site.
Our remaining four days were spent working on a new home a mile north of Dawson Springs. This house replaced one that was totally destroyed. It was for an older woman, and her new home was built next to her daughter's house. An Amish group framed and roofed two "tiny houses." Placed together, making a "T", one section consisted of the kitchen and living area, the other section the bedrooms and a bathroom. We completed the wiring (we were officially working under an electrical contractor, who was responsible and would do the final connections to the panel box). In addition to running wires, we installed insulation and put in blocking so that the next group could commence installing drywall.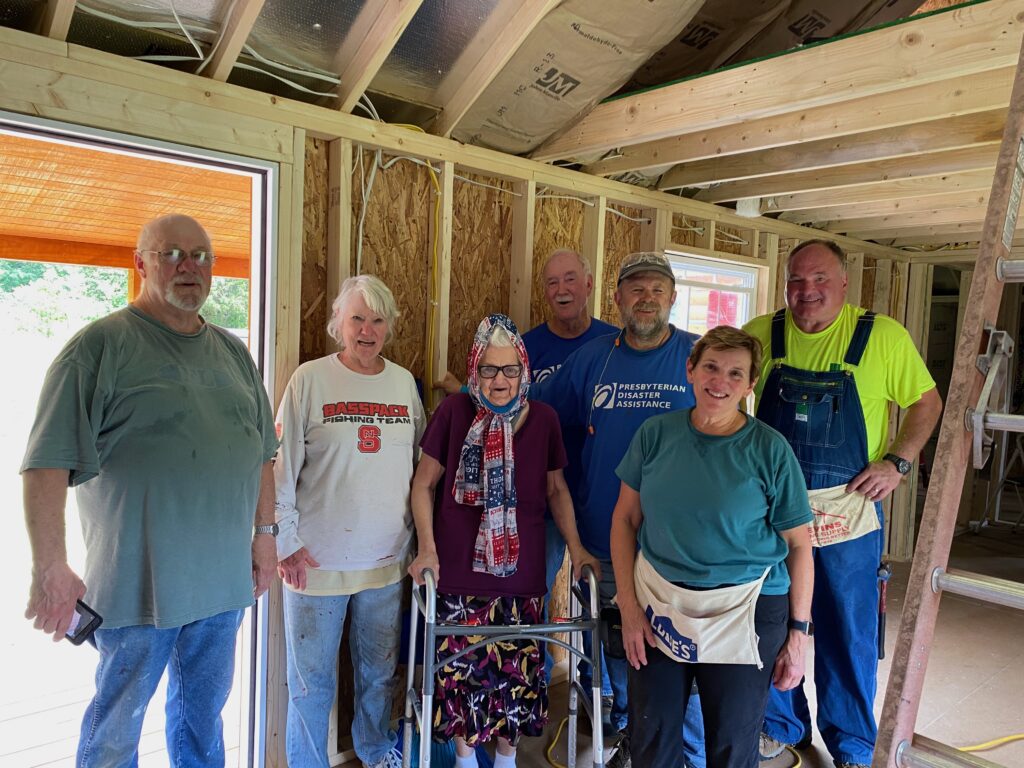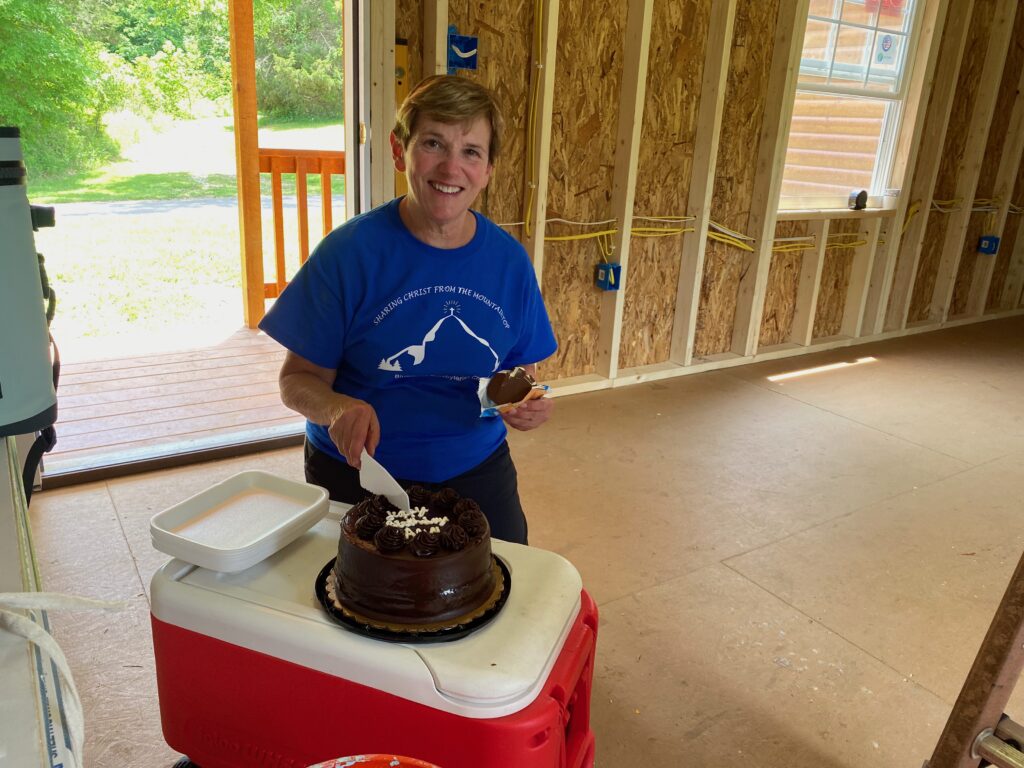 While we made our lunch each day. On Tuesday, we even celebrated Ann's birthday with chocolate cake and ice cream. Then, starting Thursday, the chef from Operation Blessings, treated us to lunch. This group related to the 700 Club in Virginia Beach, supplied the supplies for the house we worked on. Interestingly, Nechama, a Jewish group, donated their tool trailer. We couldn't believe the amount of food the Operation Blessings chef provided(Spaghetti and meatball or meatball sandwiches and cookies on Thursday. Barbecue chicken, macaroni salad and brownies on Friday). With the church's ice cream, this was probably the first mission trip ever where, despite the heat and sweat, we gained weight.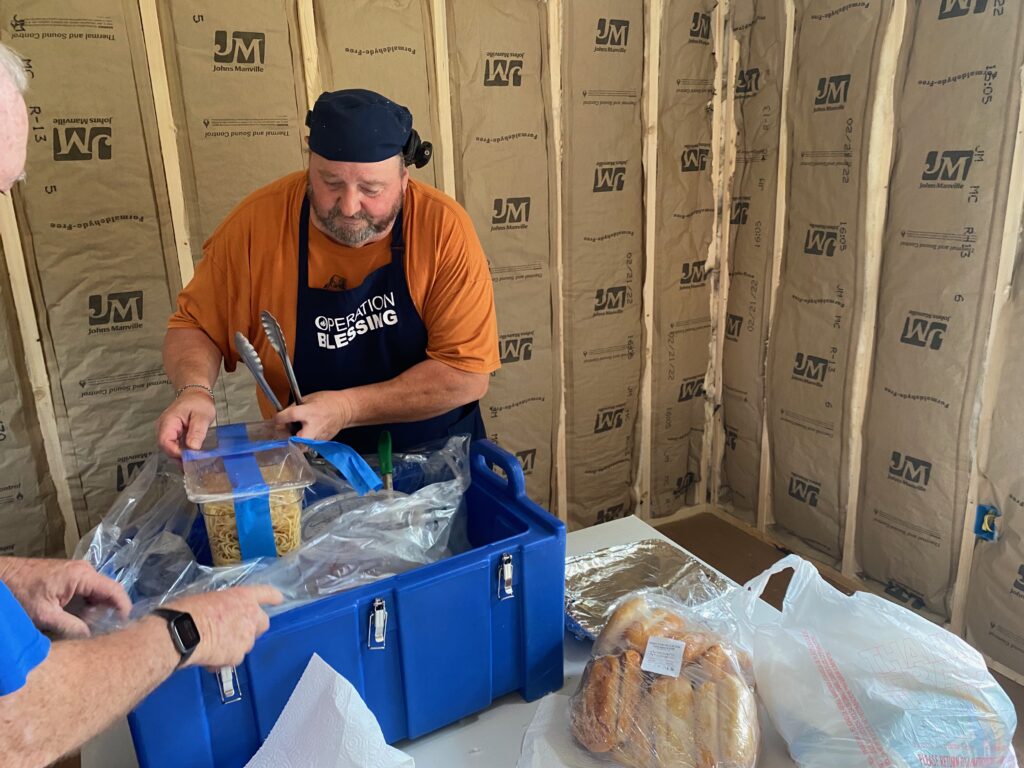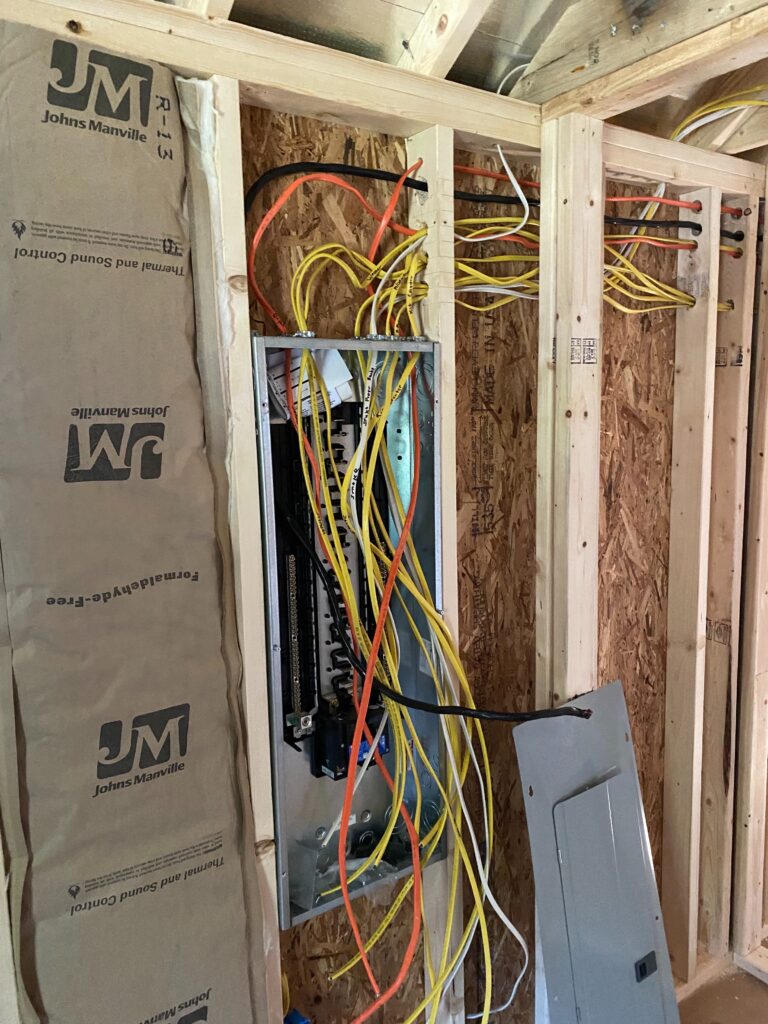 After five days of work, we cleaned up and a group of us went out to Greens Steakhouse in Madisonville. This was a delightful restaurant in an old part of town. We sat upstairs in a balcony, overlooking a piano, where a local musician supplied background music. On Saturday morning, we headed back to the Blue Ridge. The work in Kentucky will take years! It was good to see so many different groups including Habitat for Humanity, Mennonites, Amish, Methodists, Baptist, Jewish involved in rebuilding.