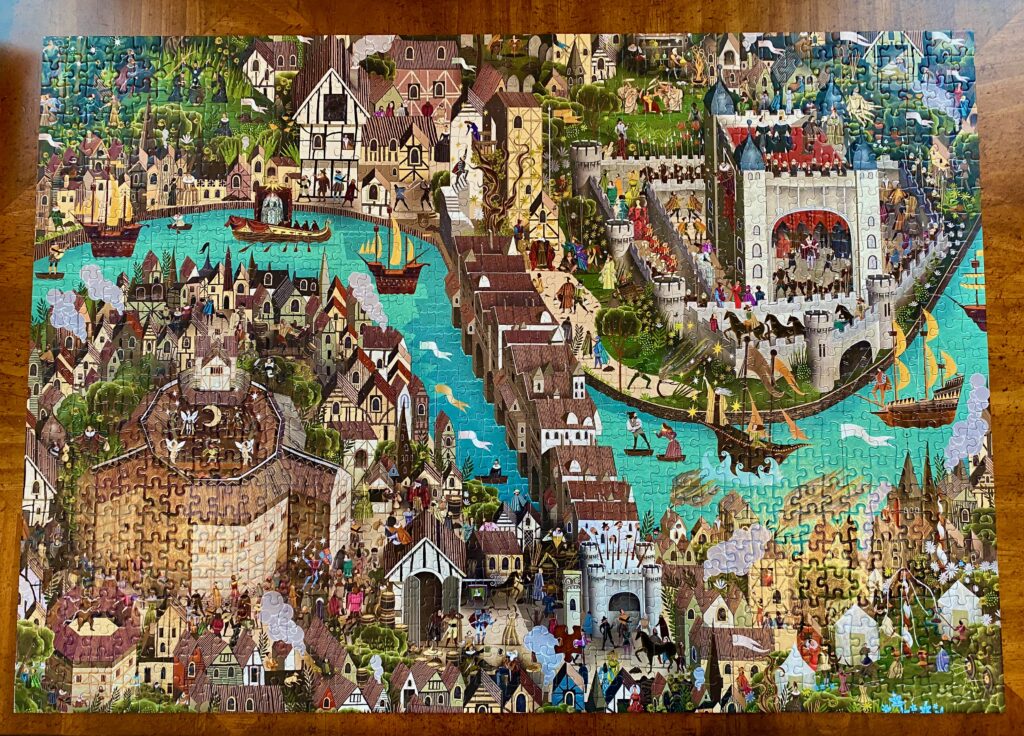 2020 has come to an end. It was a year that we'll not forget. Personally, it didn't rise up to the trauma of 2016 (when I ruptured my quad-tendon, was in the hospital with sepsis following a prostate biopsy, and dealt with a tropical storm and later Hurricane Matthew), but it was still a terrible year. Stuck at home with a pandemic and unable to escape from the political rhetoric made for some long days. Vacations were cancelled. I still haven't been to Fenway Park (which was scheduled for mid-June). And we enter 2021 with much of the same going on. The pandemic is raging and the political rhetoric hasn't tone down. Maybe the best thing to do is to escape into a puzzle or a good book.
The puzzle above was done in our house between Christmas and New Year's Eve. It is of Shakespeare's London and you can see snippets from 16 or so plays within the puzzle, along with others from his era (Queen Elizabeth I, John Donne, Sir Walter Raleigh, Francis Drake). It wasn't the easiest puzzle but a icy rain on Christmas Eve that turned into snow meant there was no reason to get out, so time was put into finding the pieces.
2020 Reading Summary:
Number of books: 53 of which 37 were reviewed in my blog
Categories: History, Biography and Memoir: 18; Bible, Theology, Church: 11, Poetry: 7; Fiction: 6
A few insights into my reading:
-I have now read the first four volumes of Robert Caro's biography of Lyndon Johnson. Like a lot of others who are interested in this man and this period of history, I am impatiently waiting for his fifth volume (the fourth just got us through John's first year in the White House after Kennedy's death).
-Four of the authors I've read are good friends and I have met another six of the authors.
-With the racial troubles our country faces, I found myself reading several African American theologians and a new history of the 1898 Wilmington (NC) racial troubles (or atrocity). One of the books on my TBR pile deals with the Tulsa race war.
-I am spending more and more time with poetry (and I alway read books of poetry at least twice).
-It appears I need to read more fiction!
My favorite books:
In my opinion the best book I read during the year was Andy Rooney's My War, followed by S. C. Gwynne's biography of Stonewall Jackson. This is my second book by Gwynne (I read his biography of Quanah Parker, Empire of the Summer Moon, in 2017). If God is willing, I'll read whatever else he publishes. My favorite fiction book was Steven Pressfield's Gates of Fire, which is a historical fiction account of the Battle of Thermopylae. If you don't remember that battle, don't worry. Ii occurred a few years before our time…
Here's My listing of books read (posted by the order I finished the book), along with links to those I reviewed:
James Clavell, Tai-Pan
Patrick McManus, Kerplunk!
David Swift, Swift: New and Collected Poems
David Sedaris, Theft by Findings: Diaries
Chad Faries, Drive Me Out of My Mind
Marcia McFee, Think Like a Filmmaker: Sensory-Rich Worship Design for Unforgettable Messages
Daniel Okrent, The Guarded Gates: Bigotry, Eugenics, and the Law that Kept Two Generations of Jews, Italians, and Other Europeans Out of America
W. Singer and Emerson T. Brooking, Like War: The Weaponization of Social Media
Andy Rooney, My War
John Leith, From Generation to Generation
John Leith, Introduction to the Reformed Faith (2nd read, first read in 1989)
John Leith, The Reformed Imperative (2nd read, first read in 1993)
S. C. Gwynne, Rebel Yell: The Violence, Passion and Redemption of Stonewall Jackson
David Hallerstan, Summer of '49
Laura Davenport, Dear Vulcan: Poems
N. T. Wright, Surprised by Scripture
P. M. Formi, The Civility Solution: What to Do when People are Rude
David Foster Wallace, This is Water
Eric Goodman, Cuppy and Stew: The Bombing of Flight 629, A Love Story
Paul Willis, Rosing from the Dead: Poems
Nancy Koster, Harriet Beecher Stowe: A Spiritual Life
Harlan Hanbright, The Idiat and the Odd-yssey
Steven Pressfield, Gates of Fire: The Epic Novel of the Battle of Thermopylae
Dave Moyer, Life and Life Only
Rick Wilson, Running Against the Devil
Michael P. Cohen, Granite and Grace: Seeking the Heart of Yosemite
Alice Outwater, Water: A Natural History
Richard Davids, The Man Who Moved a Mountain
Gary Snyder, Rip Rap and Cold Mountain Poems
Nancy Duante, Slide:ology: The Art and Science of Creating Great Presentations
Nancy Bevilaqua, The Gospel of the Throw Away Daughter: Poems
David Zucchino, Wilmington's Lie: The Murderous Coup of 1898 and the Rise of White Supremacy
James Cone, The Cross and the Lynching Tree
Robert Caro, The Years of Lyndon B. Johnson: The Passage of Power
Myrlene Hamilton, All I Need to Know About Ministry I Learned from Fly Fishing
Chrys Frey, Tsunami Crimes
David Lee, Mine Tailings: Poems
John Barry, The Great Influenza
Jesse Cole, Find Your Yellow Tux
Ralph Wood, Contending for the Faith: The Church's Engagement with Culture
Craig Barnes, Diary of a Pastor's Soul
Tim Conroy, Theologies of Terrain (Poems)
Joseph Klaits, Servants of Satan: The Age of the Witch Hunt
Robert Caro, The Years of Lyndon Johnson: Means of Ascent
Esau McCaulley, Reading While Black: African American Biblical Interpretation as an Exercise in Hope
Nancy Bevilaqua, A Rough Deliverance: Collected Poems 1863-2013
Aaron McAlexander, Shine on Mayberry Moon
Billy Beasley, The Girl in the River
Alyce McKenzie, Novel Preaching: Tips from Top Writers on Crafting Creative Sermons
Gary Schmidt, Orbiting Jupiter
Aaron McAlexander, The Last One Leaving Mayberry
Jim Casada, editor, Carolina Christmas: Archibald Rutledge Enduring Holiday Tales