This blessing was read at the end of worship yesterday, June 9th, as we honored Hazel for all she has done for our community. In the afternoon, the Landings Association held a reception for Hazel at the Sunset Room at Delegal Marina.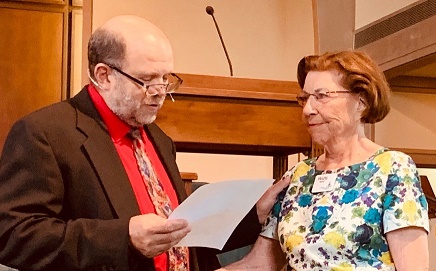 For Hazel Brown
Out of Mid-America you came, four decades ago.
The church was still in the fire barn
and the island mostly uninhabited.
You came with your husband,
looking to enjoy retirement,
as you exchanged the prairie wind
for salty air and water
and the dreams of sailing.
Over the decades you have seen many changes,
as houses were built, an island populated,
and finally even a new bridge constructed.
All the while people came and went,
some moved on and others left this life.
But through it all, you remained positive,
always smiling, never making enemies,
serving as a beacon of hope.
And though retired, you have remained busy.
You cared for a husband and then, after his death, another.
You served as the president of the Landings Association,
secretary of the Kiwanis Club,
a leader of the Coastal Botanical Gardens,
an Elder in your church,
and chair of a pastor's nominating committee.
Hazel, may you know your years of service made this a better place.
We are grateful for what you have done.
And now as you leave us, to return back to mid-America,
to Arkansas, near your daughter, you are entering another stage of life.
Know that we will miss you as we cherish the time we had.
As hard and as sad it is, we understand and send you off with our blessings.
We pray for our Heavenly Father to look upon you with mercy and grace
and to keep you safe until that day when you are called to our true home.
In that new age, when Jesus reigns as our glorious king,
may we be reunited and look back to these days on Skidaway,
a speck within eternity,
and smile.
-Jeff Garrison
June 9, 2019