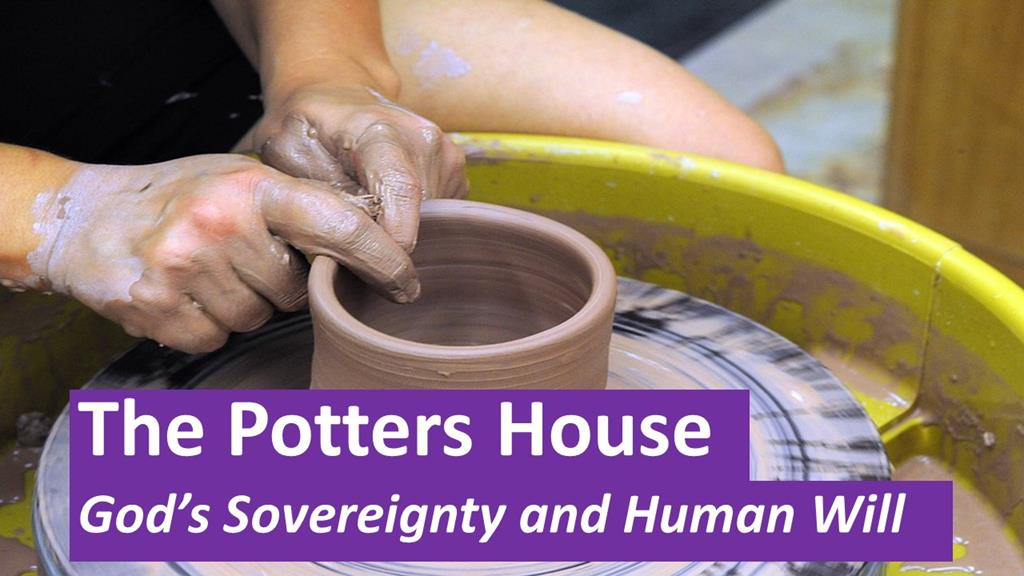 Jeff Garrison
Skidaway Island Presbyterian Church
September 22, 2019
Jeremiah 18:1-12
How many of you have a cabinet at home filled with Tupperware and other such plastic containers? (Raise your hands. Be honest). If your home is like mine, there are a variety of plastic stuff of all sizes. When it comes time to save left-overs, or to pack a lunch for the office, I can always find the size I need. Of course, I then struggle to find the matching lid, but that's another story. Ponder for a moment what would our lives be like without such containers? How would we get by? Now let's go back 2500 years.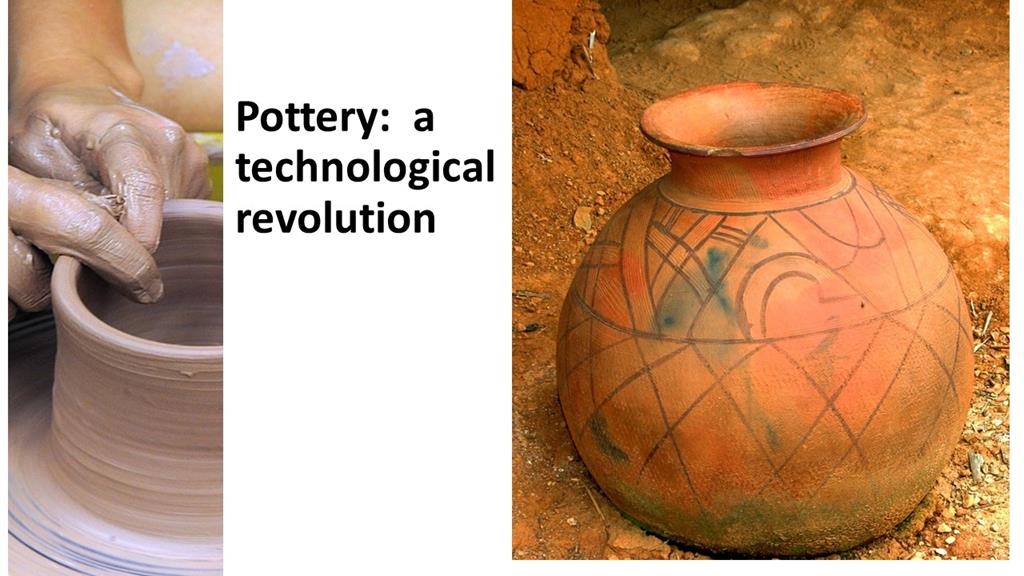 You might be wondering about all this emphasis on pottery as we look at the Prophet Jeremiah. Pottery was a revolutionary technology in the ancient world. It allowed more movement as people could store things in pots, such as water and grain.[1] It provided a better way for cooking. No longer did our ancestors have to roast things over a fire like cavemen. They could make something tasty, adding herbs and spices and making broth. The pottery revolution was one of the great steps in human history that devolved to Tupperware. It allowed our ancestors to settle down. No longer did they have to wander from one source of water and food to another. They could stop and build cities. The potter played an important role in the ancient world. God often uses examples from everyday life to make a point, and with Jeremiah, it was the potter and his work. This morning, we're visiting the potter's house.  Read Jeremiah 18:1-12.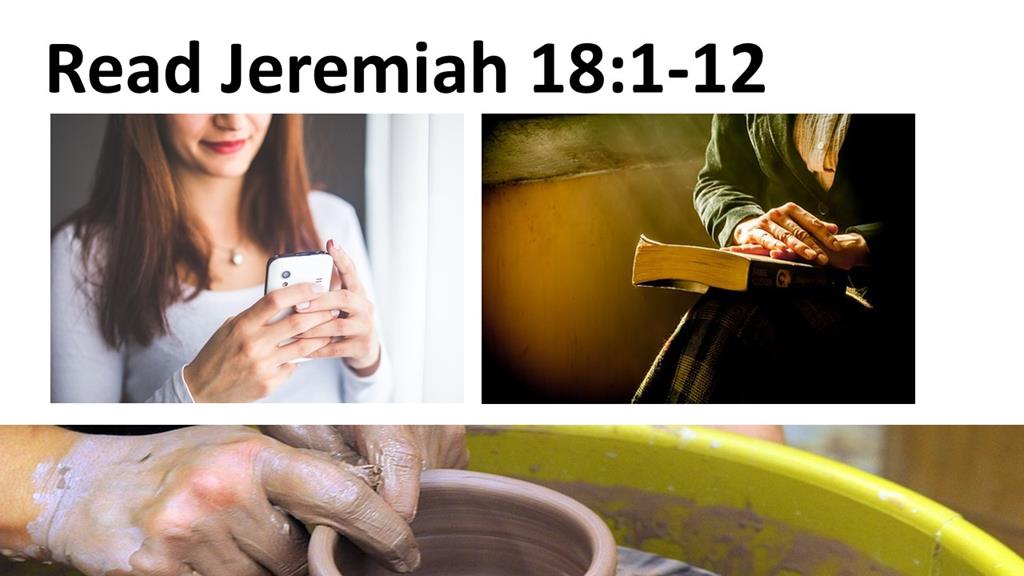 Show Video of Lee Hyong-Gu, Ceramic Master                      https://www.youtube.com/watch?v=RxpyG6ClIDU  (3 minutes 20 seconds)
I love watching a potter shape clay. Don't you?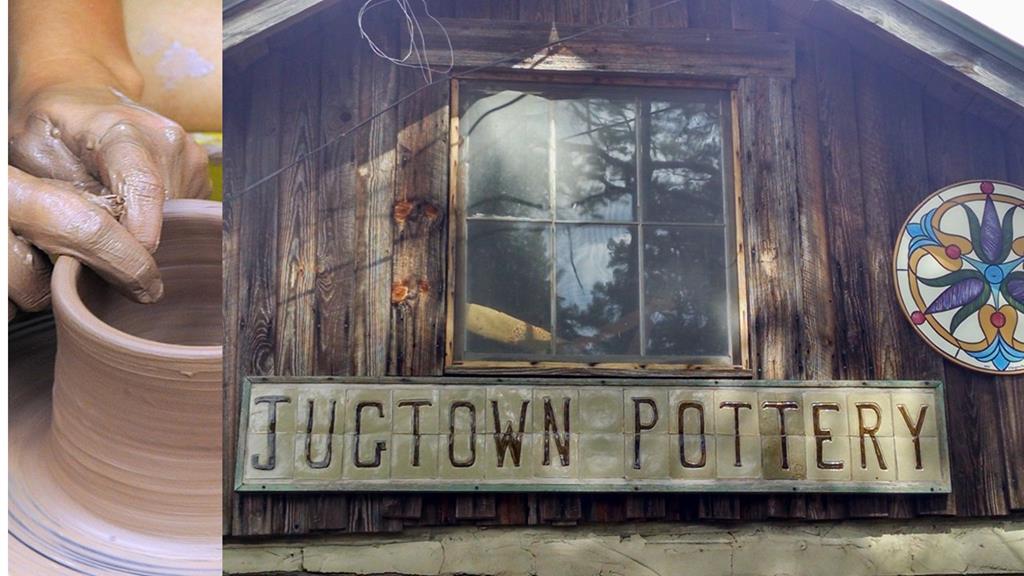 About twenty-five miles northwest of where I was born, where the Carolina Sandhills turn into clay hills, is a dot on the map known as Jugtown. It's a place I like to visit when I am back in that part of the world. Today, the area around Jugtown and Seagrove is dotted with crafty potters who turn muck into beautiful and useful art. It's a treat, as we've just seen on the video, to watch a potter turn a lump of clay on the wheel into something useful and beautiful.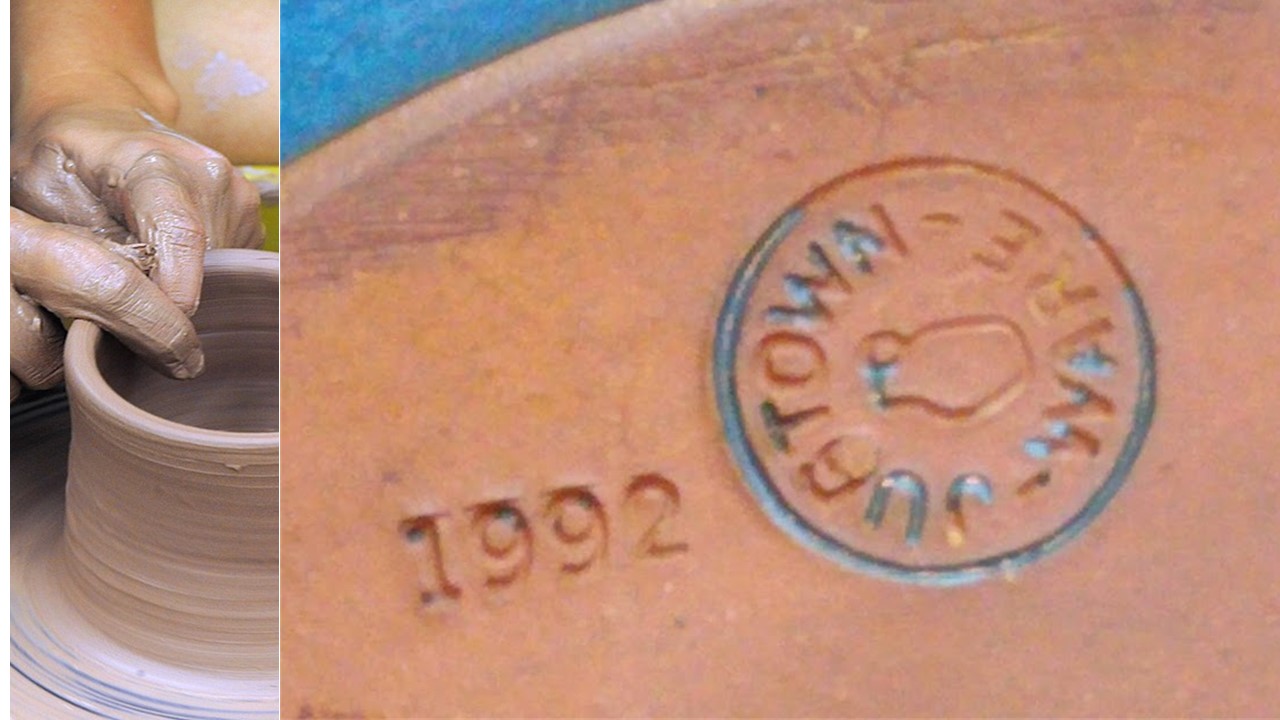 Jugtown received its name, as you can guess, from jugs. The law-abiding folks in the clay hills around there, I'm sure, intended their jugs to store molasses, honey, cane syrup, or something similar. Of course, it was also used to hold liquefied corn (also known as white lightning or moonshine). But with the advent of mason jars, such use of the jugs ceased. But early on, some of the potters had new ideas. In 1917, two of the potters began selling their wares in a store and tea shop in New York City. They emphasized utilitarian pots, things that could be used such as pie plates, crocks, mugs, and bowls. They stamped their unique mark on the bottom of each vessel. Over time, they began to teach new potters the craft and as one generation passed, another took up the wheel. Today, if you go to the area around Jugtown, you'll find dozens or potters selling their wares. These artists have brought new life into that worthless clay that sticks to your shoes and gums up a plow.
Finding a new purpose is sometimes helpful, and it could make a good moral of this story. But is it really what this passage is about? We need to remember that we're not the potter, we're the clay. Our purpose comes from the potter. And while, as this passage shows, the potter wields power over the clay, the clay might not always be suitable. If that's the case, the potter starts over and creates something that works with the quality of the clay he has. In this passage we see God's sovereign control, as a new type of pot is created. God's in control, a fact we're not always comfortable with.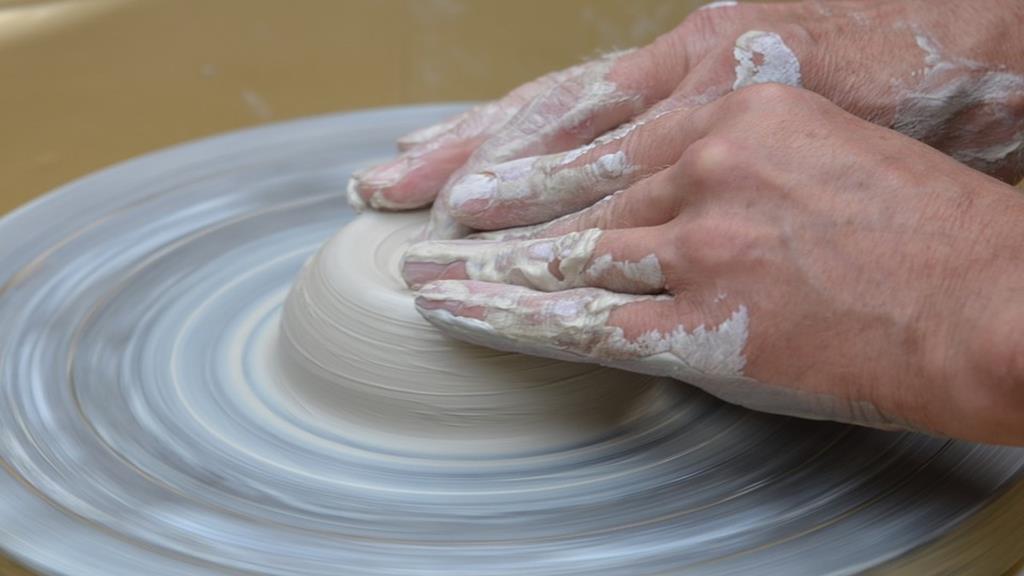 Jeremiah is called to the potter's house where God uses a common image of the ancient world to make a profound message. God's word comes to him as he watches the potter over and over start off one direction with clay, and it not working, so he reworks the clay into something more suitable. This sounds hopeful. God will continue to work with us until we become a vessel that serves some purpose. One preacher, writing about this text, said that it demonstrates a sovereign God, "not a God of absolute capricious control, but a gracious willingness to change his plan to benefit his flawed people. When God discovers this fatal flaw in his people, he does not simply destroy them; he offers to start over." [2]
But there's a tension in the text that comes in verses 7-11. To make this passage to be only hopeful, we must cut the passage short and stop at verse 6. But that's not fair to the text. Yes, there is hope in this passage, but the hope is offered to a repentant people who heed the warning that comes at the end of the passage. If they don't heed the warning, the hope evaporates.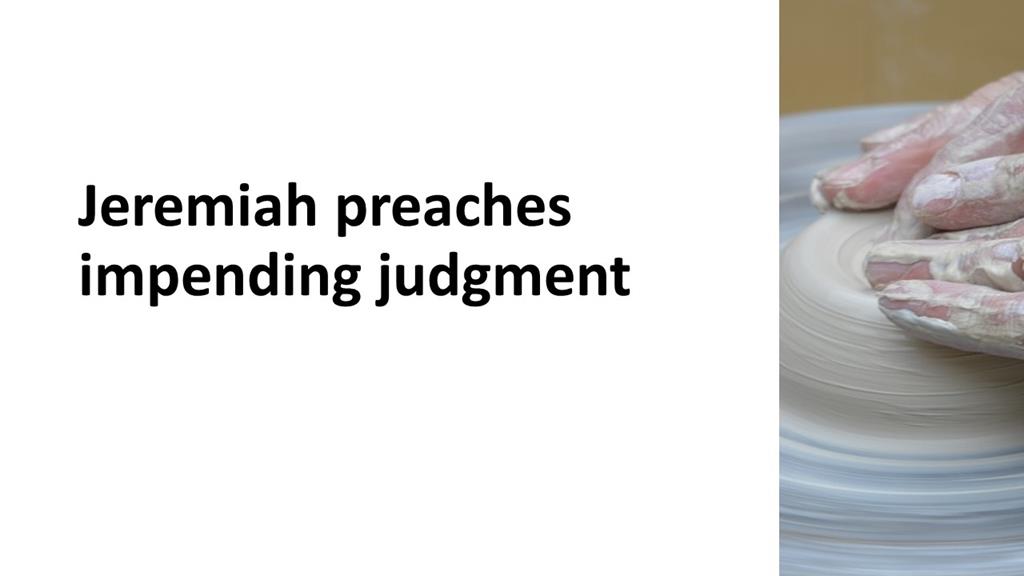 Jeremiah's task is to preach impending judgment to God's people. If they don't shape up, if they don't stop running around chasing foreign gods and idols, if they act like they're in control and the God of the Universe is of no matter, they will be punished. Just as the potter can shape a vessel in a new way, they can be handled in a different manner. God can shape another nation to punish. There appears to still time, at this point, for the Hebrew people to change. Later prophecies of Jeremiah hold out no hope of repentance, but here, it's not too late.[3] But time's wasting. If they don't hurry up and repent, it'll be too late. And as we see in verse 12, the people don't take Jeremiah's words seriously. They follow their own plans and act in their own ways. God is not amused.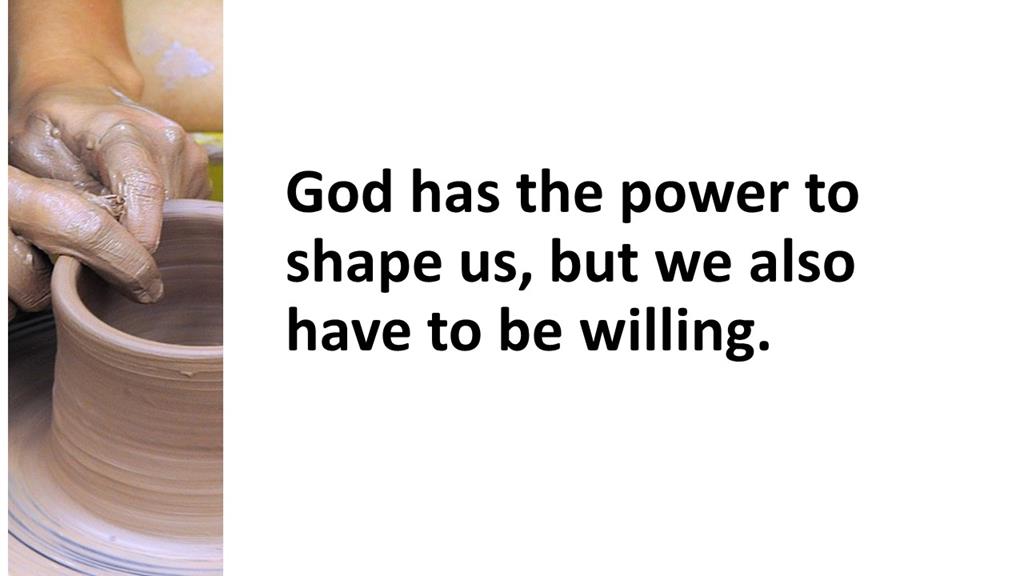 The message of this passage is that God has the power to reshape us, but we must let God work with us. If we resist God's shaping, we may not be completely crushed, but we won't fulfill the potential for which we were designed. The intention of our passage isn't to be fatalistic and say we have no control. Instead, it's a warning that we're to work with God and not against him.
We often look at Scripture through our individualistic lens, and there's no doubt that God has control over us as individuals, but it's important for us to understand that this passage isn't about a person, but about a people. God's people. Today, we could apply this passage to the church. Those of us in mainline denominations often feel the church is being pulling apart. But using this analogy, we can see that perhaps the church is just being reshaped. If that's the case, we need to look beyond our own perceived needs within the church, and to look where God needs the church within the world. That's the hard task the Session has before it. It's not what we can do to please the most people, but what we should be doing to join in God's work.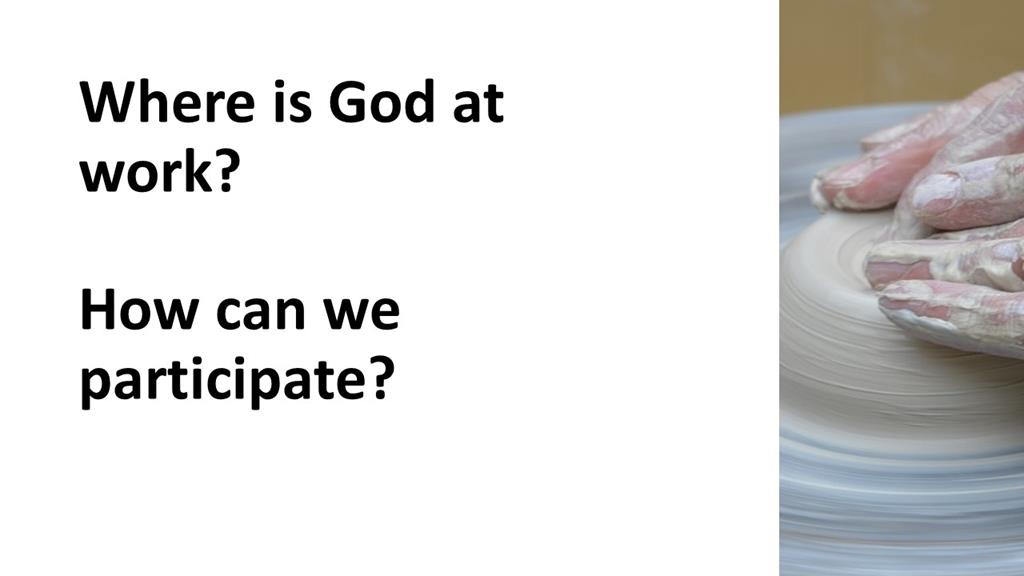 When you leave this sanctuary today, ponder these questions: Where is God at work in the world? How can we participate? How can we be the clay that trusts the potter? Amen.
©2019
[1] Eugene H. Peterson, Run with the Horses: The Quest for Life at Its Best, (Downers Grove, IL: Intervarsity Press, 1983), 76-77.
[2] Stan Mast, Old Testament Lectionary for September 2, 2019: Jeremiah 18:1-11" published by the Center for Excellence in Preaching: https://cep.calvinseminary.edu/sermon-starters/proper-18c-2/?type=old_testament_lectionary
[3]  John Bright, The Anchor Bible: Jeremiah (New York: Doubleday, 1965), 124-125.