Jeff Garrison
Skidaway Island Presbyterian Church
Matthew 2:1-12
January 6, 2019
        This Sunday is Epiphany. In the Christian calendar it marks the end of the Christmas season as we see the decorations disappear. Epiphany means a surprise encounter or a manifestation of God. The root is from the Greek word for sunrise or dawn, although the word was also used in reference to an appearance of a god. In the Eastern Church, Christmas is celebrated on this day with an emphasis on the incarnation—the surprising way God came to us, "in the flesh."
Traditionally, for those of us in the Western Churches, Protestant and Catholic, this is the time we hear the story of the Wise Men or the Magi, who follow the star that leads them to the infant child. They experienced firsthand the light coming into the world.
          As I have done throughout this Advent and Christmas season (with the exception of last Sunday), we will look at these traditional seasonal passages through the lens of Richard Foster's book, Streams of Living Water.[1] Foster identifies six different streams or traditions in which we encounter and respond to God. With each of the streams, we have explored a different character within the Christmas story. For contemplation, we looked at Mary. Joseph was our example for holiness and John the Baptist for social justice. The shepherds served as our example for the charismatic stream and, of course, Jesus is the supreme example for the incarnational stream.
Our last stream is the evangelical tradition. The word evangelical, which has been often misused, comes from the Greek word evangel or good news. Sadly, when we hear the word evangelical today, people either think of it in a political realm or as a group of Christians who are against things. That's not a fair way to think about this tradition. It's not about politics or what we are against. Being evangelical, in a true sense, is about what we've experienced in Jesus Christ and a desire to share that experience with others. It's about being for Jesus. Today, as I conclude this series, we will look at the wise men or magi as an example of the evangelical stream. Read Matthew 2:1-12.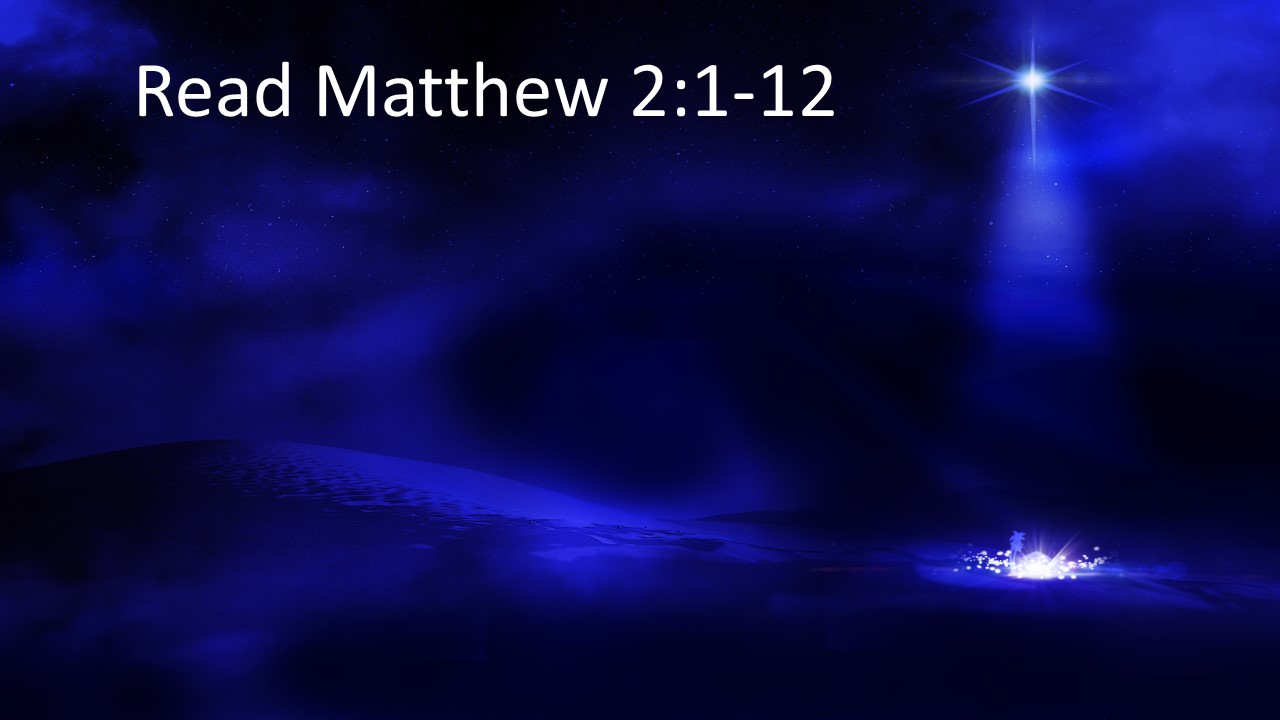 There are a number of angles we can approach the story of the wise men coming to Jesus. This morning, I would like to highlight three: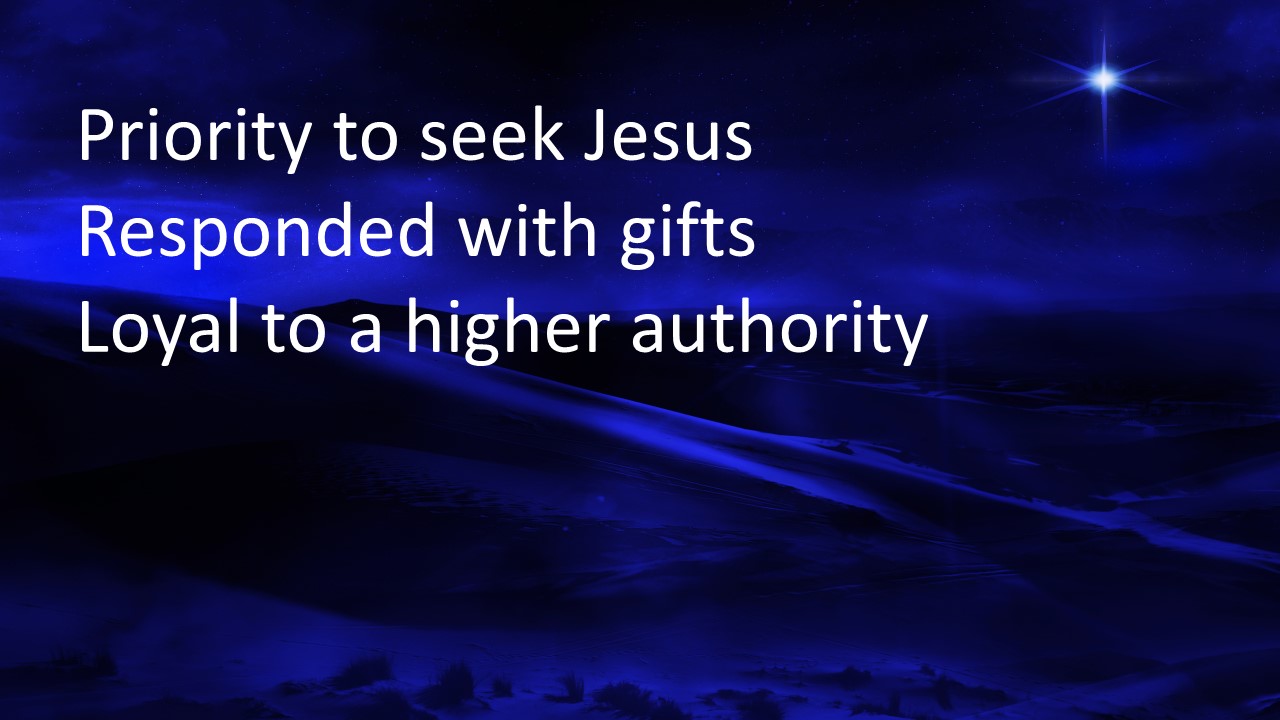 The wise men made it a priority to seek Jesus.
Finding Jesus, they responded with gifts of thanksgiving, without expecting anything in return.
Having encountered Jesus, they knew their loyalty was to a higher power.
Let's look at each of these.
We don't know what was so special about this particular star. It appears only the wise men noticed the star and followed it. Why weren't others following it? We don't even know who these guys are. It's generally assumed they are from Persia. Some scholars suggest they were Zoroastrian priests who spent time studying the stars. And God placed this star (or a conjunction of planets, or an unfamiliar comet, or a supernova, or whatever it was) into the sky to catch their attention and draw them to Judea.[2] It's obvious these guys are not Jewish, for if they were, they would have known the Messiah was to be born in Bethlehem. Instead, they had to stop and ask direction. They knew something special was happening and wanted to check it out even if it meant a long trip to a distant land.
They took a risk. It was important for them to find Jesus, as it is with us. Responding to Jesus' call to follow him is the most important decision we will make. It overrides all other decisions. And when we decide to answer this call, like the wise men, we are off on a journey in which we have little control. We are no longer our own; we belong to the Lord.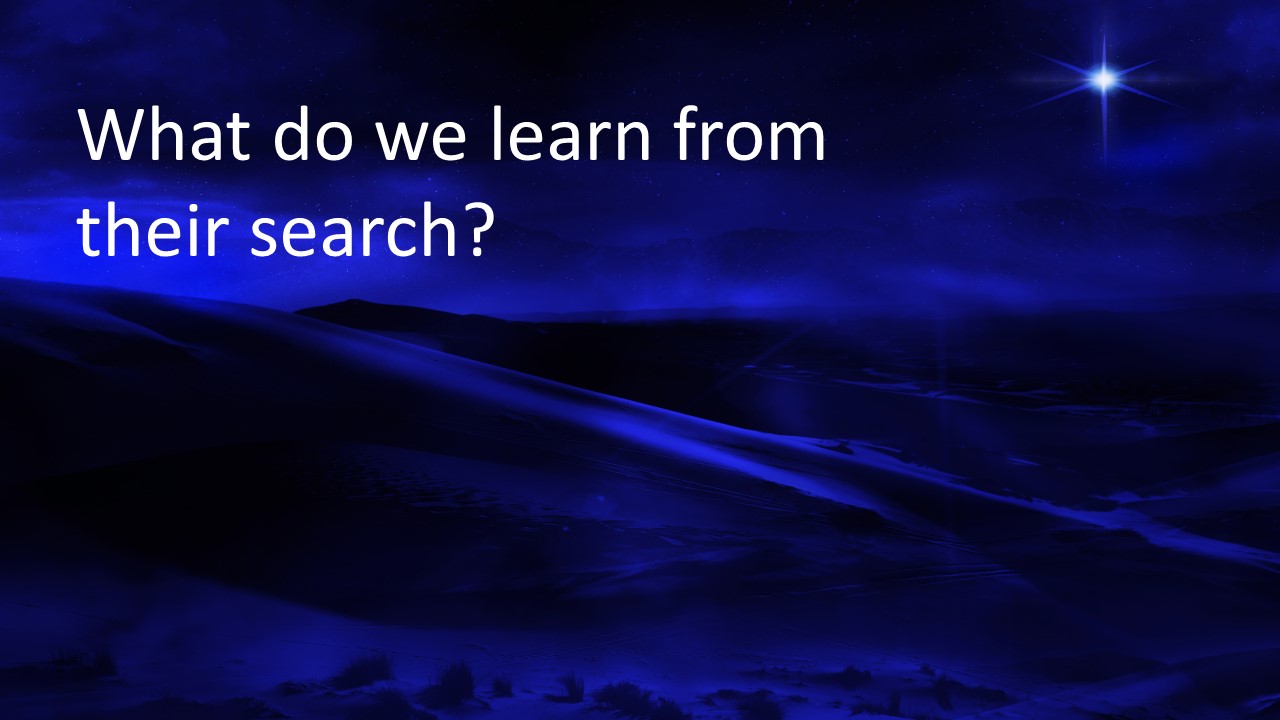 What might we learn from the wise men's search? They first go to Jerusalem, the holy city, a place of excitement. Herod's there; the temple's there. The streets are packed with pious folks carrying out the work at the temple and with pilgrims who have trekked there to worship. But that's not where they find Jesus. Instead, they are led to a small dumpy town five miles away. A poor suburb, inhabited with shepherds and goat herders. The town supplied meat and animals for the appetites and sacrifices of those in the capital. Flashy isn't one of God's traits. God humbled himself by coming to us as Jesus and, I would suggest, we'll often find Jesus in humble circumstances. To encounter Jesus, we have to be humbled. Being splashy or among those who are popular isn't a guarantee that Jesus is present. Jesus comes to those who humbly admit their need for a Lord and Savior over their lives.
Following Jesus is the most important decision we have to make. But we can't do it unless we are humbled.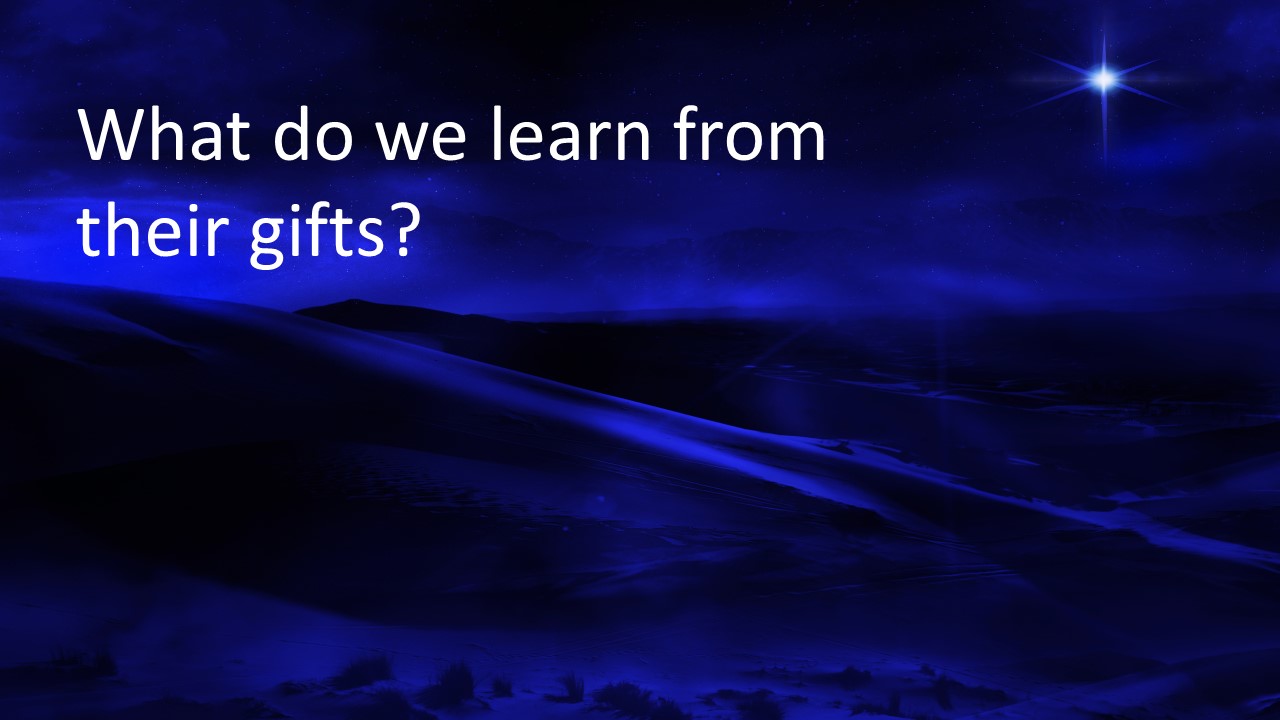 Now let's look at this passage from what it tells us about giving. One of the most important lessons for a Christian is to learn that giving is as much a blessing as it is an obligation. You know, we feel good about ourselves when we give, especially when we give without expecting anything in return. The wise men show the importance of giving without being asked and without expecting anything in return. If you think about it, this is a story of foreigners giving gifts to a child they don't know. It would be like someone from Romania dropping by the maternity ward at Memorial Hospital and handing out gifts.
Contrary to the popular carol and the ubiquitous nativity scenes, we don't know for sure that there were three wise men. Instead, we're told that they had three gifts, so it's natural to assume three bearers of the gifts, but they may have been more (or less). Gary Larson, author of the Far Side comics, suggested there were four wise men. The fourth was turned away for bringing a fruitcake.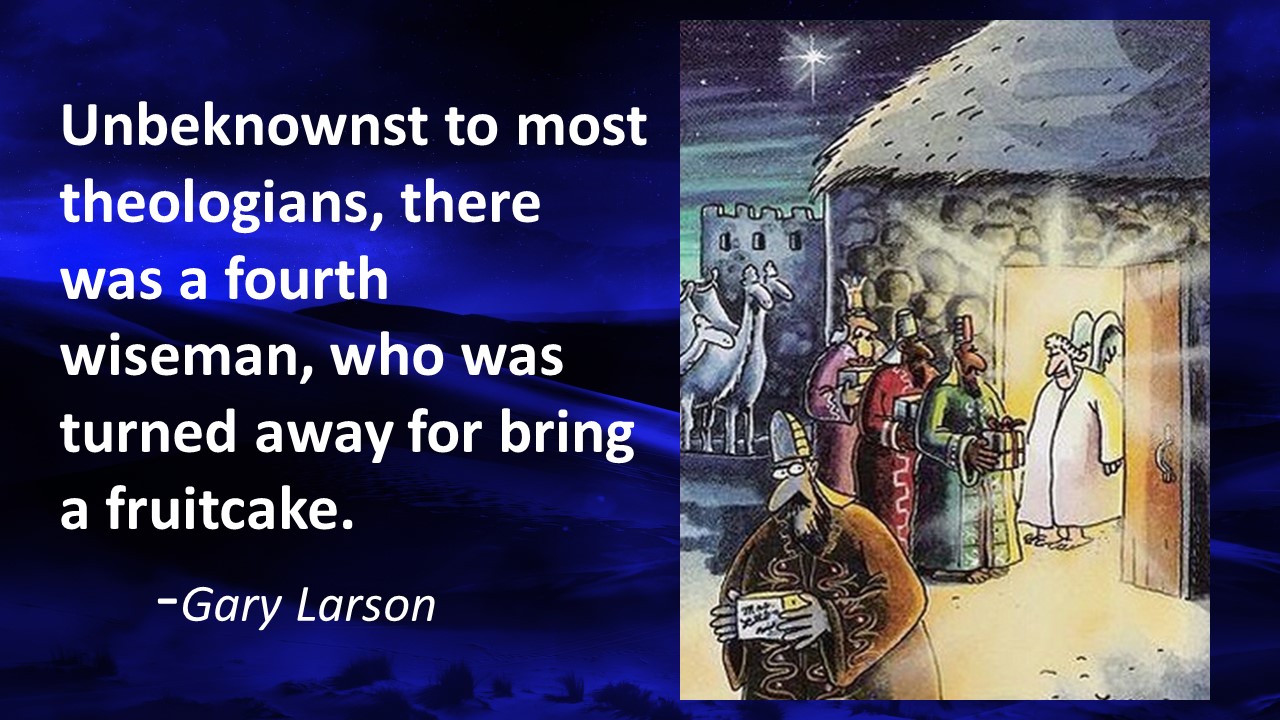 Over the years a lot has been made about the three gifts. It's natural to associate gold with a king. Myrrh, which was used as an anointing oil for priest was appropriate for the Messiah, the anointed one. Frankincense, used in the sanctuary where prayers were offered to God, may indicate Matthew saw the gifts as foretelling a time when the baby Jesus would be worshiped with God the Father. However, this is only speculation. The gifts may have just been those worthy of a king.[3]
The wise men knew they needed to worship something greater than themselves. They knew they needed to worship God who considered them so precious that he came in the flesh. In coming, although they had no idea of this, they fulfilled the passages from Isaiah about the light of Israel rising and the nations and kings coming to see the glory. In fact, it's from Isaiah that we get the transformation of wise men or magi into "kings."[4]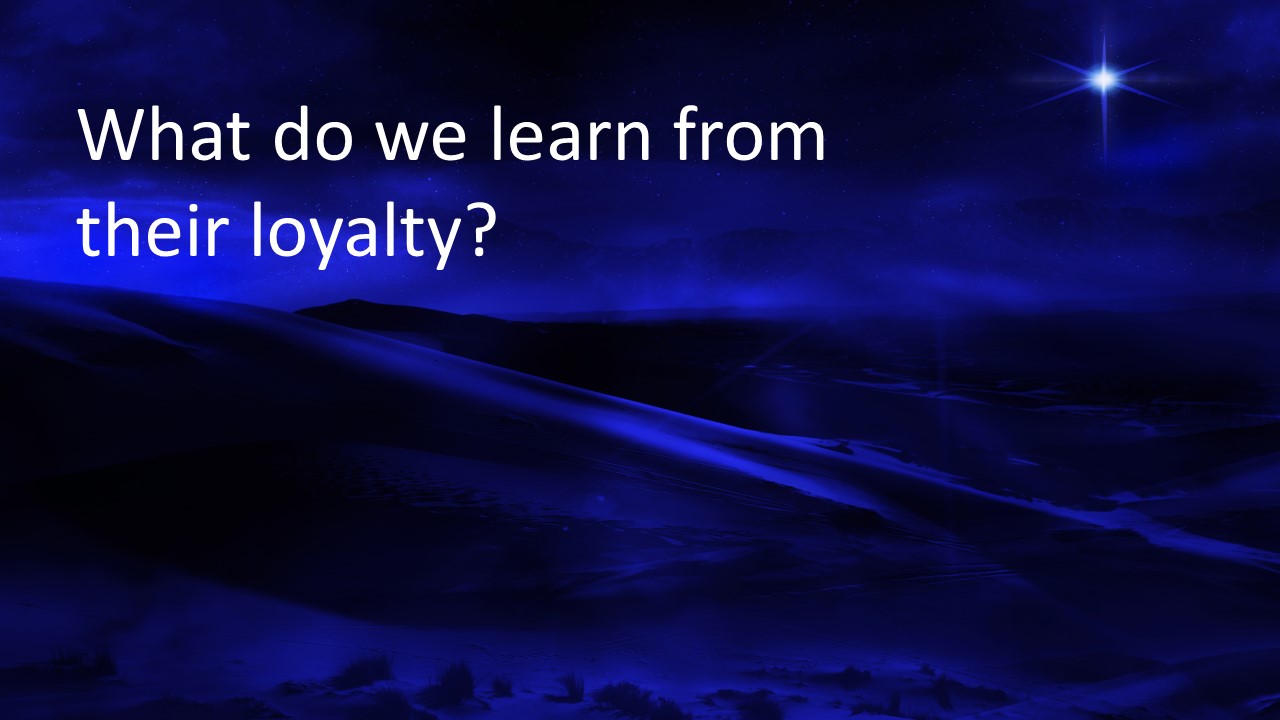 Finally, think about the loyalty of the wise men to a higher authority. Herod provides a counter-plot to the wise men. He reminds us that even though the Messiah has come, evil remains a threat. Herod's false humility almost fooled the wise men. But then, after being warned in a dream of Herod's intentions, they skip out of town without letting Herod in on the secret. The wise men are a reminder that our first loyalty is to God. Although as Christians, we're called to obey those in authority, our allegiance has its limits and our commitment to God always comes first.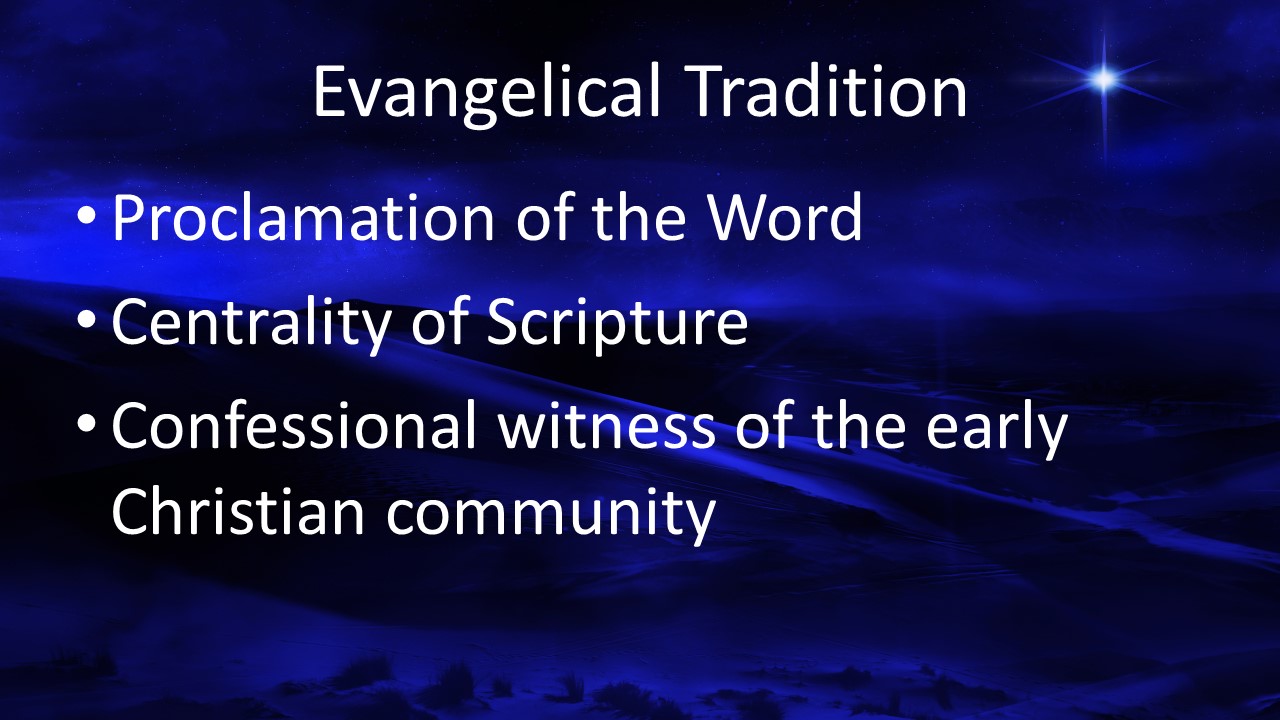 Now, let's think of the wise men or magi in the context of the evangelical tradition. This stream within the Christian faith places a high priority on the proclamation of the gospel, the centrality of Scripture, and the confessional witness of the early Christian community.[5] This good news, the grace of God's work in Jesus Christ, calls us to follow Jesus. As with the wise men, it calls us to respond out of gratitude, and it also calls us to a new way of life in which God becomes first. We see this twice in this passage, first with the gifts they gave and, secondly, when they follow God and ignore Herod's request that would allow him to carry out a great evil.
For those of us in the evangelical tradition (and that would include Presbyterians for I am speaking of the true meaning of the word, not how it is used in political discourse today), the need to tell others about Jesus fueled our missionary efforts to spread the good news to other nations and people. We always do this with God at the center. For the wise men, it's God who calls them to Bethlehem. The wise men become the first converts to worship Jesus outside of his parents and a few shepherds. They represent the first fruit of an evangelical zeal that will spread the gospel to all the world. Friends, we need to rekindle that zeal.
          I started this sermon with three things we learn from the wise men. I am going to add one additional thing to this. There are four things that I want you to take home today and to ponder throughout the week: Seek Jesus, give graciously, know that God always comes first, and remember that we're called to spread the Good News of Jesus Christ.  Amen.
©2018
[1] Richard Foster, Streams of Living Water: Celebrating the Great Traditions of the Christian Faith (New York: HarpersCollins, 1988). The idea for this series came from Peter Hoytema, "Six Biblical Characters, Six Traditions of Faith" Reformed Worship #65 (September 2002).
[2] For a detailed treatment of the various ideas around the star, see Raymond Brown, The Birth of the Messiah  (New York: Doubleday, 1993), 167-173.
[3] Douglas R. A. Hare, Matthew: Interpretation Commentary (Louisville: John Knox Press, 1993), 14.
[4] See Isaiah 60:1-6 (especially verse 3 for kings and verse 6 for their camels). See also Psalm 72:10-11. Brown, 187-188 has a detailed account on how the wise men or Magi were transformed into kings.
[5] Foster, 219.