I am in North Carolina, taking a few days off and sitting inside watching it rain…  Here's my last post of the year as I review two recent books I've read. I hope everyone has a wonderful New Year's Eve and a prosperous 2020 (and please, no more eye jokes)!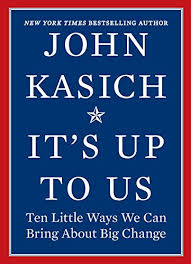 John Kasich, It's Up to Us: Ten Little Ways We Can Bring About Big Change (Hanover Square Press, 2019), 237 pages.
John Kasich was the last Republican in the running against Donald Trump during the 2016 primaries. This little book makes me wonder how much better things might be in America had he succeed in his quest for the White House. While definitely conservative (certainly he is truer to conservative principles than Trump), Kasich also appears to be a good guy. And, at least from what I gleam in this book. He appears willing to listen to all people and not resort to ad hominem attacks upon those who challenge his position. In fact, he seems to seek out those with opposing opinions as well as having a more open view about those who think differently than him. He's a man of deep faith who draws upon his religious belief in how he treats others and views the world.
Kasich encourages his readers to make a difference in the world by offering "ten little ways." However, "little" is a marketing word, for some of his suggestions are big undertakings. He begins suggesting we start a movement, with examples that are not so "little." He begins by recalling the work of Greta Thunberg (his book was published before Trump got into a twitter war with the 16-year-old Swedish climate activist). He discusses the youth from Douglas High School in Parkland, Florida and their efforts at being to the forefront the need for sensible gun control legislation. He discusses those involved in Special Olympics and (as if he was speaking to me directly) recalls the work of his (and my) childhood hero, Roberto Clemente. Where Kasich conservative principles show is where he suggests that all great movements rise from the people, not the government.
While starting a movement seems to be a big thing, Kasich follows it with an encouragement to start local and to "be the change where (we) live." Again, as he does with all his suggestions, he offers examples such as a janitor who supported the Children's Hospital Free Care Fund to the tune of over $200,000. "Find a hole in our community and fill it," he suggests (78). Another suggestion is to "Be Prepared to Walk a Lonely Road," reminding us that often those who are on the forefront of any worthwhile change are ridiculed and often persecuted. He encourages us to "Slow Down" with the 3 T's [time to think (115)] and quoting race car driver Bobby Rachael who said: "You can't go racing into things all the time. You have to step back and see where you are going" (124). Others in his list of ten include "Bounce Back," "Love Thy Neighbor," "Get Out of Your Silo," "Put Yourself in Someone Else's Shoes," "Spend Time Examining Your Eternal Destiny," and "Know that You are Mad Special."
At the beginning, Kasich said he wrote the book because he didn't want people to think they could only change world is through politics. This book highlights many people who are changing the world for the better without seeking notoriety. The book is easy to read and for those of us who have a heart for Pittsburgh, many of his stories comes from the area. Kasich grew up in McKees Rocks, Pennsylvania. He also draws on the music of the Baby Boomer generation, opening the book with the line from The Who's "Won't Get Fooled Again," suggesting that often the votes do get fooled again and again.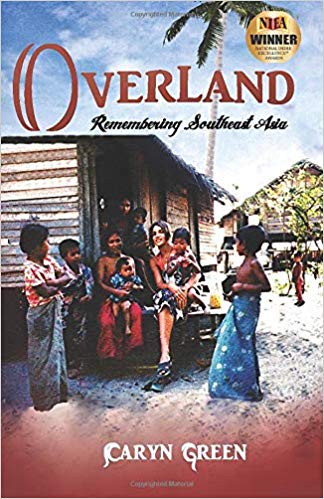 Caryn Green, Overland: Remembering Southeast Asia (Chicago, IL: Manitou & Cedar Press, 2018), 241 pages.
A few weeks before reading this book, I had responded to a request of a blogger about my most  spectacular train journeys. I listed several including the ride across the island of Java in Indonesia, from Jakarta to Jogjakarata. Shortly afterwards, someone else echoed my comment about the Indonesian train ride being one of her favorite. When I looked at her profile, I saw that she had recently published this book on her journey across Southeast Asia. I ordered a copy. I'm glad I did.
Caryn Green was a 24 year old woman from Chicago when she decided to hit the trail, traveling to Indonesia and then making her way overland from Bali to Jakarta, on to Singapore and into Malaysia and then to Bangkok and around Thailand. She even made it into Burma. My trip didn't take me into Burma, as I hung a left in Thailand and headed into Cambodia and then Vietnam, before running north and traveling on to Europe. That wasn't an option for Green, as she did her travels in the winter of 1975-76, shortly after the fall of Cambodia and Vietnam. Those countries were definitively off-limits at the time. It was an interesting time to travel as the recent American presence in Asia was evident and American travelers were often berated and drawn into unpleasant conversations.
Green wonderfully describes her travels and the people she meets. She mostly hangs out with fellow travelers, many from Australia and Germany, but also meets many natives along the way, especially those who provide housing and services. She is taken with the children. I was also impressed with how much of the languages she learned, more than just being able to say thanks or to ask for the bathroom or where to find beer. Some reading the book might be taken back by how honest she was about her relationships with a few of the men she met along the journey (although nothing is too graphic) as well as how she occasionally enjoyed drugs. She did draw a line at the use of harder drugs.  Reading this, I found myself wondering if the airport in Indonesia had large banners in several languages reading, "death to drug runners," on the concourse in 1975 as you entered the country as they did when I traveled.
Perhaps the most exciting part of her trip comes at the end, when she travels with a guy filming a documentary on the Karen resistance in Burma. The Karen are tribe in northeastern Burma who have long wanted to separate from the rest of Burma. They passed over into Burma in a remote part of the country, from Thailand.  I knew some of the conflict with the Karen from Pascal Khoo Thue's memoir, From the Land of the Green Ghost: A Burmese Odyssey.
I felt a little cheated that she was able to take a ferry from Jakarta to Singapore. Back then, ferries were more available. When I made the trip, it was only running once or twice a week and, even then, didn't go to Singapore, but to an island south of the city-state, where you had to take another ferry into the city.  The other place that we both spent time on was on the island of Penang in northern Malaysia. While I had a Malaysian blogger friend to show me around, she hung out in beaches on the north part of the island where lots of young people gathered. Today, these beaches have been "gentrified" as places where lots of wealthy Arabs hand out.
Green is Jewish, which provides an interesting point of view for the variety of religions within this part of the world.  She spends Christmas in Singapore, a city that has Buddhist, Muslims, and Christians. She was drawn into the celebration by hanging out with a retired FBI agent on Christmas Eve. When she leaves Asia, after three months, she flies on to the Middle East in order to spend time in Israel.
In '75, Green journey was the end of what had been known as the "Hippie Trail" which lead overland from Europe to Southeast Asia. Interestingly, at that time, the trail Overlanders were taking went south because of the political issues of traveling across the Soviet Union and China. These days, those making such a journey as I did in 2011, travel further north through China and Russia in order to avoid places like Pakistan, Iran and Iraq. It's interesting how things change.
This book is a quick read, and I enjoyed it because of the comparisons I was able to make with many of the places we both travelled (36 years apart).  I would recommend the book for those who have experienced this part of the world.  Another book that deals with overland travel in Asia during the mid-70s that I found enjoyable is Tiziano Terzari's A Fortune-teller Told Me: Earthbound Travels in the Far East.